We know we have all different kinds of readers when it comes to the type of RVing we do. Some RVers like to camp just on the weekends and return to their stationary home on Sunday night ready to conquer the work week. Others like to live in their RV fulltime. Then we have readers that like nothing but a challenge and adventure when it comes to the type of camping they prefer.
Enter the 2019 Taxa Mantis Trek
This is a flashy camper that will catch one's eye! It is one of the top RVs in the sustainability category. The rewards are endless for this rig!
The Mantis Trek is specifically made for off-the-grid use. It is powered by two 12-volt batteries stored away in the kitchen area or shore power with a 110-volt converter. Either one can power the 12-volt refrigerator! The Mantis Trek edition also comes with plumbing for propane, which can be used to power the two-burner stove, water heater and the Truma Combi furnace that comes with each camper.
Go Off- Grid in the Mantis Trek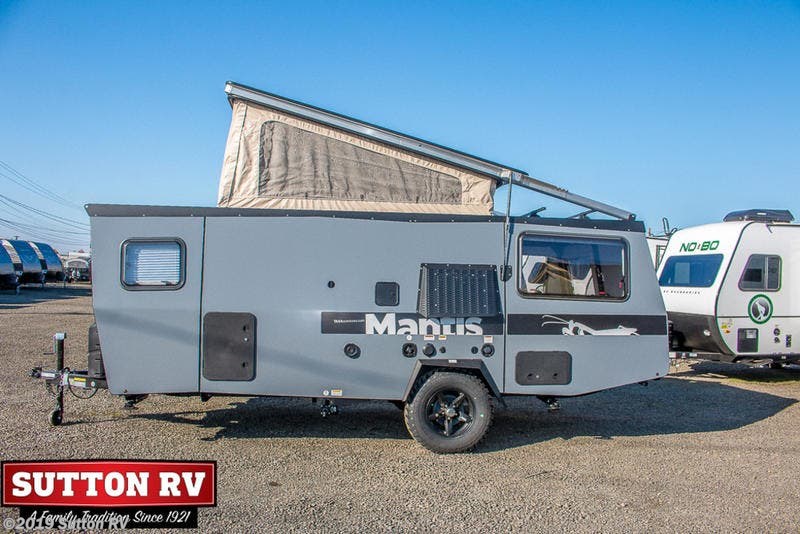 Fresh water capacity is 20 gallons with a 22-gallon gray water tank and wet bath inside. A cassette toilet is included. Other interior features include USB charging ports, a dining/study table, under bed storage, blackout curtains for those sleepless nights and LED interior lighting with reading light.
Storage is no issue for this camper! The back expands out so you can have more room when you're eating at the dining table or entertaining a few guests. On the top of the camper is a huge storage rack where you can put coolers, gas cans, water jugs, etc. This will help your tow vehicle feel cramped.
Mantis took adventurous camping to the next level with the Mantis Trek.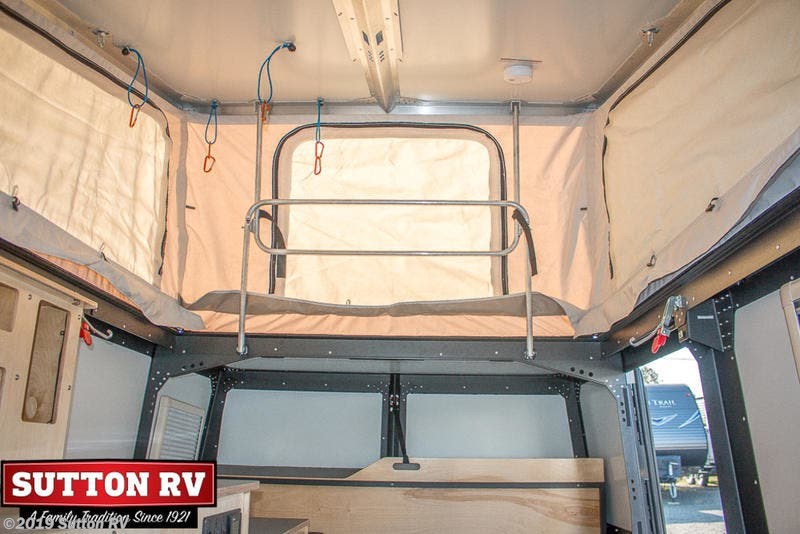 The Mantis Trek camper sleeps up to four adults comfortably, weighs under 3,000 pounds and is 19 feet long. Taxa decided to give the Mantis a NASA inspired interior design!  Along with integrated plumbing and electrical systems, this camper has all the necessities for anyone looking for an outdoor adventure.
The Mantis features a middle roof section that pops up to allow adequate standing room in the kitchen and bathroom areas, but it also folds down to a height of 6 foot 10 inches for the best aerodynamics during towing and storing in garages.
The Mantis is an awesome camper, no matter what you plan on using it for. Its users range from full time RVers to weekend warriors. They both find the Mantis to have everything they need in an expandable camper.
Interested in owning your own Mantis Trek? RVUSA has you covered. You can check out the camper and its endless list of features here.