It seems live #VanLife is all the rage right now! It is all over Instagram and honestly, we love the van life aesthetic. People are hitting the road in small van campers and enjoying a life of exploration and travel. With the rise in popularity of van life though, comes the increase in questions about the lifestyle. One of the most common questions people ask when they are starting out is "What are the differences between Class B campers and conversion vans?".
We get it, they seem very similar but really have quite a few important distinctions. Today we are going to share with you all of the similarities and differences between Class B campers and conversion vans.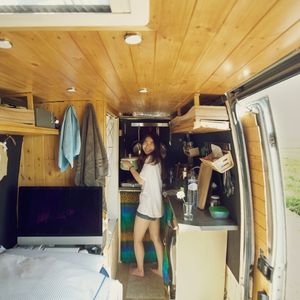 Class B Motorhomes Vs. Conversion Vans
Conversion vans and Class B motor homes can be almost indistinguishable at a glance. Both vehicles are small enough to fit comfortably in a standard driveway. They are a little bigger than a standard panel van and tend to have a higher than average ceiling height so that people can comfortably stand up inside. Conversion vans and Class B motorhomes can also be used as vacation vehicles because they are outfitted with comforts that are not found in typical daily drivers. The vehicles might share a few similarities, but the differences between Class B campers and conversion vans are important to understand if you are looking for a smaller travel vehicle.
THE BOTTOM LINE:
A Class B motorhome is designed and built from the ground up by a manufacturer for the specific purpose of camping. A conversion van is a van that has been customized on the inside from its original intention for a specific purpose such as camping.
Want your own Class B Motorhome?
All About Class B Motorhomes
Since class B motorhomes and conversion vans can be built upon the same kind of chassis, these vehicles can be difficult to distinguish from another by the exterior alone. The differences are more noticeable when you start getting into the amenities of the camper.  
Class B motorhomes are standard equipped with amenities and accessories dedicated for camping purposes and overnight usage. These standard amenities often include, but are not limited to a kitchen with stove, bedroom, bathroom, and small living space. You will also often find a water and sewage system underneath the rig of these campers just like their larger counterparts. 
Since Class B is built to be a camper, it is basically seen as an easier-to-drive alternative to the classic full-sized RV such as Class Cs and Class A motorhomes.  They are fantastic for camping and overnight trips, but slightly less practical for daily usage or for someone looking to go around town often. That doesn't mean living in a van full-time is impossible though! There is a growing community around full-time van living.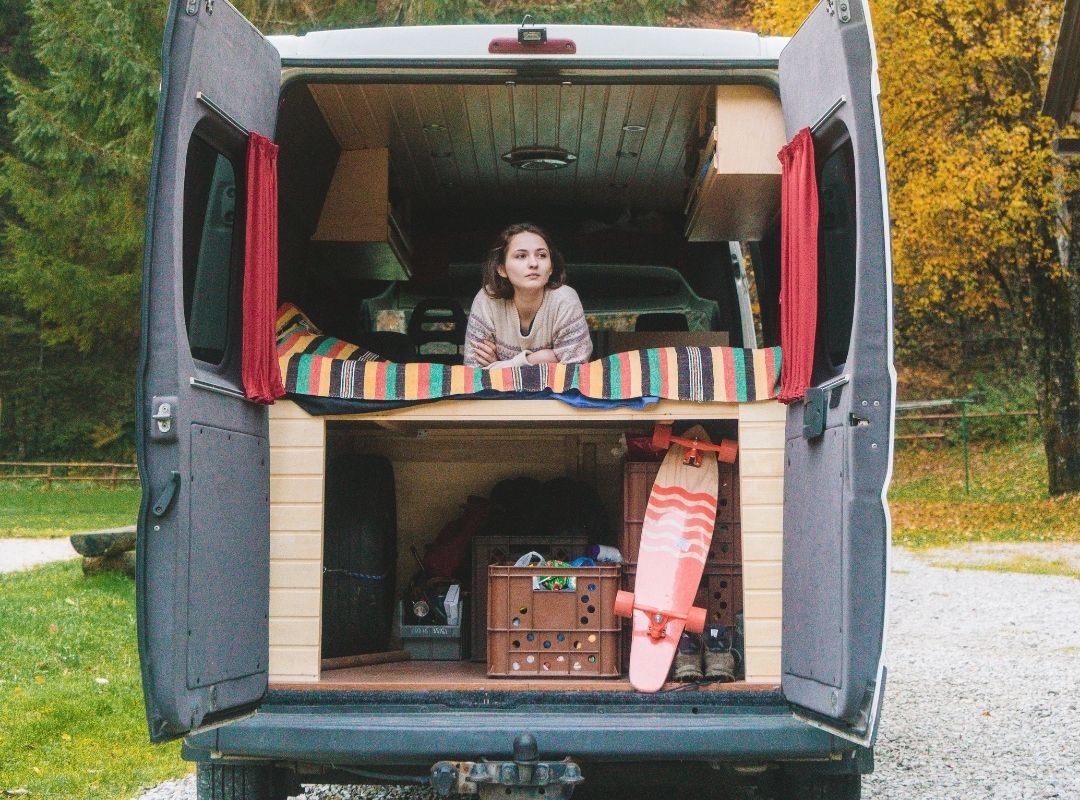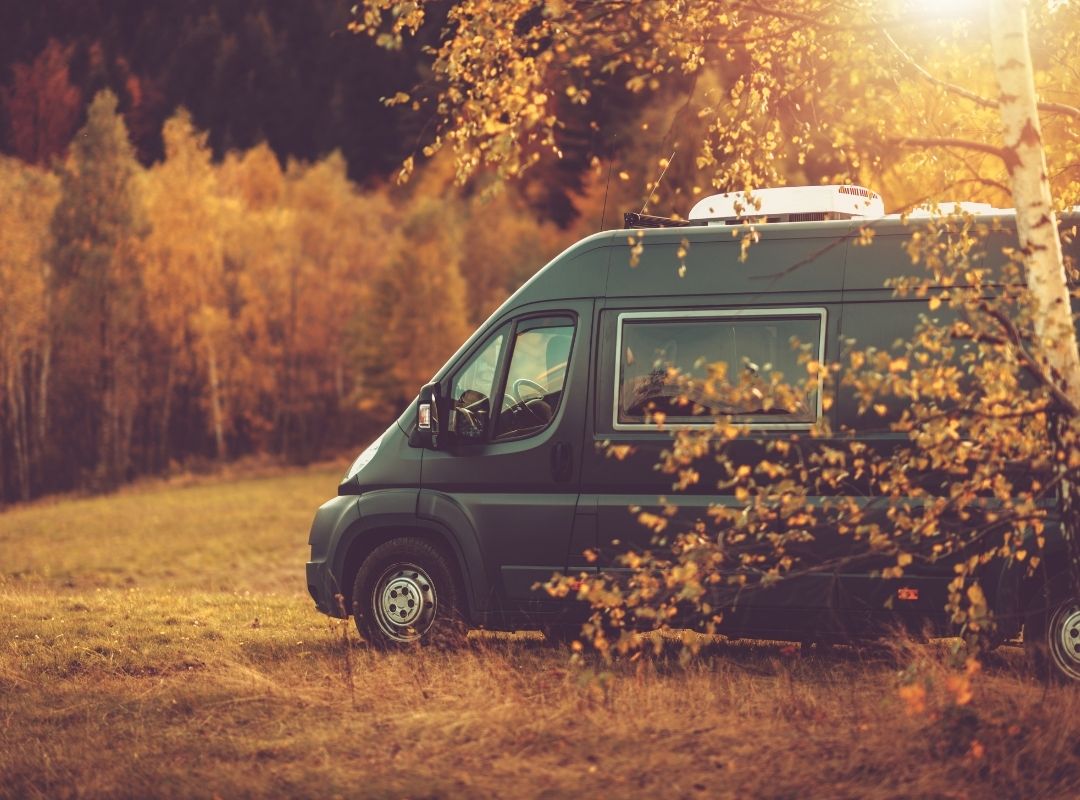 Everything You Need to Know About Conversion Vans
Much like a class B motorhome, a conversion van made for camping usually includes almost everything you would need. While they may look very similar on the outside, they are quite different in every other way. A conversion van is basically a regular transport van with a customized interior for camping. 
Most conversion vans started their lives as panel vans and have been converted into campers, hence "conversion". These tend to be DIY campers, created by people who want custom camping and enjoy working on their own rig or specialized third parties.
When people think #VanLife, usually they think of conversion vans. They were not originally designed for camping since most of them start out as normal vans. The van might include a plug to connect to an external electrical source, but more often than not it is not equipped to hook up to typical RV campsite amenities. Because they are converted for a specific need though, conversion vans tend to have a wider range of utilities than a Class B motorhome. Typically, conversion vans also have better fuel mileage. They can go further on the road and save you money at the gas pump.
The best thing about a conversion van is that it can be customized to your exact specifications. If you can't find what you want in a traditional motorhome or travel trailer, then a conversion van may be for you! 
You can either buy a van and do the conversion yourself, or you can shop for one that's already complete on RVUSA. Converting your own may be more cost-effective, but buying one already done saves on time, manpower and expertise, so it really is completely up to you. 
At the end of the day, one of the biggest differences between Class B campers and conversion vans is that conversions are more of an individualistic kind of build that allows the user to define their own reality.
Want a Conversion Van of Your Own?
Should I Get a Class B or a Conversion Van?
Honestly, this is a really hard question to answer since it is such a personal decision. It really depends on what you want and need out of your rig.
If you want "turn-key" then go for Class B.  But if you want something more custom, go with the conversion van. No matter what you decide, there are no wrong decisions!
If you have a very specific need or you want an aesthetic, one-of-a-kind place to stay while on long trips, a conversion van is probably the better choice.
If you are looking for a safe, reliable vehicle that provides you with all the amenities your family needs for long-term camping and travel, opt for a Class B motorhome.
The one you choose will depend on the funds you have to spend as well as your desire to tackle a conversion or not. A conversion van is hard work but worth it if you are handy and creative. Or, you can enjoy someone else's handwork by purchasing a conversion van on RVUSA!
Starting Van Life
Whether you choose a conversion van or a Class B motorhome, either can provide you with a great space to take camping. Vans like these make excellent choices for those who are interested in a small motorhome that is easy to drive.
A conversion van can allow you to create your own customized space that will serve you well no matter what needs you have. A Class B motorhome is a great option if you don't mind the high price tag.
Even though these are the smallest of all the motorhome types, they can provide you with an excellent living space that can serve you well on a camping expedition.
Ready to find an RV for your adventures?