Here at RVUSA, we're strong believers in taking the whole family RVing. In fact, we've written a whole post on what an RV can do for your family vacations! And while any RV vacation is a great family vacation, there are some stops you can make that are more family-focused than others. Choosing the right campground with the right amenities is a big part of that. You want to look for a campground that has plenty of on-site activities to keep everyone in the family entertained. You'll also find that other families are drawn to the same types of campgrounds – which means more friends for the kids to stay busy with and more families to meet along the way! We've rounded up a few campground with the best amenities for families to make sure your next family vacation is a successful one.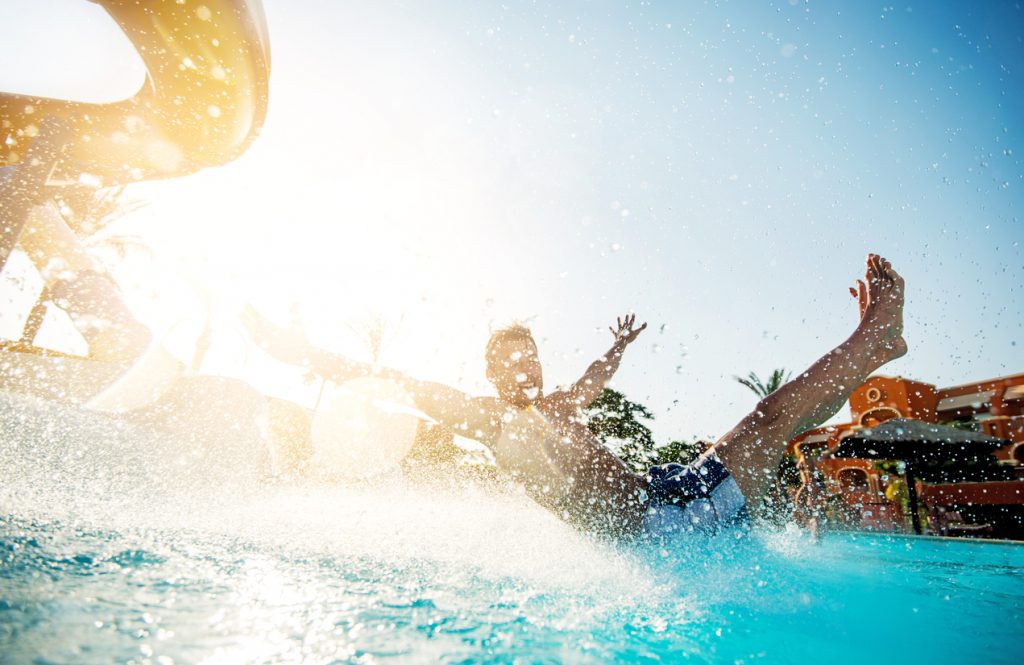 This RV resort outside of Lafayette, Louisiana has everything you could want for a family vacation. In the center of the park, you'll find two stocked fishing ponds, multiple swimming pools, a water park, a playground, an arcade, a theater room, beach volleyball and 18-hole mini golf. They also have a clubhouse with two concession stands to make lunch during a day of activities at the pool and playground easy. If that isn't enough to keep the family busy, the park also hosts events throughout the year, such as a gumbo cook-off and a New Year's Eve bash. Should you get tired of everything that's provided on site, you're just down the street from Prehistoric Park, a dinosaur-themed attraction, and only 2 hours from a day trip to New Orleans. It would be impossible for any member of the family to be bored at Cajun Palms.
For the family that prefers connecting with nature, Lakedale Resort is the perfect stop. Locate on San Juan Island, this resort provides a variety of different lodging options, including RV sites. Inside the resort, you'll find activities like giant chess, bocce ball, volleyball, and swimming in the freshwater lakes on-site. You can also enjoy a complimentary bike to explore the area, or go birdwatching. There are plenty of organized activities as well, including a tradition of tie-dying t-shirts at the activity tent for kids, or a stand-up paddle board yoga class for the parents. There's plenty to do in the area as well, including whale-watching for orcas in March through November, bioluminescent kayaking, lavender farm tours, and hiking trails galore.
When you hear the name of the town Lake Rudolph is in, you'll quickly realize where the name comes from. In Santa Claus, Indiana, it's always a holiday, and there's no wrong time to visit with the whole family. The kids will love Santa's SplashDown Water Park and Blitzen Bay Pool – not to mention all the Christmas-themed names. Mom & Dad can rent a golf cart to navigate the campground's 160 acres, and the whole family can take part in everything that Prancer's Activity Center offers, such as basketball courts, beach volleyball, mini golf, game rooms, and gem mining. You can also get on the water to take part in some fishing or rent a paddleboat. If you're still up for more adventure, take a shuttle from the resort to nearby Holiday World & Splashin' Safari while you're there! You're sure to have a holly jolly good time.
Camp Gulf – Miramar Beach, FL
For a sunny Florida family vacation, check out Camp Gulf in the Florida panhandle. Situated between Scenic 30A and Destin, FL, you're in the heart of the beach resort area. Alongside all the obvious fun that comes with taking the family to the beach, you'll also find plenty of rentals on site to make your stay even better, including golf carts, pedal carts, segways, a floating island, or paddle boards. The pool has a water slide and the activity center offers organized events throughout the year, as well as a gift shop and games like puzzles, playing cards and video games. The campground also has boat storage if you're looking for a vacation where you can enjoy both the land and the water.
You won't find a more state-of-the-art, family-friendly RV park than Carolina Pines in the Myrtle Beach area. It opened recently in 2019 and its brand new facilities include swimming pools with cabanas, a water park, a dog park and dog wash, a yoga studio, mini golf, mini bowling and an arcade. Family dinners are made easy with Lowcountry Landing-Carolina Bistro, a full-service restaurant on-site. You're also just a shuttle ride away from Carolina Pines Beach Club at Tilghman Beach where you can swim in the pool or head out to the sandy Carolina beaches.
This isn't one specific campground, but a series of campgrounds you can find across the US! They are Yogi Bear-themed parks with more than 75 locations in the US and Canada. Each campground is centered around family fun and you'll find activities like mini golf, playgrounds and theaters to keep everyone busy. Kids will love the jumping pillows, the arcades, and the gem mining. Even better, they'll have the chance to meet Yogi Bear and even celebrate a birthday with him or hear a bed time story and get tucked into bed! There's no shortage of things to keep the family entertained at a Jellystone Park.
Campgrounds With the Best Amenities for Families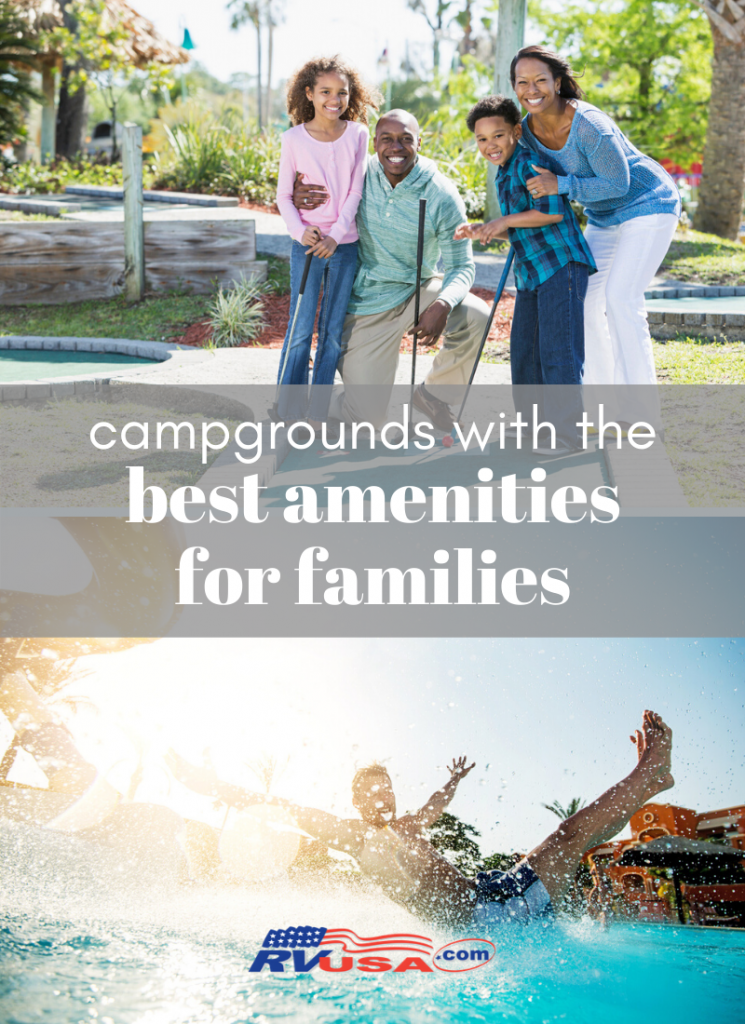 It would be impossible to create an exhaustive list of family-friendly campgrounds around the country, because there are so many! If you're adventuring outside of the area of these campgrounds, try to look for sites that have amenities like pools, games, mini golf, or clubhouses with kid-focused event schedules and activities. There's a family-focused campground around the corner from you just waiting to be discovered!
Get started with finding an RV that fits your entire family with a search on RVUSA.com. Check out our blog for more RVing tips, tricks and vacation inspiration.