Meal planning is one of the most difficult tasks when preparing for a camping trip. Usually, fridge space is limited and RV ovens have burned more meals than any of us would care to admit. As a result, many campers have turned to campfire foil packs. These simple meals often consist of meat and veggies wrapped in tin foil and cooked over the campfire. They're easy to prepare before you head out on the road and save fridge space in their compact packaging.
Campfire foil packets are easy for anyone to cook. Start by chopping your meat and veggies and placing them in a large zip-top bag. Before you head out, add olive oil and any seasonings you prefer to the bag and shake. After tossing the ingredients together, you can pack your sealed bag for your camping trip.
Once at you're at the campground and the fire has died down, it's time to chow down on some campfire foil packs. Divide the mixed ingredients from the sealed bag evenly onto squares of tin foil. Then, add another sheet of tin foil on top and roll the edges tightly together to seal. Add another large sheet of tin foil over the first. Now you're ready to cook!
Place your tin foil pack on the hot coals. Let your campfire foil pack heat on the coals until the meat is cooked through and veggies are tender. Be sure to use plenty of olive oil to prevent your dinner from burning. You should also be careful when unwrapping the tin foil as the steam that has formed inside can burn you.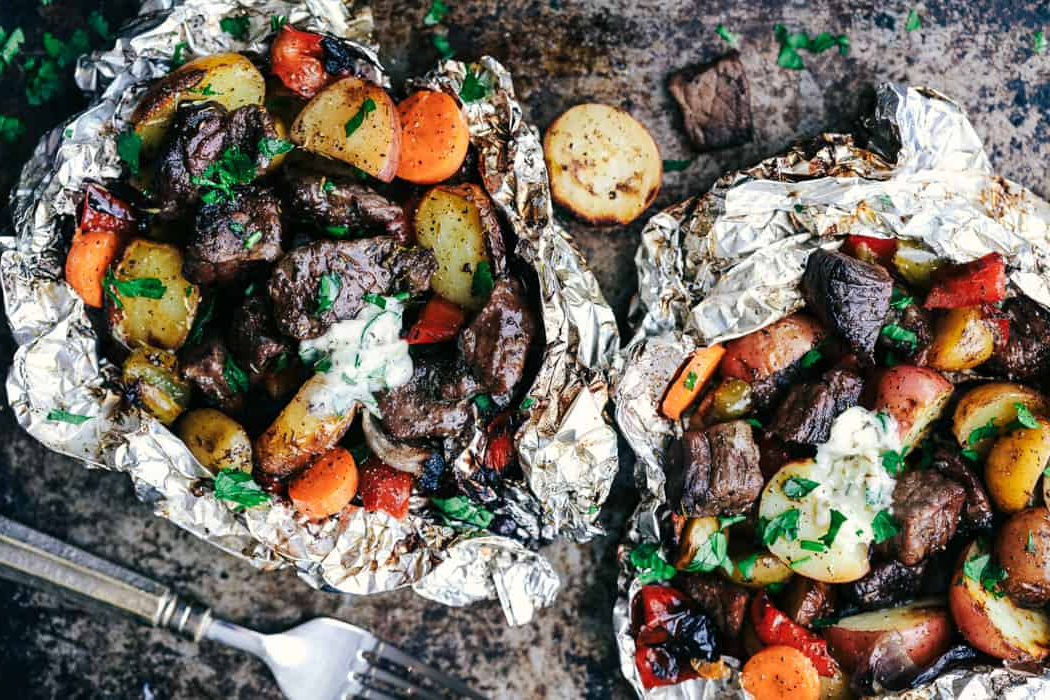 This hearty meal-in-one includes a delicious medley of tender steak and veggies. This recipe includes grilling instructions, but you'll likely have to add an extra thirty minutes to the cook time when roasting your tin foil pack over hot coals. Mix potatoes, carrots, peppers and onion with bite-size pieces of steak and toss in salt, pepper and garlic herb butter.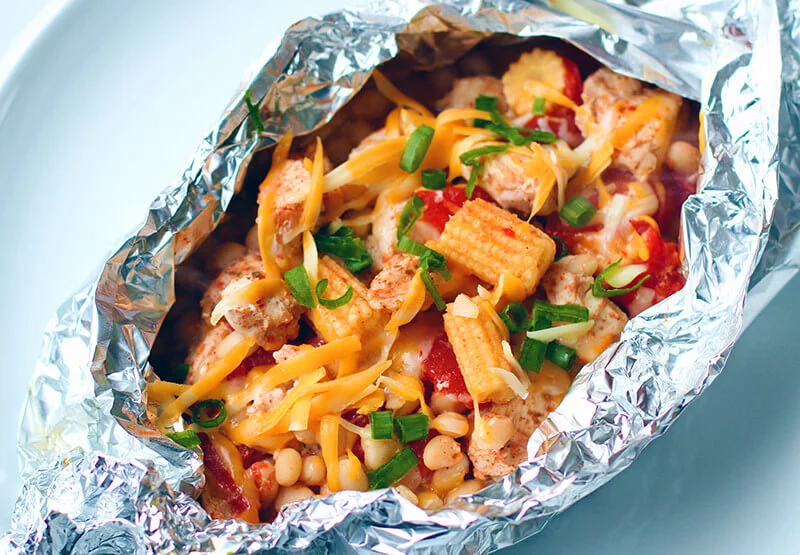 Send your tastebuds south of the boarder with this healthy Mexican-inspired campfire foil pack recipe. Combine Mexican seasoning, chicken, beans, diced tomatoes and mini corn in the foil pack and cook on the campfire, turning occasionally. When cooked through, sprinkle with shredded cheese and green onion for a little extra flavor.
This delicious campfire foil pack recipe is perfect for any time of day, and can be easily adjusted with hot dogs and other types of sausage. Or, ditch the meat altogether for an easy vegetarian meal. Mix cut sausage, bell peppers, zucchini, onion, potatoes and any other vegetables your family prefers. Season as recommended by the recipe, or take your own creative cooking liberties.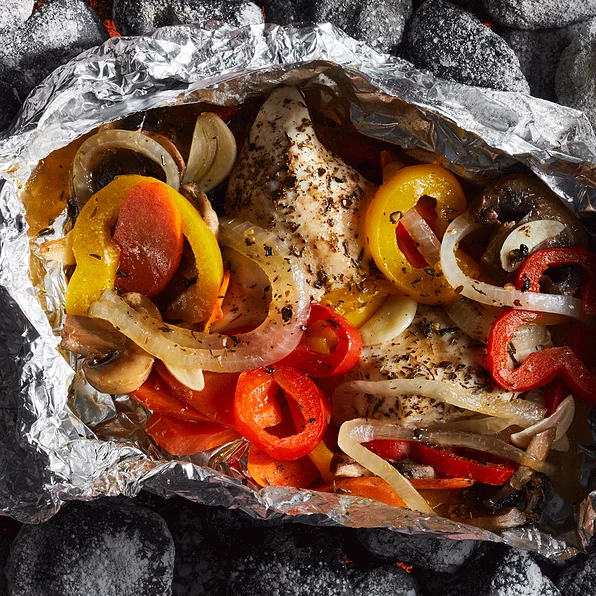 Sure to please even the pickiest of eaters, this simple combo is perfect for family camping dinners. Just chicken, bell peppers, onion, mushroom, garlic, potatoes and lemon juice drizzled with a healthy amount of olive oil. Such a simple mix is easy to change to meet everyone's preferred taste.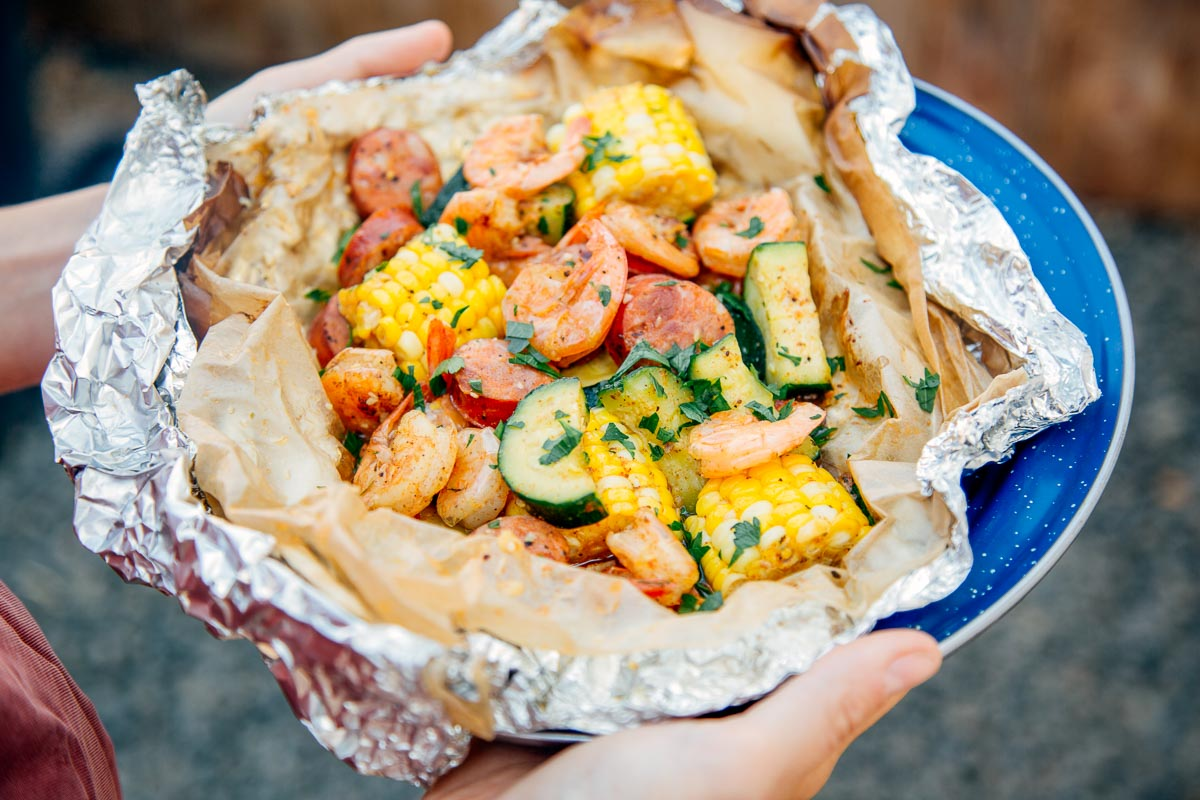 With or without a dash of Cajun flavor, this classic shrimp boil foil pack recipe is perfect for summer days. Toss shrimp, sausage, corn and zucchini with the recommended blend of seasonings. This recipe calls for garlic, butter, Old Bay, parsley, lemon and a Cajun spice blend for the perfect shrimp boil meal.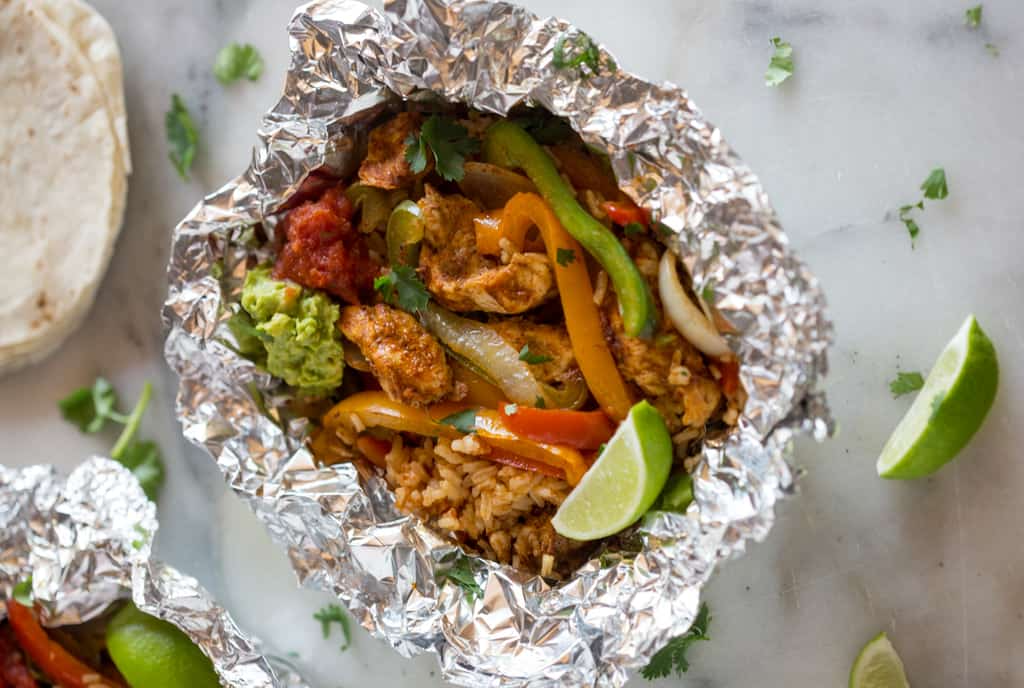 This Latin-inspired campfire foil pack brings even more international flavor. Chicken, rice, veggies, onion and classic fajita spices combine to make a tasty tin foil dinner. The addition of minute rice in this foil pack recipe brings it up notch, guaranteeing full bellies before bed.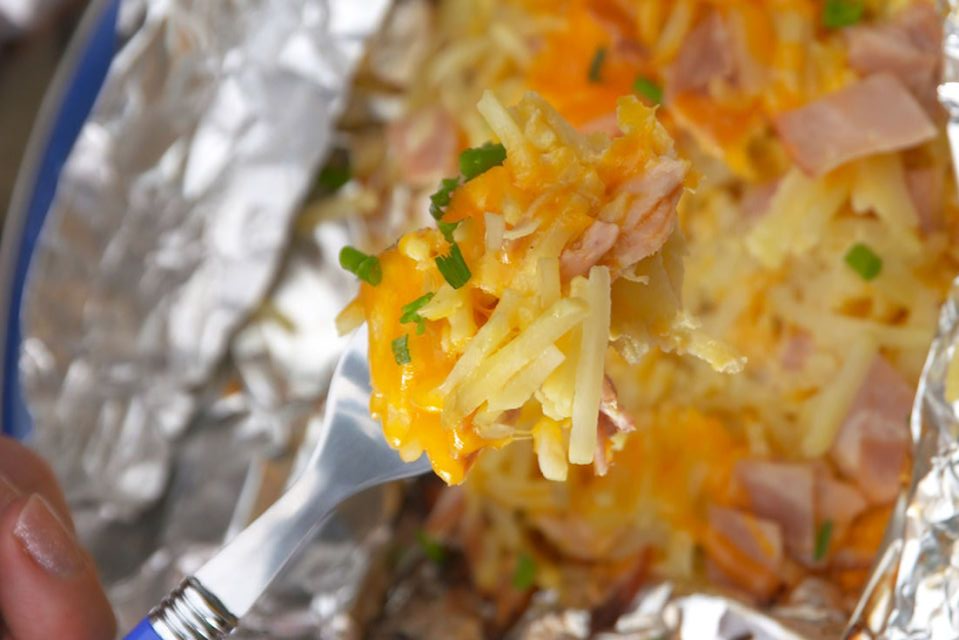 On slower mornings, try this breakfast campfire foil pack recipe. Mix eggs, milk, hash browns, ham, and cheddar in a tin foil pack for a filling breakfast fit for Olympians. With this deliciously savory breakfast dish, you'll be energized to start the day of hiking, fishing, canoeing, swimming, and more.
These easy campfire foil pack recipes are the only dishes out-competing slow cookers for favorite camping meals. Quick, easy, and plenty of fun to roast on campfire coals, tin foil packs are deliciously perfect after long days outdoors. Try one of our recommended recipes or play around with your own meat and vegetable medley.