If there's one thing mid-westerners know how to do, it's summertime. Because being cooped up inside for winter occupies such a large chunk of the calendar, Wisconsinites are out and about making the most of every moment outdoors as soon as the weather warms up. And since the summer weather in Wisconsin seems to hover at the perfect never-too-hot temperature, there's no better time to visit than when the trees turn green again and you don't need an excuse to be outside. Here are some of the best summer activities in Wisconsin!
Door County
When you think Wisconsin, the NFL's Green Bay Packers might come to mind. But just north of Green Bay is a beautiful peninsula that juts out between the bay and Lake Michigan, known as Door County. The county has 300 miles of coastline! They are home to 11 lighthouses, 5 state parks, and orchards, breweries and wineries galore. See the Niagara Escarpment limestone cliffs… Swim in the peaceful waters of Nicolet Beach… Or pick cherries in July and August. Whether you're interested in hiking, laying on the beach or indulging in local food and drinks, there's something for everyone in Door County.
Frank Lloyd Wright Trail
If you're on the road in an RV, this is the perfect path to take around southern Wisconsin. The famed architect Frank Lloyd Wright was born in Wisconsin in 1867 and attended the University of Wisconsin Madison. His 800-acre personal estate, Taliesin, is among the nine buildings on the self-guided tour. If true crime interests you, you can learn about a disgruntled employee's 1914 murder spree and fire that took the lives of 7 people on the sprawling property that includes a studio, school and chapel.
Others stops on the trail will take you to Monona Terrace meeting center in Madison, the SC Johnson headquarters in Racine and homes in Wind Point and Milwaukee. Keep in mind the trail just directs you to the architectural locations, and each site has its own visiting hours and touring fees, so you'll want to plan for that as well. The route was established in 2016 and is approximately 200 miles long.
Cave of the Mounds
If you're looking for something unique to do in Wisconsin, Cave of the Mounds is the perfect spot. Discovered in 1939 with a blast to a limestone quarry by a lead mining family, the cave was opened to visitors by 1940. Guided tours of this now National Natural Landmark follow paved and lighted paths past underground pools and rock formations. But observing the geological beauty of the cave that is constantly 50 degrees inside is only half the fun! At the cave site, visitors can enjoy hiking and biking, gardens, and plenty of activities for kids including mining for gems and digging for fossils. There's also a discovery center and a museum rock shop so you can take home some knowledge and souvenirs from your visit.
Apostle Islands
These 21 islands and 12 miles of mainland situated in the largest of the Great Lakes are made for the outdoor adventurer. Known as the Jewels of Lake Superior, one of the main things to see are the gorgeous caves that have been worn into the cliffs along the lake. There are many options for exploring these natural wonders: you can cruise on your own boat or kayaks, go on a guided kayak tour, take a sailing or fishing charter or even ride around on Apostle Island Cruises, operated by the National Park Service.
You can always stay on the mainland… But the individual islands offer a sense of peace and escape from the hustle and bustle of everyday life. Hiking, camping, hunting and even scuba diving at shipwreck sites are common activities in this National Lakeshore, and there are water taxis and a car ferry to Madeline Island to ease your transportation in this beautiful getaway.
Dane County Farmers Market
On Saturdays from April through November, find all the local foods your heart desires at the Dane County Farmers Market in Madison's Capitol Square. The market sprawls out in front of the state capitol building. It features more than 150 vendors with everything you could imagine at a market… Produce, meats, bakery items, flowers, and of course, cheese. The lakeside city of Madison is certainly worth a visit in summer. It's home to the University of Wisconsin Madison and a plethora of local breweries and waterfront spots for foodies.
Eat cheese curds
Let's be real: This activity is not specific to summertime in Wisconsin… But if you're stopping in American's Dairyland, you can't leave this one out. These delectable fried bits of cheese have a squeaky texture – that's how you know they're authentic. A cheese curd from anywhere else just isn't the same. Food and entertainment website Thrillist lists The Old Fashioned in Madison, the Wisconsin State Fair in Milwaukee and the Curd Girl food cart at the Dane County Farmers Market as some of the best Wisconsin has to offer.
Best Summer Activities in Wisconsin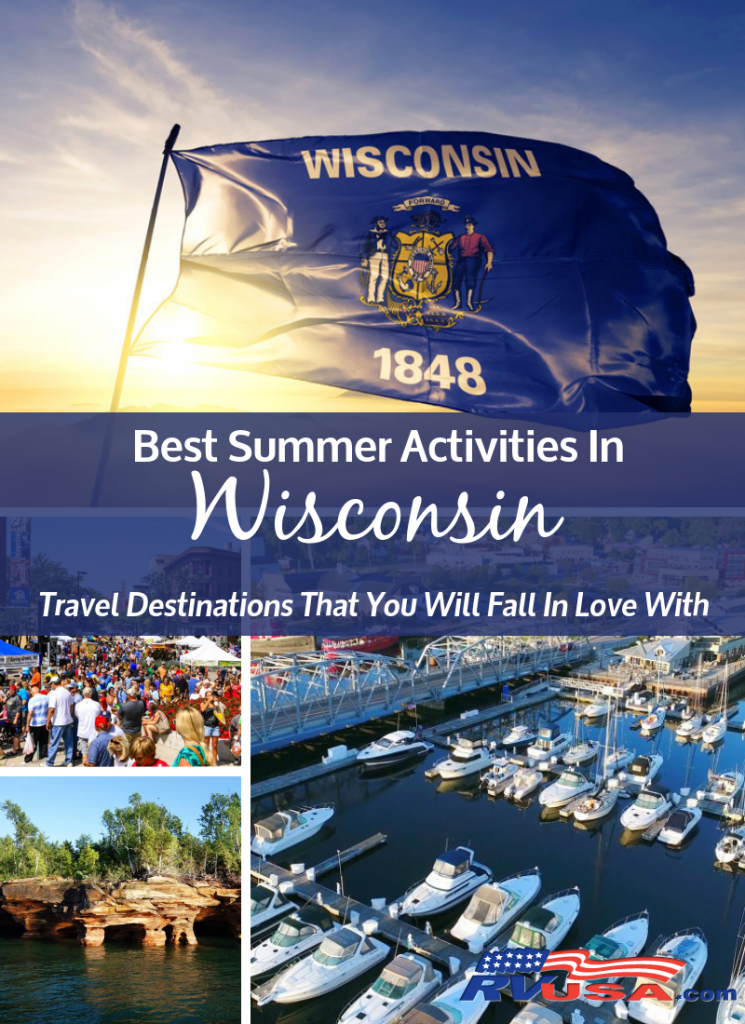 Did these best summer activities in Wisconsin get you excited to spend the summer in Wisconsin? If you are traveling around the country in your RV, be sure to check out more of our must see places and let us know what state we should cover next!