Specs for 2010 Forest River - Cedar Creek
Floorplan: 40RL5
(Fifth Wheel)
Price
Basic Warranty (Months)
12
Structure Warranty (Months)
12
Dimensions
Height
12.92 ft. (155 in.)
Interior Height
6.67 ft. (80 in.)
Holding Tanks
Number Of Fresh Water Holding Tanks
1
Total Fresh Water Tank Capacity
64 gal.
Number Of Gray Water Holding Tanks
2
Total Gray Water Tank Capacity
80 gal.
Number Of Black Water Holding Tanks
1
Total Black Water Tank Capacity
40 gal.
Propane Tank(s)
Number Of Propane Tanks
2
Total Propane Tank Capacity
14 gal.
Total Propane Tank Capacity
60 lbs.
Construction
Sidewall Construction
Fiberglass
Slideouts
Power Retractable Slideout
Yes
Awning
Power Retractable Awning
Yes
Leveling Jacks
Leveling Jack Type
Front Power / Rear Power
Kitchen / Living Area
Kitchen / Living Area Flooring Type
Carpet / Vinyl
Kitchen Table Configuration
Chairs
Living Area Location
Rear
Oven / Stove
Oven Depth
2.5 ft. (30 in.)
Refrigerator
Refrigerator Size
Mid-Size
Refrigerator Power Mode
Electric / Propane
Recliners / Rockers
Number Of Recliner / Rockers
2
Beds
Number Of Full Size Beds
0
Number Of Queen Size Beds
1
Number Of King Size Beds
0
Number Of Convertible / Sofa Beds
1
Master Bedroom
Master Bedroom Flooring Type
Carpet
Master Bedroom Door Style
Conventional Door
Full Size Master Bedroom Closet
Yes
Master Bedroom Mirror Doors
Yes
Master Bedroom Shades / Curtains
Yes
Master Bedroom Location
Front
Bathroom
Bathroom Flooring Type
Vinyl
Shower
Door Type
Plastic / Glass
Wheels
Wheels Composition
Aluminum
Tires
Rear Tire (Full Spec)
LT235/85R16G
Spare Tire
Spare Tire Location
Exterior Mounted
Brakes
Rear Brake Type
Hydraulic Drum
Battery
Battery Power Converter
Yes
Battery Converter Amps
55
Prewiring
Air Conditioning Prewiring
Yes
Washer / Dryer Prewiring
Yes
Air Conditioning
Air Conditioning Type
Automatic
Air Conditioning
15,000 BTUs
Water Heater Tank
Water Heater Tank Capacity
12 g
Water Heater Pump Power Mode
Electrical / Propane
Water Heater Tank Bypass
Yes
Speakers
Speaker Location(s)
Interior / Exterior
Standard Package
Custom Exterior Color
LP Generator Prep with Carbon Monoxide Detector
Dinette (replaces Free Standing Table and Chairs)
Onan 5.5 KW Marquis Gold LP Generator
Cognac Taupe Interior Decor
Electric Refrigerator with Inverter (18-Cubic Ft)
Stacked Washer / Dryer (Front Loading)
Leather La-Z-Boy Rocker Recliners
Combination Washer / Dryer
Create-A-Breeze Fantastic Fan (Bedroom)
Oak Leaf Beige Interior Decor
King Size Bed (Replaces Queen)
Wheat Tapestry Interior Decor
Satin Spruce Interior Decor
Penguin 2nd Air Conditioner
3-Burner Convection Oven/Microwave
Side-by-Side Refrigerator (12-Cubic Ft)
A&E Electric Awning With Remote & Wind Sensor
Slide Room Awning Toppers
White Exterior Color
2010 Forest River Cedar Creek RVs for Sale Near You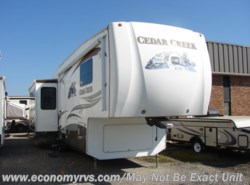 Used 2010 Forest River Cedar Creek 34SATS
$21,983.00
Data Copyright © 2017 Consumer Research Solutions, Inc. All Rights Reserved.