Specs for 2008 Winnebago - Vectra
Floorplan: 40TD
(Class A)
Price
MSRP + Destination
$295,521
Basic Warranty (Months)
12 Months / 15,000 Miles
Structure Warranty (Months)
36 Months / 36,000 Miles
Chassis Warranty (Months)
36 Months / 50,000 Miles
Powertrain Warranty (Months)
36 Months / 50,000 Miles
Engine
Engine
Cummins / I6 Diesel Pusher
Chassis Brand
Freightliner
Horsepower
400 hp @ 2,200 RPM
Torque
1,200 ft-lbs. @ 1,300 RPM
Fuel Requirements
Regular
Carburetion Type
Fuel Injected
Transmission
Transmission Brand
Allison
Transmission Type
6 Speed Automatic
Dimensions
Length
39.67 ft. (476 in.)
Width
8.46 ft. (101.5 in.)
Height
12.33 ft. (148 in.)
Interior Height
7.21 ft. (86.5 in.)
Wheelbase
22.25 ft. (267 in.)
Weight
Towing Capacity
10,000 lbs.
Holding Tanks
Number Of Fresh Water Holding Tanks
1
Total Fresh Water Tank Capacity
103 gal.
Number Of Gray Water Holding Tanks
1
Total Gray Water Tank Capacity
117 gal.
Number Of Black Water Holding Tanks
1
Total Black Water Tank Capacity
51 gal.
Propane Tank(s)
Number Of Propane Tanks
1
Total Propane Tank Capacity
31 gal.
Total Propane Tank Capacity
131 lbs.
Construction
Sidewall Construction
Fiberglass
Slideouts
Power Retractable Slideout
Yes
Awning
Awning Length
20 ft. (240 in.)
Power Retractable Awning
Yes
Leveling Jacks
Leveling Jack Type
Front Power / Rear Power
Kitchen / Living Area
Kitchen / Living Area Flooring Type
Tile
Kitchen Table Configuration
Chairs
Living Area Location
Center
Oven / Stove
Oven Depth
2.5 ft. (30 in.)
Refrigerator
Refrigerator Size
Full-Size
Refrigerator Power Mode
Electric / Propane
Recliners / Rockers
Number Of Recliner / Rockers
2
Beds
Number Of Full Size Beds
0
Number Of Queen Size Beds
1
Number Of King Size Beds
0
Number Of Convertible / Sofa Beds
2
Master Bedroom
Master Bedroom Flooring Type
Carpet
Master Bedroom Door Style
Full Sliding Door
Full Size Master Bedroom Closet
Yes
Master Bedroom Mirror Doors
Yes
Master Bedroom Shades / Curtains
Yes
Master Bedroom Location
Rear
Bathroom
Bathroom Flooring Type
Tile
Shower
Door Type
Plastic / Glass
Wheels
Wheels Composition
Aluminum
Tires
Front Tire (Full Spec)
Michelin 275/80R 22.5
Rear Tire (Full Spec)
Michelin 275/80R 22.5
Brakes
Front Brake Type
Hydraulic Disc
Rear Brake Type
Hydraulic Drum
Rear Hitch
Tongue Weight (kgs)
226.8
Seat
Power Adjustable Seat
Yes
Battery
Battery Power Converter
Yes
Prewiring
Air Conditioning Prewiring
Yes
Washer / Dryer Prewiring
Yes
Air Conditioning
Air Conditioning Type
Automatic
Water Heater Tank
Water Heater Tank Capacity
10 g
Water Heater Pump Power Mode
Electrical / Propane
Water Heater Tank Bypass
Yes
Speakers
Speaker Location(s)
Interior / Exterior
Television
Television Brand Name
Sharp
Standard Package
Sunscreen Package
GPS Navigation System
Video Camera System (Dual, Side-Mounted)
Gold Crystal Exterior Color
Glacier Exterior Color
Tundra Exterior Color
Ivy League Interior Decor
Metropolos Interior Decor
Wakefield Interior Decor
Blackberry Exterior Color
Cobra CB Radio
Compact Multidisc Changer (10-Disc)
Exterior Entertainment Center
King-Dome Satellite Dish Antenna (Automatic)
LCD TV (27-Inch)
Sirius Satellite Radio System (6-Month Subscription)
Portable Refrigerator / Freezer
Microwave / Speedcook Oven
Dishwasher
Ceiling Fan (Lounge)
Dirt Devil Central Vacuum Cleaner
Sleep Number Queen Bed
UltraLeather Sofa / Bed
Dining Table / Buffet and Chairs
Washer / Dryer Combination
BenchMark Full Comfort Dinette
UltraLeather Rest Easy (Dual Control)
UltraLeather Theater Lounge Seats
2008 Winnebago Vectra RVs for Sale Near You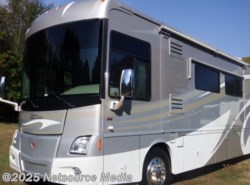 Used 2008 Winnebago Vectra 40TD
$104,765.00
Data Copyright © 2017 Consumer Research Solutions, Inc. All Rights Reserved.