Unless you live under a rock, you've probably been hearing a lot of talk in the RV community about the Tiny Home Movement. While many RVers prefer the mobility of a classic camper, tiny homes are gaining popularity fast. Whether you're new to RVing or a long-time expert, a tiny home may be worth checking out.
Before you start drawing blueprints and loading up on decor for your new tiny home, keep reading to learn more about these adorable RVs.
What is a Tiny Home?
A tiny home, also known as a park model trailer, is technically considered a recreational vehicle (RV). These are transportable homes that are designed for long-term or permanent living at any RV or mobile-home friendly destination. Park model RVs are built on a single chassis and mounted on wheels with a gross trailer of 400 square feet or below. These tiny homes can vary in size, shape and style, but should be used for recreational purposes only (never permanently affixed). When set up at a campground or site, these units can utilize fixtures and appliances just like a regular home.
What do they look like?
As you may expect, tiny homes look like very small houses, which is part of their appeal. Even the most luxurious, top-of-the-line motorhome or fifth wheel still looks like an RV when you step outside. A tiny home, on the other hand, can truly make you feel like you're at home, both from the inside and out. For RVers who like full-timing or long term visits to campgrounds, a tiny home can almost make you feel like you aren't camping at all.
Are they stable?
It may surprise you that tiny homes are actually better insulated and winter-proofed than most campers. Because they are custom built from the ground up, tiny home buyers can usually choose the type of insulation and A/C or heating options that fit their location or planned destinations. Many traditional RVers tend to shy away from winter camping, but tiny home owners can enjoy the comfort of their home in almost any weather. Tiny homes are also known for their stability and tend to feel more solid than other types of RVs.
Are they good for the environment?
Unlike mass-manufactured RVs, tiny home owners have more options to choose from when designing their home. Custom-made tiny houses can be finished with non-toxic materials that have low-VOC characteristics. While the cost of different materials and finishes may vary, it's up to the (tiny) home owner to decide what they want.
What styles do they come in?
When it comes to tiny homes, the only limit is your imagination. Out of all the recreational vehicles available on the market, tiny homes have the most flexible and customization design features. Whether you're looking for modern, vintage, cottage-style, muted, bright, or anything in between, you can design a tiny home to meet your personal style.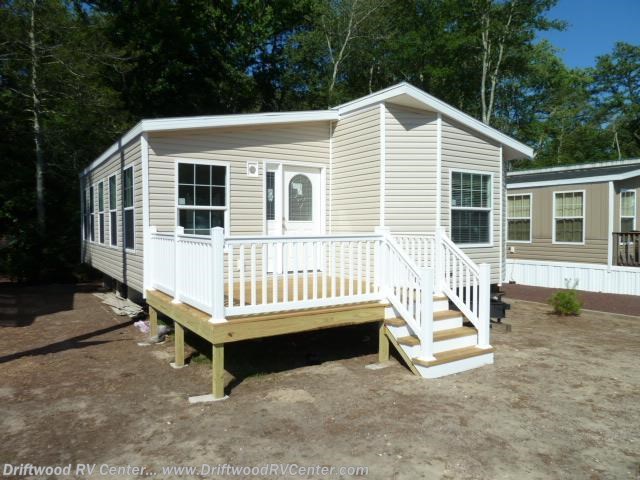 What's the downside?
Besides personal taste or traditionalism, there are a few reasons RVers choose not to live in a tiny home. For one, tiny homes tend to cost more than traditional RVs. While prices will vary according to size and design, the average tiny home starts at around $50,000. Another deterrent for tiny home buyers is the insurance and building codes that can get a little fuzzy. There are many places that allow legal living in a small home, but some locations have stricter regulations. Finally, tiny homes are significantly less mobile than regular RVs. Fifth wheels, travel trailers, toy haulers, etc., are built with lightweight materials and aerodynamic bodies that are designed to be moved. Tiny homes on the other hand are heavier and much harder to tow.
Where do I buy one?
The tiny home movement has hit the RV scene pretty hard as of late (there's even a show on HGTV), and even the top RV manufacturers (Forest River, Keystone, Skyline, etc.) are getting in on the action. If you're considering a tiny home, visit our inventory page on RVUSA.com to find a tiny home for sale.
Check back daily for more tips on camping and RVing!

Save
Save
Save
Save
Save
Save