With so many of us still stuck at home, many are looking for a change of scenery. Or, maybe you're looking for a socially distanced alternative to your typical family holiday traditions. At RV USA, we understand your need to get out and about this winter, and we want to help ensure that your winter RV excursion is a success.
There are a few things you should do before you hit the road to ensure you have a safe and relaxing winter vacation.
RV Prep Work: Before You Hit the Road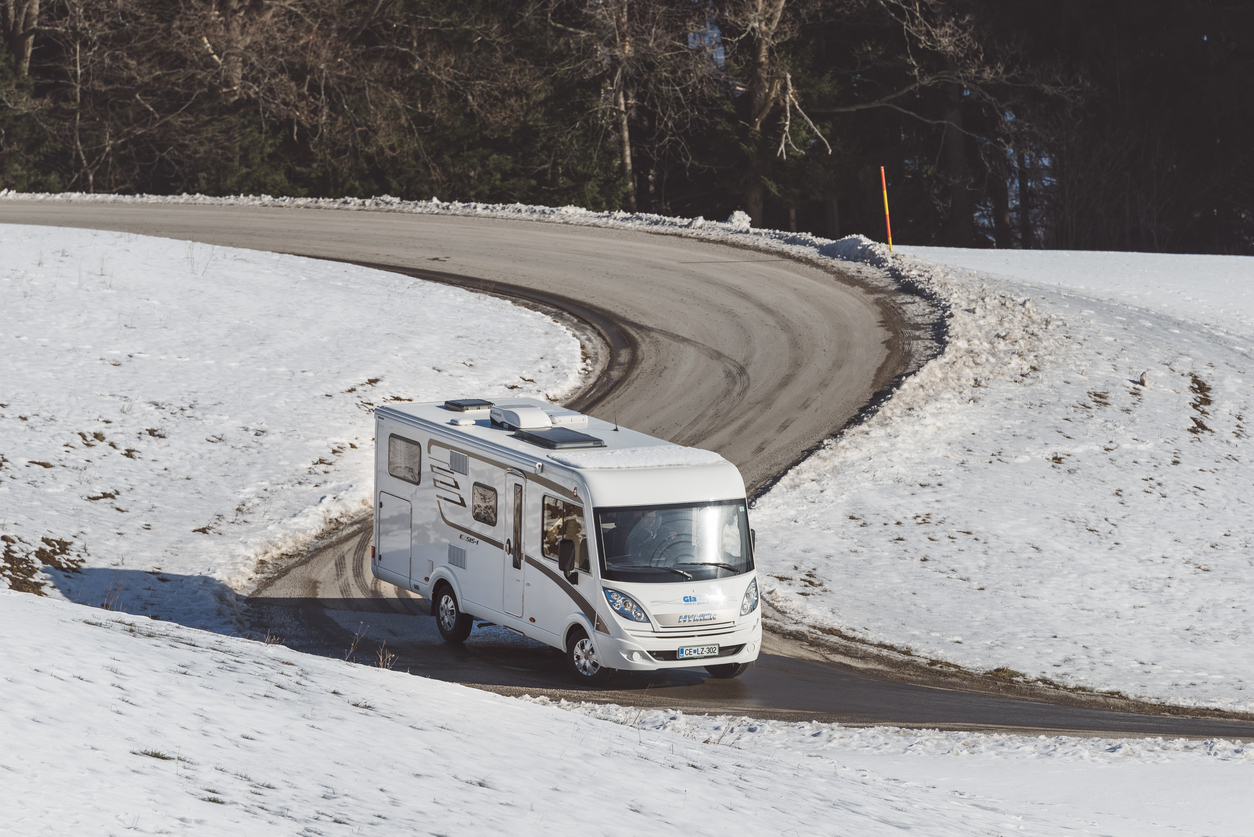 It's always good practice to complete a PMI before you hit the road. PMI stands for Preventative Maintenance Inspection. If you complete one, you are likely to find and address any issues with your RV before you hit the road.
This includes checking the tires, mirrors, brake lights, and turn signals. Basically anything you would check when doing an official inspection. Fixing these issues at home may not be too difficult… But doing it on the road (especially if it's cold or icy conditions) can be a challenge.
After you've completed the PMI and addressed any issues, you're ready to move on to the other winter-weather preparations: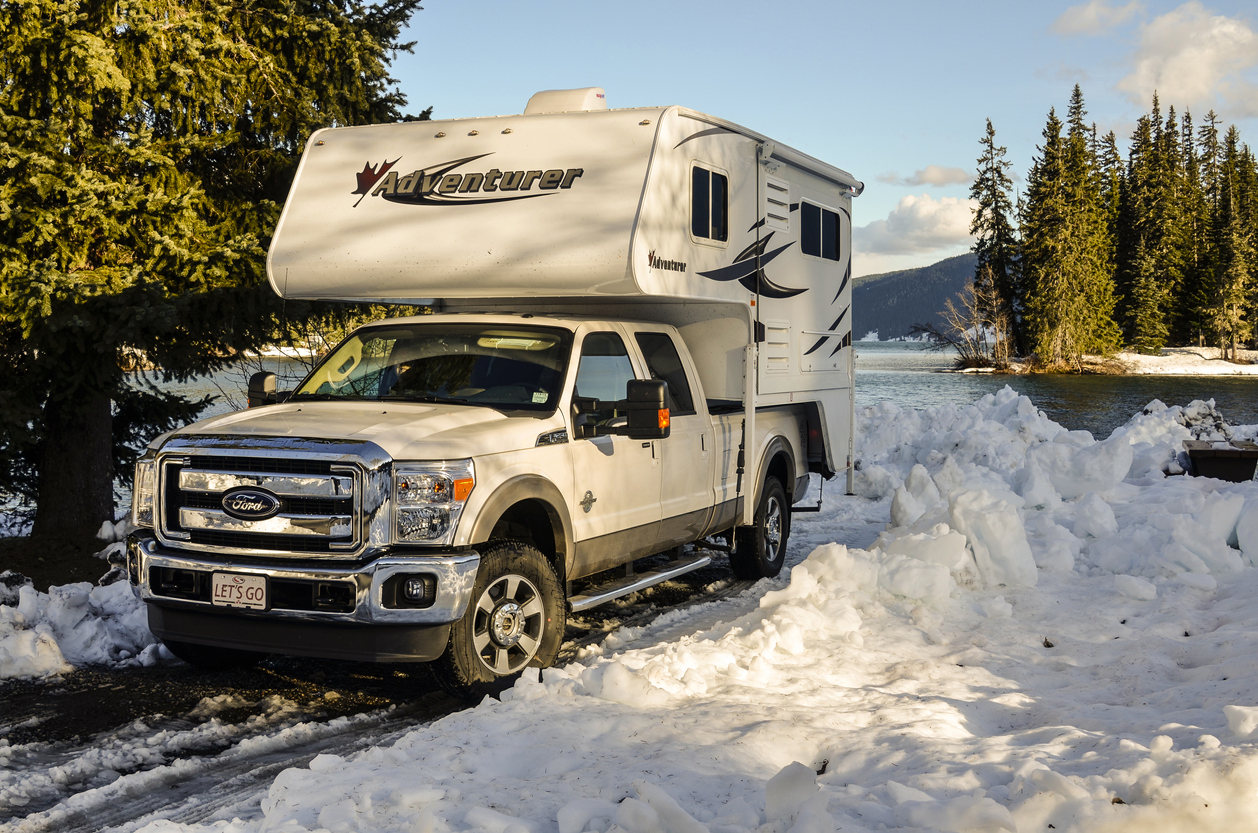 Seal: Check that your windows and roof are sealed. You'll want to re-caulk or patch any issues that you find so you can keep the winter elements out of your RV. You'll also want to also examine any access panels on the side or beneath the RV to ensure you keep any drafts out.
Insulate: If you are going to be experiencing subzero temperatures, some have suggested adding a foam board, cut to the size of your RV, beneath your rig. This barrier can help with insulating your tanks and water lines from freezing temperatures.
Empty: You'll want to empty your black and gray water tanks. Then add in about a quart of the pink RV antifreeze to each tank. This will protect your valves during freezing temperatures. You can also add tank heaters.
Pipe Safety: You may consider insulating water pipes with foam insulation and/or adding electric pipe heaters for extremely cold conditions.
Sewer Line: Consider wrapping your sewer tank in heat tape and insulation to prevent ice dams. Don't empty your tanks until you are ready to leave. You want to avoid letting the sewer hose freeze as it's likely to split.
Fresh-Water Hookup: If you plan to utilize a fresh-water hookup, you should consider buying a heated water hose to prevent bursting. You'll want to ensure that all hoses and cables are kept off of the cold ground.
Heating: Be sure to test the furnace before you hit the road. Remove all dust, insects, and debris. If you don't plan to use your furnace, you can utilize space heaters or a propane tank. If you use propane, you'll want to ensure you have spare propane or access to a propane fill-up near your camping destination.
Make Sure Your Campground is Open: During extreme weather, some campgrounds may decide to close for safety. It's always best to get an update before you hit the road.
Weather Check: Additionally, it's best practice to check the weather before you head out. There may be a better route that will allow you to avoid the worst part of the storm, keeping you and your campers safer.
When You're Camping
Heat Escaping: If you notice that you are losing heat through the windows, consider insulating them with thick curtains or aluminum foil. Cover all skylights and vents. Consider running a curtain between the main cabin and the driver's seat to help prevent additional heat from escaping.
Refrigerator: If you start noticing your refrigerator or ice maker on the fritz, they may be freezing. If you have extra piping, consider insulating the water lines and heat exhaust. Alternatively, you can use a small space heater to help keep the unit warm. Just be sure that you don't have the heater near anything flammable.
Stabilizing Jacks: Your jacks can freeze onto paved or concrete pads. So you should put your stabilizer on wooden blocks before extending it.
Slide Outs: Snow and Ice can accumulate and freeze onto your slide out, which could prevent you from retracting the slide out when you're ready to leave. Alternatively, cold temperatures can also freeze your gaskets. Spraying RV antifreeze on the gaskets may help. If possible, you should retract the slide outs the morning before you leave. Always remember to scrape away any ice or snow before opening or closing the slide outs.
Your Top RV Dealer & Lifestyle Experts Since 1995
If you're feeling like this is too much work, we promise that it's easier to do the prep work before than to be stuck trying to figure things out on the road. Still, some of this work may seem overwhelming or can be problematic if not attended to properly. If you'd prefer to allow one of our local providers to assist you in winterizing your RV for your trip, you can count on us to help. Alternatively, you can rent one of our fully-equipped RVs and save trouble for your trip.