For those who travel in a motorhome, a "toad" vehicle is often a necessary companion. If you're not familiar with the term, it's basically RV lingo for a vehicle you tow behind your motorhome. It can be a headache to pack up and unhook the entire RV at the campground just to run an errand or to take a quick day trip to explore the surrounding area, so many people choose to bring along a toad for that reason. It allows you to set up camp and still have the flexibility to go anywhere you like.
There are many vehicles that work great as toads, and chances are you already own one. But if you're transitioning to a full-time RV lifestyle, you may want to invest in a car, truck or SUV that makes towing as easy as possible.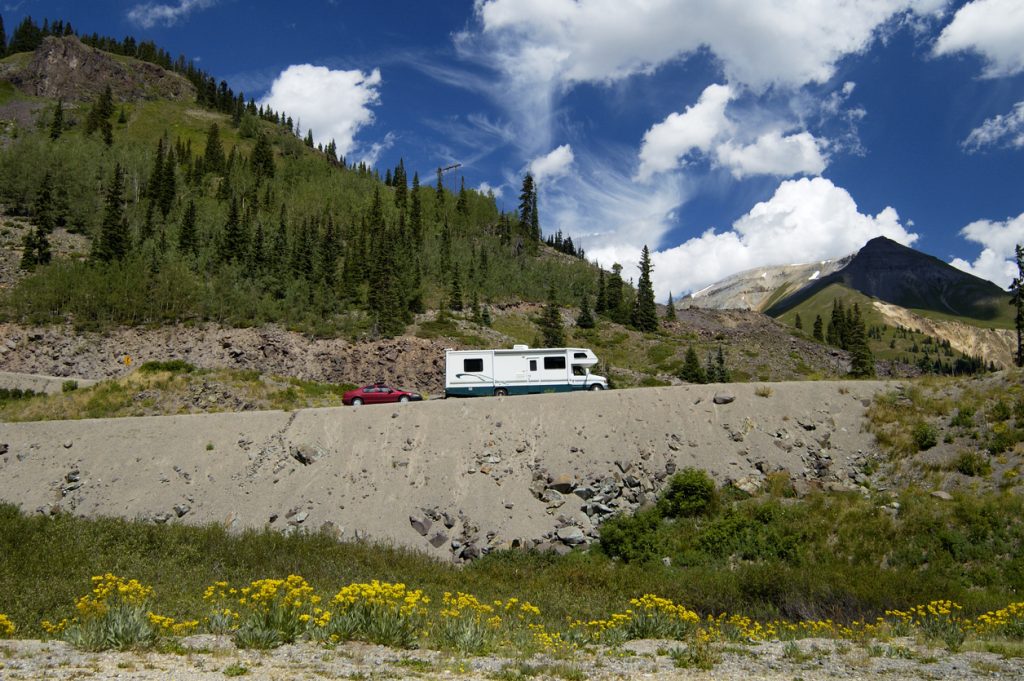 Things to consider
Before we get to our list of great RV toad vehicles, there are a few things to keep in mind if you're looking to tow a vehicle behind your RV. First, you'll want to identify your RV's towing capacity. Yes, even massive coach motorhomes have a limit on how much they can tow! You won't want to exceed this limit as it could damage your rig or waive your insurance coverage.
Next, you'll want to know the difference between a vehicle that can be flat towed and one that requires a tow dolly to lift the front two wheels off the ground and avoid damage to the drive train. Vehicles with manual transmissions can be flat towed easily in most cases, but sometimes things get more complicated for cars with automatic transmissions. You may have to invest in extras like a lubrication pump to prevent damage to the transmission while you tow. An RV dealer should be able to install any extra things you need in order to tow safely.
As we continue with our list, it's important to note that not every year's edition of a vehicle is capable of being towed safely – things can change from year to year in the design of a vehicle. Always check the car's owners manual to see whether a vehicle is capable of being towed four-down or not.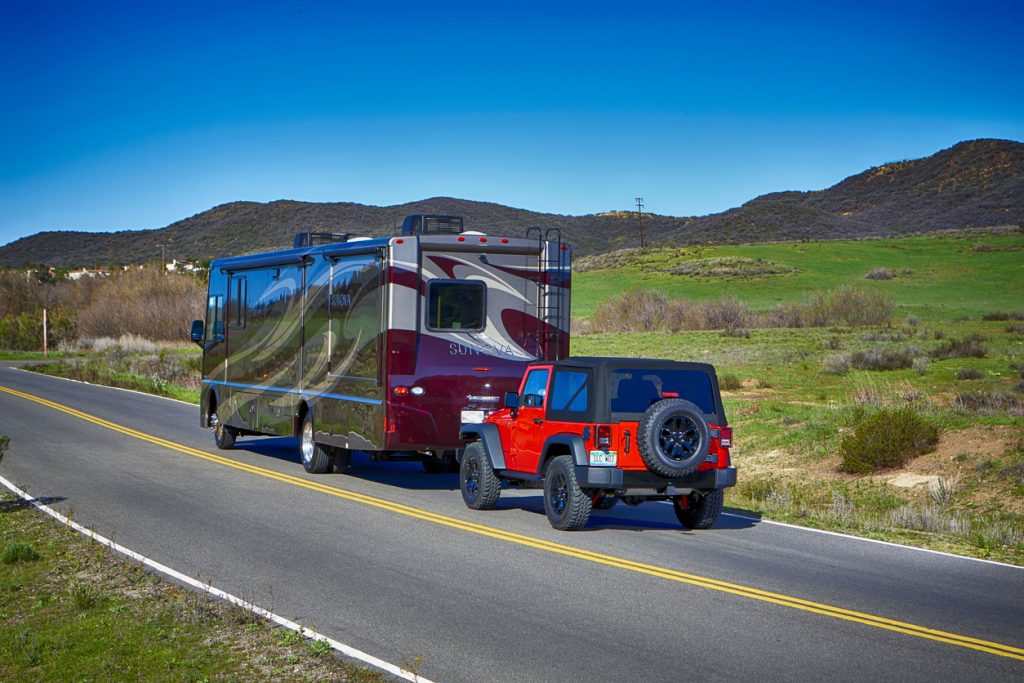 Cars
Compact vehicles are generally pretty easy to tow as they fit safely under most tow capacities. However, if you travel with a large family, a car may not be big enough to ferry everyone to local attractions or fit both people and groceries. If you don't need a ton of seating or trunk space in your toad though, a compact car may be the right toad vehicle for you.
Chevrolet Spark – This hatchback is lightweight and has plenty of trunk space for grabbing supplies or bringing along your hiking gear. It also has great gas mileage which is great for the RVer trying to be budget conscious with their fuel spending.
Ford Fusion Hybrid – The Fusion Hybrid is a fuel-efficient vehicle that's lightweight and won't put a strain on your motorhome as you tow it. It's also on the more affordable side of many of the vehicles on this list.
Honda FIT – This is yet another lightweight, fuel-efficient option for a toad vehicle. It's small, easy to tow, and will save you money on gas.
Trucks
The great thing about using a truck as your toad is that you really have no limits on what you can use it for. Load it up with outdoor gear like bikes or kayaks and you'll broaden your options for fun day trips.
Ford F-150 – This truck is packed with power, yet still isn't too large to tow safely behind Class A motorhomes. You'll need a 4WD F-150 to tow it, and if it's an older model there may be a few extra features you'll need as well.
Chevrolet Colorado – This mid-size truck gives you the best of both worlds: the conveniences of having a truck along with relative ease of towing. Again, you'll need 4WD with a Colorado, but the adventures it opens you up to will be endless.
Dodge Ram 1500 – The Ram 1500 is known for its smooth ride compared to other half-ton trucks, so if you prefer that in a truck, you can't go wrong with a Ram. 4WD is needed for flat towing.
SUVs
If you travel as a family, having an SUV as a toad is a no-brainer. There's plenty of room to fit everyone, and some 4WD options will allow you even more flexibility on exploring off-road.
Jeep Wrangler – Wranglers are one of the most popular toad vehicles, and it's easy to see why. Their size makes them easy to flat tow, and both manual and automatic transmissions can be towed four-down safely. Plus, RVers love a little bit of outdoor adventure, and what vehicle goes better with outdoor adventuring than a Jeep?
Jeep Grand Cherokee – This SUV option will fit a few more than the Wrangler, so it's perfect for families on the go. Keep in mind you'll need a 4WD version of this vehicle in order to flat tow.
What Vehicles Makes the Perfect Toad?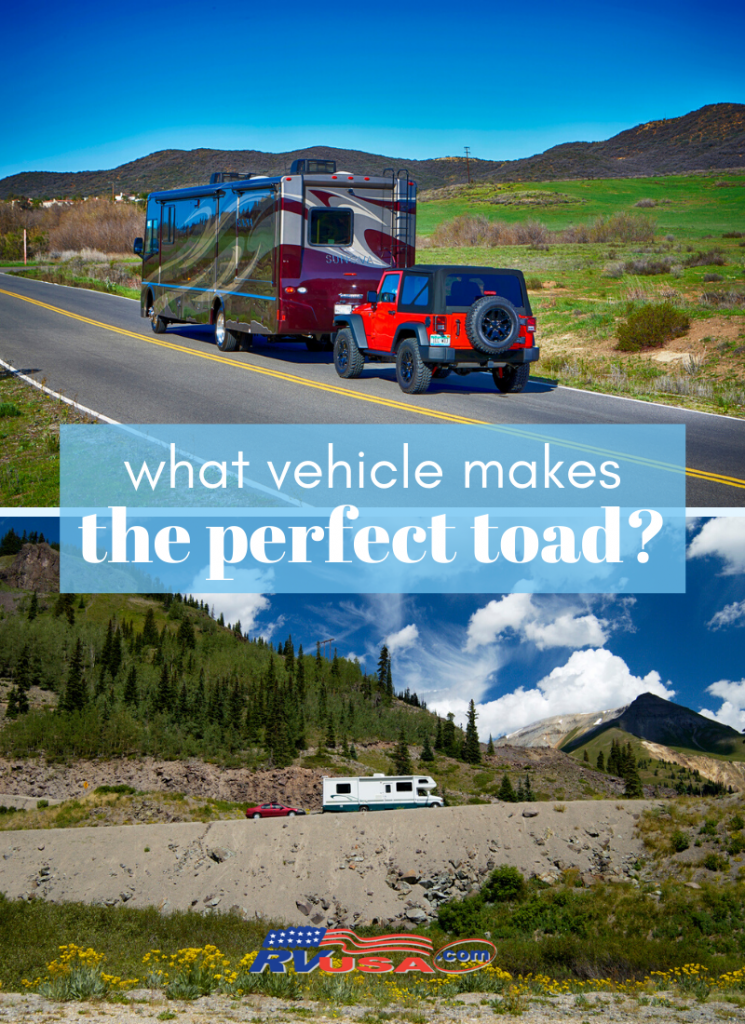 This is by no means an all-inclusive list, but it can help get you started when it comes to picking the right toad for you and your family. Adventure is just around the corner when you have the perfect toad!
Be sure to visit our blog for more RVing tips and tricks. If you're looking for the perfect RV to tow your toad, get started with a search on RVUSA.com today!