With almost 60,000 RVs listed for sale on RVUSA.com, it's not easy to keep track of the specific RVs that you are interested in. So with our new website design, we created MyRVUSA. This is a free service for all of the visitors on RVUSA.com to use. It gives you the ability to save units, searches, dealers, and keep track of your recently viewed units. Keep in mind, you must be logged into MyRVUSA to track your recently viewed units, and/or to save items.
What's nice about this tool is that you can save items to your MyRVUSA account that maybe you found on your lunch break at work, and then access them later by logging in from home or anywhere really, and just pick up where you left off.
You'll see this at the bottom of each page you visit on RVUSA.com:

When you are logged into MyRVUSA, you'll see your saved items in this box. Here's what mine looks like:

The unit pictures that display are your recently viewed items. You can click on each of them to return to the details page for that listing. You can also click on the "View Browsing History" link, which will take you to the MyRVUSA Console, so that you can take a look at all the units you've looked at while logged into MyRVUSA.
On the right side, you'll see text links to your saved searches. You can click on them to run your search with the criteria you specified previously to see what units match currently. If you click on the "View All Saved Searches" text link, you'll go to the MyRVUSA Console, where you can view each of your saved searches, the criteria you specified or the search, date it was saved, link to run search, and a link to delete it from your saved items.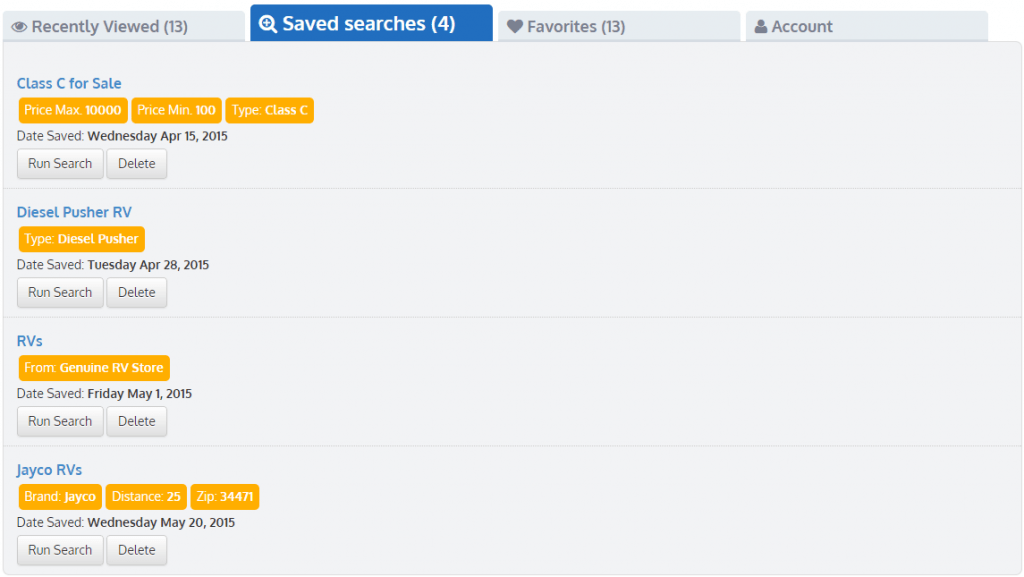 The first saved search I have is "Class C for Sale", and the criteria for this search is that the maximum price is $10,000, the minimum price is $100, and the type must be a Class C. I put the minimum price in there to weed out those units that don't have any pricing listed. I used $100, but you could use $1, and it would still filter out those units with no pricing.
My third saved search is "RVs", and the only criteria for that one is if the unit is listed by one of my favorite dealers, Genuine RV Store. I created this saved search on May 1st, but if I wanted to see what Genuine RV has listed today, I can just run my saved search and see all of their current inventory.
Now that you know what MyRVUSA is, and how it works, let's get you signed up and using it.
All you need is your email address, and a password, which must be a minimum of 6 characters in a combination of letters and numbers.  Once you click the Sign-Up button, you'll be taken to the MyRVUSA Console, where you'll see tabs for Recently Viewed, Saved Searches, Favorites, and Account.

When viewing inventory list pages, like this one, http://www.rvusa.com/for-sale/used/class-c, each unit will have a "Save to MyRVUSA" button.    If you click on this button, alert you that the unit was saved to the Favorites tab in your MyRVUSA Console.  On the Favorites tab in the MyRVUSA Console, the most recent saved unit appears first.  You can remove units showing on this tab by clicking the Clear Unit link.

On the top right side of the inventory pages, you'll see a button for "Save Search Results".    If you want to quickly access this search again, you'll click this button, and it will get saved to your Saved Searches tab in your MyRVUSA Console.

When viewing detail pages, like this one, http://www.rvusa.com/for-sale/2014/prime-time-tracer-executive-series-3200bht-travel-trailer-used-seffner-florida-33584-1730111, you'll see the "Save Unit" button located on the top right of the page.   You'll use this button to save it to the Favorites tab in your MyRVUSA Console.
The only tab left that I haven't covered is the Account tab. Right now that only has your email address, first name and last name. If you would like to change the email address or password you have associated with your MyRVUSA account, this is where you'll update that information. You would just make your changes and click the Submit Form button.
If you have any questions, suggestions, feedback, etc., post them here. We'd love to hear back from you!
Cindy Spencer  🙂
Cindy Spencer, an Account Manager at NetSource Media since 2000, works with clients across the US with RVUSA.com,TrailersUSA.com and RVCanada.com. Cindy and her in-house team of designers and programmers helps dealers with responsive website design, website & email hosting, inventory management & distribution, website maintenance, SEO, and much more. Connect with Cindy on Google+ and follow her RV blog.