Looking both nostalgic and futuristic, the Airstream trailer with its distinctive aluminum-clad sausage shape, rules the road with a rich history and a legion of loyal fans.
While non-RVers may use "Airstream" synonymously for travel trailer, connoisseurs know that Airstreams are a brand as distinct and historic as the design itself.
History
The "land yacht" that would circle the globe had its beginnings in the air and the back pages of popular do-it-yourself magazines. The first rounded aluminum-clad travel trailer was the brainchild of William Hawley Bowlus, who was famous for his design of Charles Lindbergh's "Spirit of St. Louis" airplane.
Bowlus designed "The Bowlus" travel trailer in 1934. Weighing in at a scant 1,100 pounds, it was made of panels of Alclad aluminum screwed to wielded aluminum steel tubing – mimicking the construction of early aircrafts. The most famous of Bowlus's trailers was the Road Chief, which had a front entry and stylish interior. Plans for the Road Chief were sold in do-it-yourself (DIY) magazines starting in 1935 and a factory opened by Bowlus produced less than 100 of the trailers commercially before the outbreak of World War II.
Meanwhile, outdoorsman, tinkerer, writer, lawyer-in-training and inventor, Wally Byam, was laying the groundwork for what would become Airstream. His first effort at a camping trailer was a tent attached to a Model T chassis. Not much fun in the rain and distinctly unpopular with his first wife, his next effort was a tear-dropped shaped trailer that included a cook stove and ice chest, according to the official Airstream Website.
When his teardrop design caught the eye of fellow campers, Byam thought travel trailers might put him on the road to success. Like many in his day, Byam sold DIY plans in "Popular Mechanics" magazine. When friends and neighbors asked him to do the building for them, he obliged and built a factory in southern California. His first commercial model, the Torpedo Car Cruiser, a small Masonite camper on a single axel, was a big success with more than 1,000 torpedo models on the road in the early 1930s.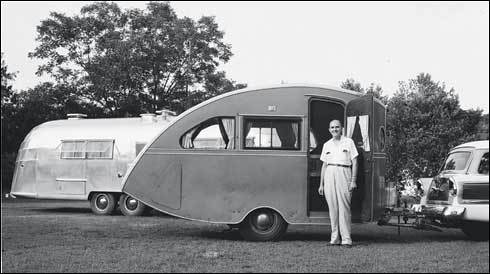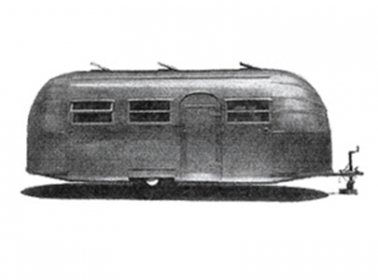 Byam purchased the then-struggling Bowlus company, and in 1936 the "Clipper," a nod to the Pan-American Airlines Clipper, rolled out of the factory. The Clipper was the first all-aluminum, "single shell," or monocoque, constructed Airstream trailer. The construction technique and materials resulted in a trailer that Byam told customers "cruised down the road like a stream of air." The Clipper carried its own water supply, had electric lights, slept four and sold for $1,200.
With travel a luxury and aluminum in short supply, production halted during World War II. However, Byam was ready to gear up again at the end of the war and in 1947 invited the famous French bicyclist, Latourneau, to visit the factory and pull a trailer with his bike. A picture of the event became the iconic Airstream logo. By 1948, Airstream went back into production and in 1952, a new construction facility opened in Jackson Center, Ohio. The last Airstream was manufactured in California in 1979.
Founder Wally Byam died in 1962, but his legacy lives on. Today Airstream is a division of Thor, Inc. More than 2,000 trailers are still produced each year at the Jackson Center, Ohio factory, all with the distinctive gleaming silver exterior and rounded, sausage shape.
Design
Airstreams are different by design.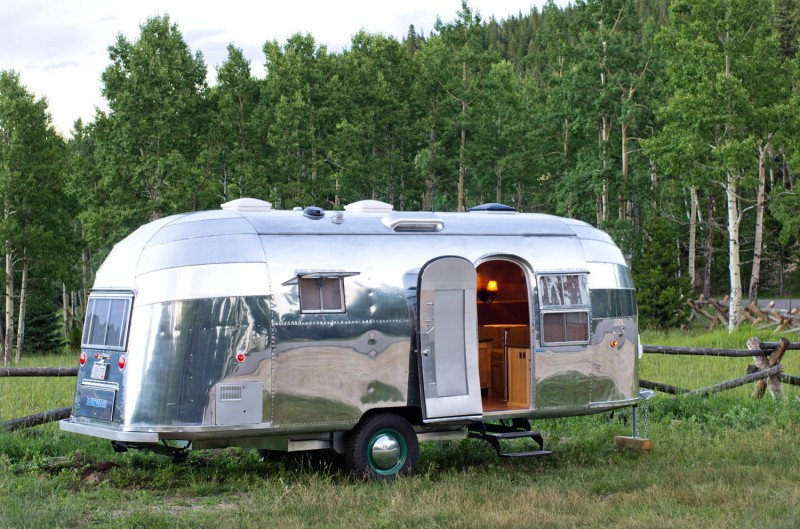 Airstreams are constructed like airplanes, with aluminum panels that are riveted together to create a durable and streamlined structure, lighter than a standard travel trailer and distinctive in appearance. The sausage shape creates an aerodynamic towing trailer, while the aluminum monocoque – single shell — self-supporting construction keeps the overall weight of the trailer low. The gleaming silver exterior manages to harken back to the early days of aviation while retaining its modernistic appearance.
Today's Airstream travel trailers range from 16-ft "Bambi" single axel trailers to the over-the-top luxurious 28-ft "Land Yacht" and 30-foot Classic Airstreams.
Popularity
While Airstream has stayed loyal to its timeless design, a legion of fans are committed to "living riveted," a reference to the 3,000 rivets that hold the trailer shell together. Airstream has inspired clubs, caravans and communities across the globe.
According to airstream.com and other fan sites, 60 percent of all Airstreams ever built are still on the road, fueling a cult-like devotion to vintage models. New models, though pricier than other travel-trailers, are coveted for their surprisingly hip and efficient décor.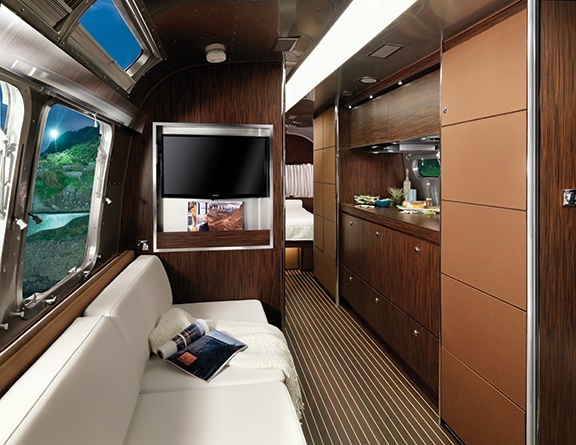 The love affair began early when Byam organized his first caravan – taking a group of Airstream owners on a 1951 rolling adventure from Texas to Nicaragua, living out the company's manifesto "to open a whole world of new experiences." Caravans across the country, Europe and Africa followed, each building the Airstream fan base. The first Airstream club was formed in Nova Scotia, Canada, in 1951 and continues today with a roster of 6,000 Airstream families. The Wally Byam Caravan Club International, founded in 1955, has about 14,000 members today, who attend caravans, rallies and support one another on forums. Separate organizations are dedicated to vintage Airstream restoration and style.
There are more than a dozen Airstream parks in the United States, where owners can rent, buy, or lease a lot to park their trailer.
Fun Facts
Airstream travel trailers have been part of historic and memorable moments. According to airstream.com and other sites:
President John F. Kennedy used an Airstream trailer as a mobile office during a visit to White Sands, New Mexico, to observe the army's latest weaponry.
The Apollo 11 crew was quarantined for three weeks in a specially outfitted Airstream trailer when they returned from the first mission to the lunar surface.
Specially built Airstream trailers transport American officials around the world. The trailers are strapped down inside a military cargo plane, usually a C-17 Globemaster III. Vice Presidents, First Ladies, generals and admirals are among those who have traveled riveted.
A 1960 Airstream Bambi travel trailer is in the permanent collection of New York's Museum of Modern Art (MOMA).
Tom Hanks, Johnny Depp, Adrian Brody, Brad Pitt, Denzel Washington, Lenny Kravitz and Sean Penn are among celebrity Airstream owners. Actor Matthew McConaughey lived in a 28-foot Airstream for several years in Malibu and still has three Airstreams parked on his property there.
To shop for Airstreams at dealers near you, visit our website at www.RVusa.com/airstreams.
Keep reading our blog for all the latest RV news, tips, tricks, and units, and don't forget to follow us on Facebook, Twitter & Instagram.