The nation's second largest state is home to gleaming skyscrapers, big skies, big cities, barbeque and badlands all worth a visit, but go off the beaten path to get a taste of Texas without the crowds.  Visit some of the Lone Star State's hidden travel gems for a taste of quirky history, beautiful vistas, modern art, and cowboy culture.
Marfa
Visit Marfa, who's tourism slogan sums things up pretty clearly: Tough to get to; Tougher to explain, but once you get here, you get it."  Oddness is in its history. Named for a character "The Brothers Karamazov" by Feodor Dostoyevsky, Marfa began as a railroad water stop in far west Texas high desert of the Chisos Mountains in the 1880s, fell into decline after WW II, before experiencing its renaissance as a mecca for minimalist art.  In between it served as a backdrop to the movie classic starting James Dean, Rock Hudson, and Elizabeth Taylor and gained fame for its mysterious Marfa Lights.  Natural or unnatural, the lights dance on the horizon outside Marfa attracting their own cult following – and their own webpage. In 1971 Minimalist artist Donald Judd left New York City for Marfa and soon began the process of installing his art, and the work of other artists, in venues in and around Marfa.  Today people come to enjoy the high altitude rugged spaces, the art in it's unusual setting, the spiritual isolation, and mystical lights of Marfa.
Terlingua
Wedged between Big Bend National Park and Big Bend Ranch State Park is Terlingua is an abandoned "quicksilver" – or mercury — mining town that's about as magical as Texas ghost towns get.  Visit Terlingua Ghostown, stay in one of the unique lodgings originally inhabited at the turn of the century by miners with the Chisos mining company, enjoy the views of Santa Fe de Los Pinos mountain range 80 miles away in Mexico by day, and the wonder at the star filled sky by night. Use Terlingua as a base for exploring the spectacular Big Bend National Park or the pristine primitive Texas landscape surrounding the town.
Fredricksburg
A favorite getaway for those from nearby Austin and San Antonio, but off the national radar, Fredricksburg is a charming Texas Hill Country town that retains and celebrates its German heritage. The quaint town is also known for its proximity to Hill Country wineries and decades-old peach orchards. Visit Fredricksburg's Pioneer Museum, which features German settlers' homesteads and artifacts. Stroll to the Marktplatz, the town square and visit the Vereins Kirche, a replica of a 19th-century German church that once stood in the city. Stroll the Hauptstrasse which is lined with boutiques restaurants and German bakeries.  Make time to tour the world class National Museum of the Pacific War featuring WWII exhibits, including a recreated combat zone.
Bandera
While you're in Hill Country, head to Bandera to explore the self-proclaimed "Cowboy Capitol of Texas." The city of Bandera is located less than an hour away from San Antonio. Bandera is home to some popular, old-school Dude ranches dating back to the 1930 when taking in "dudes" became a way for struggling ranches to get through the depression," according to the town's website. Along with ranches, Bandera also boasts the Frontier Times Museum, preserving the legacy of the American cowboy and ranch culture. Horseback riding, popular scenic drives, rodeos, in-season hunting, bird watching, and golf are all popular activities around Bandera. At the end of the day, unwind in one of Bandera's honky tonks.
Mineral Wells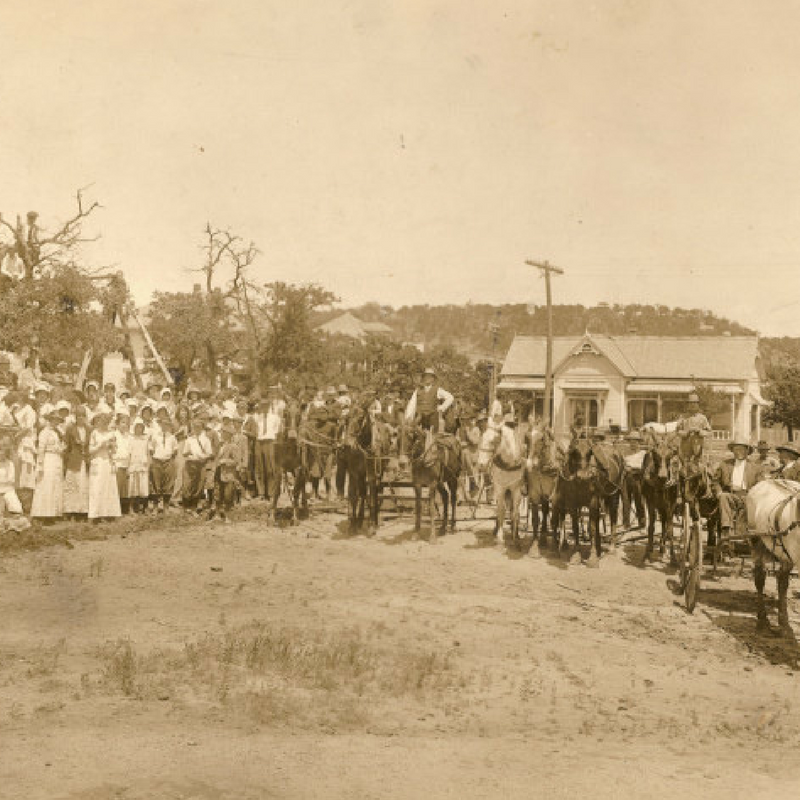 Near the Brazos River is the town of Mineral Wells where since 1877 people have come to sip on the healing waters. This small town is about an hour northwest of Dallas-Fort Worth and looks like a typical Texas tourist town with a quaint downtown of antique shops, boutiques and eateries. The huge, historic Baker Hotel provides the first clue that there's more to Mineral Wells than meets the eye. Spend a few interesting days exploring Mineral Wells' past, then go way back at Mineral Wells Fossil park, where you can dig in a large pit filled with 300-million-year-old fossils.  Daring visitors can try rock climbing at Mineral Wells State Park.  Replenish with a drink of the healing waters at Mineral Wells Water Company.
Dinosaur Valley State Park
If you didn't get your fill of fossils at Mineral Wells, head to Dinosaur Valley State Park. Travel millions of miles back with a short drive from Fort Worth. Stride in the steps of dinosaurs preserved in the ancient ocean bed along what is now Paluxy River. After walking through time, set up camp, picnic, break out the bikes or just relax with some swimming or fishing.  The 1,500-acre park has 20 miles of trails to explore on foot or horseback.  There are tent and RV sites as well as backcountry camping.
Caddo Lake State Park
A park like no other in the state, Caddo Lake State Park is a vibrant cypress swamp on the Texas-Louisiana Boarder. The 225,400-acre cypress swamp lake is a delight for fishermen and bird watchers with many bayous channels, waterways and sloughs to duck into. Birder watchers have discovered about 240 species of birds at Caddo Lake while white-tailed deer, raccoons, beavers, minks, nutrias, squirrels, armadillos, frogs, turtles, snakes, alligators, and a large variety of waterfowl also call the park home.  Stay at Caddo Lake State Park in a campsite, screened shelter or cabin.  Hike, paddle, boat and explore the hard wood uplands and the lowland moss draped cypress swamp.
Davis Mountains State Park
Wild and remote, the Davis Mountains tower over the Chihuahuan desert, crowned by the greatest biodiversity in the state. Its West Texas remoteness keeps it off the main tourist paths, allowing the wildlife – including mountain lions and black bears — to thrive and visitors to savor the trails and tranquility offered. Originally the named Limpia Mountains, the Davis Mountains stand 5,000 to 6,000-feet above sea level – also offering some of the coolest temperatures in Texas.  Hike the mountain trails, bird watch and stay at one of the park's cabins or at the park's historic Indian lodge.
Gorman Falls
Near the entrance of Colorado Bend State Park in Texas Hill Country is one of Texas' few waterfalls.  Gorman Falls is a spectacular cascade that feeds into the Colorado River and worth the trip off the beaten path. The falls are a 2.6-mile hike through hard scrabble desert highland that end at the lush "living" waterfall.  The water here is rich in carbon dioxide that that leaves a deposit on the limestone walls. The deposits form travertine that fuels the slow by steady growth of the falls. Over millions of years the falls have grown to 650 feet. After visiting the park, get back to nature in the untamed wilderness of Colorado Bend State Park. There are 35 miles of trails, rivers to paddle and caves to explore.  The camping here, like the wilderness, is primitive.
Sea Rim State Park
Visit Texas where the sea meets the marsh —  and if you're really lucky you can score the state's only floating campsite. Located at the far southeast corner of Texas this remote and unique coastal park has 5.2 miles of Gulf shoreline and 4,000 acres of marshlands. Camp, go birding and beach combing, paddle in a canoe or kayak, swim, fish, hunt (in season), and walk. Explore the marsh on the Gambusia Nature Trail then spend the night at one of the park's campsites, its cabin, or if you reserved early, pitch your tent on its one-of-a-kind floating campsite.  Sea Rim also has primitive campsites on the beach.
Join Us
As always, come back every day on the RVUSA blog for the RV Find of the Week on Monday, Travel Destination Tuesday, Featured RV Dealer on Wednesday, Throwback Thursday, and RV Tips and Tricks on Friday. Leave us a message below if you have any thoughts, memories or comments. We'd love to hear from you! If you'd like to receive our daily blog posts directly in your inbox, click here to join our free email list.