As we get closer to fall, more RVers are beginning to plan their autumn mountain getaway, but don't make up your mind yet! We have just the place for you to go. Smoky Mountain Premier RV Resort (SMPRV) is the perfect luxurious getaway for you to drive your RV to this fall!
About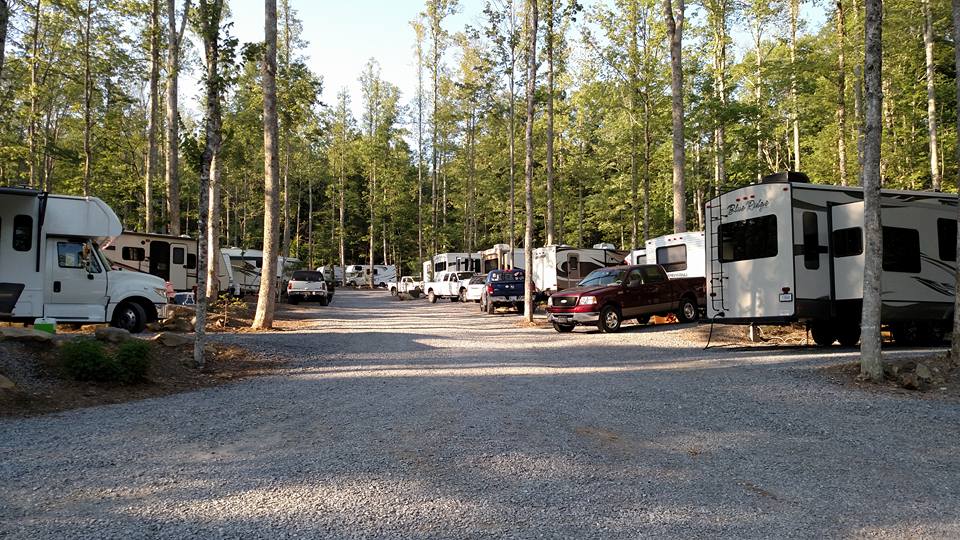 You can enjoy everything that the Smoky Mountain area has to offer just minutes away from your campsite! The location of this campground is unbeatable and allows you to explore even more. Visitors can take a hike on Great Smoky Mountains National Park trails that lie just across the gravel road in the back of the campground. The 16 acres of shaded property that this campground lies on is off the main road so the atmosphere tends to be peaceful and quiet.
This Smoky Mountain campground is one of the only sites in the area that has made accommodations for big rigs. You are more than welcome at this campground, no matter the size of your RV! Each of their 75 sites are shady and level, which allows visitors ease when parking their RV. Because this is a newer park, all of the buildings and facilities are in pristine condition. The park has even made plans to open a phase 2 which will include 75 more sites to park and a lazy river.
Amenities
Smoky Mountain Premier RV Resort is dedicated to ensuring you have the best camping experience possible at their site. They offer a variety of amenities right on the property so you feel at home.
Fun
One of the activities guests enjoy at SMPRV is the spacious and clean pool! Cool down and splash around or relax poolside! The kids are sure to love this part of the campground. Parents can enjoy time spent here as well by relaxing on the sun deck! It is a great area for everyone in the family to rest!
Another part of the park that families love is the patio and pavilion area. Participate in fun games and community events or relax on a Saturday night and listen to local artists share their talent! With all the events going on here, you will never have a dull moment.
Smoky Mountain Premier  RV Resort understands that you don't want to leave your furry friends at home! The campground has made itself open to pets and is as pet friendly as possible. There is a dog walking trail on the side of the property, and as long as you keep your pet on a leash and behaved, they are welcome to stay as long as they want! When it comes time to leave, make a stop by the dog washing station as well to get your pup feeling nice and clean.
The campground also offers rentals for those who want a fast and easy way to get around near the campground. Golf cart rentals are available to those over 21 with a valid drivers license. You can also bring your own electric golf cart if you wish, just be sure to follow all the rules!
Safety
Smoky Mountain Premier RV Resort is dedicated to making you feel as safe as possible for the entirety of your stay at the resort. At the entrance of the resort, there is an electronic gate that stays closed to the public. When you check in, you receive a gate control that allows you to enter and exit at any time. All controls are returned at checkout, so only the current residents of the park have access to enter the campground. The campground also has security cameras throughout the property to make you feel more at peace with the safety.
Facilities
This RV Resort offers endless amounts of amenities to make your stay more comfortable. On their property visitors can find a new laundry room that has up to date and high functioning units, clean and private showers, and a full exercise room. However, SMPRV knows that comfort now includes more than just those things, which is why they have equipped their entire property with full WiFi and cell service. Enjoy nature without having to disconnect here!
Visitors can also find a church on both sides of the campground so you can spend Sunday just like you would at home. There is also a general store on site that has just about anything an RVer would need during their stay, including food and RV parts! With everything so close by, there is no need to travel far to find what you're looking for!
Activities at Smoky Mountain Premier RV Resort
One of the great things about Smoky Mountain Premier RV Resort is that even if you just wanted to stay on the campground the entire length of your visit, there would still be plenty to do! Explore the park with your family and learn what it has to offer!
Adventure Tours
If you're looking to have a thrill, we suggest trying one of the UTV tours that leave directly from the campsite! This tour is convenient and fun and is guaranteed to be a highlight of your trip. This trip takes you through the Great Smoky Mountains National Park to experience history like never before! You will travel the same trails that bootleggers used to frequent and see waterfalls, rivers, and much more! The trip is a fun-filled 2 and a half hours and leaves multiple times during the day. Drive or ride or even customize your tour to make your experience individualized! Call the campground to reserve your spot today.
Trails
One advantage that most people love about this campground is how close it is to the neighboring national park. This small gravel road is the only path that separates the camp from the wilderness. A short walk down this road, you can find one of the most traveled tails in the Great Smoky Mountains National Park, the Albright Grove Nature Trail.. This 7 mile moderate hiking trail includes sites of an old log cabin and waterfall and is sure to leave you feeling accomplished and enriched. If you are an experienced hiker, you can also take the Gables Mtn Trail or Maddron Bald Trail that leave off of the Albright Grove Nature Trail.
Playground
Of course, the kids need something to do in their down time as well! Smoky Mountain Premier RV Resort strives to make the experience enjoyable for everyone including the little ones! This new playground includes slides, ropes, rock climbing and much more. Set your kids free here, and they are bound to find new friends and hours of fun!
Campfire
What camper doesn't love to spend a relaxing night by the fire? Visitors can find firewood for sale at the general store on the campground for just $5! Relax with just your family or have a community campfire and invite your neighbors! Either way, it is a fun way to calm down after a day full of adventure. Share stories and s'mores over one of the best activities of camping!
Pavilion
If you're looking for something fun to do without leaving the campground, we suggest heading over to the pavilion area first! With so many games and activities planned, you are bound to find one you will enjoy. Play games during the day, participate in events at night, or listen to local artists on Saturdays! The pavilion is a place where every camper can have a good time! Just be sure to bring your lawn chairs along, so you can sit and enjoy the community.
Community Events
Smoky Mountain Premier RV Resort is committed to building a community that visitors can feel welcomed at. They host multiple events including the annual gathering of the Shasta Wings Club. The park strives to bring RVers closer together and to be a site that RVers love to visit.
Activities Near Smoky Mountain Premier RV Resort
Because Smoky Mountain Premier RV Resort is in such a great location, there are plenty of off-camp activities that you can participate in! There is bound to be something for everyone in the area, no matter if you are a nature lover or thrill seeker.
Great Smoky Mountains National Park
Just a short walk off the campground, visitors can find everything that the Great Smoky Mountains National Park can offer! Take the trail across the road or drive to whatever activity sounds the most inviting to you. Visit the National Park Services website to plan your trip. There, you will be able to find activities throughout the park that you can participate in and hiking trails that best fit you. If you want to take your furry friend along on a hike, we suggest taking the Gatlinburg Trail. You are sure to enjoy the sights and sounds of nature no matter where you go in this park.
Titanic Experience
Explore a collection of history when you take the journey inside a replica of the infamous ship that sank over 100 years ago. Just a short drive from the campground, the Titanic Experience Museum holds an experience inside. When you arrive, you receive a boarding pass with a passengers name and at the end of your trip, you discover if your passenger survived or not. Reviews state that this is an enjoyable activity for both adults and children and that the experience opens your eyes to history in a new way. The museum was constructed by one of the individuals who was on the original dive to explore the Titanic remains and every artifact is genuine.
Dollywood
Who could represent Tennessee better than Dolly Parton herself? Take a visit to the Dollywood theme parks and experience fun Dolly-style! Visit the thrilling theme or water park and you wont be disappointed! All the rides are fun filled and the parks are family friendly.
Ripley's Aquarium
Swim over to the fish filled Ripley's Aquarium of the Smokies for a day and you won't regret it! This aquarium contains 10,000 exotic sea creatures that make up 350 different species., and the number of fish here is larger than the number of people currently residing in the entire city of Gatlinburg. Families love visiting this attraction because it is so interactive.
Ijams
If you love seeing nature and have already explored the Great Smoky Mountains National Park, we suggest taking a trip to Ijams Nature Center where you can explore the urban wilderness of Gatlinburg. Visit the quarry or take a canopy tour. You are sure to have a fun urban experience that includes nature!
White Water Rafting
For those who love to enjoy the wild side nature has to offer, we recommend going on a white water rafting trip! The Rafting in the Smokies company provides professional, qualified staff to guide you on you river tour. Experience a new kind of outdoor adventure on you next RV trip when you book here!
Helicopter Tours
Known as "the best way to see the Smokies," Scenic Helicopter Tours offers 12 different riding options ranging in price from $25 to $1,120. They are guaranteed to have a tour with the exact view you want! Many people believe that this is the best way to see not only the mountains but the city as well!
Bike Tours
While it may not be what you typically imagine when you hear, "bike tours," Groovy Tours offers an unbeatable trip through the Smokies for those who love their motorcycles! Just bring along your bike and gear and the tour will begin. They even offer weddings for the biker couples who are looking to get married in the Smokies!
Reviews
The review of this campground speak for themselves. Over 93% of the reviews are 5 stars, and only 3 are below 4 stars. Customers rave about the service they receive here. Unlike other campgrounds, you are treated as family here. The staff is friendly and welcoming to all of their customers. The campground is family owned and operated and strives to make everyone feel as if they have found a home away from home! Typical reviews highlight the cleanliness of the park and the quality of the sites. It truly is a community at Smoky Mountain Premier RV Resort, and they look forward to hosting you!
Photos of campground courtesy of Smoky Mountain Premier RV Resort.