With over 260,000 square miles to roam, there's no shortage of places to take your RV in Texas. From big cities like Dallas, Houston and San Antonio, to the plains of the panhandle and the desert of west Texas, The Lone Star State has it all. The hard part? Narrowing down where to stay as you explore its vastness.

Did you ever think you'd find an RV park with an infinity pool? That's what you'll discover at Mill Creek Ranch Resort RV Park and Cottages east of Dallas. It's a true luxury RVing experience with grounds and facilities so upscale, it's a popular spot for weddings! There's live music, food and a full bar in the community center in season, as well as two pools, a hot tub and a camp store. There's also a disc golf course, eight ponds for catch and release fishing, biking and nature trails, and paddle-boats. You certainly won't run out of things to do at Mill Creek. If for some reason you're looking for entertainment outside of the resort, you can explore nearby Canton, Texas or drive an hour west to check out Dallas/Fort Worth.
If you have kids, Grand Texas RV Resort is a great place to stay. This RV park is located right across the street from Big Rivers Waterpark and Adventures, north of Houston. It's the perfect staging location to enjoy the wave pool, slides, and petting zoo nearby. There are 98 pull-through sites at the resort, all with concrete pads, and it has its own pool and jacuzzi for when the kids just can't get enough of the water. It has all the hookups you could need, as well as free cable, and a clubhouse with billiards, ping pong, or foosball.
Fredericksburg RV Park is in the heart of Texas Hill Country. Historic Fredericksburg is a popular spot to visit, filled with old-timey charm, wineries, golf courses, and outdoor activities. The RV park features full hookups, concrete patios, and free wifi and cable. The clubhouse includes laundry facilities and showers. The best part about staying in Fredericksburg is all of the activities there are nearby. Visit the nearby Enchanted Rock State Natural Area, or stop by Lyndon B. Johnson National Historic Park for some background on the upbringing of the nation's 36th president. No matter what interests you, there's something for you in hill country.
Lajitas, Texas lies next to the Rio Grande that separates Texas from Mexico. It's a small town between Big Bend Ranch State Park and Big Bend National Park, and the main attraction is Lajitas Golf Resort. Lucky for RVers, the resort also has its own RV Park called Maverick Ranch. This desert locale is bordered by the desert mountain scenery of Quiet Canyon and Lajitas Mesa, which makes for beautiful views. While the desert RV camp sites themselves aren't too impressive, the draw here is that guests of the RV resort also get to enjoy all the activities and amenities offered by Lajitas Golf Resort. That includes the Agave Spa, the golf club, horseback and mountain biking trails, zip lining Quiet Canyon, and clay shooting. There are full hookups at the RV park along with a clubhouse, showers, a pool, and river access nearby.
Clear across to the other side of the state is Galveston, Texas, where you can enjoy an entirely different type of scenery: the sandy beaches of the Gulf Coast. Jamaica Beach RV Park is the perfect coastal oasis to do so. It's one of the newest RV parks in the Galveston area and is outfitted with just about every activity imaginable, including a lazy river and a mini golf course! There's a snow cone stand on site, a splash pad for the kids, shuffleboard, life-size jenga, a basketball court and even a bounce house.
Top Texas RV Parks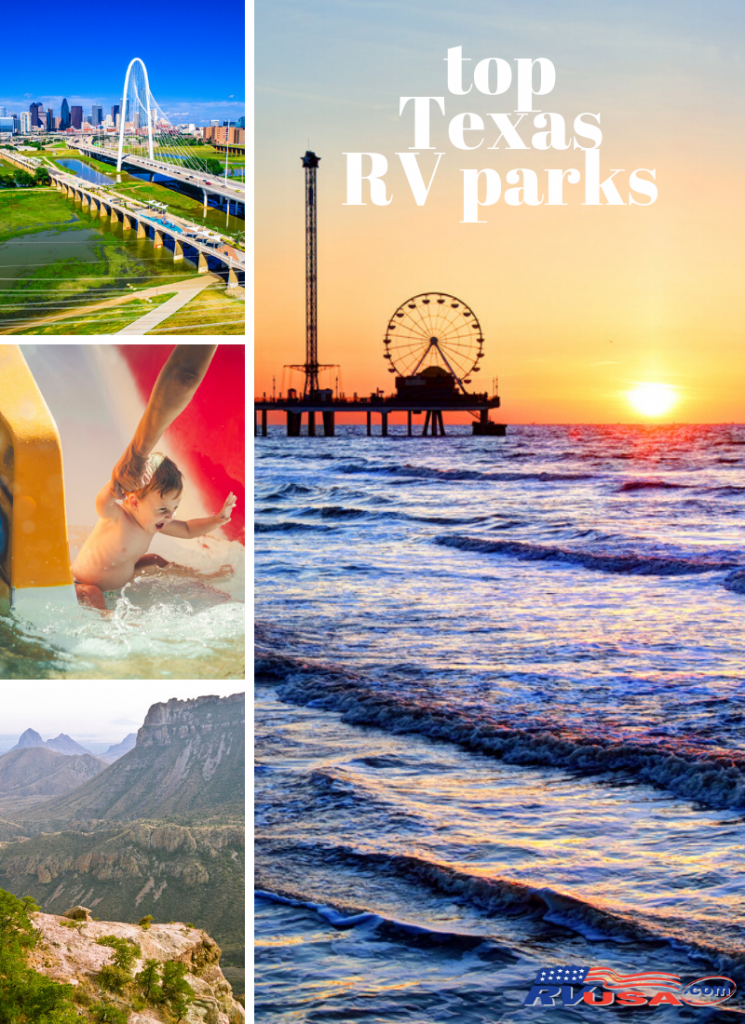 From the Rio Grande to the Gulf and everything in between, there's an RV park in Texas calling your name. Be sure to give yourself plenty of time to explore. As they say, everything's bigger in Texas – and that includes the open roads!
If you're looking for more travel inspiration for your next RV trip, check out some of our favorite RV destinations to start planning.