Looking for a weekend trip? Maybe you're already on the road and looking for a educational detour to stop and stretch your legs. Either way, finding an antique car museum is a great way to do so! America has come a long way from horse and buggy to modern vehicles and automobiles, and what better way to see the transformation for yourself than by visiting one of the many antique car museums the United States has to offer? And who knows. After you've visited one of these museums, you might come to appreciate your current daily drive, race-car, or dragster more than you'd ever think was possible. Below, we've collected a list of awesome antique car museums and clubs for the gear-heads, mechanics, and car enthusiasts alike. Whether you go to look at cars you remember or see the one you've always dreamt of, each museum definitely has something for everyone!
National Corvette Museum- Bowling Green, Kentucky 
The National Corvette Museum in Bowling Green, Kentucky, is 115,000 square feet of everything Corvette. In 2014, a massive sinkhole opened up under the building and eight Corvettes fell through that were on display. All of the vehicles were eventually found and restored, but this only led to more attraction and increased attendance. Just a few miles down the road from the National Corvette Museum is the General Motors' Bowling Green Assembly Plant. This is where Corvettes have been built since 1981 and is the perfect location. Chevrolet even offers buyers a chance to take delivery at the museum and offered buyers and guests to take a special tour of the museum and the plant.
Gateway Canyons Resort- Gateway, Colorado
Travel to Gateway Colorado and you'll find the Gateway Canyons Resort where Discovery Channel founder John Hendricks started the attraction. Visitors can peruse the car museums that include rarities like the 1954 Oldsmobile F-88 concept car and the 1906 Cadillac Model H Coupe. Ready for an adventure? Guests can drive a supercar or rent an exotic car that's available. You can also try out some off-roading tracks close by!
Owls Head Transportation Museum – Owls Head, Maine
Not only does this museum have antique cars, but it also is home to different kids of motorcycles, bicycles and aircraft. The Owls Head Transportation Museum has 50 antique automobiles on display with dates from 1885 up to the 1950s. This extensive collection includes a 1907 Cadillac Runabout and a 1914 Rolls Royce limousine along with a popcorn wagon from 1923 and a Ford Station Wagon from 1940. On top of the museum's popular winter transportation festival that portrays antique snow vehicles, they also have several other year happenings, like an aerobatic airshow, a motorcycle meet and an antique motor vehicle rally and unique vehicle demos that can even include free Model-T rides!
Auburn Cord Dusenberg Museum- Auburn, Indiana 
If we're talking true antique cars, the Auburn Cord Dusenberg Museum is where you'll want to go. The main show room is filled with all different colors of vehicles from the vintage Auburn, Dusenberg and Cord autos. Guests can bask in a whopping 120 cars on display as well as nine car-themed galleries showing the history of the Auburn Automobile Company.
Fountainhead Antique Auto Museum- Fairbanks, Alaska 
So what's so unique about just another car museum?? Well, the Fountainhead Antique Auto Museum in Fairbanks is home to 70 antique cars, but it also holds Alaska's first ever car. The two seater is on display and is also the first car to ever be made in Alaska, as well. Along with this, the museum has vehicles that are the only survivors of their brands. They also have several auto-related photographs on display and vintage clothes besides cars. Visitors are encouraged to try on their favorite pieces of clothing and pose for a photo in one of the old cars that sits in front of the museum's Alaska roadhouse.
The Antique Automobile Club of America Museum- Hershey, Pennsylvania 
The Antique Automobile Club of America Museum is a permanent collection that creates a sort of road trip from New York to San Fransisco, beginning with vehicles from the 1890s and ending with 1980s models before guests visit the West Coast. As an affiliate of the Smithsonian Institution, the museum shows restored cars, buses and motorcycles and often changes the exhibits. Examples of exhibits include "Early Off'Roaders," which shows the precursor to today's sport utility car, the Ford Jeep. It was initially developed for the military in 1940 during World War ll. Exhibits also feature successors like the Ford Bronco, and ends with some of the earliest SUVs. The museum is located close to the Hershey's Chocolate Tour, so head over when you're done at the automobile club and learn all about the chocolate we know and love!
The Petersen Automotive Museum- Los Angeles, California 
This place is the place to visit, even if you're not a full on gear-head. Named the 2016 Museum of the Year by International Historic Motoring Awards, the Petersen Museum is located on the third-most traveled intersection of Los Angeles and is one of the largest car museums is the United States. The exhibits are always changing, but some examples are "Hot Rods and Customs," which shows highly unique cars, and "Rolling Sculpture," which shows cars for connoisseurs built in the 1920s and on. The museum recently underwent a $90 million worth of upgrades and now shows more than 100 vehicles. For an additional charge, though, you can go in the Vault of the museum and see another 150 models. It's below the main floor of the building and displays about 100 years of automotive history.
Automotive Hall of Fame- Dearborn, Michigan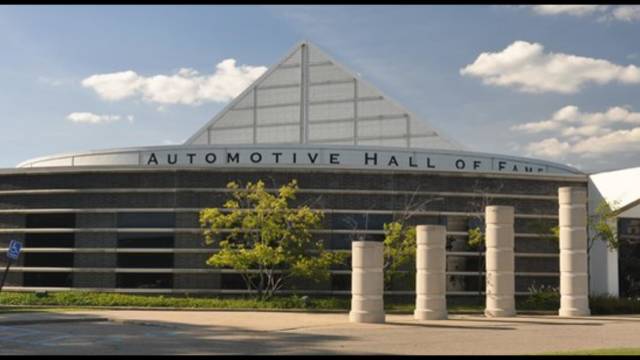 The Automotive Hall of Fame is still a celebration of vehicles, but does it a bit differently by celebrating inventors and innovators as well. They even go so far as to observe people who raced and sold cars. The Automotive Hall of Fame has an on-site library full of archival material that gives information about inductees and everything you'd ever want to know about automotive history. It's perfectly located in Dearborn, Michigan, which is a city that has its own car history, but more of the racing nature. The Hall of Fame also sits across the parking lot from the Henry Ford Museum, Greenfield Village and the Ford Rouge Factory. It's all things automotive in Dearborn, Michigan!
Muscle Car City Museum- Punta Gorda, Florida 
This building started as a Walmart years ago, but soon turned into a 99,000-square-foot haven for muscle car enthusiasts. The Muscle Car City Museum has over 200 classic cars and hot rods on display dating from the 1950s to the 1970s. Though this museum focuses on a smaller selection of cars, the brands it holds are major ones like Camaros, Chevelles, El Caminos, Pontiac GTOs, Corvettes, Oldsmobiles and tons of other powerful hot rods. Not only are they classic and antique, but they all are still in perfect running condition. Try to plan your visit on the third Saturday of each month, because they hold a free car show for visitors!