You've done the famous National Parks, crowded theme parks, well-traveled beaches and boardwalks, and now you're looking for the road less taken or at least somewhere off the beaten path.
For the traveler looking for something different, here's a list of 10 wild, weird and wonderful offbeat destinations.
1. Crater of Diamonds State Park, Murfreesboro, Ark.
At Crater of Diamonds, it's finders keepers. With over 30,000 diamonds found in the last 40 years, the odds of bringing home some bling are good. About two hours southwest of Little Rock, Ark., Crater of Diamonds is a state park that allows visitors to dig through a 37 1/2-acre field that is the eroded surface of the world's eighth largest diamond-bearing volcanic crater.
The park includes a visitor center with interactive displays and the Diamond Discovery Center, where visitors can learn the ins and outs of prospecting and how to identify finds. You can even rent mining tools to use on your dig.
After a tough day at the mines, the park has 47 top-rated campsites for RVers with plenty of amenities, gift shops, trails, and a family water park that is open during summer.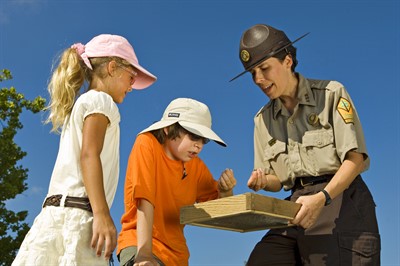 www.craterofdiamondsstatepark.com
2. Ely, Minn., Edge of the Wilderness
For an entirely different kind of ice, head north to Ely, Minn., about 115 miles from Duluth. The small town of Ely, population 3,400, is the entry point for the Boundary Waters Canoe Area Wilderness, an all-season outdoor paradise.
In the winter, Ely offers the icy thrills of snowshoe treks, snowmobiling, and dog sledding. Ely natives boast of the best ice fishing in Minnesota. In the summer, enjoy canoeing, kayaking, mountain biking, hiking or camping in the Boundary Waters Canoe Area. The clear waters lure anglers with walleye and northern trout, and birding enthusiasts can find more than 150 species of birds.
The Ely area offers drive-up campsites at state and federal campgrounds suitable for everything from tents to RVs. When you're ready to come in from nature, Ely boasts a charming downtown with outdoor outfitters, quaint shops, galleries and restaurants.
3. St. Helena, Calif., Something's Cooking
If catching dinner through a hole in the ice isn't your idea of fun, how about taking a turn from the usual vacation activities to learn some serious kitchen skills at a Culinary Institute of America Boot Camp. The Culinary Institute of America (CIA) California at Greystone is located in St. Helena, in the Napa Valley. Boot camps run from two to five days, starting with the basics and working through a variety of special interest subjects from artisan bread making to the regional cuisines of Japan.
St Helena itself is at the heart of Napa Valley. St. Helena gave birth to the art of winemaking in the 1800's, and today it is home to such familiar labels as Sutter Home and Louis Martini as well as many award-wining smaller vineyards.
After a day of learning the secrets of a professional kitchen, followed by a glass or two of Napa' Valley wines, settle down in your RV at Bothe Napa Valley State Park, where along with RV sites, yurt camping is available.
http://enthusiasts.ciachef.edu/boot-camps
4. Southeastern Massachusetts's Cranberry Bogs
Instead of getting "bogged" down by traditional vacation spots, head to southeastern Massachusetts and Cape Cod where you can visit working cranberry farms. The towns and villages within Southeastern Massachusetts and Cape Cod are home to 14,000 acres of working cranberry bogs. Farms in the area offer plenty of opportunities to get an up-close experience with this "super fruit," which is rich in anti-oxidants. Call a farm to visit at harvest time, purchase fresh cranberries at a local farm stand, or even take a tour into the thick of the bog to harvest your own cranberries.
Massachusetts in the fall also means some of the nation's most spectacularly colored leaves. So while you're trekking off the beaten path through cranberry bogs, take a tour of southeastern Massachusetts's leaves, and don't forget to take plenty of pictures!
There are many state parks, forests and private campgrounds in the area, with a few offering reservations into the fall season.
http://www.cranberries.org/visit
Dig into history in Faith, South Dakota. The tiny town (population of 550) is certainly proud of its agricultural heritage, but gained most of its fame for the discovery of the T-Rex named "Sue" that was found on a nearby farm in 1990. Sue is the most complete Tyrannosaurus-Rex skeleton ever unearthed.
Today, Faith is a jumping of point for privately operated and non-profit museum-based paleontology expeditions.
If you and your kids are bored with digging sand trenches at the beach visit The Children's Museum of Indianapolis. The museum hosts Family Dinosaur Digs at the Ruth Mason Quarry, a privately-owned ranch, leased by the museum, that is just outside Faith. The area is one of the largest duckbill dinosaur sites in the world.
Budding paleontologists and their families learn how to discover dinosaur bones, excavate, and prepare specimens for shipment back to the museum.
Faith is located at the crossroads of Highways 212 and 73 in northwestern South Dakota.
www.thehistory.childrensmuseum.org
6. Fruita, Colo., High Desert Dinos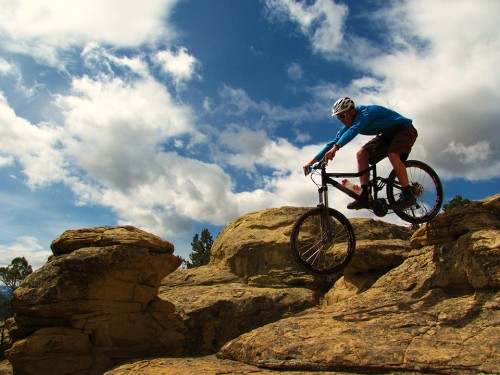 If Faith, S.D. is a little too off the beaten path, consider a stop in Fruita, Colorado, to find high-desert adventures as well as dinosaurs.
The Dinosaur Journey Museum in Fruita boasts one of the "Top 6 Dinosaur Exhibits in America," according to the Travel Channel. Dinosaur Journey features exhibits and information about the dinosaurs of western Colorado, eastern Utah and surrounding areas, as well as realistic robotic dinosaurs, including one that spits at visitors. Dinosaur Journey Museum has exhibits for all ages, a reading room, and visitors can watch through large glass windows as museum volunteers clean up newly excavated specimens in the fossil lab.
If you're looking to do more than look at the exhibits, sign up for a "Dino Dig," operated by The Museum of Western Colorado. Digs for families are offered at the Mygatt-Moore Quarry.
When you're ready to step back into the present, bike into adventure on one of Fruita's world-class mountain bike trails. Surrounded by the Grand Mesa, the Colorado National Monument, and the Book Cliffs, Fruita also has trails to suit every biker.
There are several campgrounds in the area, offering everything from tent to RV sites.
7. Lake Compounce, near Bristol, Ct.
Since you've already visited some of the biggest theme parks in the country, why not visit America's first and longest continually operated amusement park– Lake Compounce. Beginning as a lakeside picnic and swimming park just outside Bristol, Lake Compounce has been open for summer family entertainment since 1846.
Lake Compounce weathered the fluctuations of the nation's economy, and the waxing and waning popularity of amusement parks for more than a century, but in the 1980s was in danger of closing. New owners took over in 1996, adding 20 new attractions.
Today the park is home to one of the world's oldest operating roller coasters, The Wildcat, built in 1927. It is also home to The Boulder Dash, built in 2000, which was voted the world's best wooden roller coaster by the National Amusement Park Historical Association.
Turn your day trip into a vacation by settling in at nearby Bear Creek Campground at Lake Compounce, which has cabins, tent sites and RV sites, and provides daily tram service to the park.
8. Corn Palace, Mitchell, South Dakota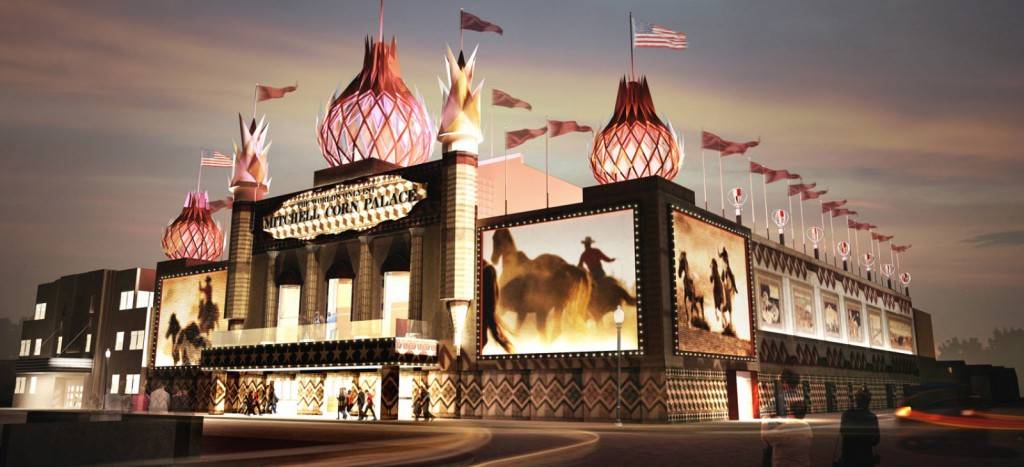 It may be corny, but the freshly renovated 120-year-old Corn Palace is worth a visit on your offbeat destination tour of America.
Not one to shuck off corn-y comparisons, the folks at the Corn Palace are excited about recent "corn-struction" at the massive facility, which is half-czarist palace (complete with onion domes), half festival hall, and all corn.
Each year, a theme is chosen, and the ornate palace's huge exterior murals are re-created with 13 different colors and shades of corn, grains and native grasses. The corn murals are removed at the end of August, and the new ones are completed by the first of October. The process is celebrated with the annual Corn Palace Festival at the end of August each year.
The Corn Palace also boasts of new "ear-chitecture" for visitors to enjoy throughout the palace's interior.
The Corn Palace is a quick stop off Interstate 90.
9. Blue Springs, the 'other" Florida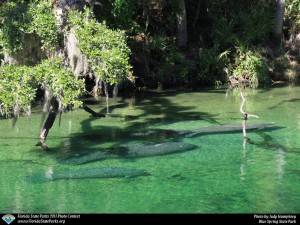 When most people think of blue water and sandy beaches, it's the balmy Caribbean that comes to mind. However, many savvy Floridians think of cool, clear, spring waters instead. Another off the beaten path stop you should add to your list is Blue Springs, Florida, located near Orange City between the beaches and theme parks.
Blue Springs is a refuge for East Indian Manatees with up to 2,000 congregating in the 73-degree waters from November to March. The clear waters also attract divers, snorkelers, swimmers, kayakers and canoers. For those who prefer dry-land activities, the park also has a 3.6-mile trail, interpretative exhibit and historical exhibit. Fishing and boating are available in the nearby St. John's River.
The park has 51 campsites, all within walking distance to the springs, that can accommodate RVs up to 40 feet.
www.floridastateparks.org/Blue-Spring
10. Albuquerque, New Mexico
For a little bit of everything offbeat in one place, consider the other mile-high city, Albuquerque.
New Mexico's largest city may also be its quirkiest, with architecture dating back to the heydays of Route 66, the International Rattlesnake Museum, annual hot air balloon festival and connection to history from the Atomic Age.
While it boasts sophisticated spas and multicultural experiences, Albuquerque embraces tourists with the world's longest Tramway, which travels 2.7 miles to the top of Sandia Peak, and many operators offering hot-air balloon tours year-round. Albuquerque is a city of museums, and for those interested in the early days of atomic research and testing in the area, there's the National Museum of Nuclear Science and History. For sports fans, catch Albuquerque's minor league baseball team, the Isotopes, at Isotopes Park.
Albuquerque's climate makes it an ideal choice for RVers year around. Local campgrounds and parks offer full hook-ups and Wi-Fi, along with other amenities.