So you finally feel comfortable driving with your camper but what about backing your towable RV into a narrow campsite? Which way should the wheel turn? Is your rig too large to fit into the site? Do I need assistance in backing in? We address all these questions below so you can back your towable trailer into your campsite with ease!
Learn how to drive your RV
This is the first step in successfully backing up your trailer. All RV makes and models are created differently, so even if you've driven one before, your own probably won't drive the same way. For example, a Cass B is going to drive and feel different than a travel trailer or toy hauler, so it's important to get the feel of your rig before taking it out on adventures.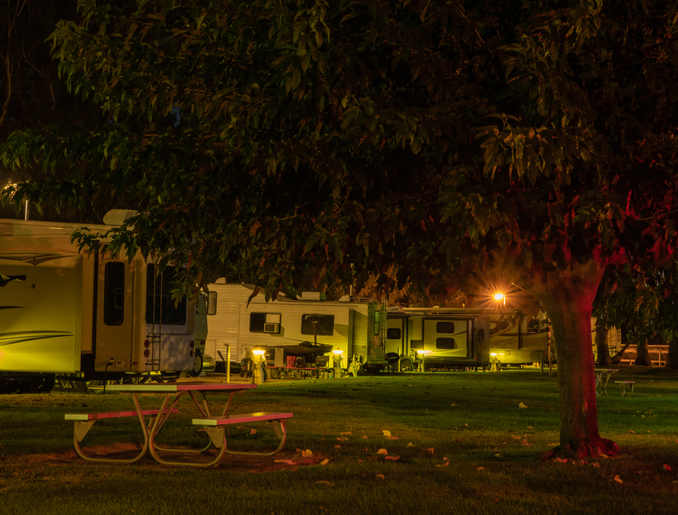 Practice with a friend
One of the most challenging parts of towing and backing into narrow spots is learning how to park or back up, especially into an actual parking spot or campsite. Backing up requires the mirrors to be placed correctly, a bit of patience, and a good friend to guide you. Nearly everything comes with backup cameras these days, so it shouldn't be as difficult as it once was. But, it does still take practice and patience. So, throw some cones up in your backyard and practice parking and backing up perfectly until it becomes a piece of cake. It does take time, but you'll thank yourself later when you see the tight camping spaces you'll soon encounter.
If you still aren't getting the hang of it, sign up for a few classes to ease the process along!
Driving with the trailer
Once you have everything in place, it's time to hit the road. Driving with a fully loaded trailer in tow isn't too much different than driving with an empty one, but the techniques are different and can be confused easily.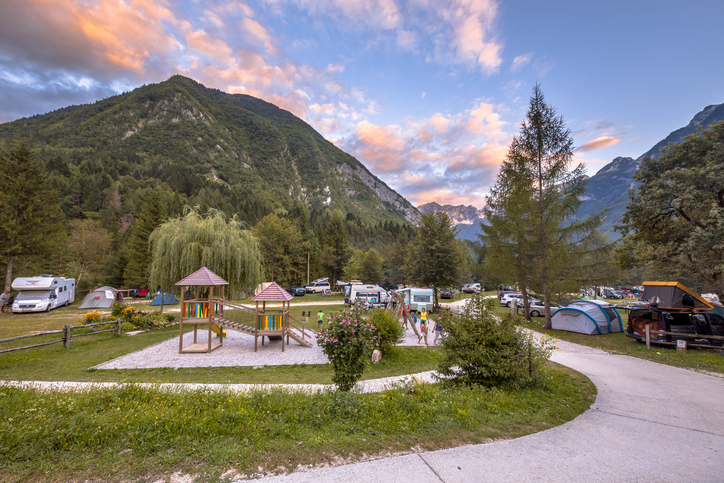 First, everything you do should be at half speed when driving with a towable trailer. This means turns and stopping will take longer, so giving yourself more space between you and the person in front of you is safe. Allow yourself much more time and space when merging or changing lanes, and be sure to watch for objects in the road to give enough time to slow down or avoid the object. You can also try to look farther ahead so you'll have time to change course or slow down if another vehicle becomes part of your path.
Here are a few other quick tips for backing into your campsite:
Check the area in which you plan to park your trailer to ensure no objects are obstructing the path. This will help avoid any unfortunate mistakes or surprises.
Identify a reliable spotter and create a plan for backing in. This step isn't completely necessary, but it's always good to have a second set of eyes for seeing things you might not! Your spotter can be a kid, your spouse, or even a camping neighbor. And, while all you really need is a lowered window for communication, walkie-talkies or a cell phone also come in handy.
Set up so that the turn is on the driver's side. This ensures the driver has maximum visibility.
Be sure your spotter is always within your sight. Stop immediately should they disappear.
Take your time! We know you want to set up camp quickly so you can get out and start exploring, but there's often a delay from what your hands are doing and how the trailer responds. Don't let other people or bystanders rush or disturb you, either.
Don't hesitate to disconnect your tow vehicle from the trailer to reposition. This really helps in tight spots and is usually a large time and frustration saver.
Once you and your spotter feel you're parked at an acceptable spot, hop out and do a final check for clearances for slide-outs, awnings, etc.
There you have it! Some of our favorite tips and tricks for anyone new to backing in a towable trailer. Again, it can seem overwhelming and daunting, but anything becomes easier with a bit of practice. As always, reach out should you have any RV questions!