Wow! We have a huge treat for our older readers today, an iconic camper van that reached prominence back in the 1960s, earning nicknames like the "hippie van," "microbus," and many more!  We speak of course about the Volkswagen Camper Van, the van that brought friends and families closer together, going through the mellow 60's, protests in the 70's, and rocking out in the 80's! A person can only imagine what this 1975 Volkswagen Camper Van has experienced, the places it has gone and the miles it has travelled.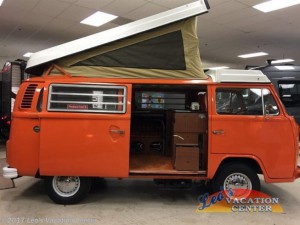 This particular unit is on sale from Leo's Vacation Center, check out the listing on RVUSA! The inside of the camper van is newly renovated, sporting orange seating and plaid lining. The outside is in tip top shape and even has maintained the VW hub caps for the wheels and the Westfalia pop up tent! The dealer does not have any information on the Camper Van so if you are interested give them a calla t 410-987-4793!
Never miss a beat with RVUSA!