Halloween is right around the corner and the pressure to come up with an original costume is starting to build. There's nothing worse than finally choosing a costume and then showing up at that long anticipated party only to find five other people who had the same idea as you. So why not be really different this year and reach back into vintage territory? There are so many great ideas to choose from if you go back far enough. Here are just a few ideas for each decade to get your vintage Halloween costume ideas flowing.
1930's
The 1930's saw the Great Depression start, drought in the U.S. that became known as The Dust Bowl, Franklin D. Roosevelt become U.S. President and so much more. However, some of the decade's icons would make great vintage costumes for your upcoming Halloween festivities.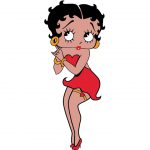 Betty Boop: Betty Boop was an animated cartoon character who was fashioned after the decade's Jazz Age flapper and became one of the best-known and most popular cartoon characters in the world. She is also a symbol of The Great Depression and still widely known to this day.
Creating a costume is as simple as a red dress and high heels, some simple jewelry, and a short hairstyle or wig. You'll be ready in no time!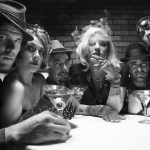 Gangsters: The 1930's were the height of gangsters. From Al Capone to Bonnie and Clyde the public was fascinated by them and somewhat made celebrities of these rogue outlaws. Not only was the public following every move they were making but Hollywood started making movies with characters similar to them and the public loved it.
Making a gangster costume is fairly easy and with a trip to a second hand or costume store you should easily be able to get yourself set up in no time. Now there is no guarantees that you won't find another gangster at your upcoming festivities but we all know that it's not real until you have a posse. So get your Zoot Suit on and get the party started.
Aliens: H.G. Welles' War of the Worlds was aired on radio in 1938 and with it mass hysteria ensued as listeners, unaware that it was a show, began to believe that there indeed was an alien invasion happening at that moment. The mass hysteria caused by that broadcast has since been studied by everyone from psychiatrists to the military and is probably the reason that some say if there really was an alien invasion the government would probably not let the public know. Apparently we just can't handle the idea of little green men really visiting us.
But that doesn't stop us from having a fascination with aliens plus there are really great costumes that can be made to show homage to H.G. Welles' masterpiece. Everything from a flying saucer to the aliens themselves are great choices for your Halloween festivities.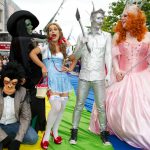 The Wizard of Oz: The film The Wizard of Oz was released in 1939 and quickly became known of one of the greatest films in American history. All of its cast of characters: Dorothy, the Scarecrow, the Tin Man, Glenda The Good Witch of the North,  the Wicked Witch of the West, the Cowardly Lion, Toto, and the Flying Monkeys are perfect for vintage costumes especially if you and a group of your friends would like to show up in themed garb.
There are many ways to create all these costumes from homemade, if you're the creative type, to heading down to the costume shop and putting together everything you need. However, one thing is for sure, if you show up with a group of friends dressed as these characters it will definitely show your admiration for the icons of the 1930s.
1940's
The 1940's had a lot going on not the least of which was World War II. Stress was everywhere and women were desperately hoping to hear good news about their husbands and sons fighting overseas. However, Hollywood did its best to make sure there were icons and movies to take everyone's minds off the world's problems for just a little while. Many of whom would make great vintage costumes for Halloween. Just remember that this was the era of class and style so maybe pull out some of those classic films to get you in the mood.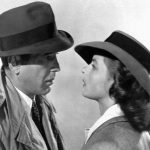 Casablanca/Humphrey Bogart/Ingrid Bergman: This iconic movie has provided several really memorable quotes – from "Here's looking at you, kid" to "Of all the gin joints in all the towns in all the world, she walks into mine" to "We'll always have Paris" this 1940's gem has lasted throughout the decades and still is considered one of the most iconic movies ever made.
If you're looking for a great couples vintage costume then nothing says classic more than going as Rick (Humprey Bogart) and Ilsa (Ingrid Bergman). Easy to put together with a few classy hats and a man and woman's classic suit and trench coat and you two will be the throwback couple of the night.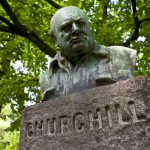 Winston Churchill: As the Prime Minister who led Britain to victory during World War II and known by such quotes as "Never, never give up" and "If you're going through hell, keep going", Winston Churchill was a major influence during the 1940's. He was named the greatest Briton of all time in a 2002 poll and is considered one of the most influencial people in British history. He was also the first on only eight people made an honorary citizen of the United States in 1963. Because much of the 1940's was centered around World War II, why not go to that Halloween party as one of the people who made a positive difference during that time.
Again it would be an easy costume to put together and could more than likely be taken care of with a visit to a secondhand store and/or your grandfather's closet.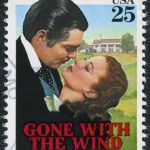 Gone With The Wind/Clark Gable: The 1940's (part of the Golden Era) was the era of Hollywood icons from Cary Grant to Jimmy Stewart to Katharine Hepburn and Ingrid Bergman there was no lack of leading men or women.
Clark Gable and Vivien Leigh were the leading man and woman in this now classic film. If you're looking for a vintage costume for Halloween especially if it's a couples costume you want this might be it.
But don't be limited by this film or Casablanca above. Take a look at the numerous films that other actors and actresses of the day produced and find one that suits you.
Anything Disney: Walt Disney released what would become several iconic animated films in the 1940's. With the war going on Walt Disney (and Hollywood too, for that matter) knew that the public needed something uplifting and responded by releasing Fantasia, Dumbo, and Bambi during this time.
Although Disney is still going strong today, these films play a huge part in the culture of the 1940's. Great vintage costumes from this era would include Mickey or Minnie Mouse (great couples costume), Dumbo, or any of the characters from Bambi. With Disney being an institution to this day, finding these costumes should be really easy, unless you're the type that would rather make them yourself for that real homemade, vintage look.
1950's
Elvis/Buddy Holly: Two of the most well-known musicians from the 1950's were Elvis and Buddy Holly. Known for their trademark vocals, moves, and looks, many tried to imitate but none came close to these icons.
Achieving the look of either of these icons for your Halloween party is relatively easy. Basically slicked back hair, some black rimmed glasses, a guitar, some signature moves, and a smile and you've got it made.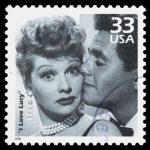 I Love Lucy (Desi Arnez and Lucille Ball): I Love Lucy was introduced in 1951 and ended in 1957. It was the first scripted television show to be shot on 35mm film in front of a studio audience. It won several Emmy Awards and many nominations. A wacky show about a red-headed wife, Lucille Ball, who is constantly trying to break into the limelight with her bandleader husband, Desi Arnez.
This is another perfect couples costume! With some classic 1950's clothes that you can find in a second-hand store or your grandparent's closets, a red wig, and a goofy, spontaneous personality you two could be the life of the party. Don't forget some of the classic quotes too like "Lucy, you've got some 'splaining to do!"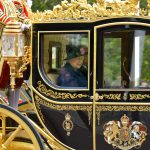 Queen Elizabeth becomes Queen of England: If you're looking for more of a historical slant to this year's costume how about going as Queen Elizabeth? On February 6, 1952 a young Elizabeth became the Queen of England after the passing of her father, King George VI.
Again, it's a fairly easy costume to put together and you have the choices of picking whatever era of the Queen's reign you wish from young Queen Elizabeth to current. All you'll most likely have to do to show party-goers who you are is assume the royal wave as you enter and exit a room.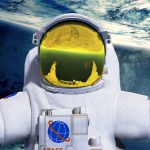 Astronauts/NASA created: In 1958, NASA, the National Aeronautics and Space Administration, was established in order to pursue peaceful applications in space science and so the space race was born.
This costume will probably need some work or effort to achieve but with the help of an Amazon or Ebay search or a visit to a local costume shop you should be able to achieve the look of a NASA astronaut in no time.
1960's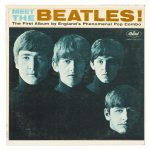 The Beatles/British Invasion: In the 1960's the music scene came alive and was invaded by bands from across the pond. The music, the accents, and the 'foreign-ness' of it all took everyone by storm and hysteria ensued. This era saw the likes of The Beatles, The Rolling Stones, The Dave Clark Five, Herman's Hermits, The Animals, and The Kinks at the forefront of the invasion and the music scene hasn't been the same since…fortunately!
So how about creating some costumes around the arrival of some of these classic bands? Some mop-top haircuts, black turtlenecks, a suit, and some instruments and you've got it made. You can also go the more psychedelic route with Nehru jackets.
Classic 1960's Shows: Dr. Who, Star Trek, Bewitched, The Brady Bunch, Gilligan's Island, and Sesame Street all debuted in the 1960's leaving a lot of material to choose from for a vintage costume.
You can pick and choose any amount of characters fro these classic shows. Go as Dr. Who, James T. Kirk or Scotty from Star Trek, Endora or Samantha from Bewitched, any of the Brady Bunch, Gilligan, or even Cookie Monster or the Grouch from Sesame Street. All will be a good tribute to the vintage shows that we all love and remember.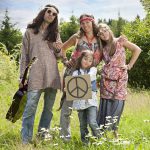 Woodstock/Hippies: And we can discuss vintage 1960's without mentioning the Woodstock Festival and hippies! Throw on your best tie dye, paisley, round sunglasses, ripped, worn jeans, and grab your guitar all the while flashing a peace sign and you're set.
A classic Halloween costume with historical significance, man! Gather a group of friends to join you and have a great time because everyone knows 'Peace and Love' is a great way to start a party!
These are just a few of the era-specific vintage costumes you could put together but there are so many more to be found as well. All you have to do is run a search on the internet of a particular year to find a list of potential vintage costume possibilities.