Searching for a campground that gives you a fun, vintage experience? We know just the place for you! Park your RV at Enchanted Trails RV Park & Trading Post to give you an experience like no other!
About Enchanted Trails RV Park & Trading Post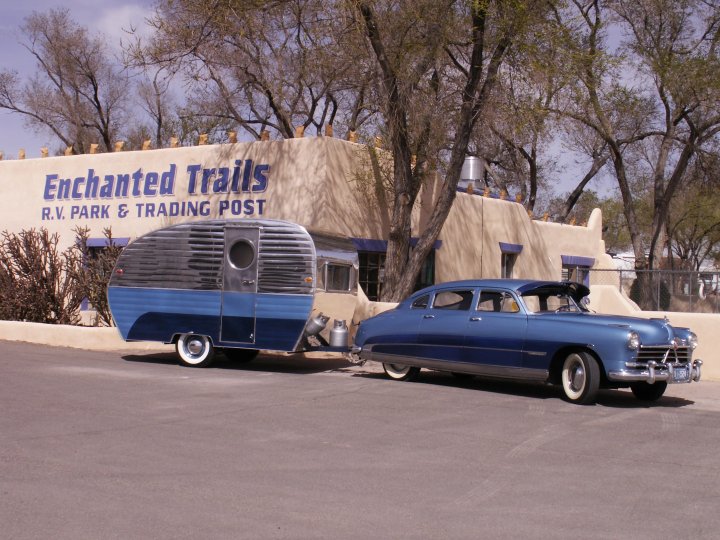 This vintage campground is located right off Route 66 in Albuquerque, New Mexico. Originally built as a trading post in the 1940's, this RV park has a unique story in itself. When travelers started frequenting the area, the trading post adapted its nature and added a campground to accommodate the new visitors. Now, the park lies on a high desert mesa surrounded by 3 extinct volcanoes and overlooks the city.
Enchanted Trails RV Park & Trading Post has done everything possible to maintain the original trading post feel that was created when the site was established. However, to maximize every camper's experience, new features have been added. The property and vintage trailers on site have even been featured in films and videos about Route 66. This park is a great place to visit, and it offers you the full Route 66 experience.
RV Sites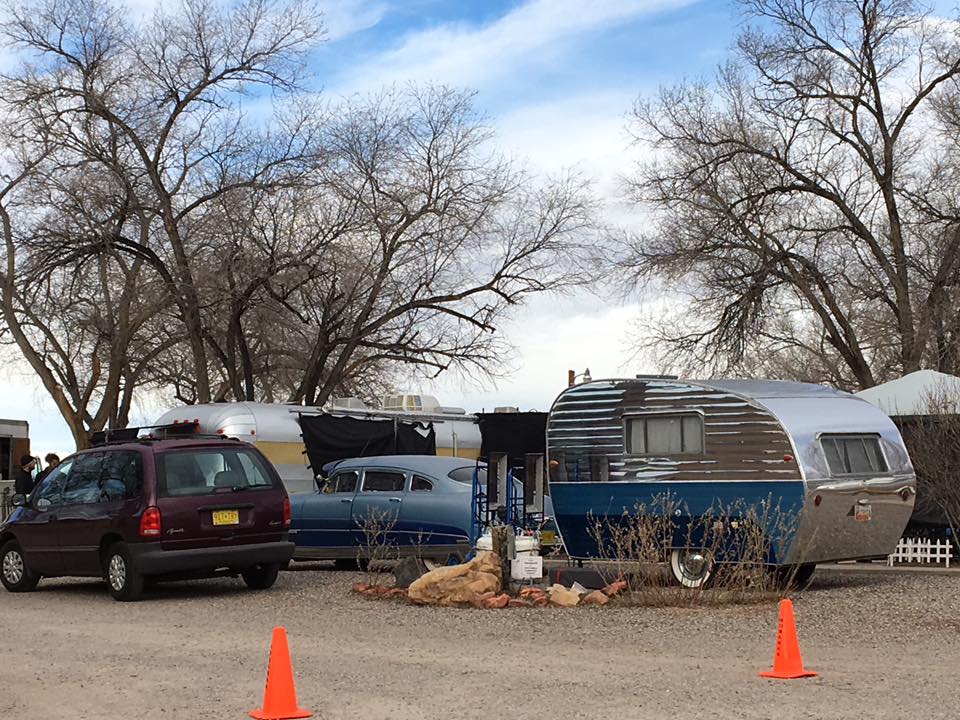 While most vintage RV parks have RVs that campers have to rent and stay in, this park allows you to pull up in your very own RV. With 135 sites available, RVers are encouraged to bring their own home on wheels along and just enjoy the vintage campground. 115 of their sites are pull through, spacious and can accommodate any type of big rig! 20 sites have electric and water and the amps vary between 30 and 50 amp hookups. Using discounts, like those from Passport America, can bring your total nightly stay down to just $17.
Rentals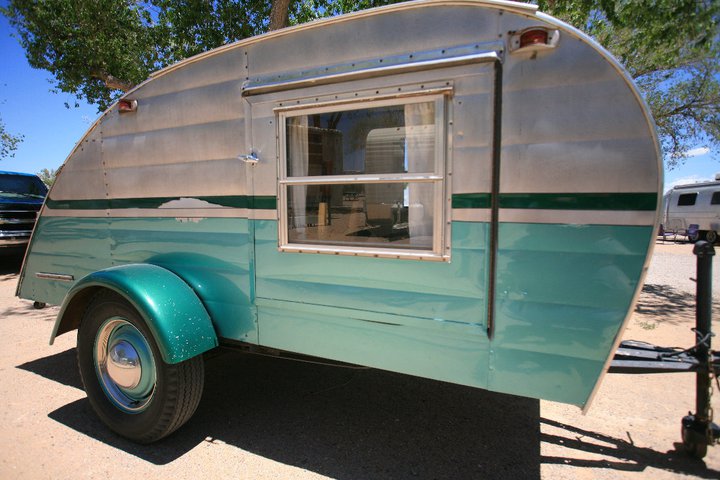 Enchanted Trails RV Park & Trading Post still offers a variety of rental RVs that visitors can stay in on site. vintage furnishings adorn the interiors of these vintage trailers and remain true to their specific era, whether it's a '76 Silver Streak or a '56 teardrop. Staying in a vintage trailer here is an experience that you won't want to miss out on. Call 800-326-6317 to make reservations today! Prices range anywhere from $56 to $86 per night.
Amenities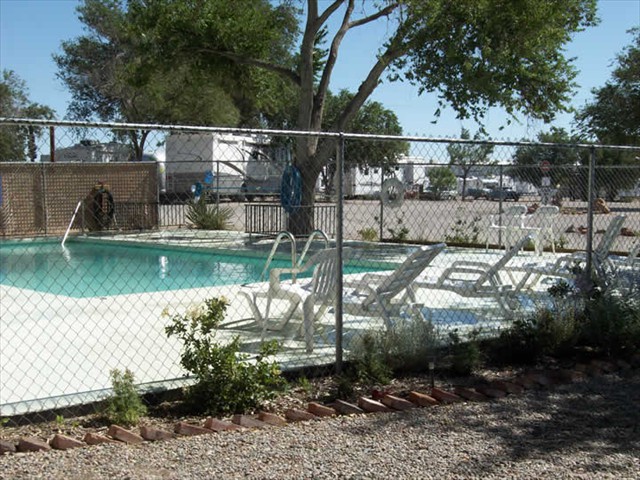 While the majority of the park may be in it's original state, the campground has made a few upgrades to make each camper's stay more enjoyable. The property has newly remodeled restroom facilities that visitors enjoy. If you're looking to spend some leisure time, you can find a heated swimming pool and spa just steps away from your RV site. This park is always pet friendly and welcomes your furry friends just as much as you do!
The trading post on site, while it may be different, still remains and has transformed into a general store. Inside, you can find anything from Native American art to RV parts. In the main building, you can also find rooms for laundry, meeting, gaming, banquets, a kitchen and even a library. No matter what your needs are or what you're looking to do, Enchanted Trails RV Park & Trading Post is guaranteed to have an answer for you.
Area Activities
Albuquerque is known for being rich in Native American history. While you visit, we suggest participating in some of the local events that embrace the culture of the local tribes. In April, the city holds the largest Pow-Wow in the US. This festival exhibits more than 3,000 dancers from over 500 different tribes. In August, the Santa Fe Indian Market takes place where 1,200 Indian Artists showcase their art. Various prizes are available and a large amount of the art is for sale. In September, the New Mexico State Fair has different events and exhibitions that include demonstrations from Indian and Spanish villages.
Other activities in the area include a variety of museums, the historic downtown, the aquarium and gardens, the Indian and Pueblo Cultural Center and a winery. There is even an Albuquerque International Balloon Fiesta where visitors and residents send balloons up to line the Albuquerque skyline. No matter what kind of experience you're looking to have in Albuquerque, there is always an event for everyone!
Reviews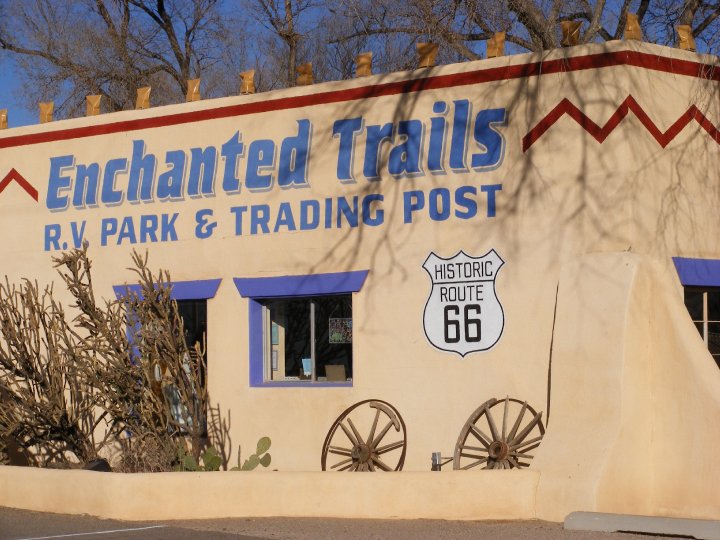 Visitors have rated this campground a 4.5 out of 5 stars. Guests enjoy the atmosphere that this RV park exudes and the sights it holds. One thing mentioned was not only the friendliness of the owner, but her creativity as well. Campers rave about the collectibles and vintage RV's. Most reviews even mention the desire to return to the campground.
All photos courtesy of Enchanted Trails RV Park & Trading Post.