No matter how you slice it, purchasing a new RV is a big financial commitment. The most frugal of travelers can still end up spending tens of thousands of dollars on an RV, and if you want something more luxurious, hundreds of thousands. The great news is: there are RVs out there for every budget and need. And we have all the tips you need to save money on a new RV!
Why Buy New And How To Get A Deal
First, you'll need to decide on what type of RV makes the most sense for your travels. Next, choose whether to buy new or used. Since this blog article is about buying new, we'll touch on some of the positives of going this route. The main attraction to a new RV or motorhome is that no one has ever lived in it. The odometer is fresh and everything is (ideally) in perfect condition. No maintenance issues, all the features are shiny and new. You won't find stains that you missed in the initial walk through months down the road, and you won't have any odd smells or any other surprises that pop up over time. The RV should still have that new RV smell we all know and love!
Buying new means you get to pick something that's ready to hit the road, exactly how you want it. You'll spend the time searching for the exact make, model, year, and even color before signing papers. You won't have to mess with remodels, painting, reflooring, reupholstering, etc. This can be very enticing, especially if you aren't the Pinterest DIY type and don't want to follow through with many upgrades on a used model.
If you walk into a potential rig and it feels like home, it's a good indication that you've found your home on wheels.  Ultimately, though, the decision is yours. We know budget can play a big factor, so let's dive into ways to save.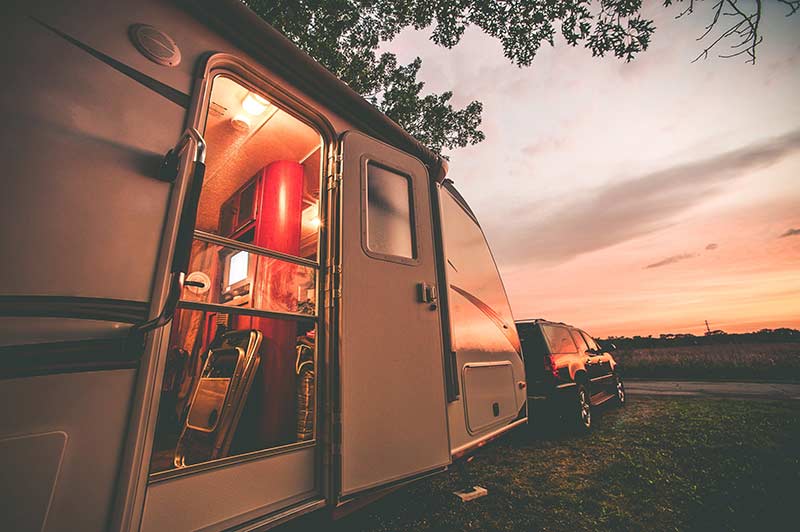 Need the perfect RV for a getaway?
Recognize the value
When it comes to new vs. used, it isn't always apples to oranges. While new RVs cost more, you are also getting more. While this isn't exactly a tip on how to save money on a new RV, it helps to start your search with the right mindset. Choosing a new RV means your RV will be under warranty for some time, which guards your investment and makes repairs as easy as possible. They're also the most updated on technology, featuring things like USB charging ports, massive TVs, and pre-installed solar systems. If those things are important to you, then have a fair expectation that the price includes these conveniences.


Don't rush your decision
Take your time when shopping for a new RV. The last thing you want to do is to make a rushed purchase. Do your research, and know exactly which features are dealbreakers and which ones you can live without. Don't rush into purchasing an RV that has more bells and whistles than what you need just because you feel the need to hurry. Save money by avoiding paying for features and upgrades you won't use.
Shop Around for the Best RV Prices
When we say "shop around," we don't mean just RVs. Do some research on dealerships, too. Read reviews and visit a few locations before finalizing a choice. Go with a dealership that understands your needs and works to meet them, rather than trying to mold your needs to fit the RVs they have on their lot. Look at as many aspects of RV shopping as you can before choosing one to buy. There's no need to settle for the first RV you come by, so check out a few options before making a decision.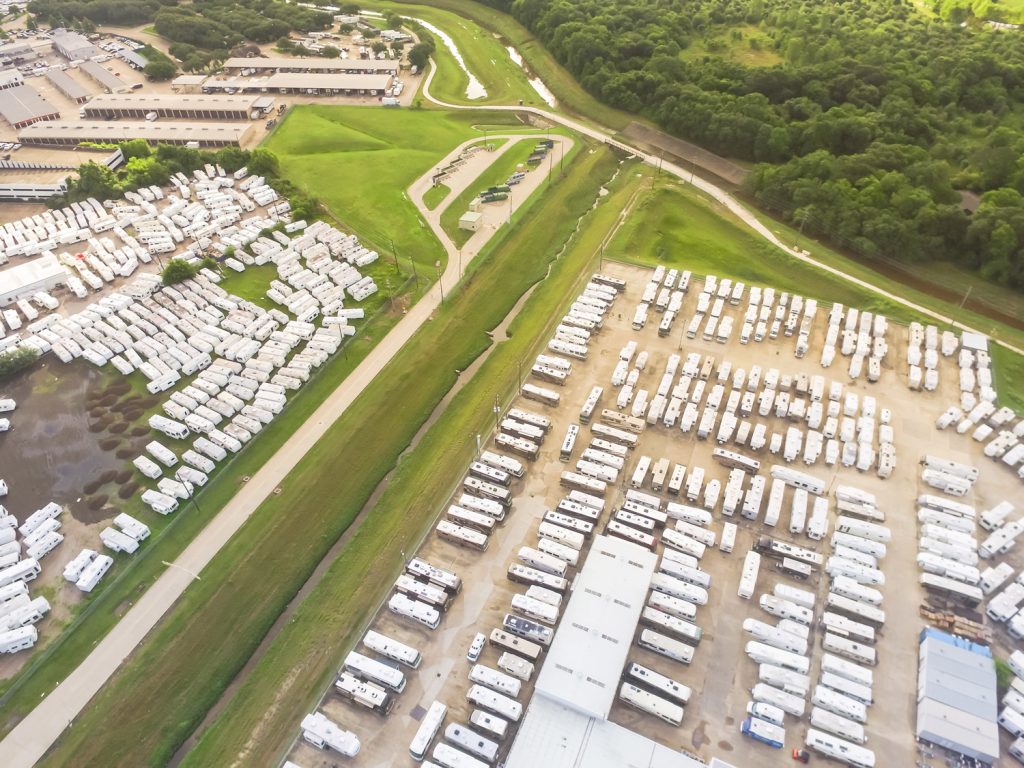 Consider going out of state
Many RVers end up saving money on a new RV by traveling to purchase it! While you will certainly want to factor in gas prices and the overall cost of travel to facilitate a long distance pickup, choosing an RV dealership out-of-state can sometimes be the most cost-effective option. If they have the RV you want listed at a cheaper price, or they are running a special, you could end up saving thousands. They may even have a better combination of features available that your local dealership doesn't have, so you don't end up buying more than what you need. Luckily, you can simply adjust your search radius on RVUSA's advanced search feature or browse RVs by state.
Look at multiple brands
Many RVers are often tied to a brand, and for good reason! The brand has never let them down or left them stranded, and they may be familiar with maintenance within that brand's lineup. Chances are though, there are other brands that are just as great as your favorite — or maybe even better! Regardless of your brand loyalty, all RVs serve the same purpose. Do some research online or talk to a salesperson about the difference between one brand and the next. Branching out of your comfort zone in this area may lead you to a save money on a new RV buy finding one with better value.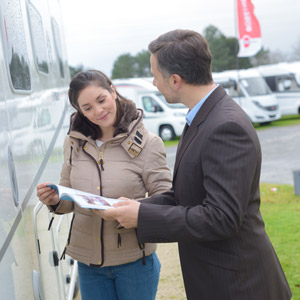 Find the right salesperson
The right salesperson can make or break an RV buying experience. No one wants a pushy salesperson rushing them to make choices. Find someone who is easygoing and trustworthy. It may feel impossible, but they exist! We understand that it's their job to persuade you to buy that RV, but a salesperson who is more in tune with your wants and needs might be able to get you a better deal.
Being nice also goes both ways. Salespeople are people too! Often, they're much more willing to work with kind customers who make their job easier, so try to be kind to your salesperson. Developing a great rapport with them can convince them to take better care of you during the sale!
Save Money On A New RV
We hope this helps you along your journey of finding the right new RV for you. We know it's exciting, but try to slow the process down to ensure you purchase one that will suit your needs. Happy RV hunting!
Ready to find an RV for your adventures?