When many people think of aluminum RVs, they think of the ubiquitous Airstream "silver bullets." But did you know the Airstream had a ground-breaking, high-end predecessor? The Bowlus Road Chief was the original aluminum travel trailer from which Airstream took its cues. Now, one of the most unique RVs on the road can be yours: RVUSA.com has a
2017 Bowlus Road Chief for sale
.
Why the Bowlus Road Chief is a piece of RV history
To understand the significance of this rig, you have to go back to its origins. In 1934, an established engineer and aircraft builder named Hawley Bowlus saw a need for a way to transport flight crews to and from remote takeoff locations. With his experience helping to build sailplanes, gliders and the famous Spirit of St. Louis airplane, he went to work designing a revolutionary and lightweight trailer known as the Bowlus Road Chief. It was the first rig of its kind and quickly grabbed the spotlight, appearing on screen in Hollywood and providing luxury travel experiences for several famous names along the way. Despite its popularity, only 80 of these innovative travel trailers were produced in the 1930s before Bowlus closed down the business and returned to the aircraft industry.
While Bowlus was no longer manufacturing its iconic rigs, its legacy lived on. One of the company's former employees, Wally Byam (sound familiar?) decided to take what he learned at Bowlus to start his own company: Airstream. The Airstream Clipper that debuted in 1936 took many of its cues from the Bowlus Road Chief. The Bowlus trailers that were still left on the road had surprisingly impressive staying power thanks to the high quality building materials Bowlus used. Over half of the original 80 Road Chiefs still exist today.
Fast forward almost 80 years later. A tech entrepreneur couple found a vintage 1935 Bowlus Road Chief in a field in Washington and decided to restore it to its former glory. John and Helen Long loved the rig so much that they set out to breathe new life into Bowlus brand. John acquired the rights to the name and revived the iconic brand in 2014 along with his daughter, Geneva, who had just finished earning her MBA. These are not restored versions of the originals or remakes of the originals, but an entirely new RV with state of the art technology and posh amenities inspired by the innovation of the original Bowlus Road Chiefs.
One owner of a reimagined 2017 Bowlus Road Chief Open Road Edition in New Mexico has decided it's time for their unique luxury rig to find its way to its next adventure. They've listed it on RVUSA.com to help them find the perfect new family to take over the helm of this rare RV find. Think you might be the one to own this piece of RVing history? Let's take a look at the Bowlus' abundant features to help you decide if its right for your RVing travels.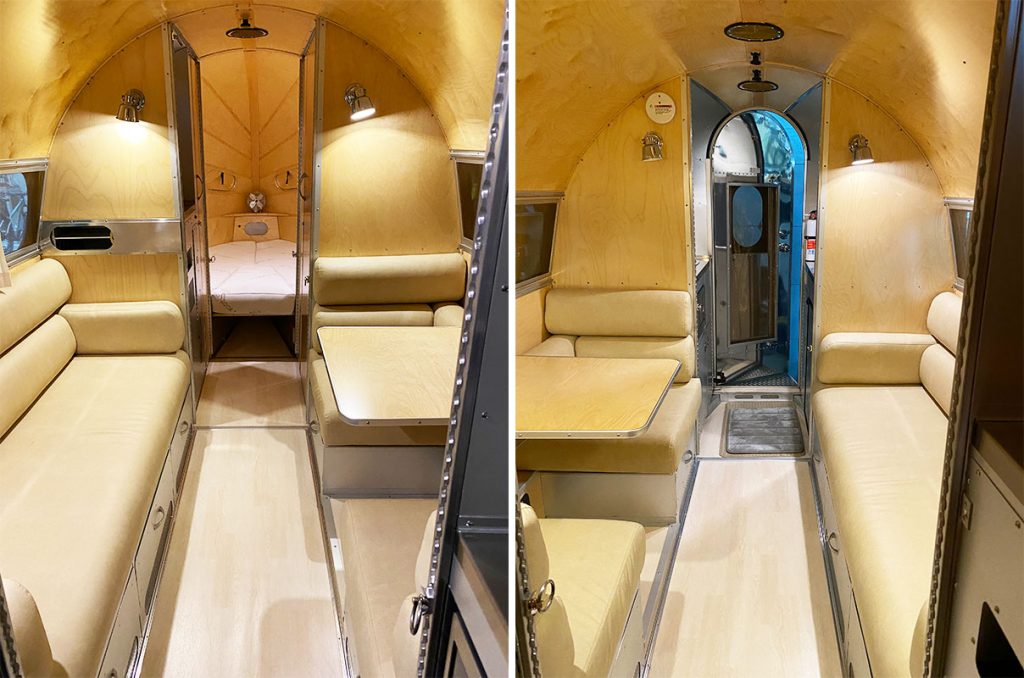 Features in this 2017 Bowlus Road Chief for sale
This Bowlus Road Chief is in like new condition and still comes with the original owner's manual. It's immediately recognizable from its airline-inspired design with an aluminum exterior and somewhere around 5,000 aircraft-grade rivets. But it's not only the design that sets this distinctive rig apart: it's the extremely low weight. It has a tongue weight of only 210 lbs. and a hitch weight of only 2500 lbs., which means you likely already own a vehicle that can tow this ultra lightweight RV. Some have even towed it using luxury sedans! The owner of the reinvented Bowlus brand says they try to design everything in the rig to be multifunctional, and if it doesn't have more than one use, then they figure out a way to make the rig lighter.
One of the ways they do that is with a lithium battery. This weighs far less than a lead acid or deep cycle AGM battery and made it the first travel trailer ever operating under lithium power when it came out in 2017. It's also equipped with solar panels to charge the battery, which allows campers to go off grid for longer without hooking up. It uses LED lights throughout to conserve battery life and has plenty of windows to allow natural light in.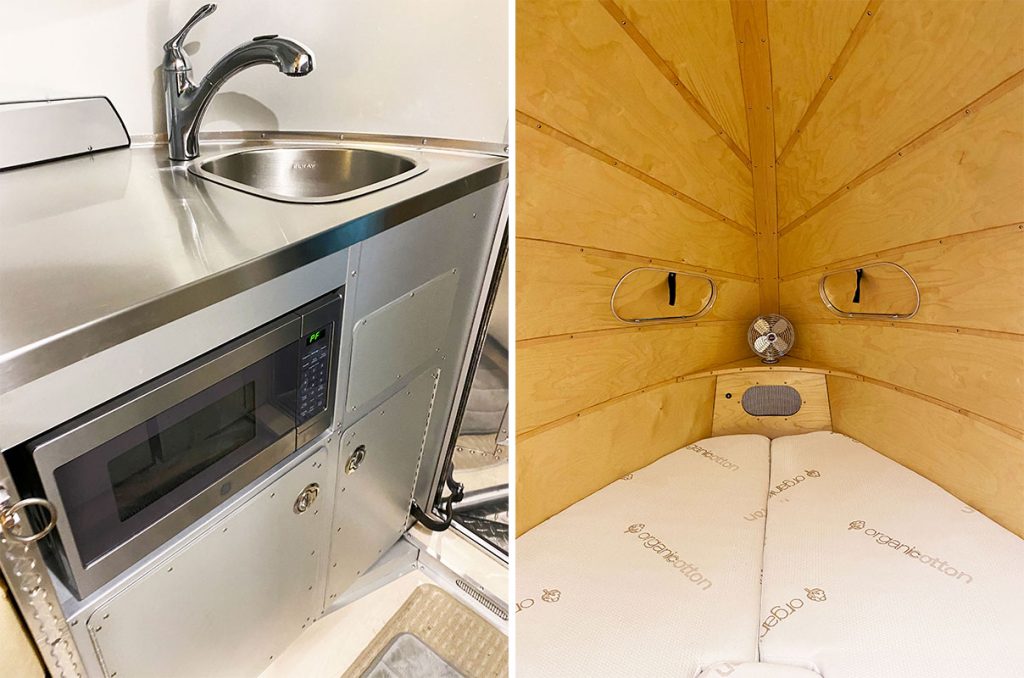 Even though Bowlus goes light on weight, they don't skimp on the amenities. It may look simple inside, but the thoughtfully designed features make it an opulent travel experience. It is the Open Road edition, which was one of two editions Bowlus made that year. The interior is crafted with light colored maple veneer on birch core wood and beige leather upholstery, and the living area comfortably seats 5. The aerodynamic rear of the rig is a bedroom with a king size bed so it's perfect for comfortable, upscale couples travel. The ability to turn the living area into twin beds as well makes it work for families with small children too. In the kitchen, you'll find stainless steel countertops, a 3 cubic foot fridge, a microwave and a 2 burner propane stove that runs off of a 28.3 pound liquid propane tank.
Comfort is priority in Bowlus' construction. The heated floors are one of its most popular and notable perks, making travel cozy all year long. They've equipped their rigs with brake control to make the ride smoother than ever. If you're working from the road or just hoping to have connection to share your travels with friends and family back home, the Bowlus makes that a breeze with tablet and laptop charging spaces as well as a cellular amplifier and mini booster.
This Bowlus is not only beautiful, but practical as well: it's stacked with features to make your RV road tripping feel more like home. Your rig will stay climate controlled with the digital thermostat that operates the 2500btu boiler and a 10000btu A/C. It has a 19 gallon fresh water tank and a 21 gallon grey water tank along with a wet bath and cassette toilet. The showerhead can also be passed through the emergency exit to make it an outdoor shower.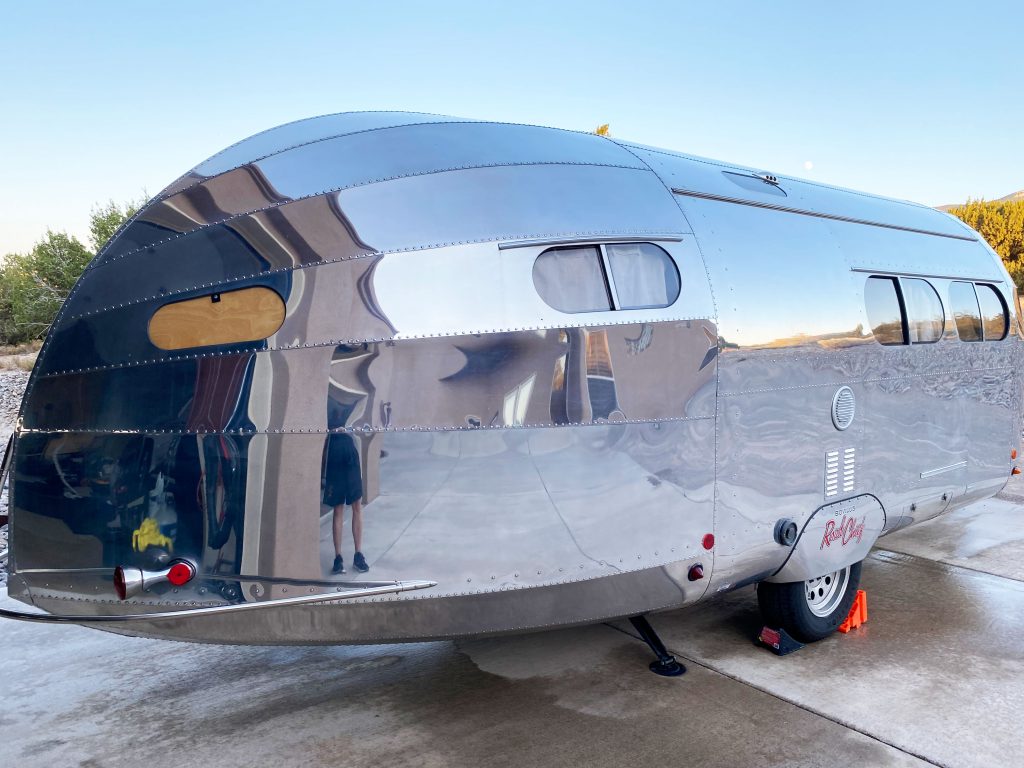 Make this Bowlus Road Chief yours
Do these luxury features sound like your type of RV travel? Check out the listing for this rare RV on RVUSA.com. This remarkable rig will be the envy of every RV park and campsite you visit and will put you among one of the most elite groups of RV ownership out there. You're not only investing in a way for you and your family to adventure in comfort and style, but you're purchasing a piece of RVing history.
This rig is listed for $154,000 and is located in Placitas, New Mexico. Visit the listing page to reach out to the seller or share the listing with a friend who may be interested. Remember, the Bowlus Road Chief is a rare RV find, so please email with serious inquiries only.
We can't wait to see where this Road Chief adventures to next!