It's that time of year again when everyone is preparing for the holidays and looking for the best Black Friday Deals. In the RV world, it's also the perfect time of the year to save hundreds on anything you need like RV parts, accessories, space savers, appliances, electronics, wheels, etc.  The best thing about owning an RV on Black Friday is that you won't have to camp out in a tent on the cold, hard concrete. All you need to do is stay inside, watch TV, cook some dinner, sleep in a warm bed and then wake up feeling refreshed and ready to shop at 4 a.m.
Camping Out in Your RV…
We weren't lying, owning an RV can be a huge advantage on Black Friday, but you need to check with the city and each individual store before you camp out. Many stores or city ordinances do not permit camping in parking lots or in nearby areas, so the best idea is to do some research before the big day. Some stores, like Camping World and Walmart, have policies in effect for most of their stores but again, make sure you check with each store. It wouldn't be good if you had your RV towed on Black Friday.
Check your local RV Dealers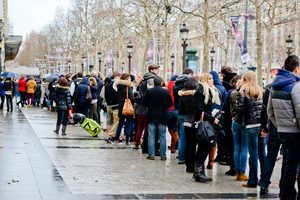 Not all RV Dealers decide to participate in Black Friday, but those that do offer great deals on large ticket items like RV Covers, Brakes, Plugs, etc. For RVers in Iowa, Thompson Family RV is having a 25% off Parts and 30% off RV Covers on Friday's and Saturday's, all month long. For those in Texas, Camperland Trailer Sales is having a Black Friday/Saturday Sale, with savings on everything from Parts and Accessories to RV Sales & Service. Make sure to check with your local RV Dealer for Black Friday sales!
Stay-at-home options
If you're not into the whole 4 am, fighting traffic and crowds, the other alternative is Cyber Monday. Although Amazon doesn't offer the range of RV parts that an RV Dealer would, Amazon is offering great deals on ways to improve your RV. Everyday leading up to Black Friday, Amazon will have a different deal for customers to discover new items ranging from electronics to travel gear and pet supplies. In addition to Amazon, check out these two sites blackfriday.com and cybermonday.com to find a compiled list of offerings from every walk of life.
If you do decide to go the traditional Black Friday shopping route, we hope you have a fun, safe, and successful shopping experience! Good luck!Save
Save