The late Lloyd Bontrager founded Jayco in 1968 with a clear commitment to "build a better RV" and treat everyone like family. Each Jayco RV is built according to strict specifications, which aim to provide owners the best built RV. Today, Jayco is one of the premier RV manufacturers in North America, winning countless awards and other recognitions, such as the prestigious DSI Gold Circle Award which they have won 77 times. In addition, Jayco has put a heavy emphasis on protecting the environment by launching "EcoAdvantage," which focuses on renewable, natural resources, reducing their carbon footprint, and finding a better way to manufacturer RVs. Read more about the superior construction techniques at Jayco RV as well as their commitment to ecofriendly RV construction through the "EcoAdvantage" program.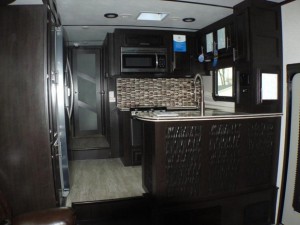 Today's "Featured RV of theWeek" is the Jayco Seismic Toy Hauler! The Seismic is part of a family of toy haulers built by Jayco which includes the Octane, Octane Super Lite and the Seismic Wave. Each toy hauler is fitted with the Jayco "Magnum Roof System," a custom-sized frame which is one of the strongest roofs in the industry, a climate shield, which protects the RV from extreme heat and extreme cold, and an industry-leading, 2-year limited customer warranty. The Seismic is built to haul all your favorite toys to tailgating parties, hunting, fishing and other camping trips and is still able to provide ample sleeping for the whole family. Each Seismic has a master bedroom, a garage area (size varies on model), stainless steel residential appliances and hardware, washer/dryer prep, whole-house speaker system, high-end residential sofa, electric fireplace and the signature "party deck." The Seismic has 6 floorplans: 4112, 4113, 4114, 4212, 4213, and the 4250; varying slightly in length, height and hitch weight and minor changes such as an added patio (4213, 4212, 4113) and floorplan layout. Make sure to research each model on RVUSA and find the best Jayco Seismic Toy Hauler!
RVUSA has over 10 dealers in Florida, Tennessee, Mississippi, Texas, Delaware, Maryland, New Jersey, Louisiana, Pennsylvania, Virginia, Idaho and Michigan who sell the Jayco Seismic. There are 24 new 2017 Jayco Seismic 4114, 4212, 4213, 4113, 4112 and the 4250 Toy Haulers, 4 new 2016 Seismic and 2 used. Shop Jayco Seismic Toy Haulers for Sale now on RVUSA!