Brand Overview
Winnebago is a well-known manufacturer in the RV industry since the first motorhome rolled off their production line in 1966. Being sold at half the price of RVs manufactured by competitors made the Winnebago brand name synonymous with the vehicle class title RV, similar to how searching the internet is often substituted by saying "Google it". Though the brand name is well known and attracts customers on its own, Winnebago has experienced continued success over the years by making high quality products sold at highly competitive prices. The '2018 Winnebago Minnie Plus 27BHSS', an adaptation of one of the brand's original models (the 'Minnie Winnie'), is a travel trailer RV that features an affordable price range and unique exterior look that stands out from the usual RV design, in a good way. The "Cherry" colored paint job that covers the sides of this travel trailer make it stand out from the other comparatively bland looking RVs in its class, offering a well-received modern appeal that is often over looked in the RV industry.
Amenities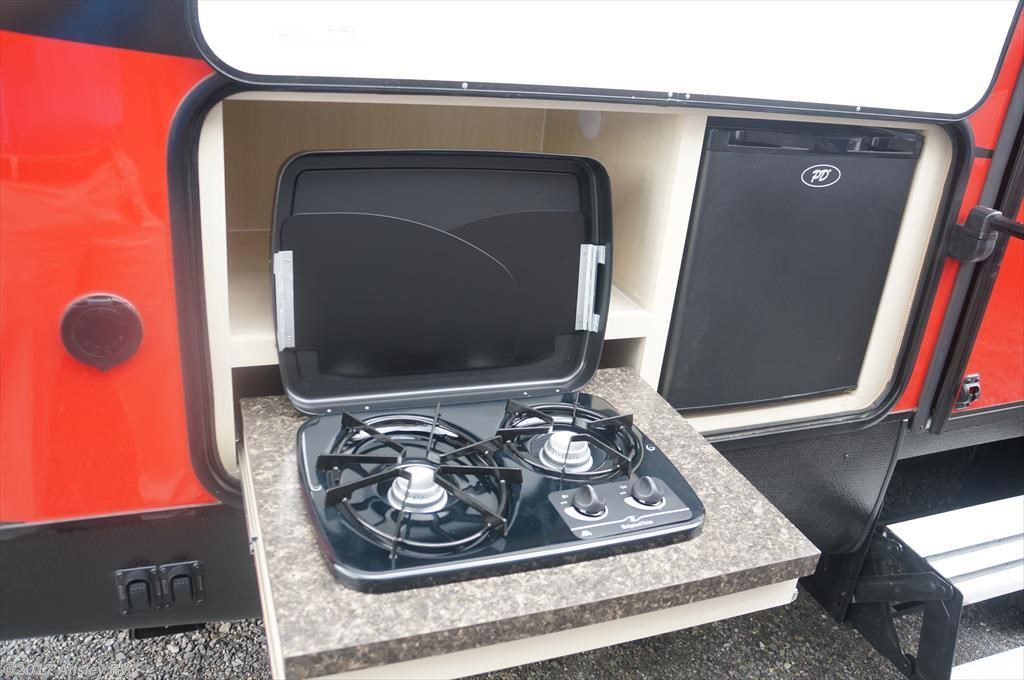 While the stock paintjob alone is enough to warrant a second or even third look at the 2018 Winnebago Minnie Plus 27BHSS as a potential purchase, the included amenities do not stop there. The 2018 Winnebago Minnie Plus 27BHSS comes with most, if not all, of the features you would expect to be found in more costly RVs. Not only does it have the traditional kitchen setup inside, it also comes with an external stovetop and refrigerator for entertaining guests without having to awkwardly leave them alone outside while you prepare the meal.
If you are looking to entertain guests or cook for your passengers indoors, the 2018 Winnebago Minnie Plus 27BHSS comes with a U-shaped dinette and sofa in the main "living area" that will keep your audience comfortable as they await their entrée. After a good meal, if a nap is needed, the 2018 Winnebago Minnie Plus 27BHSS comes standard with bunkbeds, a queen bed in the "master bedroom, and the aforementioned sofa converts into a sleeper. Needless to say, you will have plenty of places to rest in this Travel Trailer RV with a capacity to sleep up to 10 people from the manufacturer's specs.
Specs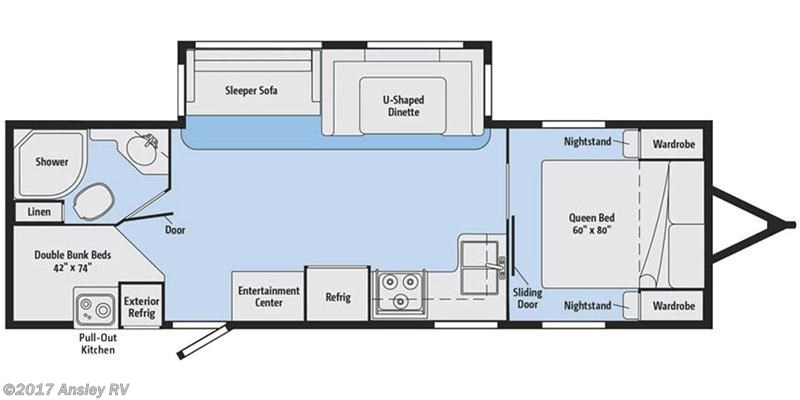 As for the rest of the manufacturer's specs, the 2018 Winnebago Minnie Plus 27BHSS falls in line with other RVs in its class. The 2018 Winnebago Minnie Plus 27BHSS has a GVWR of 8,800 lbs., a payload capacity of 2100, a dry weight of 6,700 lbs., a tow/hitch weight of 640, a/c spec of 13,500 BTUs, a length of 32 feet and width of 8 feet. For full spec listing see here.
Purchase Info
This particular model and floorplan is listed by Ansley RV on RVUSA.com out of Duncansville, Pennsylvania. At a special sale price (found by clicking the "GET SALE PRICE" button) lower than the already affordable MSRP of $38,959, you may have found your first or next RV.