Even though we have written about a Forest River Rockwood Extreme before, we have been lured back with the 2018 version. Similar in look to the Aliner, the 2018 Forest River Rockwood Extreme has the triangular roof on top of a rectangular base, similar to how you probably drew a house when you were a kid.
Exterior
This particular unit has a white top area sitting on a grey base with black trim. Near the hitch, the Forest River Rockwood Extreme has a patio/storage area that allows you to easily clear up some space inside or to sit outside and enjoy the scenery of your trip while sipping your breakfast drink of choice. The 57in x 84in deck offers more than enough space to comfortable enjoy a morning in the outdoors. Just beyond the "deck" sits 'Molded LP Bottle Covers', giving you a great place to store your propane tanks. One of my favorite features about this unit is the built in solar panel that allows you to potentially stay "out" an extra day or two since you can get power without needing more fuel. You will be able to enjoy the views from your campsite through one of the well positioned and appropriately sized windows that were designed into this model. This particular unit comes with access to a 12-foot awning mount that will keep you in shade while you cook dinner on the "hidden" gas grill.
Interior
As you make your way inside of the 2018 Forest River Rockwood Extreme, you will notice a 54in x 80in flip-up bed (6 inches longer than a traditional 'double' sized bed) to your left, just past your kitchenette area. For this model, your kitchenette features a three-burner stove just above your 'mini-fridge' and next to your sink with storage space below it. Across from the stove area is a 'nightstand' structure with a finished counter-top on top of a microwave that sits above a storage drawer. Below your mattress you have additional storage space along with power outlets, a/c vents and a speaker. Having these amenities arranged like they are, allow you to handle a great deal of tasks without needing to leave the comfort of your bed (which is usually a favorite spot after a long day of outdoor activities).
To the right as you enter the Forest River Rockwood Extreme you will find your dining/sitting rest spot. This 4-person booth sits two on each side with a table in the center that matches the rest of the countertops. Each side of the booth has access to a viewing window with standard sunshades to block light when you like. Underneath the booth seats lies more storage space, another speaker and a variety of other accessories.
Other Specs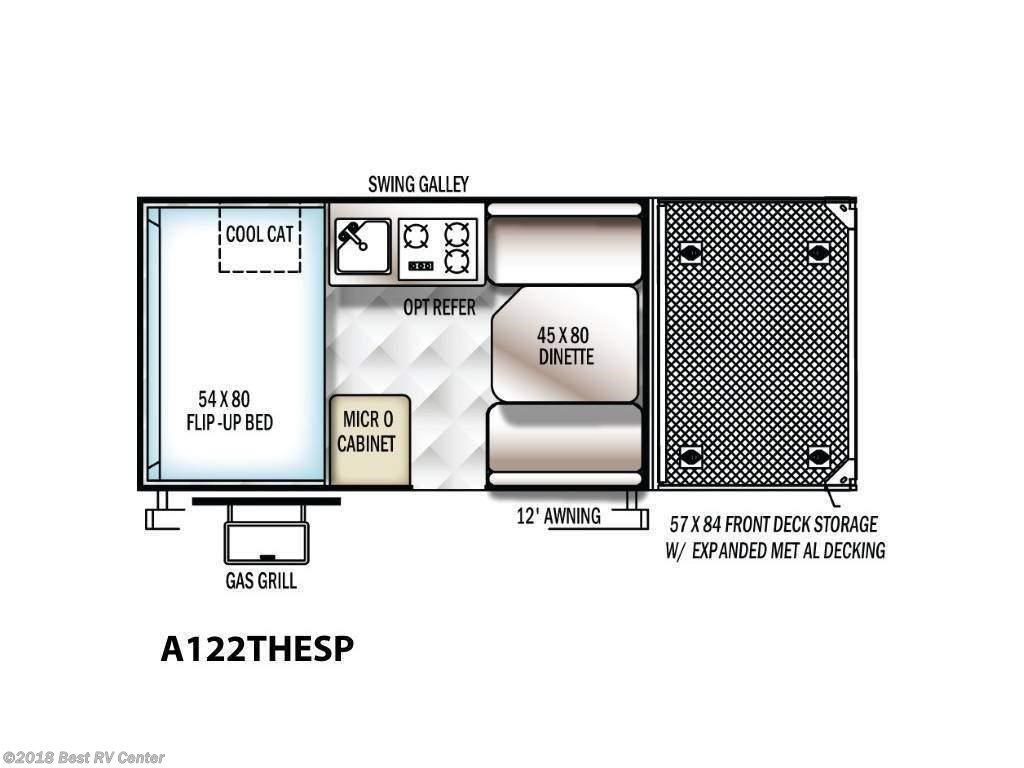 Fresh water capacity – 21 gallons
Sleeps – 4
Trailer length (with hitch) ~ 19 feet
Base Dry Hitch Weight – 284lbs
Cargo Capacity – 1,100lbs
Height – 61in
Box Size – 12 feet