This week RVUSA features the 2017 Open Range 3X! The Open Range 3X has all the features of a luxury Fifth Wheel with the added benefits of being lighter, easier to tow and at a great price. The Open Range 3X is winter ready featuring 3-inch-thick walls with a thermal barrier. These thick walls add extra space for insulation and help prevent the transfer of heat or cold from aluminum studs into the RV. Make sure to ask your RV salesman about the 4 seasons package to keep your RV in tip top shape throughout the year! Check out all of RVUSA's New 2017 Open Range 3X Fifth Wheels for Sale.
In this week's Featured RV of the Week, we will take a look inside the Open Range 3X397FBS model. The 3X397FBS is more open than other models, combining the kitchen, living room and ½ bath. This area uses 2 of the 3 slide-outs to provide optimum living space and walking area. Towards the front of the RV is the bedroom, with a king bed and small entertainment area, and the full bathroom sporting 2 sinks, a stand-in shower, washer/dryer area, and extra storage space.

The living room features 2 recliners, a couch with a pull out queen bed, and a medium sized entertainment center where the TV is mounted over the fireplace. The kitchen area includes a pantry, full sized refrigerator, island with a sink, and a small dining room with table and chairs. Check out the 2017 Open Range 3X 397FBS on RVUSA!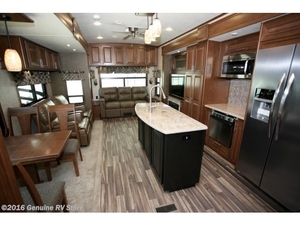 The Open Range 3X lacks sleeping space making it optimal for small families or a small group of friends going on vacation for a couple of days. The key benefits of the Open Range 3X include: low GVWR makes it easier to tow; luxury interior and amenities; 3-inch-walls makes the 3X one of the best RVs for every season.