We live in a digital world. For pretty much everything we do, there is an app for that, and Rving is no exception. There are SO many apps out there for camping, RVing, hiking, and everything outdoors so it can be hard to narrow down which ones are good and which ones aren't worth your time.  We sifted through them though and came up with all the best RV apps that you need to download right now to make your RV trips a breeze!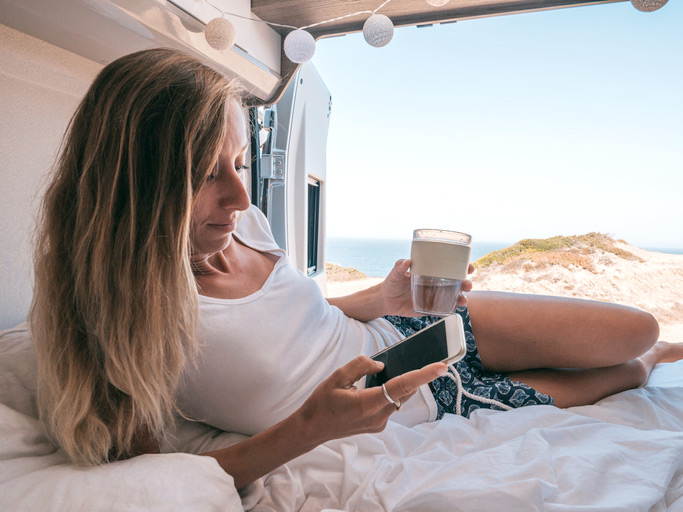 The Best Apps for RVers
Make your travels super simple with these fantasy RV apps. Most of these will be free apps, but some of them will have a small cost associated with them. While we love a free app, sometimes you are much better off just paying a small fee to have the best possible experience.
No matter if you are a new RVer or a seasoned camping pro, you will find these apps extremely useful for planning your trips and making sure you have the best and easiest possible time on the road.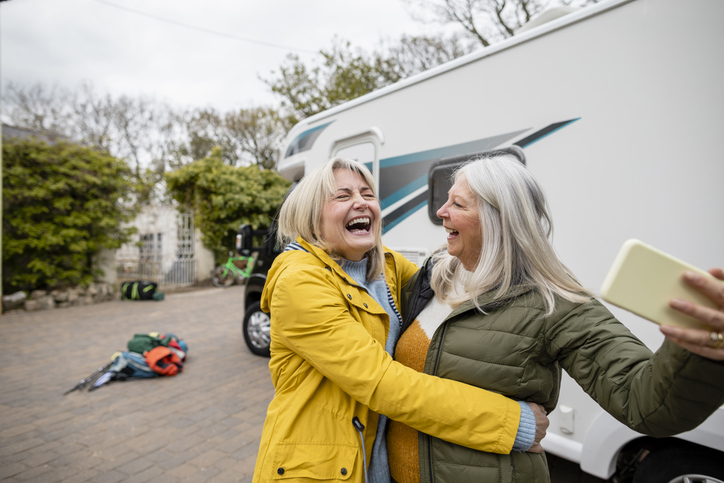 Togo RV
Togo RV is an app that is amazing for keeping RV owners organized and inspired while on the road. This app has both a free and paid version.
With the free version, you can find places near you and things to do as well as track your RV maintenance and look for recalls.
With the paid Togo App, you will get a subscription to Roadtrippers Plus, which will help you plan out your next trip step by step! This app has so much to offer, and if you happen to be a Harvest Host member, you will get 30% off of your paid subscription.
Trover
Looking to explore beautiful local attractions? Then the Trover app is perfect for you!
Trover allows you to scroll through photos and shows you exactly how far a place is from your current location. Think of it like Pinterest but specifically for travel!
You can also post your own photos to the app to help other RVers find some beautiful, off the beaten path destinations.
iExit
Not sure where to stop for food while you are cruising down the highway on your way to your next camping destination? Check out iExit. This app for Android and Apple will show you food options as well as gas stations that are close to you and at exits on your route.
Roadtrippers
Roadtrippers is a well-known name in the world of RV apps. They are one of the most frequently downloaded apps and for good reason!
Roadtripper is a fantastic resource when it some to finding a new destination, planning your next camping trip, and finding things to do along your route. Roadtrippers is available on Apple and Android and has both a paid and free version of their app.
GasBuddy
No one wants to overpay for gas, but most people won't know what gas stations have the best prices when they are traveling in new places. WIth GasBussy, you don't have to worry though because you will always be able to find the best prices on gas everywhere you want to roam.
GasBuddy is simple, yet powerful. Just download the app and find all the nearby gas stations in the area you happen to be in!
Copilot Mobile Navigation
Never get lost with the Copilot navigation RV app. This app is trusted by RVers all around the country, and for good reason.
Copilot has features specifically for RVers, including how to plan an RV-specific route, offline navigation, and smart trip planning.
The Best RV Apps for All RVers
While this is by no means all of the apps out there for RVers, these are some of our favorites here at RVUSA. These apps make travel easier and add to the fun you can have when you get to your destination.
If you have any apps that you love to use on the road, let us know so we can add them to our arsenal of the best RV apps, and you never know, maybe we will bring you a part two to this soon!