There is is much more to the great state of Ohio than what mot of us learn in history class. There's hidden waterfalls, a frozen lighthouse and the most peculiar mound that looks like a snake slithering through the land. Whether you're simply passing through or making Ohio your final destination, be sure to make a stop at a few of these little known travel destinations!
Let us know if you've been to any of these down in the comments!
Ohio is for Nature Lovers
Frozen Cleveland Lighthouse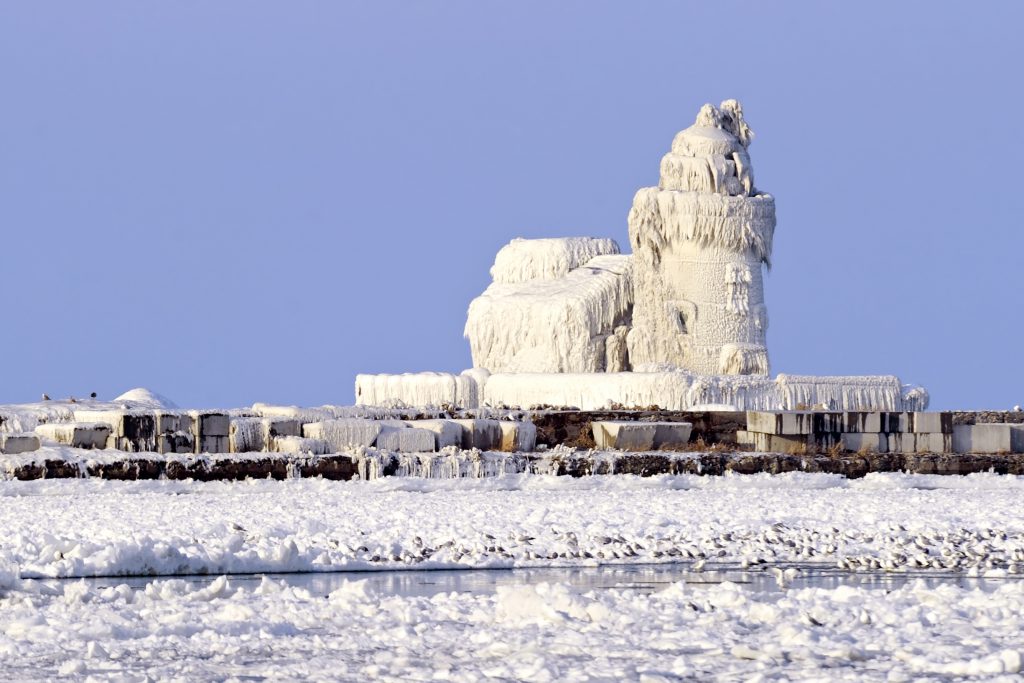 This curious lighthouse, located in Cleveland, Ohio, is so close to Lake Erie that it began to obtain layers of ice on its exterior. It all started in 2010 when never ending gusts of winds began on December 13 which created white caps. These waves crashed along the Cleveland Harbor break wall and West Pier Lighthouse.
This phenomenon has brought the lighthouse more attention than its seen since it was built in 1911. It has been unoccupied since 1965 when it was automated. The original Fresnel lens was given to the Great Lakes Science Center in Cleveland, which is within sight of the lighthouse. Over the past 105 years, the lighthouse has accumulated a small tilt to the right which can be seen from the shore.
Kelley's Island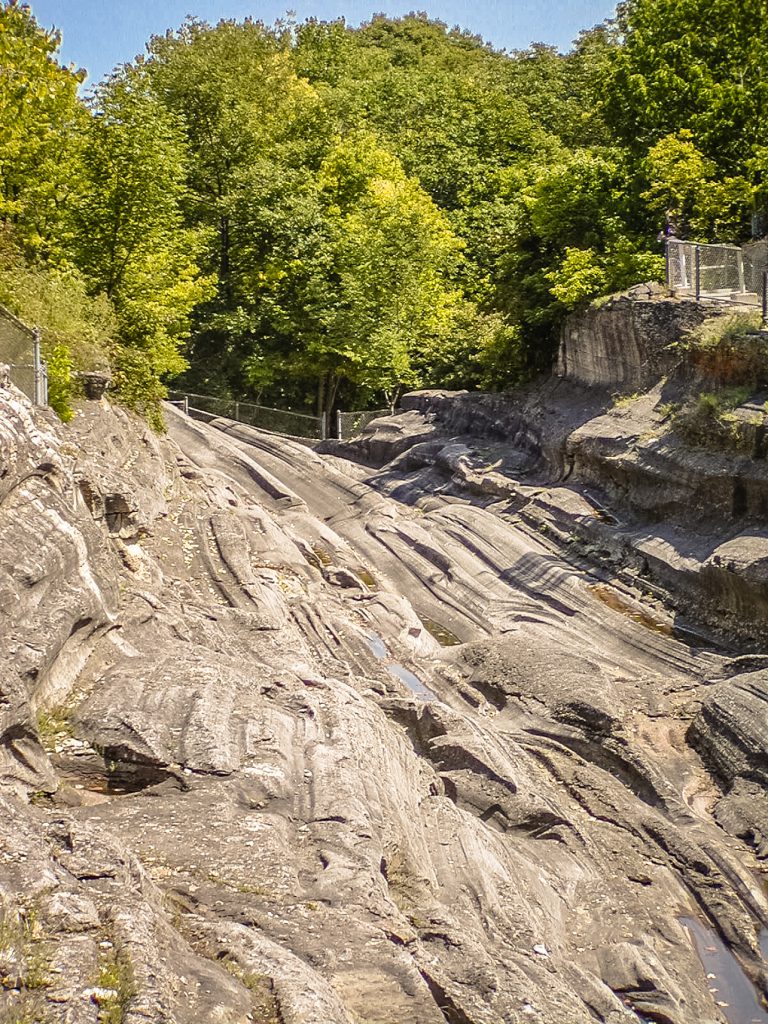 Who knew rocks could be so cool? Come check out these glacial grooves on the north side of Kelley's Island. Made of solid limestone about 18,000 years ago, these grooves are the largest and most easily accessible grooves in the world.
What remains today is the trough that's 400 feet long,  35 feet wide and about 10 feet deep. The National Natural Landmark is protected by fencing, but walkways and stairs allow visitors to catch a glimpse of the grooves.
Hocking Hills State Park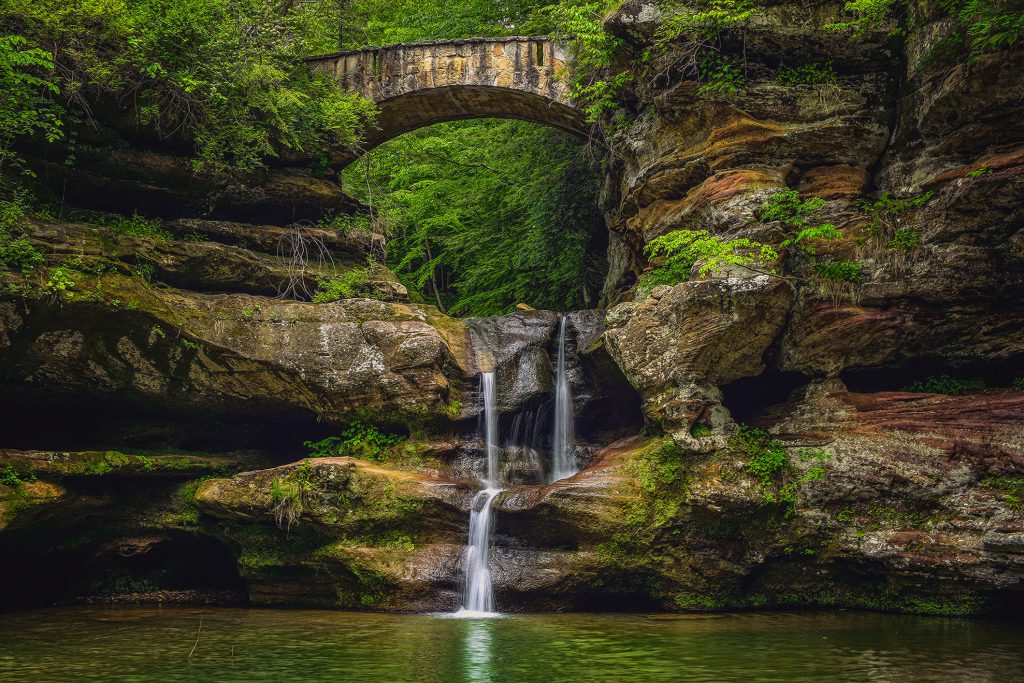 People don't believe the photos they see from the Hocking Hills State Park, but those who do visit think of it to be the prettiest place in the Midwest. There's most to these caves and gorges, though. They speak towards the park's geologic history. When the Wisconsin Glacier started to melt thousands of years ago, the water ran across the land that's now a part of the park, running through cracks in the ground and giving the earth deep gorges.
Old Man's Cave is actually the most popular attraction and was named after a man in the 1700s who lived in one of the caves. Ash Cave was named after the piles of ashes found by settlers but created by Native Americans.
Picturesque Places in Ohio
Corkscrew Falls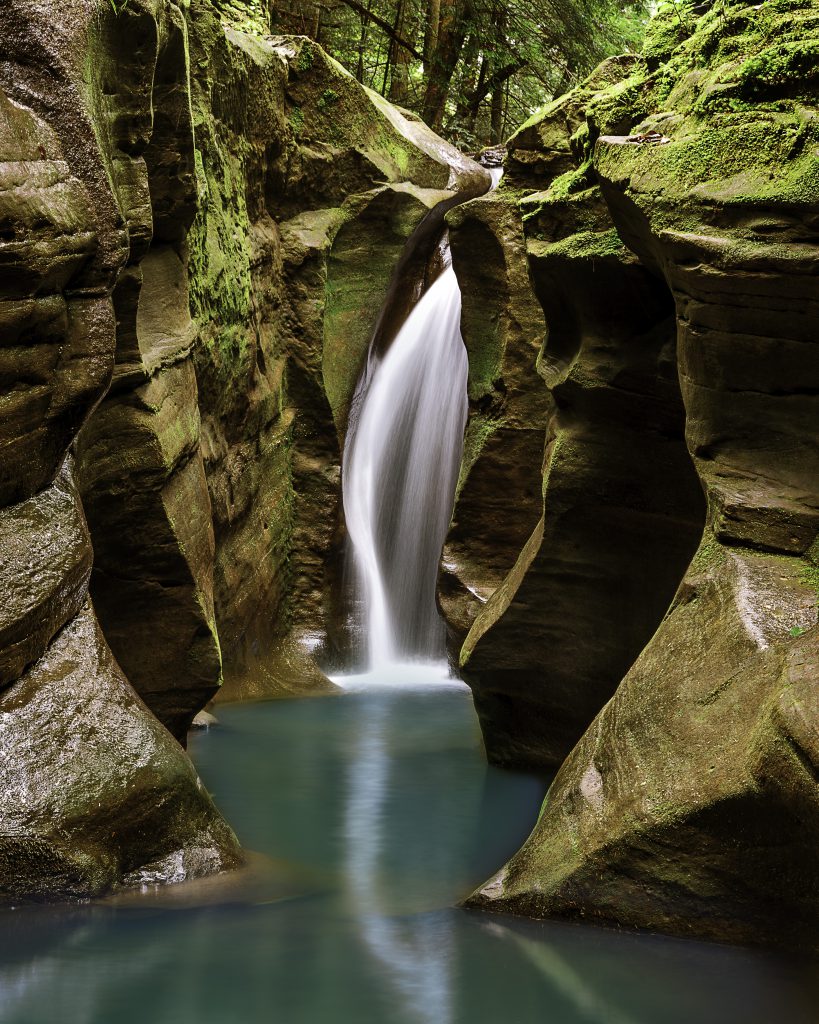 Yet another unique beauty hidden is Hocking Hills, Corkscrew Falls is the park's newest waterfall and was once a secret destination for the town. Up until a few years ago, the waterfall was positioned on private land, which prohibited the public to visit. Today, hikers with a permit are able to visit the falls and marvel at its natural beauty. A permit is required because of the area's delicate ecosystem, but they're pretty simple to get one. Just visit the Ohio Department of Natural Resources website to apply for a permit. Do this well in advance as it can take up to 30 days to process.
Ohio State Reformatory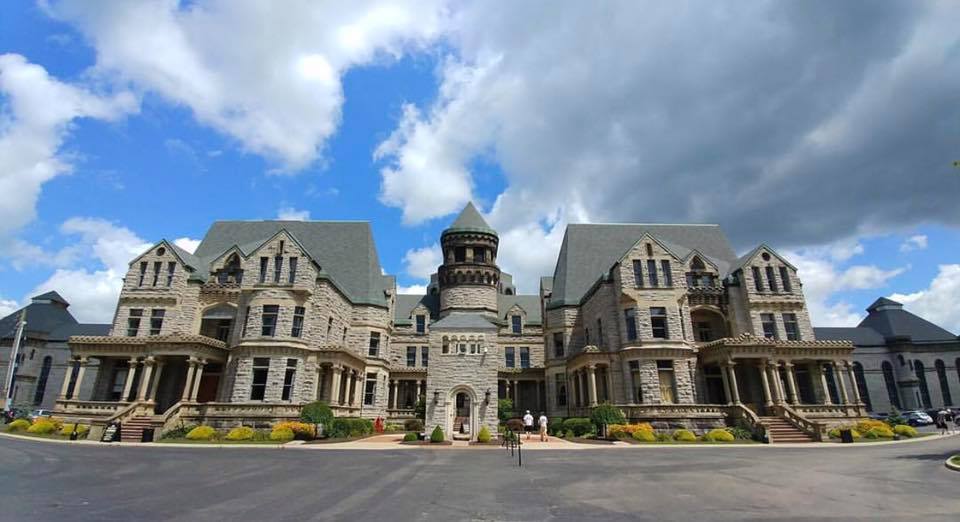 Located in Mansfield, Ohio, the Ohio State Reformatory was made famous by the Shawshank Redemption and has been out of commission since 1990 after a court order made the decision to close its doors. The prison was built between 1886 and 1910 and is often described as Germanic castle architecture. Most of the outer walls and extra buildings have been destroyed over the years, but the main building still stands strong thanks to the Mansfield Reformatory Preservation Society.
Most people are attracted to the prison for either its haunted hallways and solitary confinement cells or its presence in The Shawshank Redemption starring Morgan Freeman and Tim Robbins. All of the exterior shots and a few interior shots from the movie were recorded here in 1994.
Franklin Park Conservatory and Botanical Gardens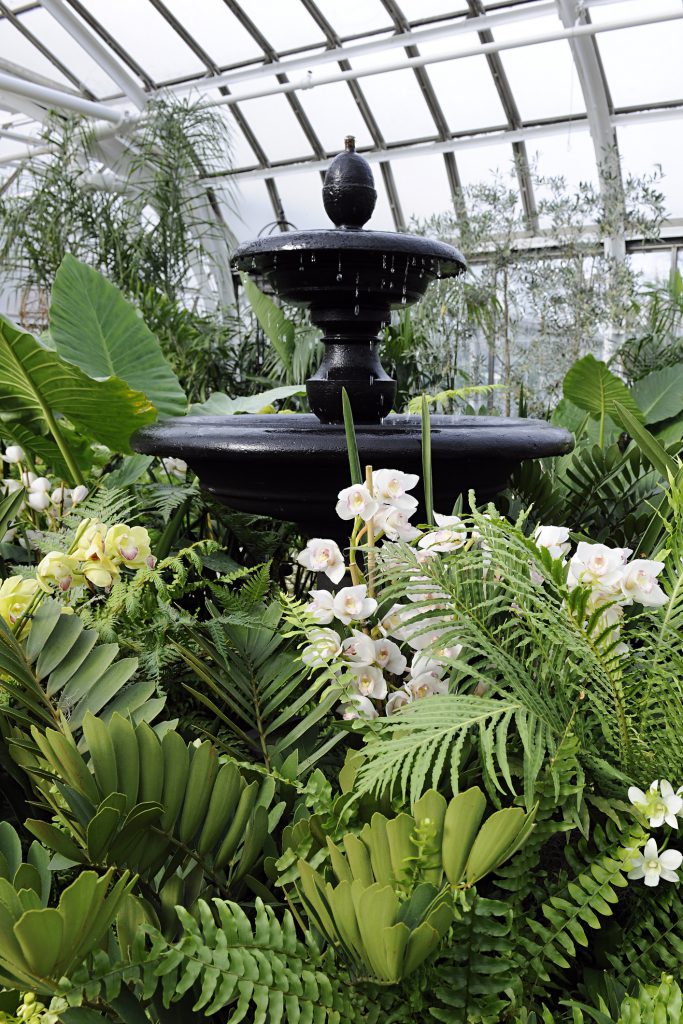 Built in 1895, the Franklin Park Conservatory and Botanical Gardens is a horticultural and educational institution that is on the National Register of Historic Places. Today, it puts special exhibitions, artwork and over 400 exotic plant species on display.
Vistiors can also expect to find biomes to represent certain climate zones in the conservatory, like the Tropical Rainforest, Himalayan Mountains, the Pacific Island Water Garden and the Desert. Outside, the conservatory is surrounded by 90 acres of botanical gardens and green space.
In 1994, Franklin Park Conservatory added a seasonal Blooms and Butterflies exhibition. Since its addition, the features thousands of tropical butterflies that fly through the Pacific Island Water Garden.
The conservatory is a massive place, so be sure to allot enough time to scour each area you want to visit!
Ohio's Historical Havens
Squire's Castle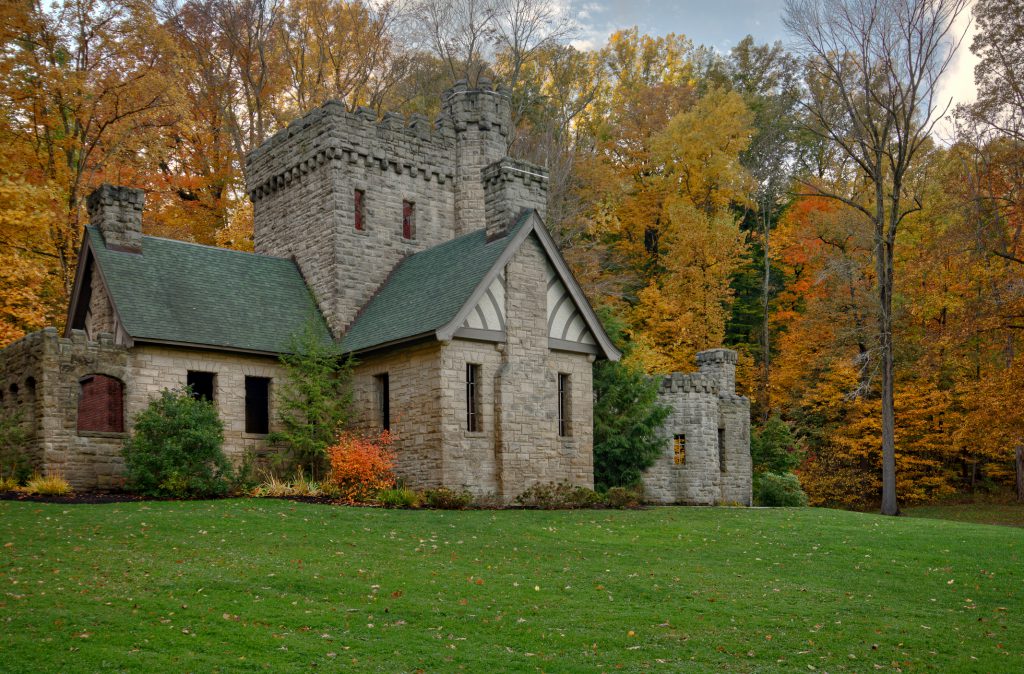 In the late 1800s, a man bought 525 acres in the Chagrin Valley. Feargus B. Squire was an English-born boy who started his career as an office person but eventually became the Vice President of John D. Rockefeller's Standard Oil. Afterwards, he had a plan to hire an architect and build two huge European-style mansions on the Willoughby Hills ground.
The first, and only, building to be built was the gatehouse, which contained three floors, a basement and a room for Squire's hunting trophies. He soon lost interest in the property then built a mansion in Wickliffe, where he became mayor. The castle was sold in 1922, but the gatehouse was abandoned and taken over by Cleveland Metroparks. They chose to move all structures inside the building once they realized the vandalism had gotten out of control.
All that's left today is the exterior shell of the short-lived castle, and maybe a few ghost stories surrounding Squire.
National Museum of the U.S. Air Force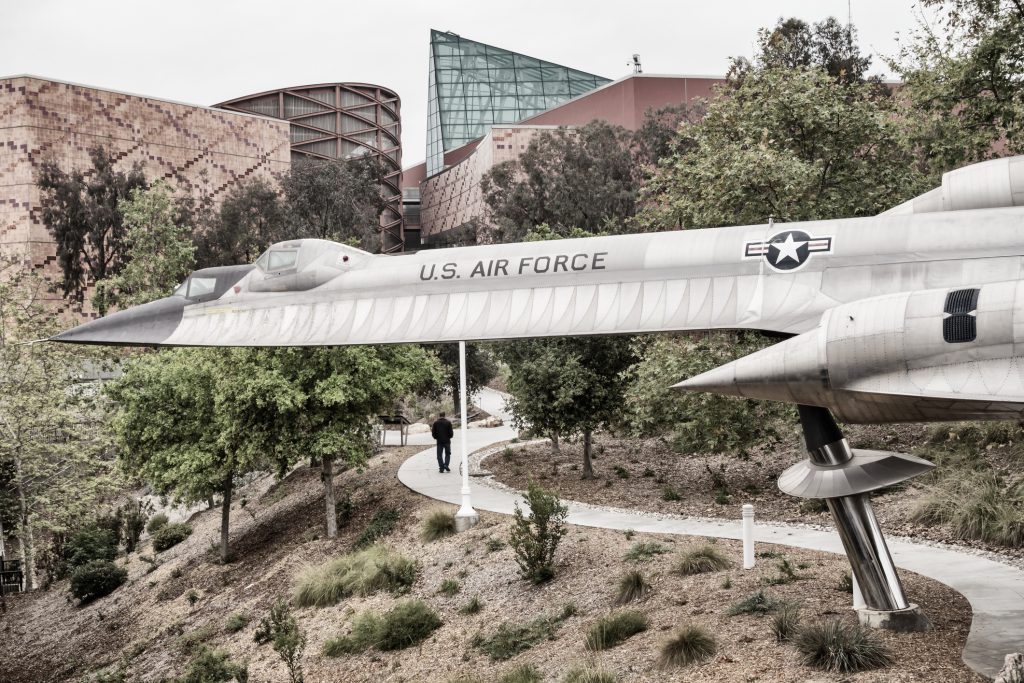 Calling all aircraft geeks! The National Museum of the United States Air Force is the official museum of the Air Force and is located on the Wright-Patterson Air Force Base in Dayton, Ohio. It is the oldest and larges military aviation museum in the world, containing over 360 aircraft and missiles for show! The museum attracts about 1 million visitors each year, making it the most visited tourist destination in Ohio.
Aside from its impressive aircraft display, the museum also displays lots of Air Force and U.S. Army Air Force uniforms and clothing. Visitors can find over 50 World War ll leather flying jackets, boots and even President Ronald Reagan's USAAF peacoat on display at any given moment at the museum.
Quick Roadside Stops in Ohio
Cornhenge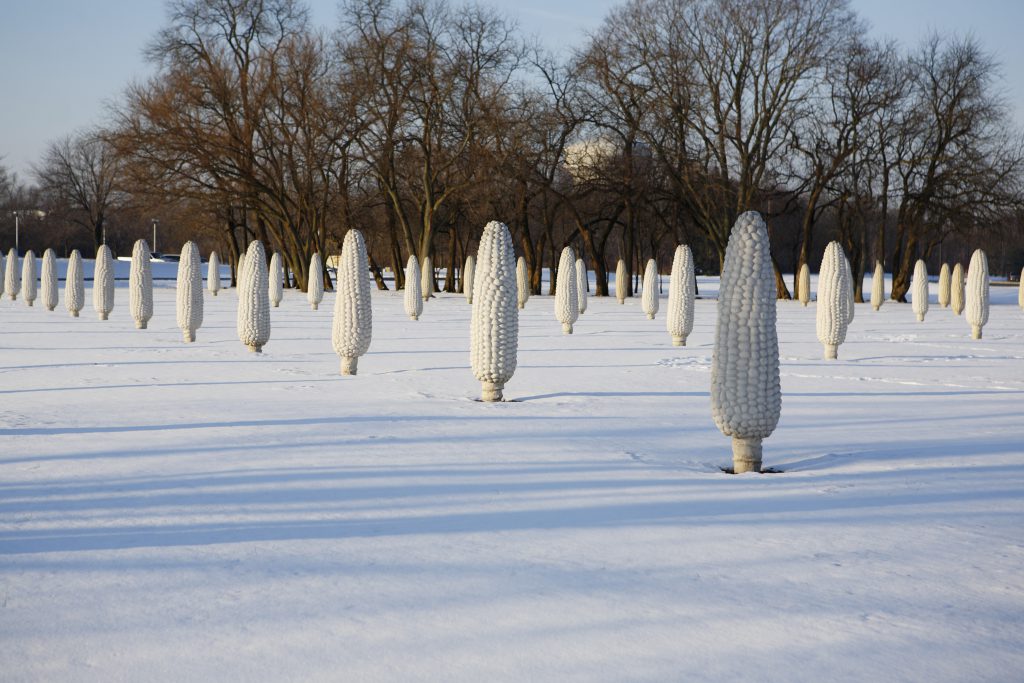 You've seen corn stalks this tall, but what about the corn itself? We didn't think so! Travel to Dublin, Ohio and stop by Cornhenge, a spread of 109 6 feet tall white ears of concrete corn that sprout right up from the ground. These sculptures were meant to honor the designer and artist of the corn and the corn field owner, but it at first saw many jokes.
Today, the area has become more iconic than the town could have ever imagined. People hold weddings there and nearby off works visit to have a quick play in the snow.
Serpent Mound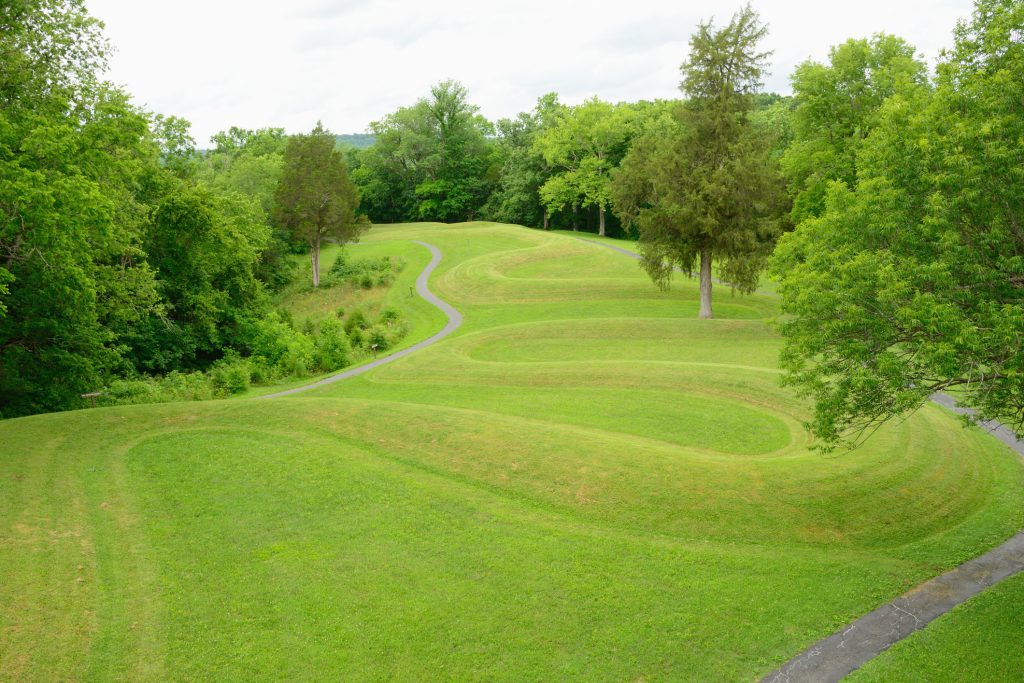 This Great Serpent Mound, a whopping 1,330-foot-long prehistoric mound in southern Ohio, is one of the few that's still standing from the mound builders. These mound builders lived in what is now the Ohio Valley and Mississippi regions who prospered from 1000 BCE to 200 BCE. they built mounds all the way from Wisconsin to Mississippi. Though it's still unclear as to who built the serpent, it's an amazing piece or land to admire. The Adena people created structures similar to the Great Serpent Mound, but charcoal found in the area has been dated later in history, probably around 1000 CE. It is now been designated a National Historic Landmark.
When you start planning your trip, be sure to check out the house of operation as they're a bit unusual.
Chief Leatherlips Monument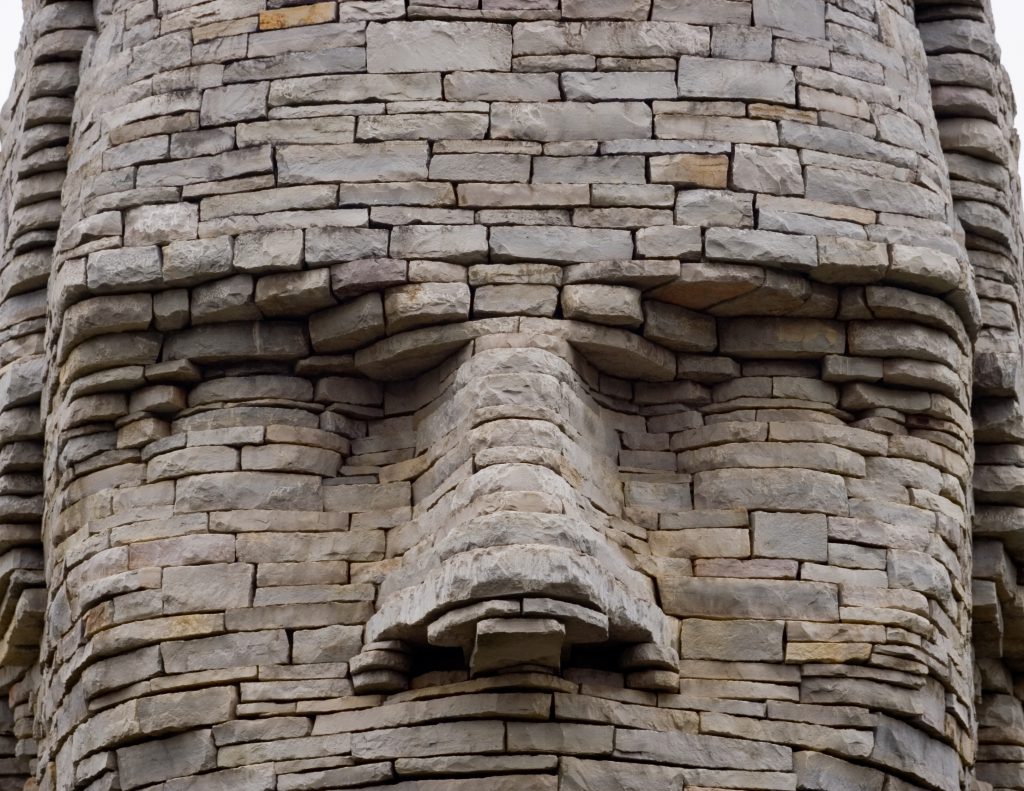 This rock sculpture is donated to a Native American chief, known as Shateyaronyah, who was said to be the most trusted man you'd ever know. Also known as Leatherlips, settlers knew that when his word was given, it could be trusted. He was always known for wanting to keep peace with white settlers, even if that meant losing his own land. Native Americans ended up handing over most of Ohio with the signing of the Treaty of Greenville in 1795. Surprisingly, Chief Leatherlips was one of the signatures of the treaty, which ultimately cost him his life.
Native Americans continued to lose land. More and more Americans came into the Ohio territory, and opinions were split on how to handle it. Some chose to agree with Tecumseh, who did not sign the treaty. Others were on the side of Leatherlips, who advocated for everyone to live harmoniously. Regardless of the fact that their people had dispersed and depleted since the arrival of settlers. Eventually, he was sentenced to death by his own brother for witchcraft in 1810, though it was known the issue was political.
Today, visitors can stand on the head of the chief as they look out onto the land he signed over to settlers.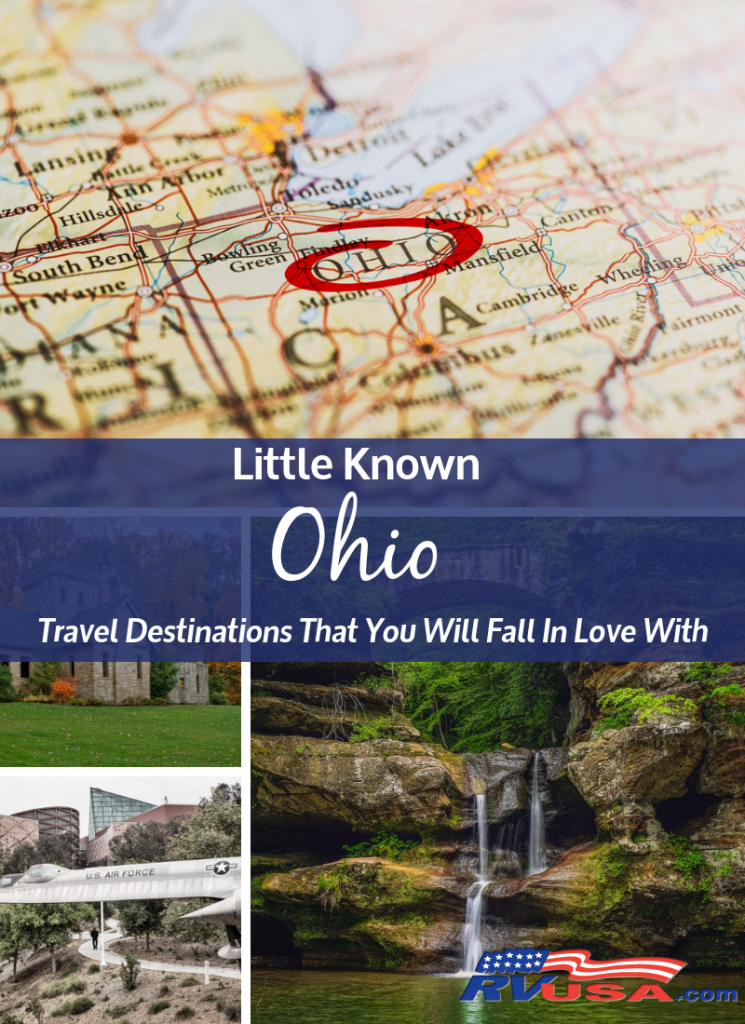 As always, come back to the RVUSA blog for the RV Tips of the Week on Monday, Travel Wednesday, and RV Tips and Tricks on Friday. Leave us a message below if you have any thoughts, memories or comments. We'd love to hear from you! If you'd like to receive our daily blog posts directly in your inbox, click here to join our free email list.