Though most tourists visit Kentucky for horse races and bourbon, others opt for the rarely visited or unique stops. Keep reading for some ideas for the next time you're in the Bluegrass State.
Mammoth Cave National Park
Mammoth Cave, KY
Mammoth Cave is the world's longest cave, which is how it got its name. If the second and third longest were combined, Mammoth Cave would still outgrow it by over 100 miles! About 390 miles of the cave have been explored, beginning between 2,000 and 8,000 years ago.
The National Park offers tons of activities once you arrive at the cave. For spelunkers, the Wild Cave Tour requires knee pads and head lamps while climbing, slipping and crawling through untouched passages. Other tours are electrically lit, though visitors must carry their own lanterns in some areas. Another option is to see the underground river at the lowest point in the cave. Unfortunately, boat tours were stopped in the 1990s due to contamination.
Floodwall Murals
Paducah, KY
After a terrible flood in 1937, floodwalls were built to protect Paducah from the overflowing Ohio River. Now, these walls portray the city's history and its surroundings with over 50 different paintings by one man.
Robert Dafford designed and painted the walls during the 1990s and 2000s. His work is also on display in France, Belgium and England. His idea was to show the past to the people of the future. Each picture has a plaque that describes the painting and its impact on the city's development or history. Dafford and his assistant touch up the walls each year, which keeps them looking brand new. (If they took me over 20 years to complete, I'd go back and touch up every year too!) These paintings offer a unique experience as they are outside compared to the majority of galleries being indoors. Learn more about the Floodwall Murals here.
Ben E. Clement Mineral Museum
Marion, KY
This little known destination has thousands of minerals that came from miners, specifically Ben E. Clement, in the early 20th century. His dream was to have his own fluorspar business. Also known as fluorite, it's a naturally colored crystal commonly used for jewelry during this time. He later decided to supply private collectors with fluorspar and other minerals, and since he had an impressive collection himself, he chose to open up a museum. He kept adding more minerals to the place until his death in the 1980s. Now, the museum holds all kinds of rocks and even letters, photos and mining equipment. From April to October, visitors can look search the ground to see what kind of minerals the earth has waiting for them.
It may sound like just a collection of rocks at first, but given a closer look, some of them are so magnificent, they are put in a "Wow Room," named because of the reaction they get from visitors. On a more fun note, there is even a rock that resembles Robert Smith, the singer from the 80s Goth band The Cure. Learn more about the Ben E. Clement Mineral Museum here.
Kentucky Floral Clock
Frankfort, KY
This 100 ton floral clock is located just behind Kentucky's state capitol and is home to 10,000 flowers. Finished in 1969, this clock has a bit of political mockery.
The idea of a floral clock came from the governor at the time, Bert Combs. After a trip to Scotland, he decided Kentucky needed one of their own. Though he simply wanted something unique, it was only made fun of and he became known as a political joke. His political rival, Happy Chandler, brought up the clock during the election, saying it was a waste of taxpayers' money. He named it the "Weed Clock" and ridiculed it in any way possible. Despite this, the clock still stands and new flowers are planted each spring. The coins tossed into the pool also go towards horticulture scholarships.
Broke Leg Falls
Wellington, KY
This rarely visited site is near the small town of Wellington and has many waterfalls running through the Daniel Boone National Forest. In 2012 it was hit by a tornado and the debris and mess from the aftermath can still be seen today.
In the 1960s, Broke Leg Falls was an incredibly popular destination for tourists, but the Mountain Parkway road put a stop to this and the park was soon forgotten. In 2002, Menifee County bought the park and began the cleanup process. A year after the celebration of the restoration, a massive tornado came through and ruined the progress. Though a bit of cleanup started again in order to see a few waterfalls, the county decided to leave the park the way it was, leaving most trails blocked. They chose to let natural renovation happen, thus leaving the park an overlooked but beautiful destination.
Funtown Mountain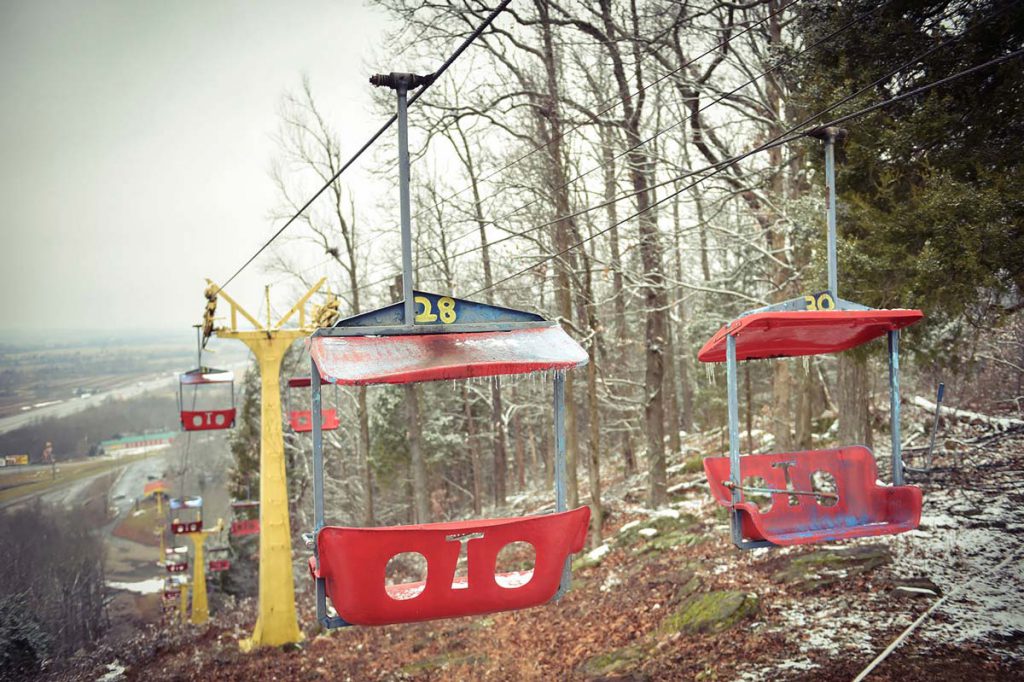 Cave City, KY
Nearby the Mammoth Cave, you'll find an abandoned amusement park, once called Guntown Mountain. Now named Funtown Mountain, this Wild West themed place is the perfect example of everything that could go awry in a business. When it opened in 1969, it was another attraction simply built to make money off of tourists visiting the Mammoth Cave. It closed in 2013 due to a decrease in popularity.
A guy named Will Russell bought the property two years later and wanted to rename it Funtown Mountain. In order to fund his idea, he gathered a circus and hit the road. Here is where it all went wrong. Ticket sales were not where they needed to be, two of the circus members split soon after the tour started, and the band Russell had booked bailed last second. He still opened the park despite the odds, though it only lasted till that September.
Rumor has it that the property was bought again by another man who plans to repair everything and open up a Haunted Home along with a new black light mini golf place.