Buying a used RV can be a great way to find a quality rig without overspending. However, it's important to remember that buying a used RV is much like buying anything else used. Whether you are shopping on Facebook Marketplace or buying a used car from a dealer, you should always carefully inspect the item before completing the sale.
That being said, we understand the excitement you may feel when buying a new RV. You're ready to hit the road and discover your new RV lifestyle, but letting that excitement cloud your judgment could cost you. That's why we're going to discuss five of the most important things to check when you're buying a used RV to ensure you don't end up with a lemon.

Tip One: Sounds Too Good to be True…
Not to be a cliche, but you know the saying. If it sounds too good to be true, it probably is. If you're buying online, this is even more accurate. Never buy a used RV online from a non-reputable dealer without seeing it in person. If you aren't able to see the RV before you purchase, or in the event, the seller has asked that you complete the transaction without a walkthrough, your best option is to walk away from the sale.
That being said, if you do go meet a seller, you want to be careful about meeting with a seller solo — especially if the meeting point isn't in a populated location. That's why it's best to consider if the deal sounds odd or not before you commit to a meeting, and always bring a friend if you can.
Tip Two: Check for Leaks
There are a few main places that you want to thoroughly check for leaks:
Interior Ceiling: Look for brown spots, peiling paint, or water marks. All of these issues point to evidence of water damage. While paint can be fixed, these spots point to more costly problems down the road including rotting materials, mold, or a leaky roof.
Interior Floors: As with the ceiling, brown spots can be a sign of leaks and mold. You should pay specific attention to the spaces where the floor and walls meet. Additionally, if you feel any bouncy spots or spaces where the floor gives away, that could also be an indicator of water damage.
Exterior Roof: This is one of the main areas that can cause significant issues with an RV. Make sure the roof doesn't have any damage, and that the caulk is sealed around the exterior of the RV as well as around any skylights or vents. If the caulk is black, crumbly, or cracking, that could be a sign that the RV is not properly sealed.
Exterior Floor: Underneath your RV is a world of storage compartments, water tanks and axles. However, this can also be a place for excess water to enter your RV, or for your air conditioning to leak out. While it may be difficult to complete this inspection before you buy the RV, you want to ask about the underside of the RV and poke around as much as you can to ensure the cabin is properly sealed.

Tip Three: Rule Out Mold
Even after you've checked to ensure there are no leaks, you could still find the presence of mold which may signify recent leaks or additional moisture in the RV. Check the interior corners near the ceiling and floor for mold. You should take care to check in the bathroom, especially around corners and caulk. You can also open old cabinets and closets to check for mold, and you may even smell it.
While some mold can be removed, it's especially difficult to get rid of it in an RV. More importantly, mold can be a sign of leaks or water issues that can be costly to fix.
Tip Four: An Exterior Inspection
While you're checking for leaks, you should also complete a few other items on your exterior inspection:
Does the roof feel stable? While you were checking the exterior roof for potential leaks, did you feel safe and secure walking along the top of the RV? Let's be fair, many of us don't feel safe walking on the top of an RV, but the main point is, was there any give in the integrity of the roof as you walked? If so, it could be a sign of rotting.
How about the Walls? Push into the exterior walls with your hands to see if they give. They should be secure and not allow much movement.
Check the Exterior Panels. Are they wet? Are the screws and hinges rusty? Is the wood rotting? This could be a sign or water damage or unsealed panels.
In short, anything that looks like rotting or mildew can be a sign of more serious issues to come down the road.
Tip Five: Drive it!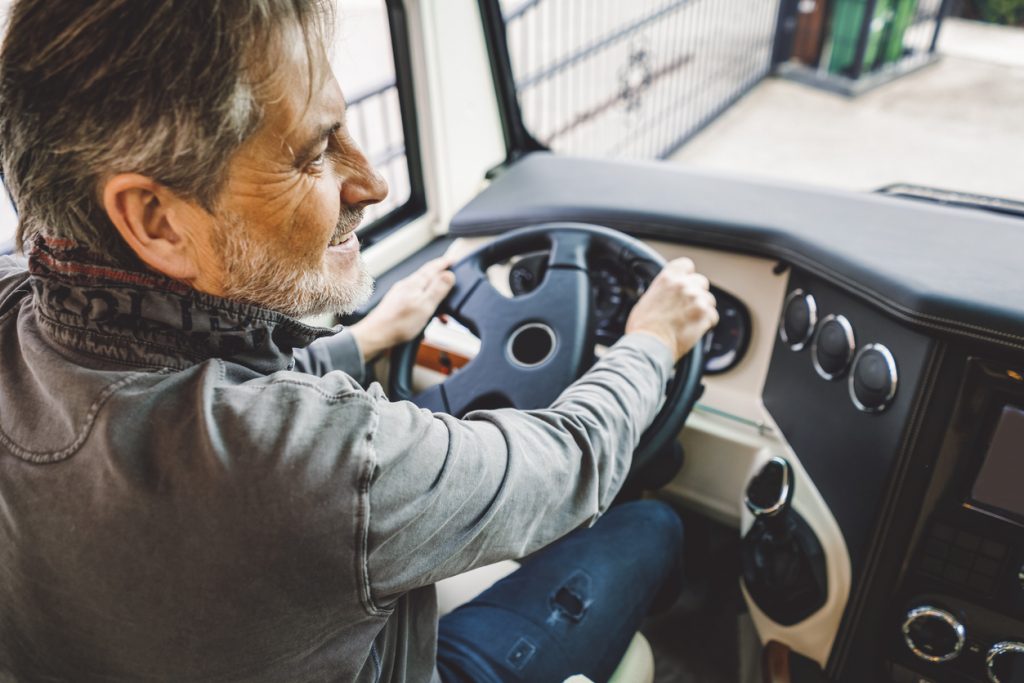 Circling back to our first tip, you can't feel confident about buying an RV without seeing it, and we recommend driving it too. You want to ensure you'll feel comfortable driving the RV. Even though you may not feel comfortable the first time driving it, you want to ensure the brakes work, that the engine sounds good, and that there are no odd sounds or shimmies as you drive down the road.
Bring A Friend
If you don't feel like you know enough about what to look for after reading these tips, don't be alarmed. This isn't something that people do every day, which is why it can be good to bring a friend. If they know anything about RVs, they can help you inspect the vehicle and ask the right questions.
Even if they don't know anything about RVs, having someone there to help you judge the character of the seller and the general condition of the RV may still be helpful. In the end, having moral support during a big decision is always valuable, no matter how you swing it.
Bonus Tip: Buy From a Verified Used Dealer
At RV USA, we carefully vet our vendors to ensure our customers only receive the best in service and quality. Buying a used RV from a verified dealer can significantly decrease your risk, and it may include extended warranties that will give you peace of mind. Our professional teams will never pressure you into a sale. We'll provide helpful information and options to ensure you end up in the RV of your dreams.
Search our selection of used RVs online. If the RV you want isn't available near you, contact our team to discuss delivery options. We'll help you get on your way to your new RV lifestyle.