It's well known and accepted that breakfast is the most important meal of the day. Though this may be the case, there is no reason to limit yourself to the American tradition of eggs and bacon or probably more likely, cereal and coffee. All of these dishes may not be the quickest to prepare, but the results are well worth the extra effort. We are not going to list every ingredient and step to each recipe, we will give you the main ingredients and give you the inspiration to make each recipe your own. Why go by the book and possibly miss out on the best breakfast you've ever had? We couldn't find a reason either, so here is our list of scrumptious combinations to create the breakfast you have always subconsciously craved.
The Southern Beach Breakfast Bammer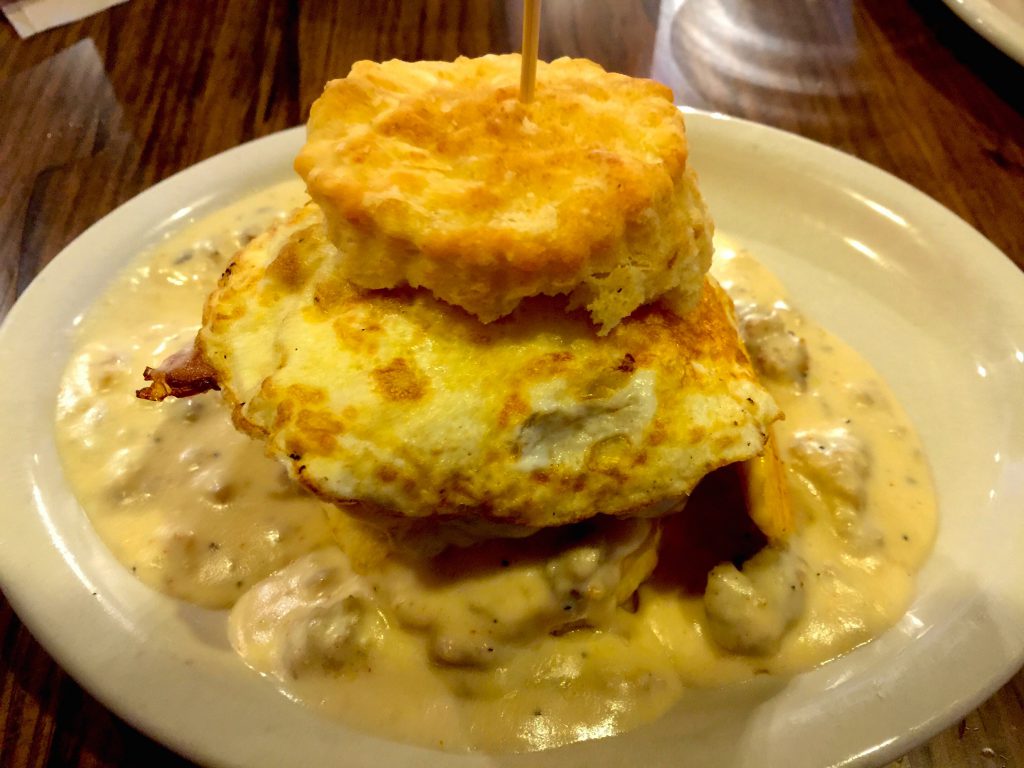 2 Buttermilk Biscuits
1 Egg
2 Strips of Bacon
1 Sausage Patty
1 Serving of White Cheddar Macaroni Shells
1 Serving of Sausage Gravy
The first breakfast is a combination of some traditional and some not so traditional breakfast bits. To start out with, you will need to prepare at least 2 buttermilk biscuits (more if you are feeding guests as well). You will cut your biscuits in half and prepare an 'over easy' egg, 2 strips of bacon, a sausage patty and white cheddar macaroni shells to go on the bottom half of one of them. The shells not only add a new texture to take the place of traditional sliced cheese, but give it that 'beachy' feel as suggested by the title. Once you've got all of that stacked and ready to go (don't worry about it spilling over, you'll learn why soon) you are going to need to make some sausage gravy to pour over the top of the biscuit once you have placed it on the other ingredients. The second biscuit is for cleanup. Get in there and stack whatever you didn't manage to finish on your backup biscuit and enjoy your meal to the very last bite.
The Eggciting Hamwich Breakfast
Sliced Sandwich Meat
Shredded or Sliced Cheese
1 Serving of Eggs
Diced Tomatoes
I discovered this food combo one blurry eyed headache ridden college morning as I checked my refrigerator for something to help ease the pain. To start out, get some everyday sliced lunch meat (I prefer ham) and shredded or sliced cheese (I usually go with muenster or Colby Jack). You are going to put the cheese in the sliced meat and roll it like a soft taco (leaving the ends open, for those of you that typically fold the ends of soft tacos in). Once rolled, you place the outer flap face down on the skillet and repeat based on how much you can or want to eat. Being that I am severely impatient when it comes to breakfast, I turn the stove on high, but you may want to go lower. As the stove is heating up, get your eggs ready (again based on how many you prefer to eat), and some tomatoes. Once the cheese in the ham starts to melt nicely, flip the rolls over to bring out the flavor of the entire slice. After you have flipped your last roll over, turn the stove down and dice your tomatoes into chunks and add them to a bowl containing your mixed eggs. Once you've mixed those together, pour them into the skillet with your meat and cheese rolls. When the eggs solidify enough to flip, do it and get the other side for a few minutes. When the eggs have cooked to your liking, simply slide the mix onto a plate or cutting board where you can cut the individual meat rolls (with egg cooked on around them) out and dig in.
The Besto Pesto Breakfast Sandwich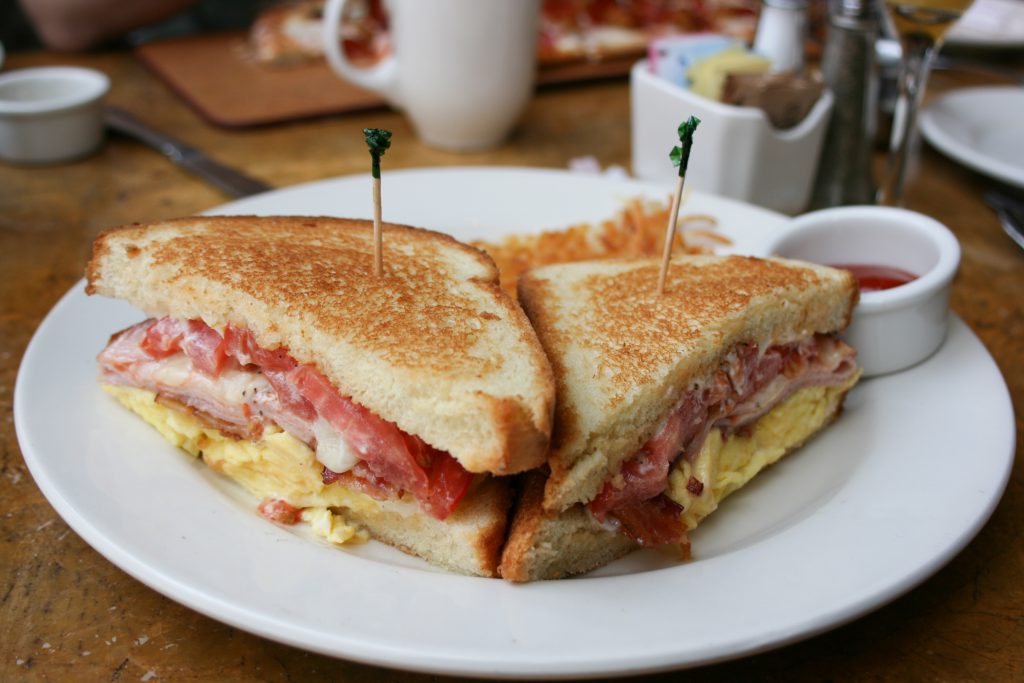 2 Pieces of Sliced Bread
1-2 Eggs
1-2 Tomato Slices
2 Slices of Deli Ham
1 Slice of Cheese
2 Teaspoons of Pesto
Salt and Pepper
This sandwich is far from abnormal, but well worth a try. Start out with your preferred sliced bread (regular white bread works best for me) and have it ready to toast. While the bread patiently awaits its turn in the counter top tanning booth, prepare 1-2 over medium eggs in a skillet with a slice of deli ham placed on the top after you have flipped the eggs once. Add another slice to the "new" top once you have flipped the egg again (after it solidifies some). Go ahead and begin the toasting process for your bread and place a slice of cheese (I prefer provolone for this concoction) on top of your ham. Turn the heat down to not burn the bottom slice of ham while you wait for your cheese to melt and bread to toast. Once your toast is ready, spread a light coat of pesto on what is to be the "inside" of the sandwich for each slice. Remove your skillet stack and place it on one of the slices of toast followed by some salt and pepper. Finally, take your tomato slice(s) and put it/them on top of the cheese and close the lid on your creation with the final piece of toast. Give it the ole diagonal slice with a sharp knife and enjoy.