Sometimes there is nothing better than a cozy fire, warm blanket and a good book. A good book can take you into a new world, help you face real life issues, or inspire you to try new things. No matter if you are looking for fiction or non-fiction, there are so many amazing books for RV and camping lovers out there that will keep you turning pages until the very last one!
*This post contains Amazon affiliate links. This means This blog may receive a small commission on a purchase at no extra cost to you*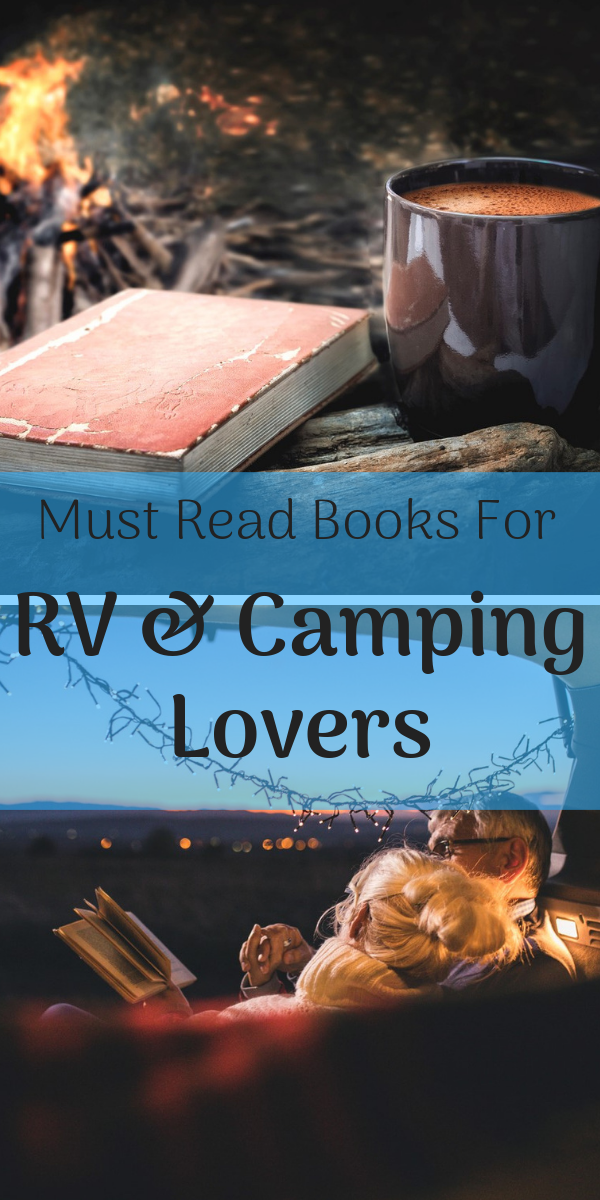 The Best Non-Fiction RV Books
These non-fiction books for RV enthusiasts can help you find new places to camp, inspire you to live smaller, and even help you learn a thing or two about the RV lifestyle.
This is the perfect RV book for anyone interested in the ins and outs of boondocking!
So You Want To Be an RVer is the perfect book for beginners or anyone thinking about getting into the RV lifestyle. This is a fun read with loads of helpful information.
Are you an Airstream lover? Packed with stunning photos and the story of the Airstream brand, this book is perfect for any RV coffee table.
This book featuring 120 of the most scenic drives in America will inspire you to hit the open road and travel the country!
Thinking about stopping at the National Parks? Then this book is a must! It is a complete guide to camping at the National Parks! Every camper needs this in their own personal library.
The Best Fiction RV Books
While non-fiction is wonderful and helpful, sometimes you just want to dive into a good fiction novel and escape into a made up world in your head. These perfect for the camping enthusiast, these books will inspire imagination and have you turning pages until the very end!
Who doesn't love a good mystery? This book is a thrilling and suspenseful crime novel set in Glacier National Park.
The Call of the Wild is a true classic. By one of my personal favorite authors, Jack London, this riveting novel about a dog thrown into the brutal life of the Alaskan Gold Rush will have you on the edge of your seat the whole time.
Another Jack London classic, White Fang follows the adventures of a domesticated dog, kidnapped and thrust into the wild where he has to rediscover his wild ancestry in order to survive. This is considered a companion novel to Call of the Wild and I highly recommend you read both of them.
So it is debatable if this book is fiction or non-fiction. It is based on an essay and true life of renowned camper Christopher McCandless. This is said to be a biography, but many say the truth is quite stretched. Either way, this is an amazing story of a man who gave up his suburban life to travel the Alaskan wilds. Heart-wrenching and tragic, this is one you won't want to put down.
One of the more humorous books on this list, Walk in the Woods follows an unlikely camper taking you on his through-hike of the Appalachian Trail. Sound familiar? This was recently made into a movie staring Nick Nolte and Robert Redford!
Which one of these books for RV and camping lovers are you the most excited to read?
Don't forget to stay up to date with all of our exciting RV and camping content on Facebook, Twitter and Instagram!