Because this past Wednesday was Flag Day, we decided to put together some tips on how to take a trip through the history of our flag! In this post, we will be showing you where to camp, what to do, and what to pack for a fun filled Flag Day weekend!
Where to Camp
The most important part of this trip is finding a campground that is central to all the locations you wish to visit and that provides you with the hookup you need. At Indian Rock RV Park, there are a variety of options for parking your RV and the service you receive is incredible. The location makes for the perfect base camp for your journey through history.
The campground is family owned and has been in business for almost 30 years. Customers love the interaction with the owner, Anita, and rave about how accommodating this site is. The property spans across 30 acres that are filled with pine and oak trees providing a shady escape from the summer sun. On weekends, they coordinate campground activities that all of their campers can participate in! So, if you just want to hang around the site for a day, there will still be plenty for you to do! During holiday seasons, like Fourth of July, they will even run daily activities.
No matter how long you plan to make your stay, Indian Rock has an option for you! They offer vacation campsites if you just want to spend a couple days. The rate in a 35×50 site is $52 per night and includes water, electric, and sewer in the majority of the sites. You can stay monthly or seasonally here as well, however, whatever length you plan to stay, reservations are required and can be made on their website.  All military personnel are offered a discounted rate to thank them for their service.
One of the great things about this park is the many amenities you can find here. They have a pool on site that is open through Labor Day every day from 11m to 6pm. The picnic area is a great place to enjoy a family meal and socialize with other campers. The refurbished mini golf course provides a fun activity for families to relax and enjoy some friendly competition. There are both beach volleyball and basketball courts throughout the park for anyone looking to get in a game. Vintage video game stations have been added to the game room on site to add a unique experience. There is plenty of room for campfires, so bring some firewood and prepare those stories!
At Indian Rock, your furry friends are always welcome! They don't believe any pup should miss out on the Jersey experience. On the grounds, you can find the Larry E. Sherman Bark Park. Grab your pooch and bring it on over to this decked out playground for dogs! Your furry friend will love all the attractions and is sure to leave with his tail wagging! Just remember top bring their leash along so they don't wander into the pool area or picnic grove.
Indian Rock loves to see new campers, so don't be afraid to just pack up the RV and head out!
What to Do
The American Flag was said to have first flown in New Jersey and a lot of the flag's history is woven into the history of the state. If you want to embark on a historical tour of the state, we have just the sites for you to visit! New Jersey has a rich history in the Revolutionary War and events that led to the foundations of the United States' foundations. All of these destinations are within an hour and a half of the campground and are easily accessible.
Bordentown
The first stop along your historical RV tour would be Bordentown, New Jersey. Just over 30 minutes outside of the campground, this small town is packed full of history that relates to our flag and is a must on any tour of that state. Here, you can find the home of Francis Hopkinson, one of the signers of the Declaration of Independence. Contrary to popular belief, modern American scholars now believe that he, instead of Betsy Ross, was the original designer of the first official flag of the United States. In the city, you can find his original home now being used as a law office. During the Revolutionary War, this house was used as a headquarters when the town was occupied by the British. Joseph Hopkinson, Francis' son, was raised in this home and wrote our nation's first national anthem.
Bridgewater
The best part of our flag's history lies in an area only an hour away from Indian Rock Campground. After the Battles of Trenton and Princeton, Washington's army camped in Bridgewater, then known as Middlebrook. They stayed here for just over a month, during which time, the Second Continental Congress passes the Flag Resolution. Because of the timing, it is said that the first official American flag was flown in Middlebrook Encampment during the war. The area is now considered a historical site in New Jersey and still contains remains from the encampments like the redoubts. This is one of the 13 sites included on the trail that recaps Washington's army's journey from Princeton to Morristown.
Allaire State Park
If you're looking for a historical site where you can enjoy nature as well, take a trip to Allaire State Park! At only 25 minutes away, this is a perfect place to go for a hike and enjoy the history of the state. In the park, there is "Historic Allaire Village' where you can find buildings that date back to the 1800's which were a vital part to the iron business of the area. Among these buildings is a general store, blacksmith shop, carpenter's shop, manager's house, foreman's house and a church. There is also a museum on site where you can learn of the history of this early industrial city. There are programs and shows taking place often, so be sure to get a schedule and go on a day you can add an extra activity in!
Jersey Shore
If you want to take a break from the history of the state, take a fun detour to the Jersey Shore! What better summer activity than to visit the coast that's only 22 miles away! The famous beaches are beautiful and lined with plenty of activities that you and your family can participate in! You can climb the 199 steps of the Cape May Lighthouse or find fun on the Atlantic City boardwalk! With activities ranging from casinos to boat tours to visiting an alpaca farm, there's sure to be an enjoyable adventure for everyone in the family! On select summer nights, they hold fireworks shows, so be sure to schedule your trip so you have the opportunity to view the world-class show!
What to Bring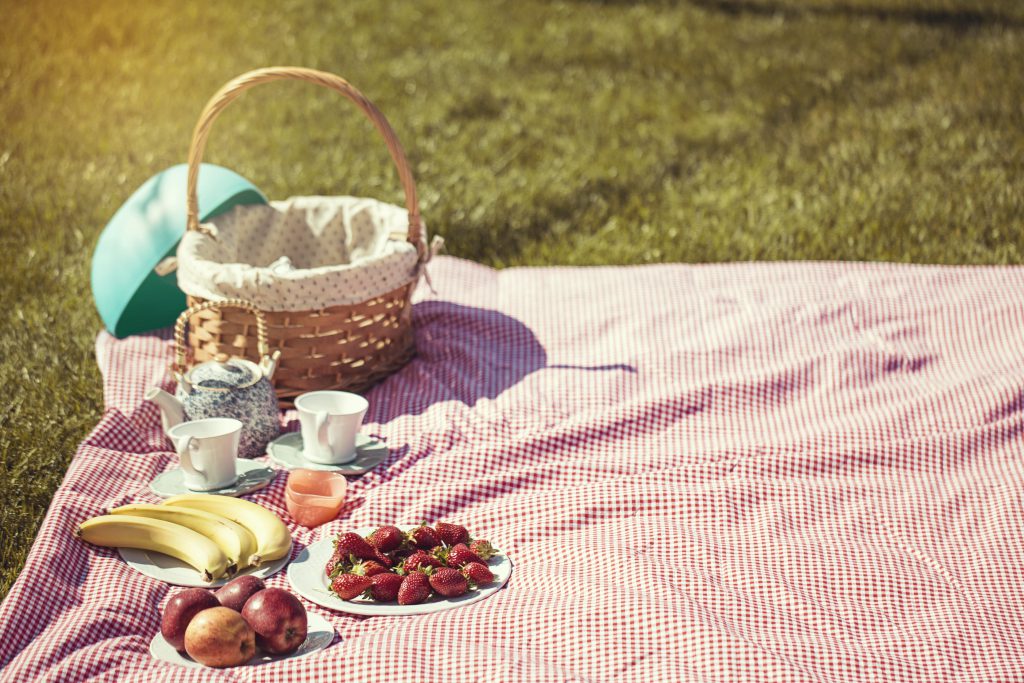 We know it's easy to forget items you need to bring in the RV so, we've made a list of things you won't want to forget when going on this historical tour of New Jersey. These items aren't a must but are a fun add on to your trip that can bring your experience to life! Don't forget to bring an American flag to hang outside your RV to remember flag day! If you're traveling with family or friends, we suggest bringing along a picnic basket to enjoy a meal outside at one of the historical sites. Grab your camera and your walking shoes because historical tours offer great memories and sights but often require a significant amount of walking. Whether you plan on taking a trip over to the Jersey Shore or not, pack a swim suit because you can still wear it out by the pool at Indian Rock!
The history of our flag, while not completely certain, is intricate and a great story to lean by visiting different places. Celebrate the flag this year by taking a trip to where it's rooted!