The term "RV" or "Recreational Vehicle" is a title that is typically applied to a wide range of vehicles and trailers used to enhance outdoor recreational activities by either providing room for more passengers, hauling ATVs, allowing for a longer stay by carrying more resources and/or simply making "The Great Outdoors" a more comfortable place to spend nights for you and your family/friends. Like every other generalized grouping created by man, even though they belong to the RV "family", there are certain types and models that stand out from the rest by going the extra mile (no pun intended) to offer amenities that make your stay in the wild more "tame" than others.
A Class Above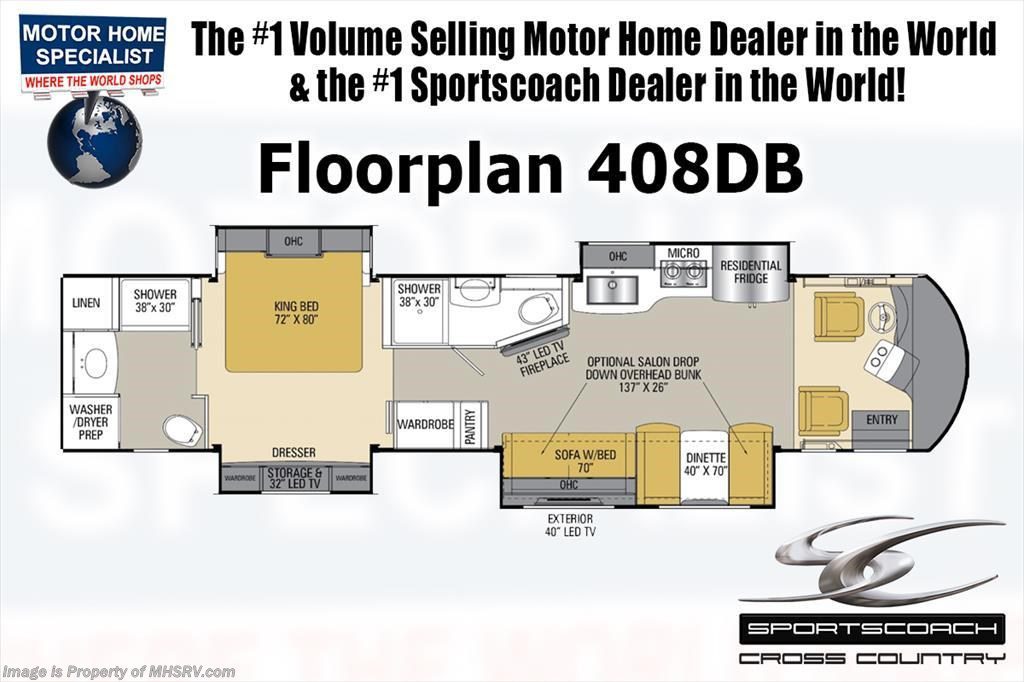 For those looking to travel the highways to see what the nation has to offer while maintaining that "at home" feeling no matter the location, you can more often than not look to the "Diesel Pusher" class of RVs for the amenities that mirror what you find in a home the closest. Trailer RV classes can have many, if not all of the same features of a Diesel Pusher, but can offer less access while actually traveling. With all of the possibilities due to advances in technology throughout the years, it can be overwhelming to browse your options when in the market for a new RV.
Motor Home Specialist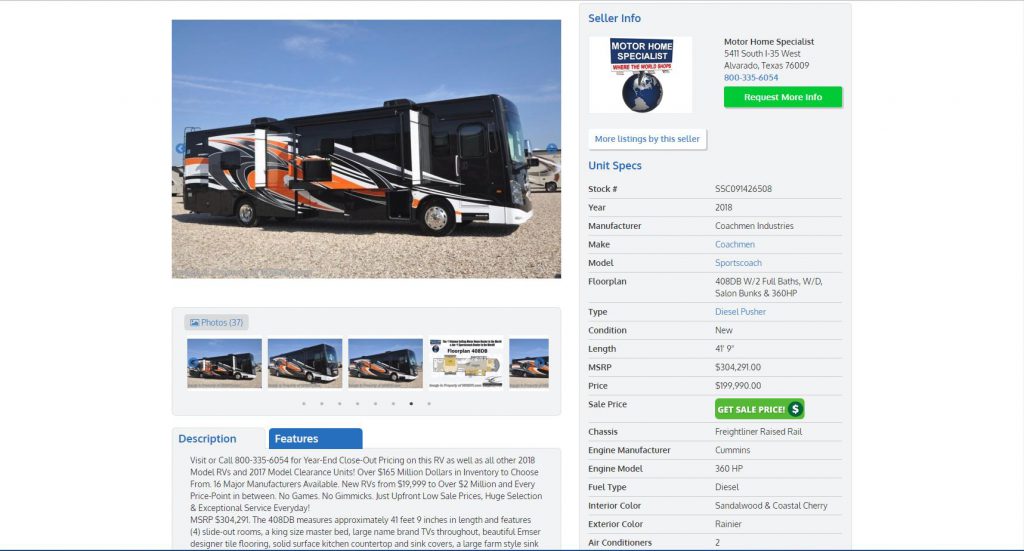 As part of our weekly posts, we like to highlight a unit that catches our eye due to the look and/or functionality of the RV as a whole. This week, the 2018 Coachmen Sportscoach 408DB listed on RVUSA.com by Motor Home Specialist out of Alvarado, Texas stood out from the rest by including a plethora of included amenities at an everyday price well below MSRP with the promise of even more of a discount found when clicking the "GET SALE PRICE" button on the listing. As a 'Platinum Member' of RVUSA.com, Motor Home Specialists has made the choice to invest in their customers by listing their best deals on quality RVs on RVUSA.com. Even though they are a 'Platinum Member' of RVUSA.com, we would like to assure you that it had no impact on the unit selected to highlight. The dealer that lists the unit is second hand information that is noted after the unit is selected for its look, included amenities and price alone.
2018 Coachmen Sportscoach 408DB Amenities
To begin with, this particular 2018 Coachmen Sportscoach 408DB features a custom exterior paintjob that blends orange, white, grey and black in a way that is aesthetically pleasing while maintaining a look of grandeur. As you move inside the 2018 Coachmen Sportscoach 408DB you find the presence of 4 slide-outs to increase an already ample interior space. Below your feet you will find designer tile flooring similar to what is found in a "high-end" home. The gloss finished wooden cabinets feature 'solid-surface' tops that resemble stone tops (like granite) that add a refined look to the overall appearance of the 2018 Coachmen Sportscoach 408DB. On top of the premium flooring and cabinetry in the 2018 Coachmen Sportscoach 408DB, this package includes leather seating, stainless steel appliances, 2 LED TVs, a king-sized bed, 2 showers, a stacked washer and dryer, a fire place and a "My RV Coach Control System" that allows for the control of many of the RV's functions to be executed from a control center or a downloadable app on your smartphone.
Behind the Scenes
Behind the scenes and 'under the hood', the 2018 Coachmen Sportscoach 408DB has a 15K BTU A/C with heat pumps, a 3,000MH transmission and a 10,000 lb towing hitch. All of these amenities are pushed to the destination you desire by a Cummins diesel engine that puts out a formidable 360 horsepower. It is needless to say that the 2018 Coachmen Sportscoach 408DB was well thought out as it was designed and manufactured, but we'll say it anyways. The MSRP (Manufacturers Suggested Retail Price) for the 2018 Coachmen Sportscoach 408DB is $304,291, but Motor Home Specialist offers it at an everyday price of $199,990 with more savings possible by clicking the "GET SALE PRICE" button on the unit listing on RVUSA.com.