If you're in the state of North Carolina and you're in the market for a new motorhome, look no further! The 2017 Midwest DayCruiser Luxury Mobility Van has all the necessities for long road trips. Made for comfort with the interior couches and the arctic white exterior to ride in style, this 8-passenger vehicle is the perfect Class B for the road or even as a secondary everyday car. It sleeps two so it's big enough to be comfy, but it's small enough to fit almost anywhere a car can fit. If you're also an active camper that just needs a place to sleep without needing room for many indoor activities, this Class B is for you. The DayCruiser seats 8-9, so it's also great for day trips, weekend trips or business travel.
Floorplan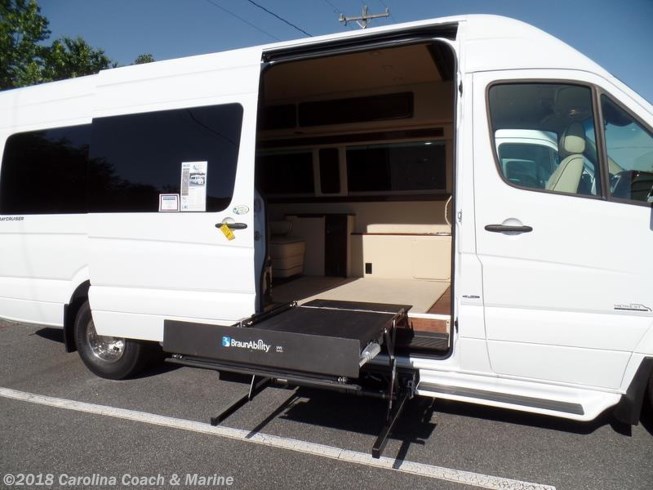 DayCruiser Luxury Mobility Van that sleeps 2 with four chairs across from a kitchenette that includes an overhead microwave and mini fridge. A rear toilet and sink are in the back of the van. The best feature to this van is the low profile wheelchair lift.
Interior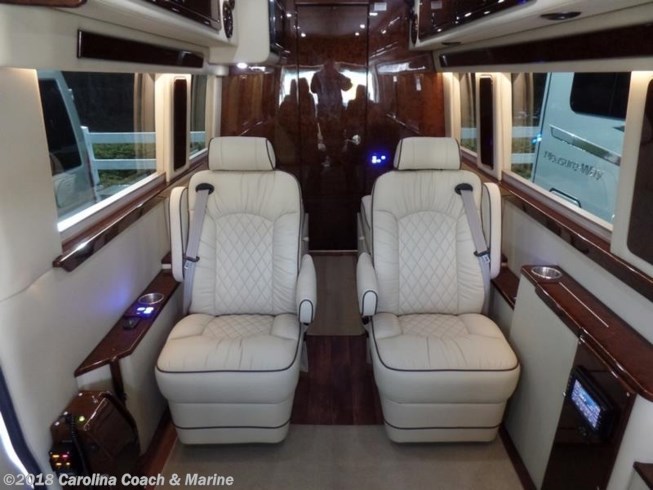 The interior decor of this van is the best part! The arctic white exterior perfectly compliments the sleek, off white chairs with a brown lining. The van also features a wood and leather steering wheel. Each seat comes with ultra leather too, which is another luxury that Midwest likes to think of as a standard in each van!
Under the hood
Chassis: Mercedes Sprinter
Engine: 3.0L BlueTec V6
The DayCruiser has tons of other neat features! On top of having a wireless router (controls on the steering wheel), the van has a convenient charging port at each seat. The television comes with surround sound and the TV itself is surrounded by a sleek wood cover. For storage, there's overhead cabinets and a bit or storage under the sink.
The 2017 Midwest DayCruiser Luxury Mobility Van is only $144,463 and is brand new! To find out more about this van, you can call Carolina Coach and Marine at 877-330-1425 or you can visit their website.
As always, come back every day to the RVUSA blog for the RV Find of the Week on Monday, Travel Destination Tuesday, Featured RV Dealer on Wednesday, Throwback Thursday, and RV Tips and Tricks on Friday. Leave us a message below if you have any thoughts, memories or comments. We'd love to hear from you! If you'd like to receive our daily blog posts directly in your inbox, click here to join our free email list.