The reputation of a great RV Dealer is not established by price or sales volume; it's established through dedication to the customer in service and user experience. RV Dealers that look to build a relationship with customers, before and after the sale, tend to be the most successful. As always, RVUSA looks to provide you with the best options for RV sales and service and this week's Featured RV Dealer is Genuine RV Store! Find an RV Dealer in your area.
Genuine RV is located in Nacogdoches, Texas, a small city in East Texas. Texas is a very competitive market for RVs with 40 Dealers advertising on RVUSA alone! Of those Dealers, Genuine RV stands out amongst the crowd because of their enjoyable buying experience. Tony, the owner of Genuine RV, has been in the industry for over 20 years, selling to customers all over the world. His commitment to customers can be seen in his words stating, "we understand that purchasing a recreational vehicle is not a necessity, thus we make the ownership of an RV to our customers as enjoyable as possible. Our goal is to provide the customer with everything they need to enjoy the RV lifestyle in a pleasant, honest environment."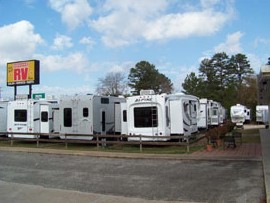 Genuine RV Store can be thought of as a full-service RV Dealer offering RV Sales, Service, Parts and financing. Their RV Sales departments features 90 units for sale, mostly new and some used, and includes RV brands like Keystone, Open Range/Highland Ridge, Forest River, Palomino, Dutchmen, Heartland and Nu-Wa. Check out all they have to offer on RVUSA!
The Service department is run by Bob Morris, who has over 30 years of RV service and repair experience. Genuine specializes in accident and storm damage, happily working with most insurance companies. They can perform anything from regular maintenance to major repairs.
The true indicator of Genuine RVs reputation is in their countless happy customer reviews. Racking up over 35 reviews on Facebook, Google, and Yelp combined! Reviews range from customers talking about Genuine RVs honesty, reliability, friendliness, and helpfulness to raving about the sales, service and parts department. If you need an RV, RV Service, or RV Parts, make sure to check out Genuine RV Store!
Make sure to check out Genuine RV Store if you are in the Texas area! As always you can find more featured RV Dealers on the RVUSA Blog!