All Images Courtesy of Winnebago.
Embarking on a journey in an RV brings about a sense of adventure and freedom. It allows you to explore breathtaking destinations and create cherished memories. However, for individuals with disabilities or limited mobility, the standard RV layout may present certain challenges. That's where accessibility-enhanced RVs and thoughtful RV modifications come into play. These unique RVs ensure that everyone can enjoy the wonders of RVing without limitations. In this blog post, we'll delve into the world of RV modifications, specifically focusing on accessibility enhancements for individuals with disabilities.
How RV Modifications Transform the Travel Experience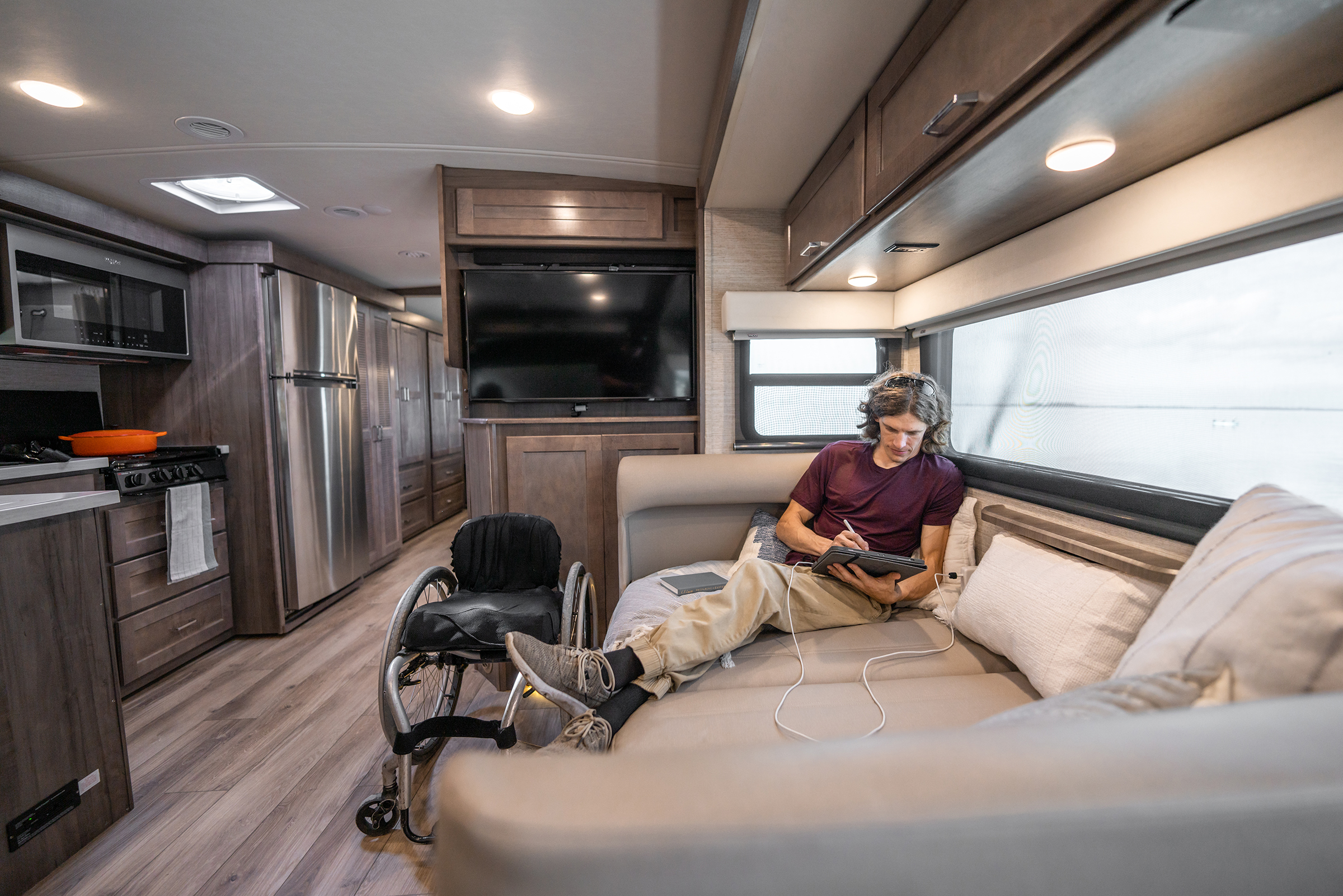 Enhancing Accessibility through RV Modifications
RV modifications geared towards accessibility cater to the unique needs of individuals with disabilities. Because of this, they're able to have a comfortable and inclusive travel experience. These modifications encompass a range of features and adaptations that make RVs more wheelchair-accessible and mobility-friendly.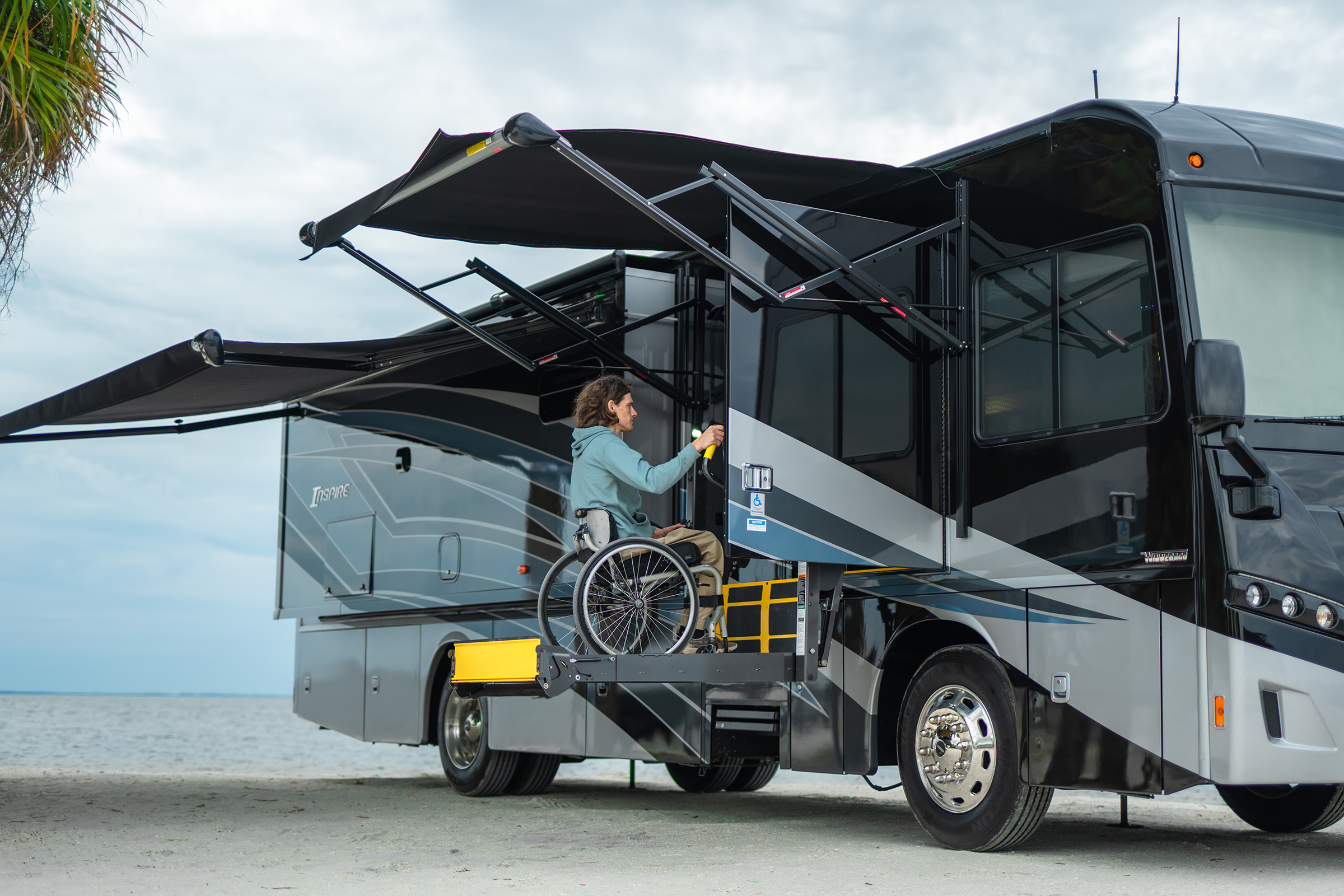 Barrier-Free Entry
Accessibility-enhanced RVs boast features like ramps, wheelchair lifts, and widened entry doorways, allowing easy and safe access for individuals using wheelchairs or mobility aids. These modifications eliminate barriers, ensuring a smooth and convenient entry and exit from the RV.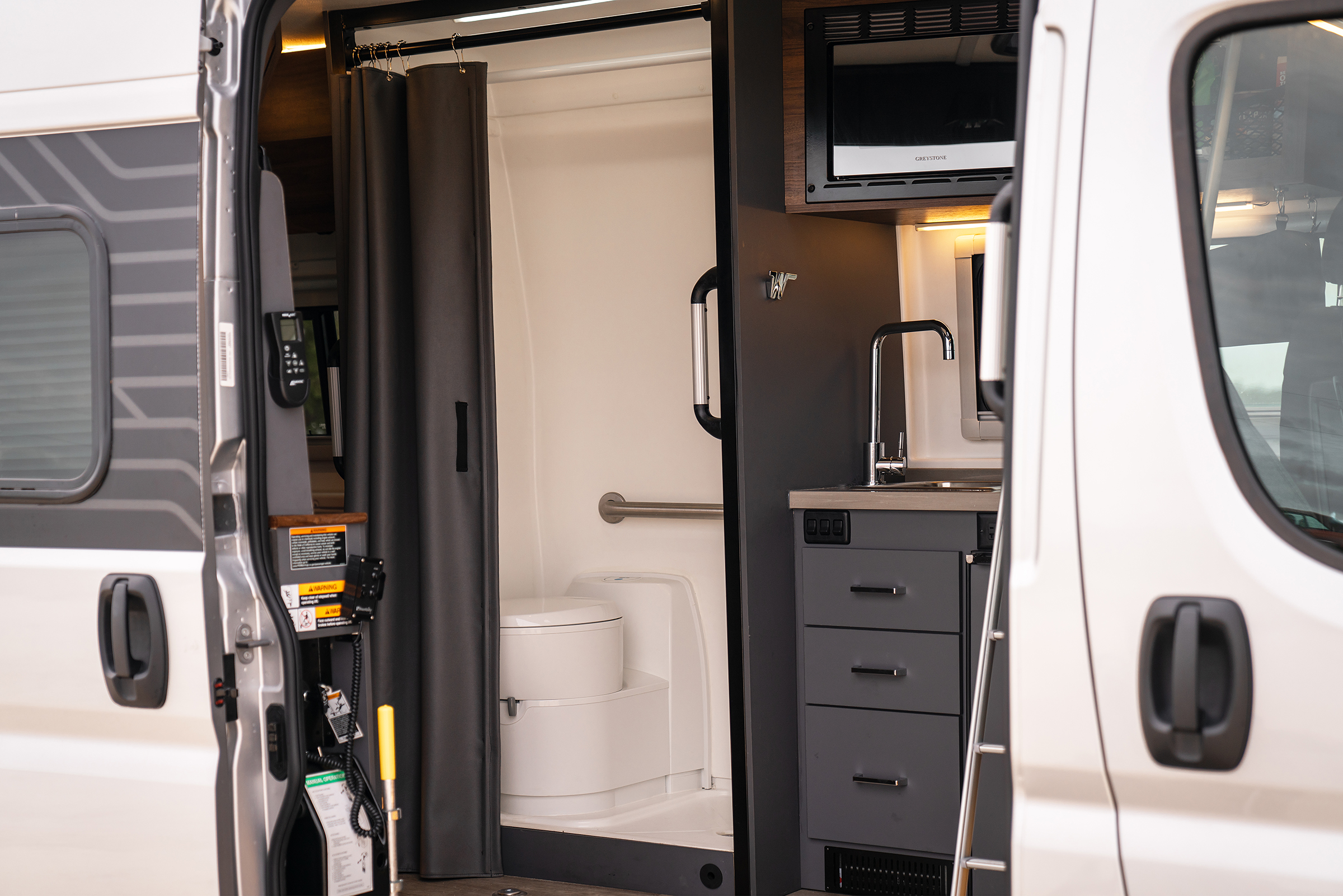 Adaptive Bathrooms
RV modifications for accessibility often include adaptive bathrooms equipped with roll-in showers, grab bars, adjustable-height toilets, and other thoughtful features. These adaptations ensure that individuals with disabilities can enjoy the same level of comfort and convenience as others while on the road.
Interior Maneuverability
Navigating the interior space of an RV is made easier with modifications that focus on ample maneuverability. Wider walkways, spacious floor plans, and strategically placed grab bars enable individuals with mobility challenges to move freely and comfortably within the vehicle.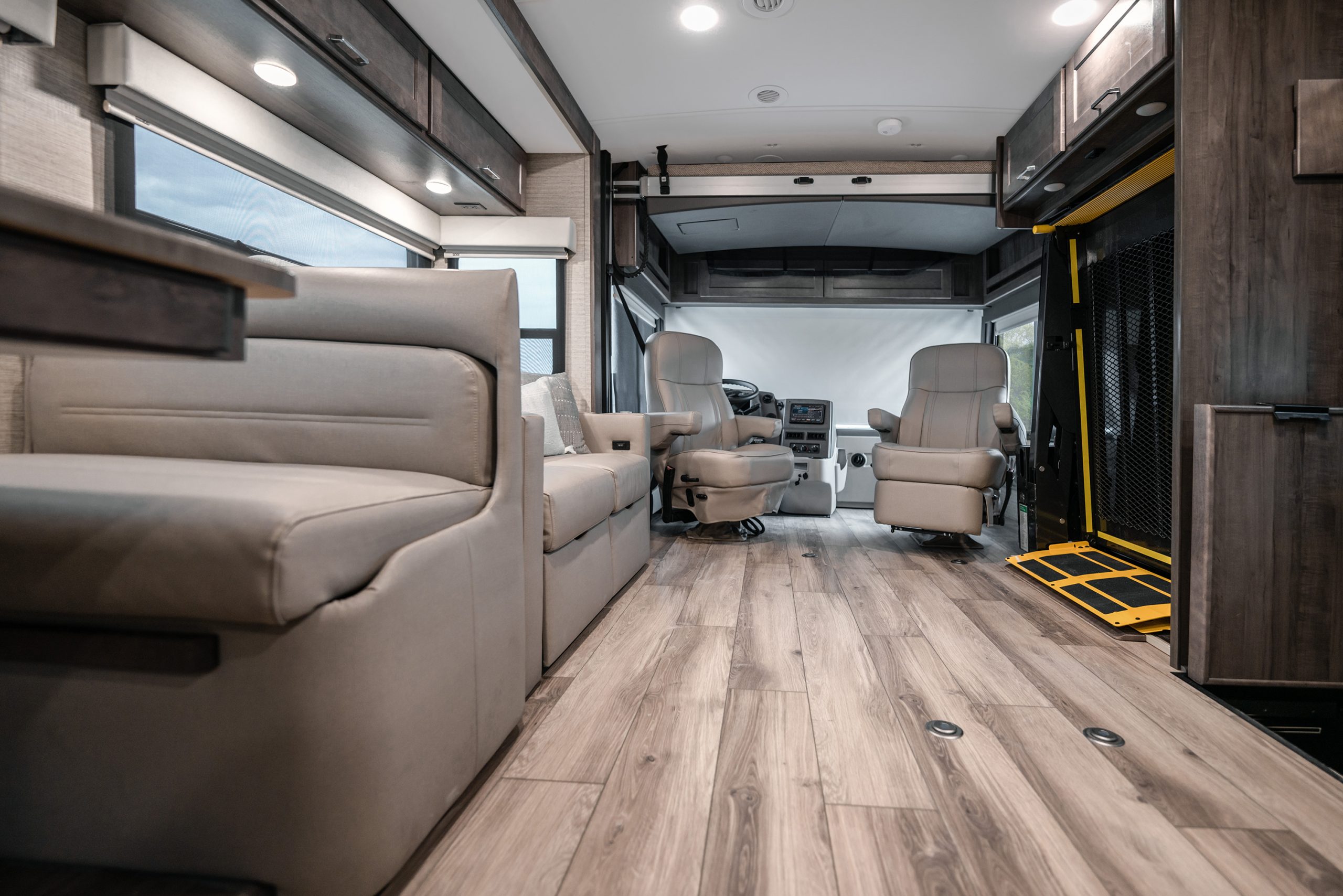 Kitchen and Storage Solutions
Accessible RVs offer modified kitchen spaces with lowered countertops, accessible storage solutions, and modified appliances. As a result cooking and meal preparation is easier for individuals with varying mobility needs. These thoughtful modifications allow for greater independence and convenience while on the go.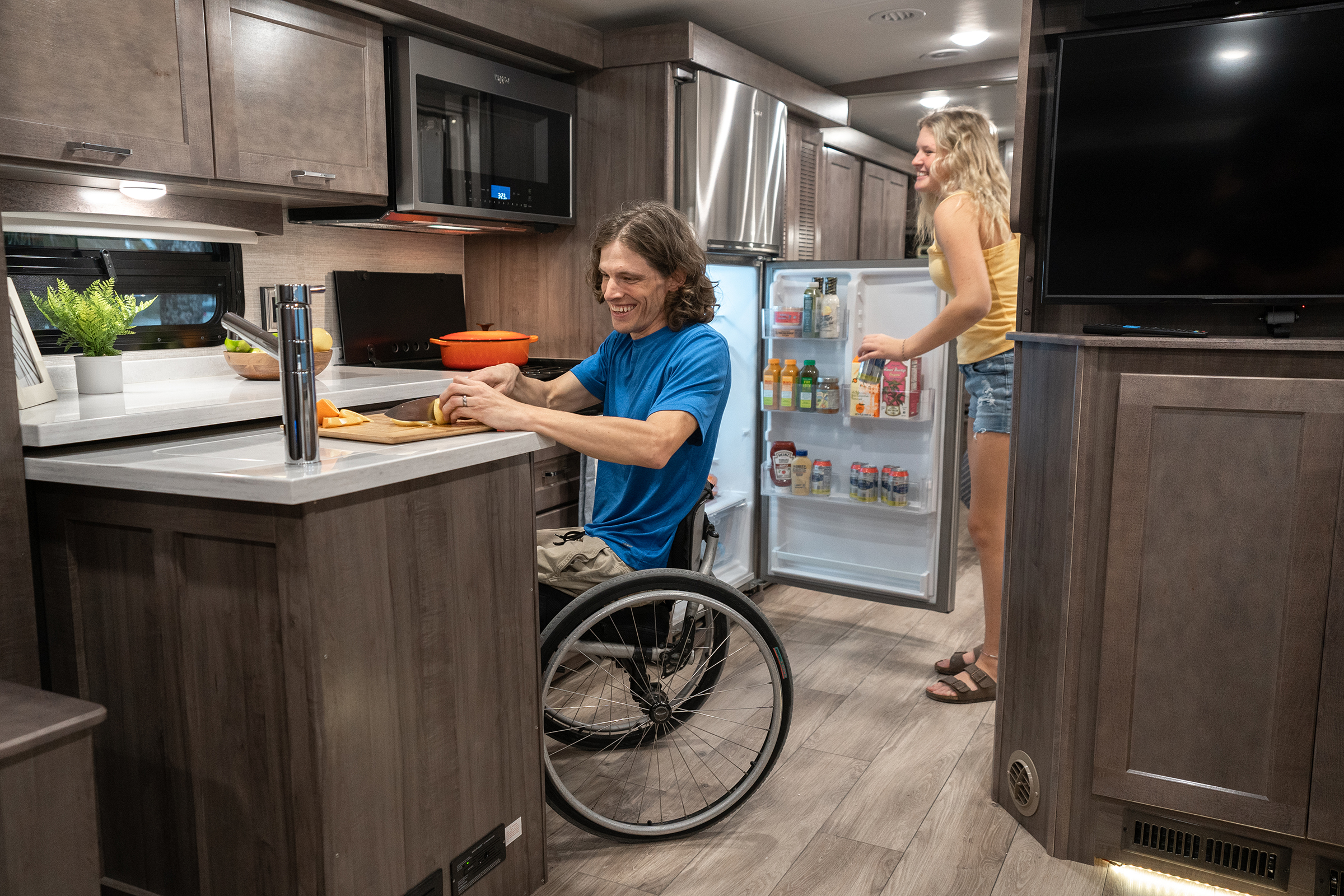 Are There Handicap Accessible RVs?
Absolutely! Handicap accessible RVs, or accessibility-enhanced RVs, are specially designed to cater to the needs of individuals with disabilities. These RVs undergo modifications that prioritize accessibility and ensure a comfortable travel experience for people with limited mobility. With features like wheelchair lifts, widened doorways, and adaptive interiors, these RVs open up a world of possibilities for individuals who love the freedom of RVing.
Manufacturers Leading the Way in Wheelchair-Accessible RVs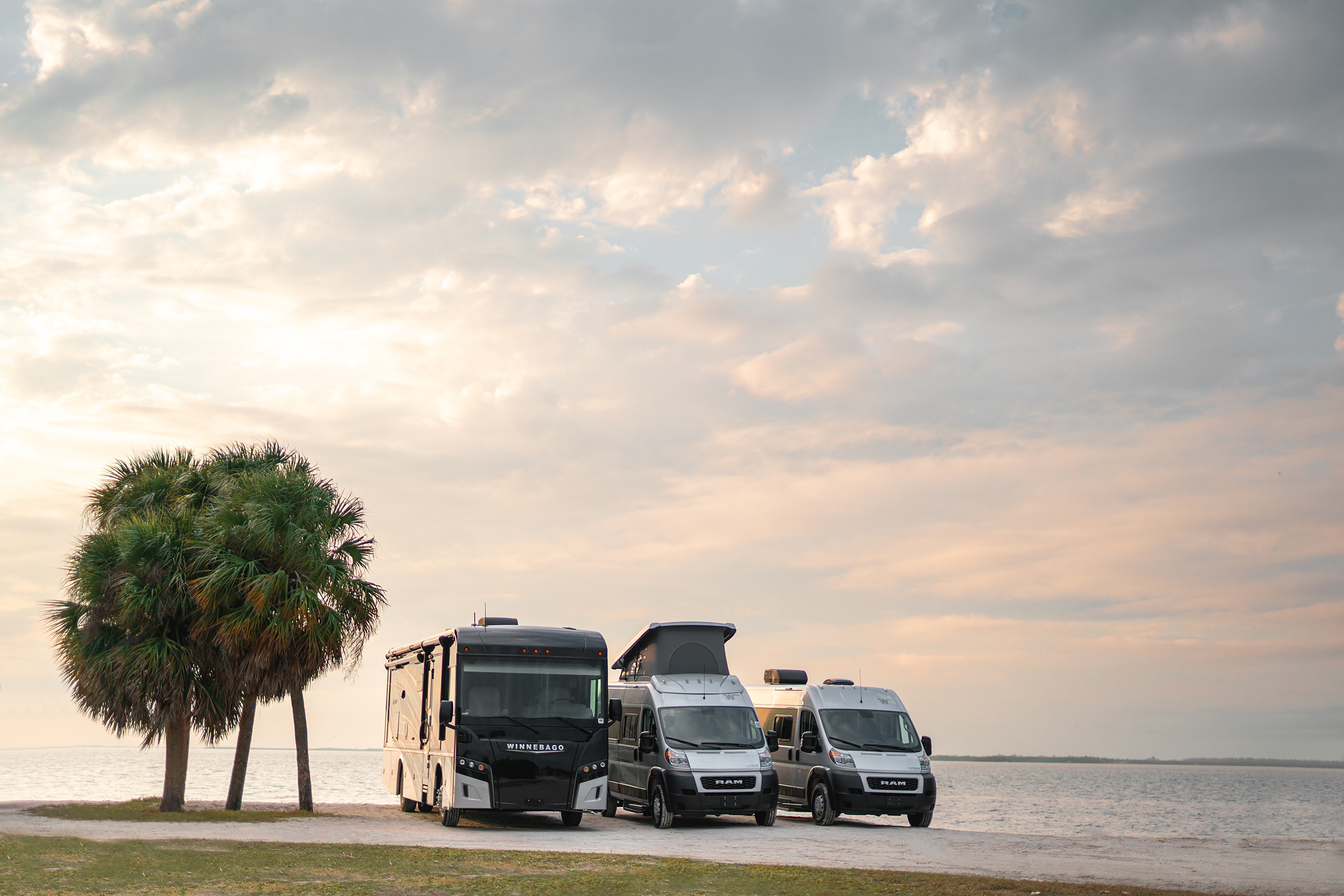 Winnebago's Accessibility Enhanced RV Options
With features like remote controlled wheelchair lifts, accessible entryways, spacious interiors, and adaptive amenities, Winnebago's accessibility-enhanced motorhomes offer a comfortable and convenient way to travel. Tailored for exceptional comfort and convenience, they provide accessible bathrooms, integrated tie downs and extra room where it is needed. Their Class A accessibility-enhanced Inspire features a roll-in bath and a private rear bedroom. This mid-entry diesel pusher motorhome provides more space to travel in luxury and comfort. Meanwhile, the Winnebago Roam is a compact and easy-to-drive accessibility-enhanced Class B motorhome. It comes with a motorized convertible sofa/bed and an integrated shower and cassette-style toilet.  This Roam is designed to provide the ultimate freedom and mobility for both short trips around town and longer journeys.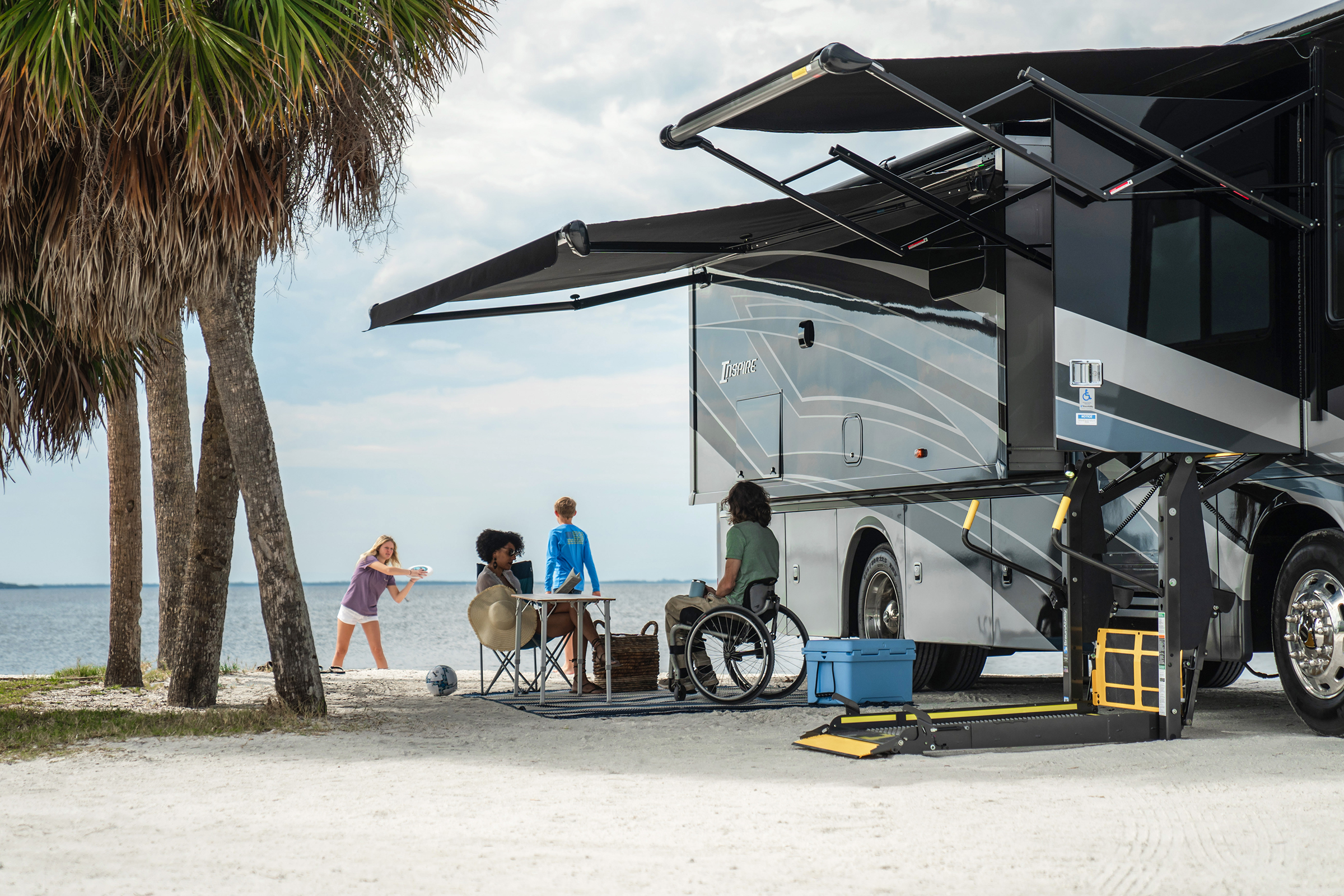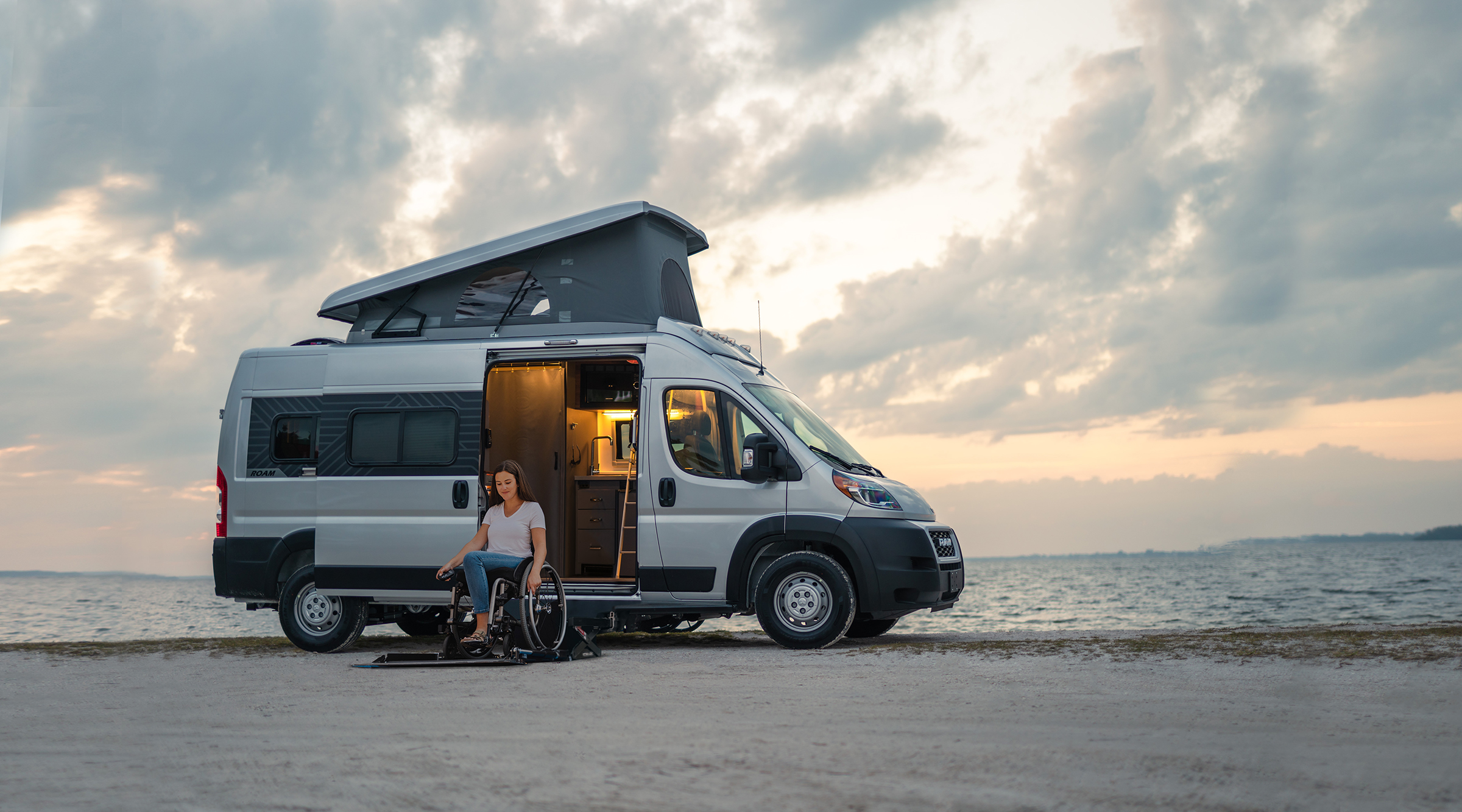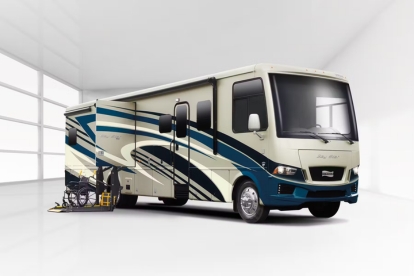 Image courtesy of www.newmar.com
The Newmar Mobility Lineup
Designed with meticulous attention to detail, Newmar Mobility RVs provide an inclusive and comfortable travel experience for individuals with disabilities. Newmar's wheelchair-accessible models feature spacious interiors, widened entryways, and specially designed floor plans that prioritize accessibility and maneuverability. With thoughtful modifications and high-quality craftsmanship, Newmar ensures that individuals with limited mobility can embark on exciting RV adventures while enjoying the comforts of home. Newmar offers 3 wheelchair-accessible Class A models, including the Dutch Star 4311, the Kountry Star 4011 and the Bay Star 3811. Whether it's exploring national parks or embarking on cross-country journeys, Newmar's wheelchair-accessible RVs offer a seamless blend of accessibility, luxury, and freedom, empowering individuals to embrace the open road with confidence.
How Will RV Modifications Enhance Your Travels?
RV modifications focused on enhancing accessibility have revolutionized the RVing experience for individuals with disabilities. These thoughtful adaptations and features have made it possible for everyone to embrace the joy and freedom of RV travel. Whether it's through barrier-free entryways, maneuverable interiors, adaptive bathrooms, or modified kitchens, accessibility-enhanced RVs offer inclusive and empowering adventures for all. So, start exploring the possibilities and embark on your RVing journey today, experiencing the world without limitations.
Find Your Wheelchair Accessible RV Today
If you're seeking a wheelchair accessible RV that meets your specific needs, look no further than RVUSA.com. With a wide range of RVs for sale, including those equipped with wheelchair lifts, RVUSA.com is your go-to resource for finding the perfect mobility-friendly RV. Browse our selection of RV specialty products and wheelchair accessible RVs for sale today and embark on an unforgettable journey.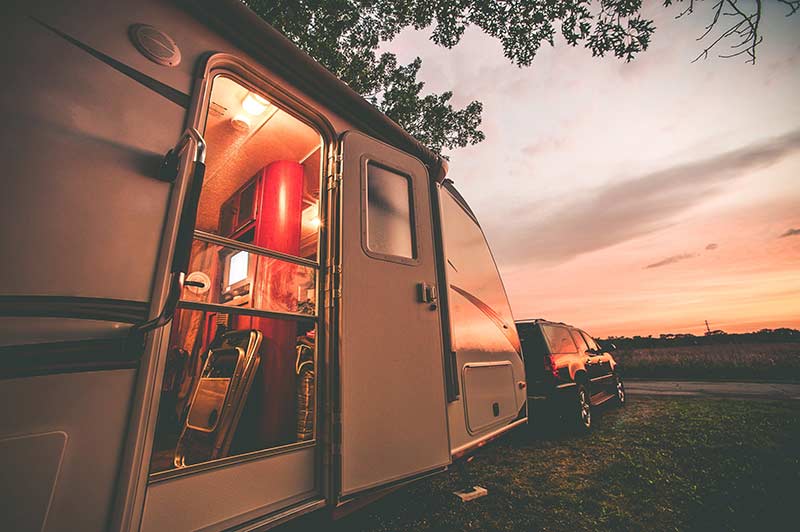 Need the perfect RV for a getaway?