Fifth Wheel with Front Living: Your Family's Next RV
Open the door to a world of elevated camping when you choose fifth wheels with front living rooms. Explore the luxurious and innovative features that define these remarkable front-living fifth wheels. Whether you're a veteran traveler or a new wanderer, prepare to be inspired by the possibilities that await within these exceptional campers. Explore the sophistication and comfort of fifth wheels on the road ahead.
The Allure of Fifth Wheel RVs
When it comes to the nomadic lifestyle, fifth wheels are a remarkable choice with a plethora of benefits that set them apart from other types of RVs. As you contemplate your next adventure on the open road, consider the following advantages that make fifth wheels an appealing and sophisticated option.
Spacious Living: Fifth wheels are renowned for their open layouts, often featuring multiple slide-outs that create additional living space at the push of a button. Unlike their motorhome counterparts, fifth wheels don't require an engine compartment, which means more interior room for you to enjoy. This extra space translates into comfortable and elegant living areas, perfect for relaxing, entertaining, and unwinding after a day of exploration.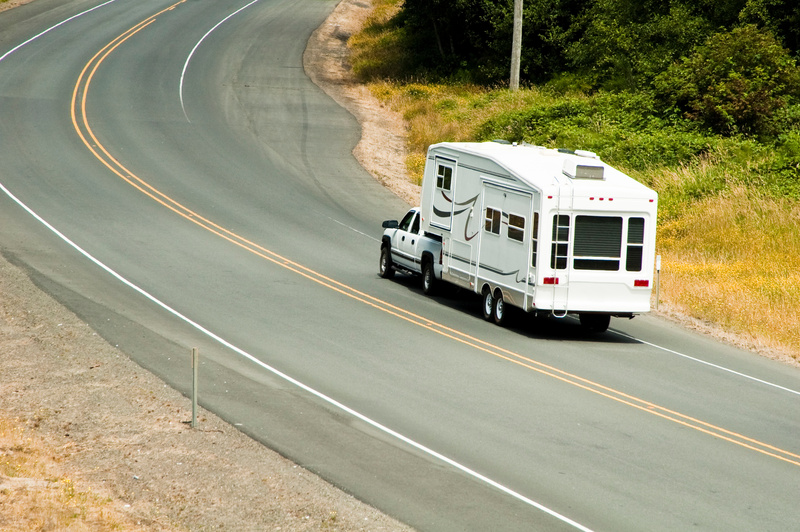 Towing Stability: One of the standout benefits of fifth wheels is their exceptional towing stability. Their unique design places a significant portion of the weight over the tow vehicle's rear axle, which results in improved maneuverability and reduced sway while on the road. This setup provides a heightened sense of control and confidence, particularly during challenging driving conditions or on winding routes.
Luxurious Amenities: Front living fifth wheels take luxury to the next level. With spacious entertainment areas at the front of the RV, these models provide a perfect setting for relaxation. From plush seating arrangements and large windows offering panoramic views to high-end entertainment systems, these amenities create an ambiance of indulgence that's hard to match in other RV types.
Separate Living Areas: Fifth wheels often feature distinct living zones, usually including a rear master bedroom. Some models include a sleeping area on the elevated platform above the hitch. This separation of spaces lends a sense of privacy and comfort, mimicking the layout of a traditional home. Whether you're traveling with family or friends, this arrangement allows for a peaceful retreat and a peaceful night's sleep, enhancing the overall quality of your journey. This is where the perks of fifth wheels with front living come in!
Storage Solutions: For those who relish the idea of bringing along all the comforts of home, fifth wheels excel in offering ample storage options. Under-bed compartments, expansive closets, and creative storage nooks can be found throughout these RVs. So you have space for everything you need for your adventures.
In the world of recreational vehicles, fifth wheels shine as a blend of elegance, practicality, and luxury. As you consider your next RV investment, keep in mind the distinctive benefits that fifth wheels offer – a spacious and comfortable home on wheels that promises to enhance your nomadic lifestyle.
Why Choose the Front Living Layout
Embracing a new level of sophistication and design innovation, fifth wheels with front living room layouts have captured the hearts of RV enthusiasts seeking a luxurious travel experience. Let's delve into the exceptional benefits that front living floorplans bring to the world of recreational vehicles.
Panoramic Views: The hallmark of front living layouts is the expansive front entertainment area often adorned with large windows. These windows offer breathtaking, unobstructed views of the surrounding landscapes, whether you're parked at a scenic campground or nestled in the heart of nature. The visual connection to the outdoors is not only awe-inspiring but also creates a serene atmosphere that transcends the confines of traditional RV interiors.
Entertainment and Social Hub: Picture yourself lounging on plush seating, gazing out at a picturesque sunset, while enjoying your favorite movie or engaging in lively conversations with your fellow travelers. The front living room becomes a dynamic and inviting social hub, perfect for hosting guests or simply relishing moments of relaxation and togetherness. This layout redefines the way we entertain and interact within our rolling homes.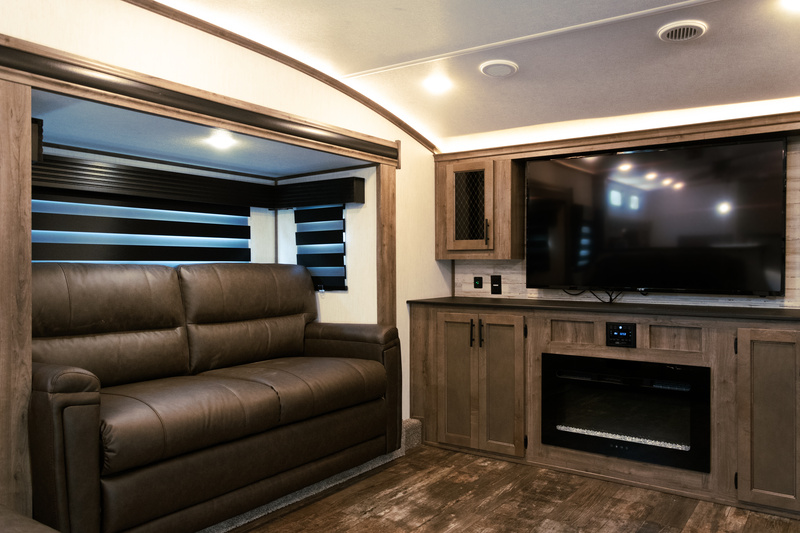 Versatility in Design: Fifth wheels with front living layouts often boast a versatile design that allows for multi-functional use of space. The front area can transform effortlessly from a cozy lounge into a dining area, workspace, or even an additional sleeping zone. This adaptability ensures that you can tailor your RV's interior to suit your ever-changing needs, making it a true reflection of your personal style and preferences.
Enhanced Privacy: The separation of the front living area from the rest of the RV offers a unique sense of privacy. Whether you're a couple seeking a tranquil retreat or a family desiring a designated kids' area, this layout provides an intimate escape where you can unwind, read a book, or simply enjoy the scenery without distractions.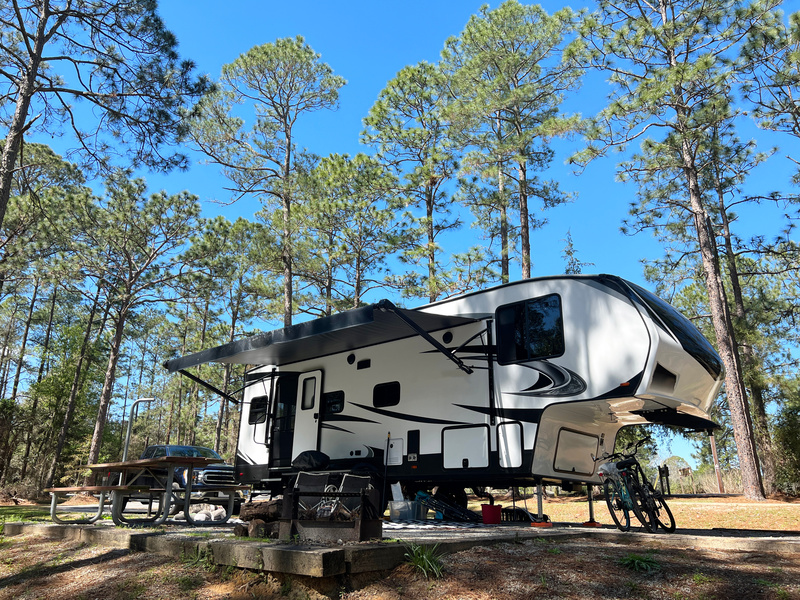 Aesthetic Appeal: Front living fifth wheels exude a sense of modern elegance that stands out in the RV world. From sleek furnishings to contemporary finishes, these layouts showcase a heightened level of interior design sophistication. The front living room serves as a statement piece, elevating the overall aesthetic of the RV and creating a visually captivating environment that you'll love returning to at the end of each day's adventure.
With their breathtaking views, social versatility, and unique design elements, front living fifth wheel layouts redefine the way we travel and connect with the world around us. Whether you're seeking an opulent escape or an inviting space to share with loved ones, front living layouts beckon you to embark on a journey of style, comfort, and exploration like never before.
Popular Fifth Wheels with Front Living
Ready to find the Fifth Wheel that fits your adventurous spirit? Let's take a peek at some popular models that have captured the hearts of travelers like you:
Keystone Cougar 354FLS
The Keystone Cougar 354FLS is a luxurious model that redefines how we experience RV living. Stepping into the spacious front living room, you're immediately greeted by a captivating view of the outdoors through expansive windows. The comfortable seating arrangements create a cozy social hub, perfect for entertaining guests or enjoying quiet moments. The central kitchen features modern appliances, ample storage, and elegant finishes. Moving toward the rear, the master bedroom offers a serene retreat, ensuring restful nights on the road. This Cougar model exemplifies the fusion of comfort, aesthetics, and functionality, making every journey a luxurious adventure. Whether you're embarking on a cross-country road trip or seeking a tranquil escape in the great outdoors, the Keystone Cougar 354FLS is a remarkable choice!
Grand Design Solitude 3460FL
The Grand Design Solitude S-Class 3460FL is a masterpiece of sophistication and modern design within the realm of fifth wheels. The spacious front living area is adorned with panoramic windows that frame breathtaking views, creating an ambiance of tranquility and connection to the outdoors. The seating arrangement invites you to unwind and entertain, while the electric fireplace adds a touch of warmth and coziness. Moving through the interior, you'll discover a chef-inspired kitchen equipped with premium appliances and ample storage, making every meal preparation a delightful experience. The rear master bedroom offers a serene retreat with a comfortable king-size bed and generous wardrobe space. With elegant finishes, high-end features, and unwavering attention to detail, the Grand Design Solitude S-Class 3460FL promises an unparalleled RV lifestyle that seamlessly blends luxury with adventure.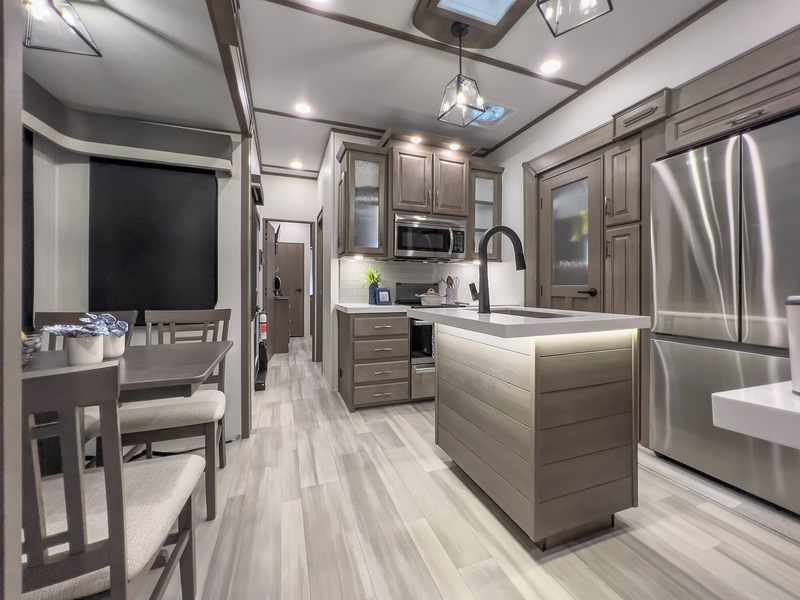 Image courtesy of Grand Design. 
KZ Durango Gold G387FLF
The KZ Durango Gold G387FLF is the epitome of luxury and craftsmanship in the world of fifth wheels. As you step into this model, you're greeted by a front living layout that exudes elegance and comfort. The front living room features a residential ambiance, complete with theater-style seating and a cozy fireplace. A perfect setting for relaxation and entertainment. The spacious kitchen boasts high-end appliances and abundant storage, so you can indulge your culinary passions while on the road. Moving toward the rear, the master bedroom provides a serene oasis with a lavish king-size bed and ample closet space. Attention to detail is evident in every corner of this Durango Gold model, from the luxurious furnishings to the modern fixtures. Whether you're embarking on a grand adventure or seeking a retreat in nature, the KZ Durango Gold G387FLF offers a haven of opulence and style.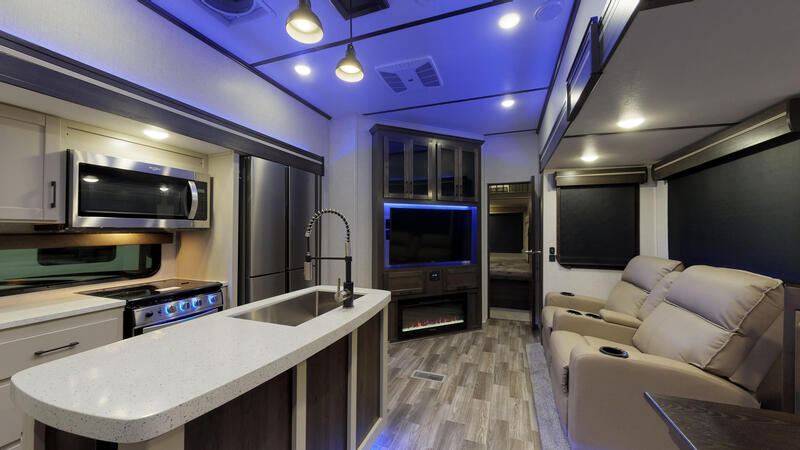 Image courtesy of Crossroads. 
CrossRoads Cruiser 3841FL
The Crossroads Cruiser CR3841FL is a model of comfort, innovation, and versatile design. Upon entering this model, the front living area features an inviting array of seating, perfect for gathering with friends or family, while the large windows flood the space with natural light and scenic views. The kitchen offers modern amenities and ample counter space, catering to your culinary endeavors. As you move through the RV, the rear master bedroom creates a retreat-like atmosphere, complete with a comfortable king-size bed and plenty of storage for all your travel essentials. With its emphasis on luxurious living, the Crossroads Cruiser CR3841FL is a testament to the art of creating a home away from home. Whether you're embarking on a cross-country journey or seeking a peaceful escape, this model promises to redefine your RV experience with a blend of style, convenience, and comfort.
Shop Fifth Wheels Across the Country
In the world of RV travel, the allure of fifth wheels with front living layouts is undeniable. These innovative and luxurious designs have the power to transform your adventures into unforgettable experiences, seamlessly blending the comforts of home with the freedom of the open road. Whether you're captivated by the panoramic views, the social elegance, or the versatile design possibilities, front living fifth wheels stand as a testament to the ever-evolving nature of RV living.
Now, as you embark on your journey to find the perfect front living fifth wheel, RVUSA's classifieds become your ultimate companion. With a vast selection of fifth wheels for sale across the country, you're presented with an opportunity to explore, compare, and discover your dream RV. Let RVUSA guide you on the quest for a camper that will redefine your travel adventures and create a haven of comfort and style on wheels. Begin your search for new and used RVs for sale today and unlock the door to a new realm of exploration, connection, and boundless horizons. Start with RVUSA!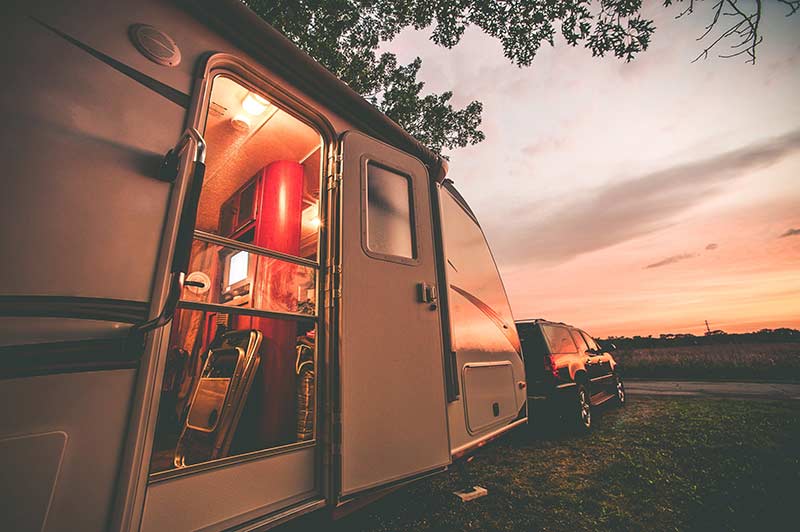 Need the perfect RV for a getaway?