For trailers as tough as the terrain, curated for the rugged climate of Alaska, turn to White Spruce Trailer Sales with locations in in Anchorage and North Pole. This full-service dealer offers tags to tow-package care along with a full line of trailers for hard work and even harder play.  In Alaska, White Spruce is the go-to place for trailer sales, rentals and service.
Find utility, tilt and dump trailers outfitted for Alaska's tough conditions, new and used trailers to haul snow machines, ATVs, and equipment, as well as livestock trailers and cargo haulers.  White Spruce trailers offers its customers a vast inventory from America's top manufacturers including Aluma, Air-Tow, Cargo Mate, Diamond C, Econoline, Midsota, Mission, Royal T, and Trail Max among others.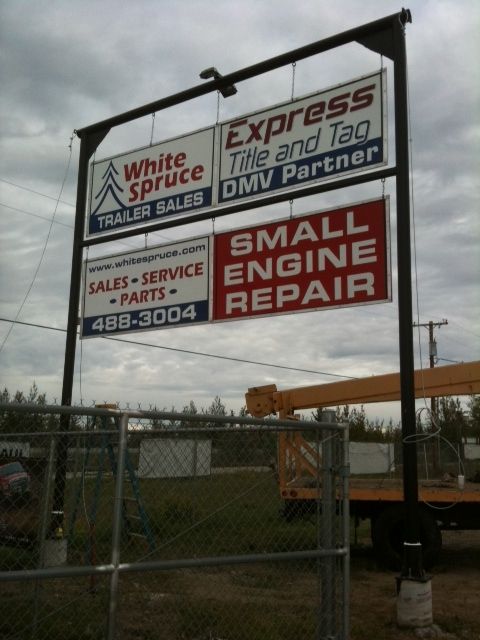 Since 1999, the family owned and local managed, White Spruce trailers has carved out a reputation for a top-notch sales department, good value, and trusted service. Owners Leslie and Jerry Gustafson followed their dreams to Alaska after long careers as educators. The entrepreneurs are now owners of Alaska's largest trailer dealership, serving individual customers, government, and contractors with an uncompromising commitment to top-quality trailers.
The Gustafsons embrace their role as part of the local community, sponsoring local events and races living up to their motto, "Play Hard, Tow Hard."
An expert sales staff at the White Spruce locations in Anchorage and North Pole assure that buyers get the trailer best suited for their needs.  But, the service doesn't end there.  When the rugged conditions of Alaska rattle the best of trailers, White Spruce is there with over 2,000 different parts in stock to repair and accessorize your trailer.  White Spruce is also a Warn Red Letter Authorized dealer with selection of winches and parts
Schedule a trailer inspection as part of your regular maintenance plan at White Spruce and be safe and ready for hunting season, snow machine season, heading out an extended trip to the lower 48, or be prepared for buying or selling a trailer.
The service department also offers custom fabrication and accessory installation to meet the unique needs of its Alaska customers, crafting winch mounts, fuel can racks, or custom ramps, and installing snow and rock shields, superglides and spare mounts.  Whether it's an upgrade or a repair, White Spruce is at your service.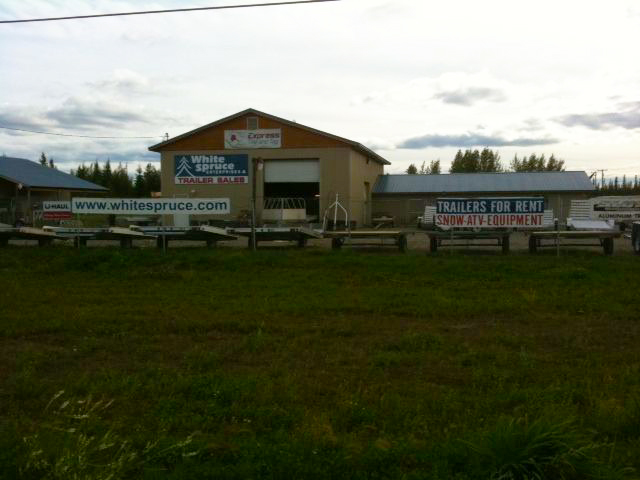 White Spruce rentals are available for those who don't have a long-term need for a trailer, offering car haulers, equipment carriers, tilt trailers, snow machine haulers, and car and cargo trailers in Fairbanks and North Pole.
Shop for a new or used trailer at the North Pole or Anchorage location, finding more than 1,800 trailers in stock and experts on the lot to help guide your decision.  Visit now for an exciting selection of end-of-the-year specials. Visit White Spruce Trailer Sales on RVUSA.
When the sale is complete take care of vehicle registration without leaving White Spruce, which offers full title service through Express Title and Tag, an Alaska DMV Partner certified by the State of Alaska to process DMV titles and registrations. Express Title and Tag serves all Alaskan residents including out-of-state military, processing commercial and non-commercial vehicles, trailers, RV's, snow machines, ATV's, motorcycles, and boats.
Whether it's a hard-working trailer for Alaska's demanding environment, a dependable repair or a quick rental, White Spruce Trailer Sales is Alaska's go to dealer.