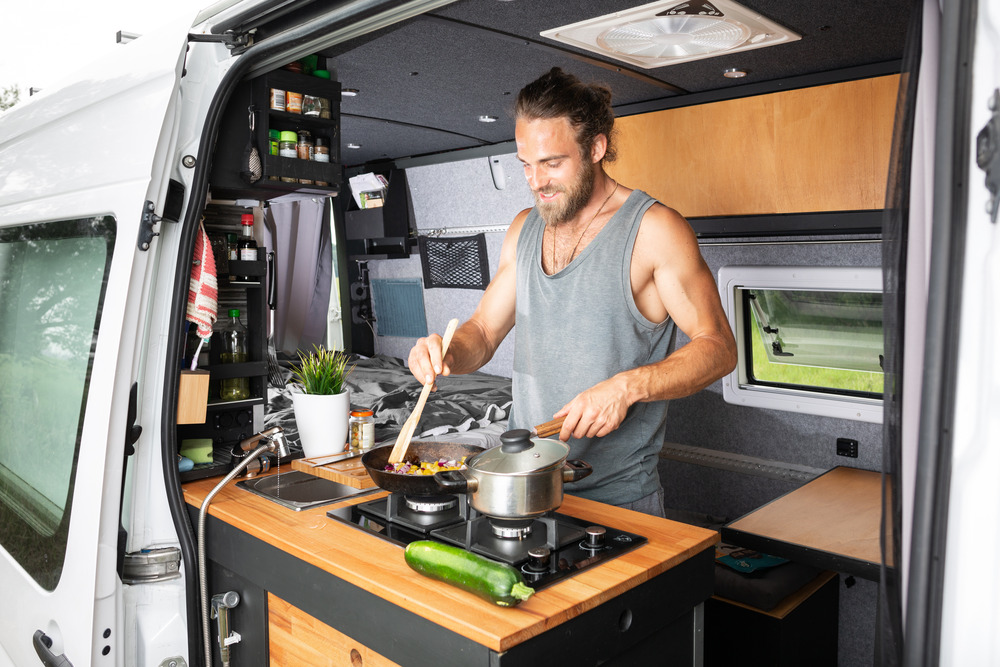 You can now turn your dreams of cross-country road trips, camping under the stars, and downsizing your life into reality with a conversion van. The rise of camper vans is no coincidence; it's a cultural phenomenon sweeping across the country. These versatile, customizable vehicles have captured the hearts and imaginations of a new generation of travelers, outdoor enthusiasts, and minimalists, offering a unique and authentic way to experience life on the move. Explore eight of the coolest conversion vans on RVUSA and the popular van models that you need in your van life.
Find the Coolest Conversion Vans
Van Types
High-top
Conversion vans are versatile vehicles that offer the comforts of home while allowing you to explore the world. However, just like with regular vans and sneakers, you'll need to make a crucial decision between a high-top or low-top conversion van. 
High-top custom vans are known for their extended roof, which provides additional headroom. This design offers several advantages, making them a top choice for many van lifers:
Standing room

Additional storage

Climate control

Extra comfort
High-top conversion vans ultimately offer more comfort and room for storage and standing. You should also consider the height restrictions when traveling and the additional cost of custom vans with extended roofs.
Low-top
Regular vans have standard roof heights and are more cost-effective. Low-top conversion vans are easier to drive and navigate, making them a preferred choice for those who are not comfortable handling taller vehicles. You'll have no trouble fitting into standard parking spaces and driving through tight urban areas. Low-top conversion vans are also more discreet and tend to draw less attention. When deciding between the two types of camper vans, you also have to consider the limitations of low-toppers:
Limited space

Storage constraints

Less comfort
Ready to find a Van for your next adventures?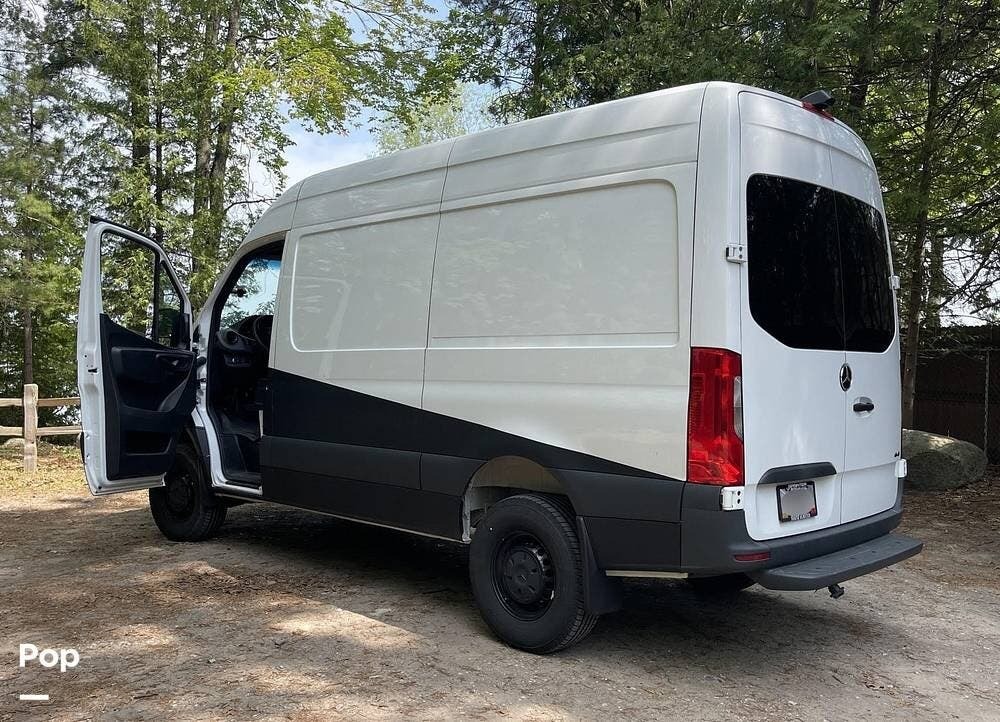 Popular Models
Conversion vans have gained popularity as comfortable customizable travel options. These vehicles offer the perfect blend of practicality and adventure, and a variety of van models cater to the needs of different travelers. Take a closer look at some of the popular conversion van models that have captured the hearts of adventurers and nomads alike.
Mercedes-Benz Sprinter
The Mercedes-Benz Sprinter has become a favorite among conversion van enthusiasts for its durability, excellent fuel efficiency, and the prestige of the Mercedes brand. Its spacious interior allows for various conversion layouts. As a canvas for all types of conversions, the Sprinter is known for its versatility with both high-top and low-top models.
Ram ProMaster
Another popular conversion van is Ram's ProMaster series. These vehicles are known for their front-wheel-drive design, making them easy to handle and maneuver. The ProMaster offers a vast interior space that's perfect for creative conversions, and its affordability makes it attractive to budget-conscious travelers.
Ford Transit
The Ford Transit is also a widely recognizable option for conversion van enthusiasts. It's widely available and comes in different wheelbase lengths and roof heights, offering plenty of customization possibilities. Its comfortable driving experience and compatibility with a variety of conversion layouts make it popular.
Volkswagen Transporter
The Volkswagen Transporter, or VW Bus, has a special place in the hearts of many adventure-seekers. It has a unique, nostalgic charm and offers a compact and stylish platform for conversions. The VW Bus might be smaller than other models, but it's perfect for those who appreciate the iconic "hippie van" vibe.
Nissan NV series
The Nissan NV series has made a name for itself with DIY converters as being affordable yet durable. This conversion van has a robust V6 engine and ample cargo space for maximum storage. It's an excellent choice for those looking to create a compact and efficient travel home.
Custom Van Features
One of the most alluring aspects of conversion vans is the freedom to transform them into a personalized, mobile living space. These vans provide a wide range of customizable features that allow you to craft your dream home on wheels. Van customization options include:
Interior layout and design

Kitchen and bathroom amenities

Sleeping arrangements

Entertainment systems

Solar panels and off-grid capabilities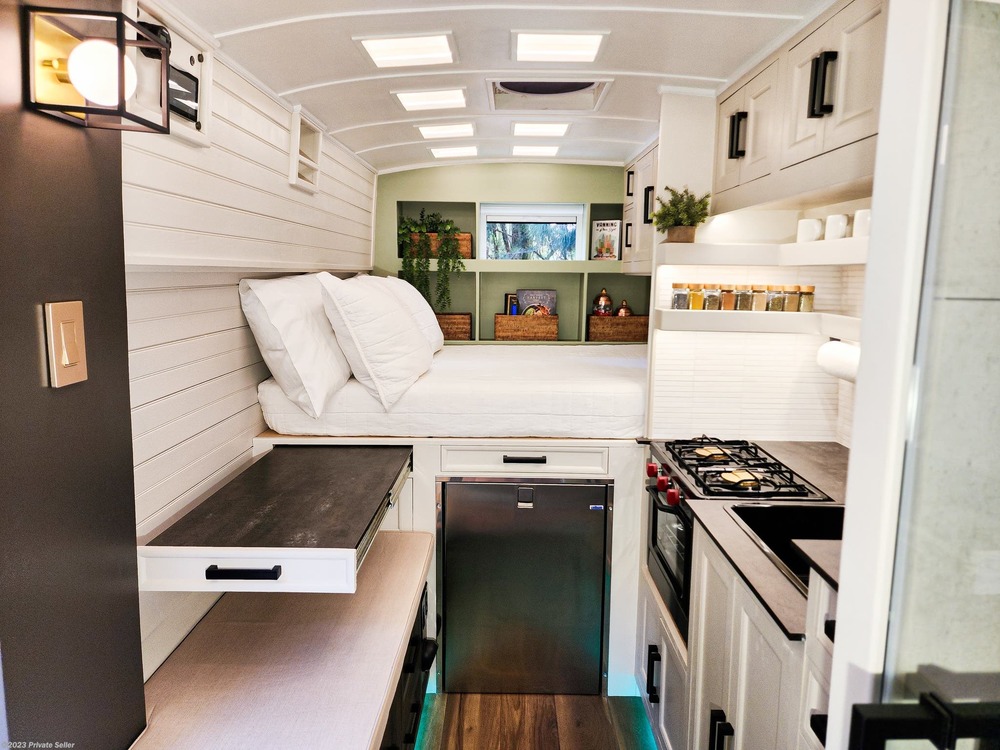 2022 Ford Transit
Clearwater, Florida
This Ford Transit is a luxury apartment on wheels. The black and white color palette creates a modern space, setting the stage for a truly extravagant travel experience. For those who love to whip up delicious meals on the road, this van has you covered. Its large kitchen sink ensures you'll have the room you need to prepare, cook, and clean up. The mobile kitchen also has an accompanying pull-out dining area and a secondary pull-out counter. All are perfect for those who need extra space for meal prep or workspace. You can also tailor the ambiance to your liking, whether you're reading, cooking, or simply relaxing.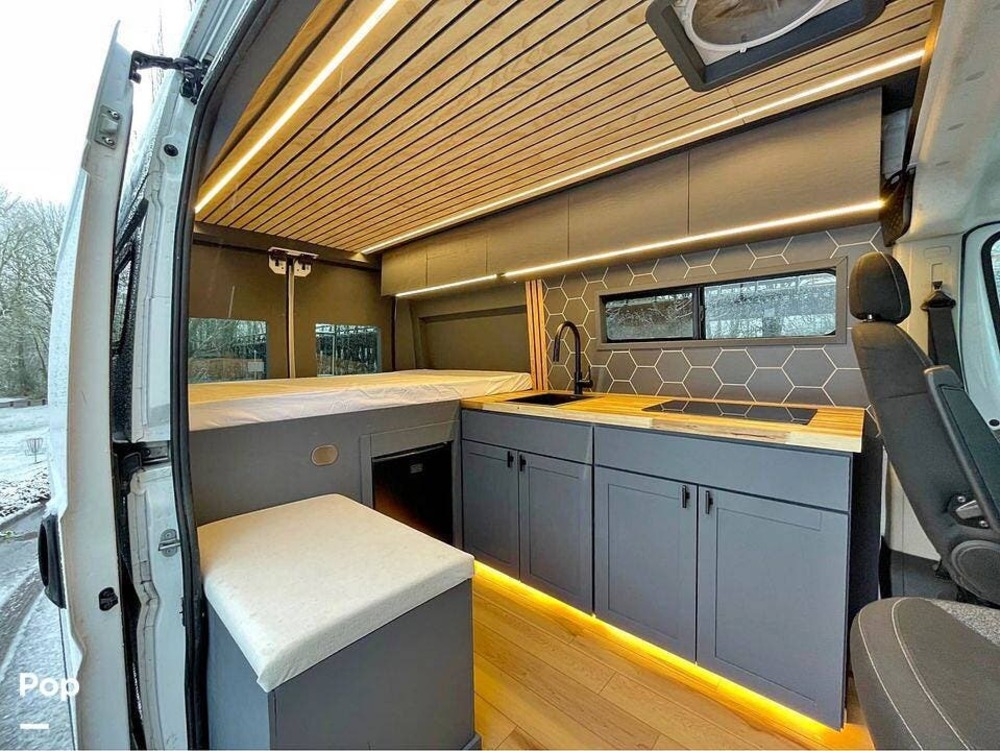 2019 Ram Promaster
Albany, Oregon
This Ram Promaster's understated yet sleek grey design is a perfect match for the modern traveler. Its clean lines and neutral color scheme give it a contemporary and urban appeal, making it a great fit for those who appreciate minimalist aesthetics. This conversion van also has solar panels to provide you with a reliable and eco-friendly way to charge your devices, even when you're off the grid. Space is a premium in any recreational vehicle, and this Ram Promaster doesn't disappoint. It comes equipped with a clever under-bed storage solution. This feature is a game-changer, enabling you to neatly store your equipment, apparel, and other essential travel items.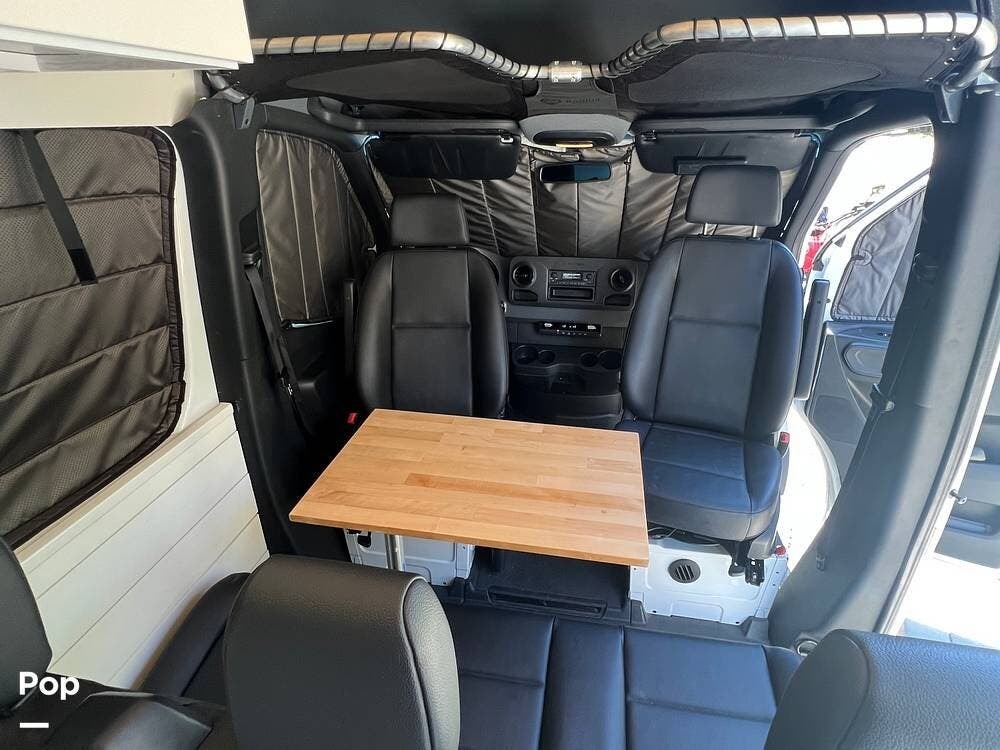 2020 Mercedes-Benz Sprinter
Mission Viejo, California
This 2020 Mercedes Sprinter is a shining example of how innovation meets practicality. This van boasts five seats, including rotating driver and passenger seats, the ability to fit two king beds, and a sleek modern design. The rotating front seats allow you to create a more sociable atmosphere. You can easily turn the seats to face the rear cabin, creating a cozy space for conversations, dining, or simply enjoying the view outside. Plus, the inside is adorned with high-quality materials and finishes that create a luxurious design.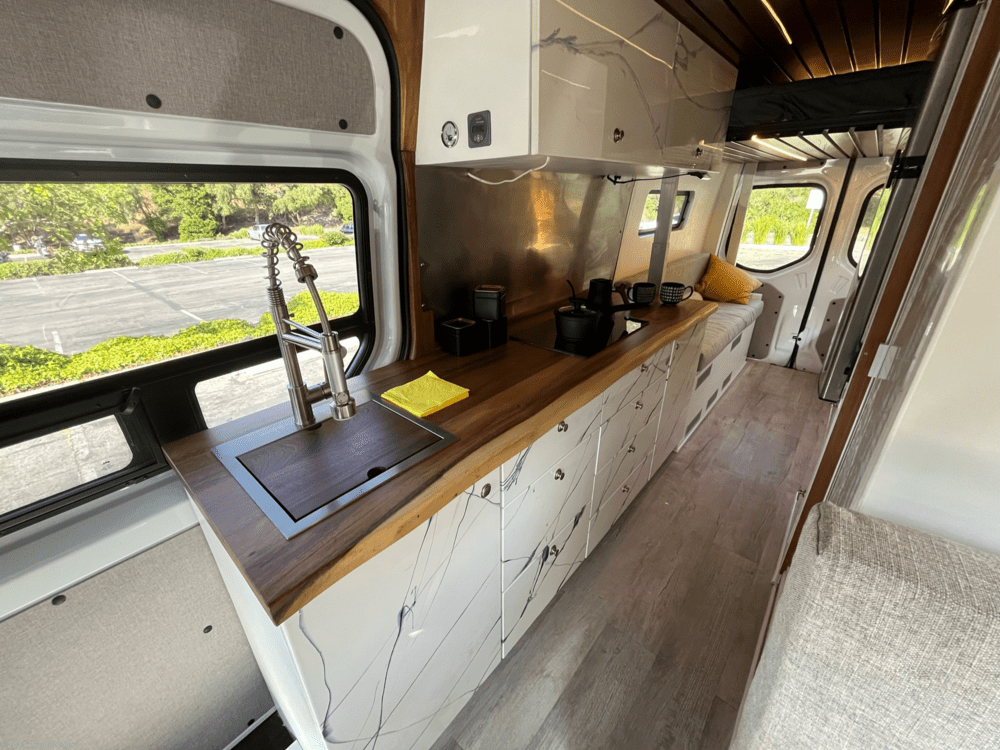 2021 Mercedes-Benz Sprinter
Los Angeles, California
Like others on this list, this 2021 Mercedes-Benz Sprinter continues to redefine the concept of luxury on wheels. It offers an array of features that cater to even the most discerning travelers. This conversion van has white marble cabinets, a powerlifting loft bed, a spacious shower, energy-efficient LED lighting, plus solar panels. The design is eco-friendly, creating a warm and inviting atmosphere, perfect for cozy evenings and creating a homey feeling on the road.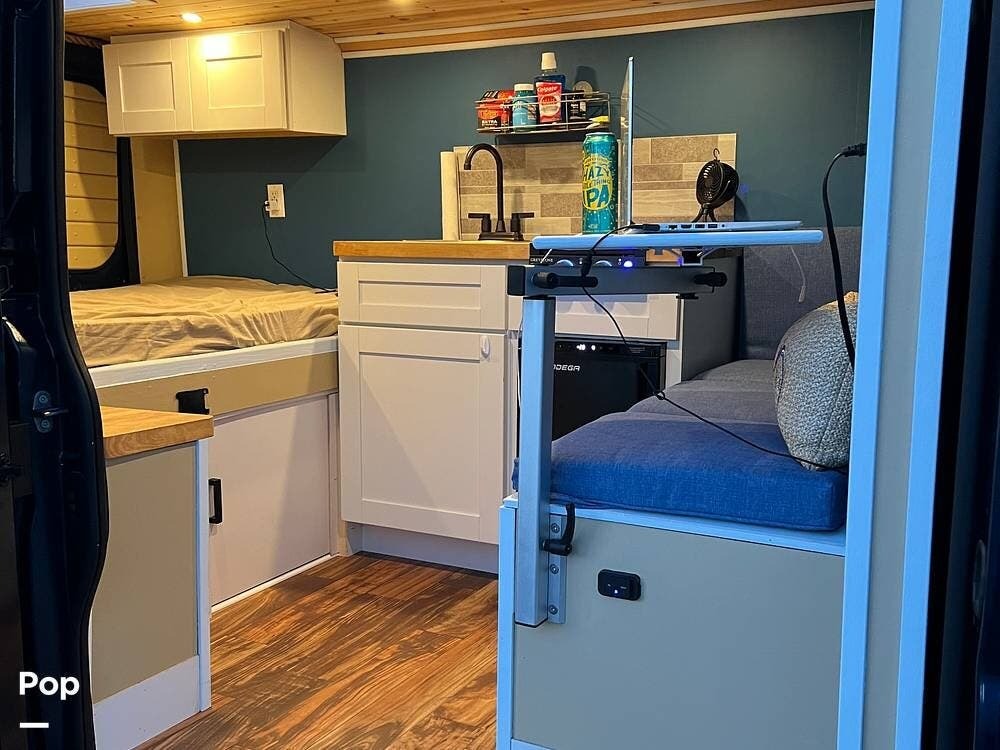 2021 Ram Promaster
Farmington, New Hampshire
This 2021 Ram ProMaster's exterior accompanies a blue and white modern interior. This conversion van is all about making life on the road comfortable, functional, and enjoyable. Its butcher block countertop adds a touch of rustic elegance and a warm and inviting ambiance to your mobile living space. You can also easily work on your computer or simply unwind with a good book with its ergonomic workstation area. Lastly, This ProMaster takes ventilation and the appreciation of the outdoors to a whole new level with its overhead boat hatch. This clever addition lets you stargaze from the comfort of your own bed at night.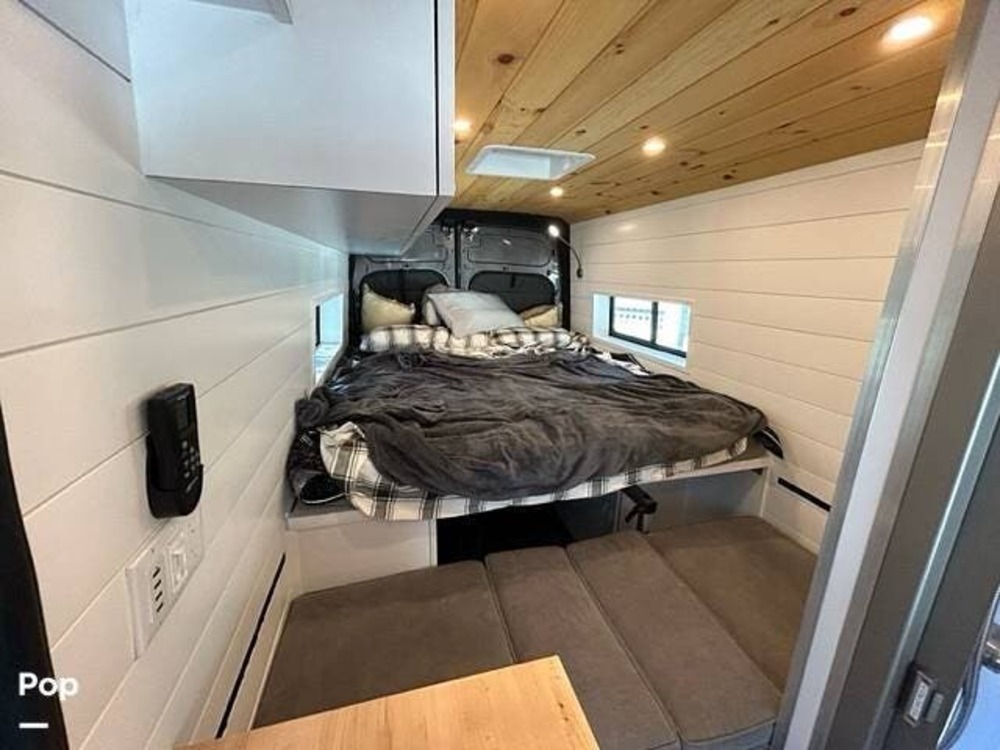 2023 Ford Transit
Maple Shade, New Jersey
This 2023 Ford Transit is a reliable travel companion. This vehicle offers security, comfort, and sustainability with its SecuriLock Anti-Theft System, an additional loft bed for added sleeping space, and eco-friendly solar panels. You can maximize your sleeping space with this conversion van. The extra bed provides sleeping accommodations for more passengers or extra room for you to stretch out during the night.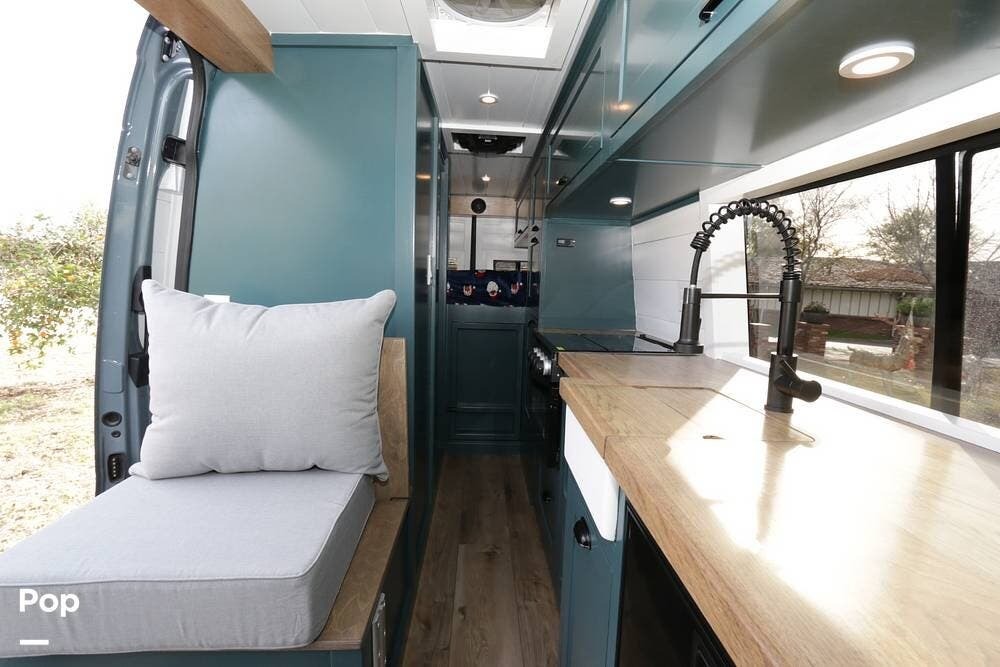 2021 Mercedes-Benz Sprinter
Mesa, Arizona
This 2021 Mercedes-Benz Sprinter has a stunning dark teal interior, a Vigo stone sink, an Aluminess rear box carrier, and LED lighting. The color choice is not only visually striking but also creates a calming and cozy atmosphere. The Vigo stone sink in this Sprinter's kitchen area is a testament to the van's attention to detail and quality, adding to its modern design. Plus, it has extra storage space at the rear of the van, perfect for stowing away anything you may need for your van life adventures.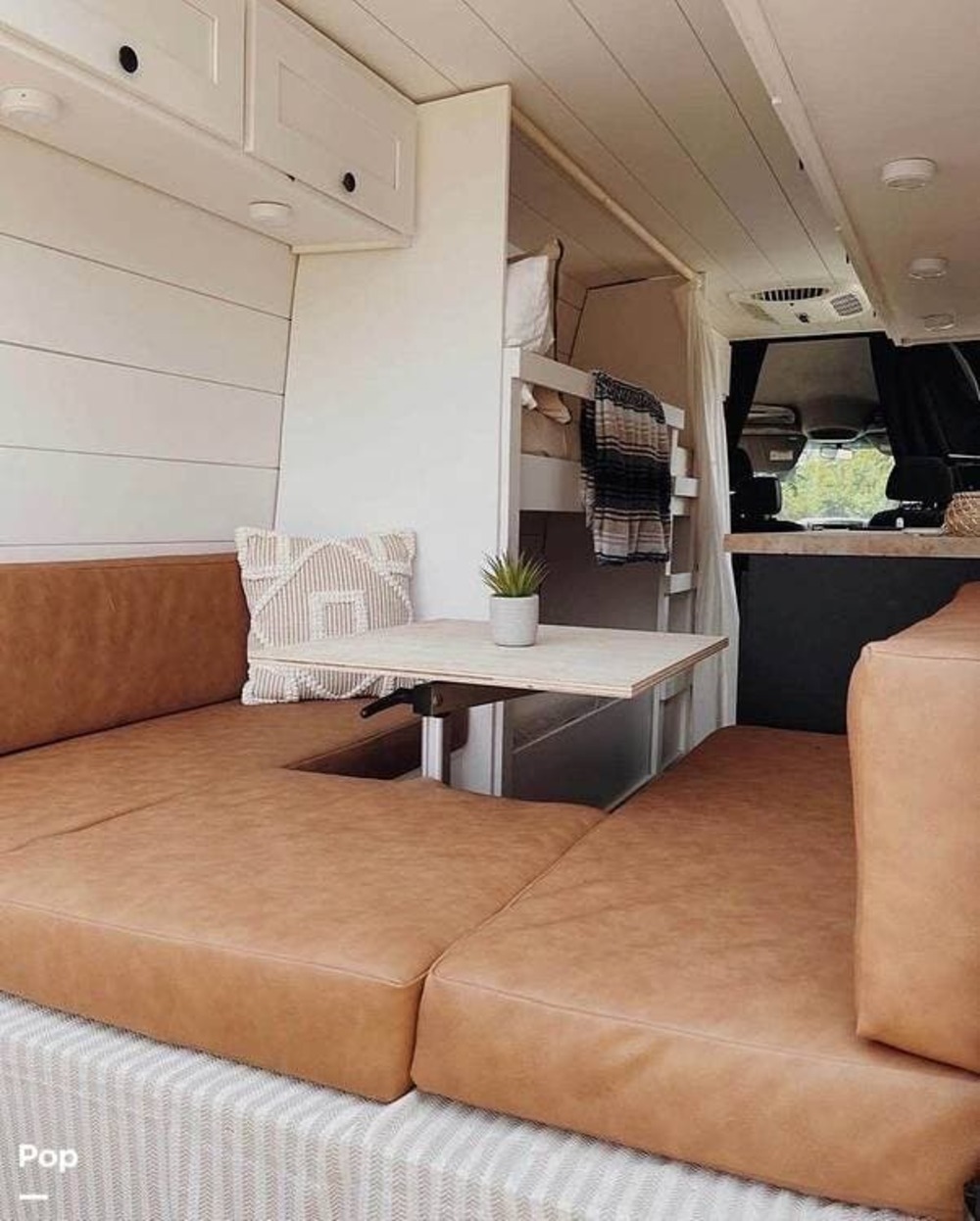 2013 Mercedes-Benz Sprinter
Reno, Nevada
This 2013 Mercedes-Benz Sprinter may be an older model, but it's still a fantastic choice for those looking to explore the world without sacrificing comfort. It can comfortably accommodate up to four individuals with its additional bunk bed setup, which is ideal for kids or for anyone who prefers a separate sleeping area. The versatility of this conversion van is further enhanced by a removable dinette that can easily be converted into a larger bed. This feature provides a multi-functional space for dining, working, or simply hanging out during the day.
Maintenance and Ownership Tips
Owning a conversion van can be a ticket to a world of adventure and travel freedom. Whether you're a full-time nomad, a weekend wanderer, or a road trip enthusiast, your custom van is your trusty companion. Maintaining your conversion van is a van life necessity. It ensures safety on the road by preventing unexpected breakdowns and promotes the reliability of the vehicle. Maintenance also contributes to the van's longevity, protecting your investment.
These highlighted conversion vans offer a range of features, from luxurious interiors to practical design elements, making them versatile options for different types of travelers. They provide the freedom to explore and embark on adventures in style. Consider your travel needs and these cool conversions when selecting your new conversion van.
Ready to find an RV for your adventures?