There are many benefits to an RV lifestyle — you get to tour some of the most beautiful places in the country all from the comfort of your own "home." But any experienced RVer knows that cooking in an RV-standard micro kitchen can be a challenge.
Challenges to RV Cooking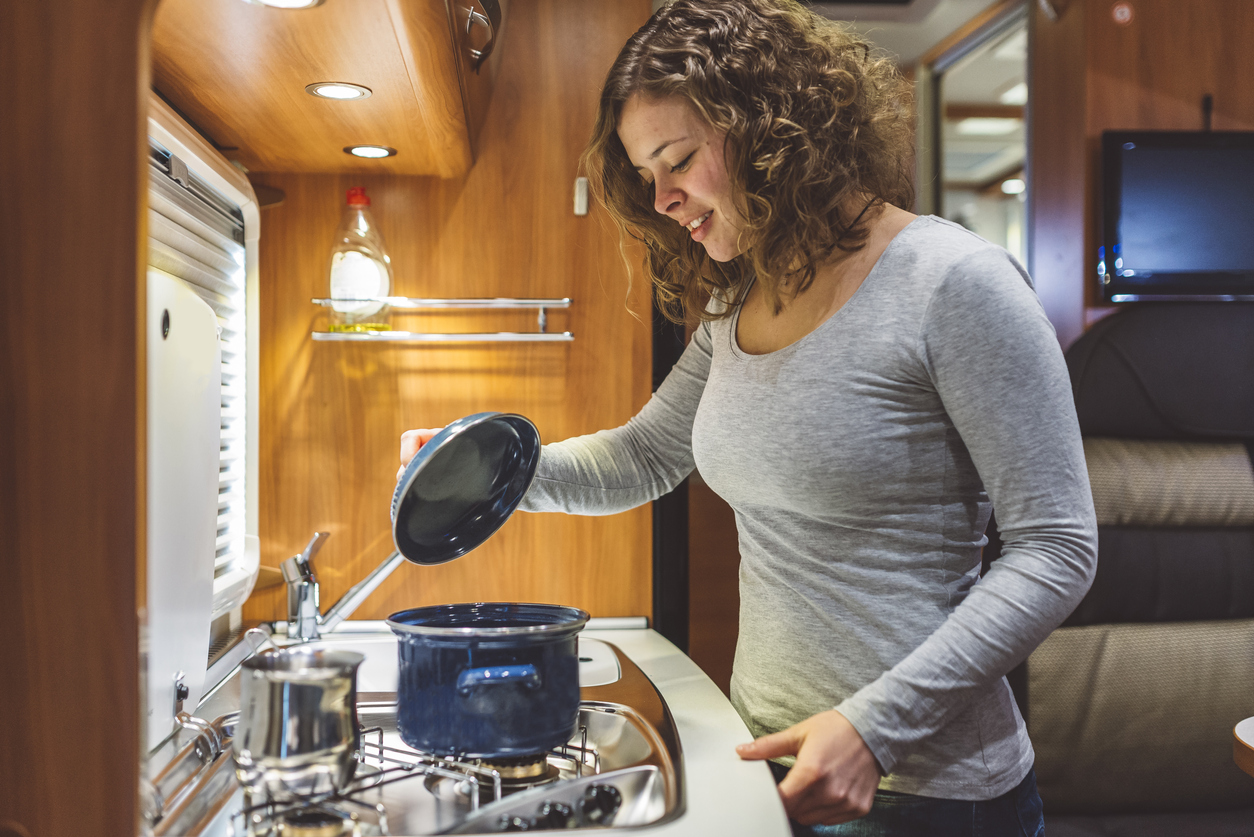 Of course, there is a multitude of challenges you'll encounter when cooking in a smaller kitchen, but there are also many tried and true solutions that can help you make the most of your space.
Limited Space
Small-space living presents it's challenges. In the kitchen specifically, you combat smaller stoves, less storage for pots, pans, food, and storage containers, and not enough prep room.
Just remember you're not alone. There are hundreds of thousands of other people just like you who encounter these challenges too, and they've created space-saving solutions that could be useful to you. Some of our favorites are cabinet-door spice racks, fold-up counter space, roll-up drying racks, camping cooking sets, and collapsible tupperware — just to name a few.
Overcooking
No, we're not talking about burning a chicken. It can be difficult to properly portion meals so that you don't end up with a ton of leftovers that you'll never eat. One of the best tips is to look at the serving size. You can take almost any recipe and cut it in half. Even casseroles and soups, which are known to make larger servings of food, can be properly portioned to work for your RV lifestyle.
Limited Fridge Space
That brings us to our next point – food storage. Once most food is cooked, you'll need to refrigerate it. This can be a challenge if your RV isn't fitted with a full-size fridge. And even before you cook, you may have trouble storing your produce and other refrigeration-required food. If you meal plan and shop only for your weekly items, you will reduce food waste, save money, and save space in your refrigerator. Using collapsible food storage or reusable storage bags will also save space and help reduce waste.
Boring Meals
Even with all of these hacks, you may still find that you're cooking the same meals over and over  — even folks at home encounter this experience of being bored with their every-day go-to meals. That's where RV USA can help. Below, we'll show you some of our favorite two-person RV meals.
Two-Person RV-Friendly Meals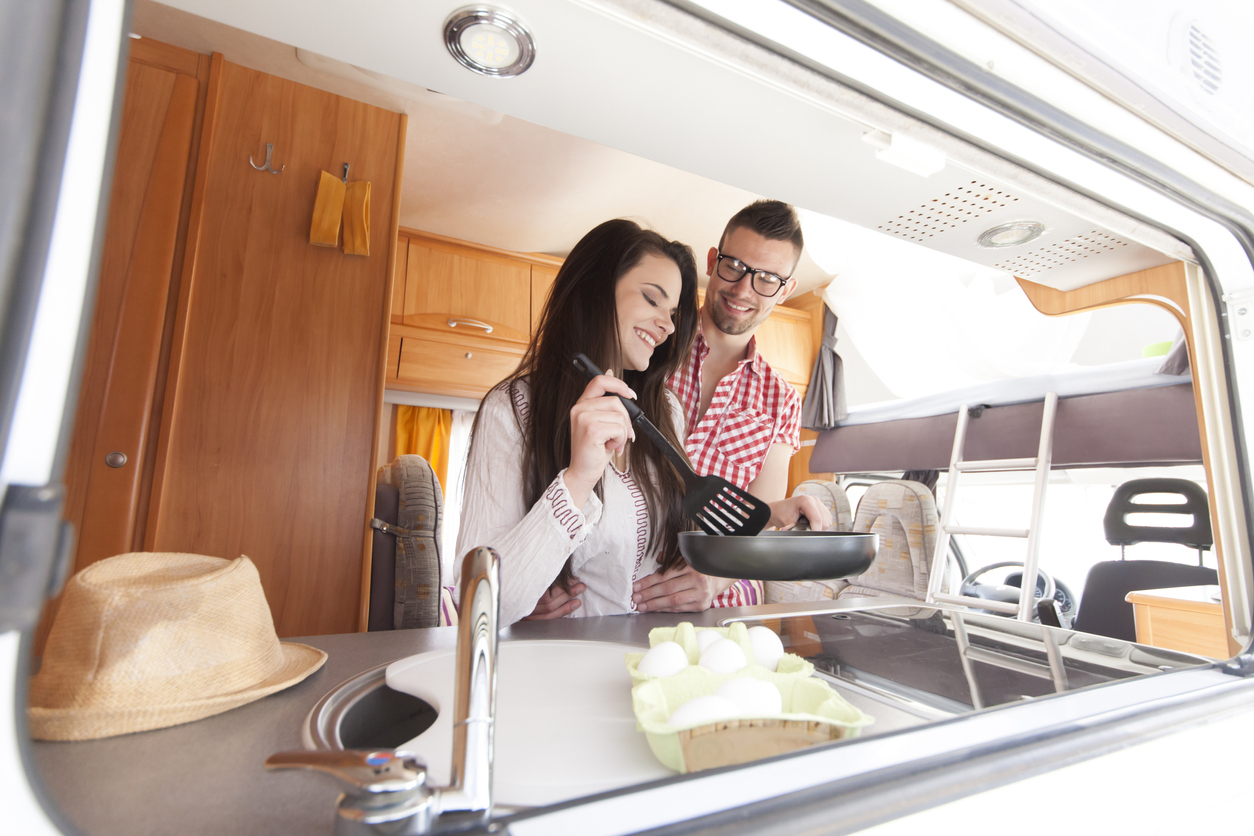 Breakfast in Your RV
If you're out hiking and sightseeing, breakfast can be the most important meal of the day. It's vital to fuel your body before your next big adventure, and we don't just mean eating a granola bar.
Oats & Granola
That being said, granola and oats can be a great source of fiber and energy. Grab a large container of oats and pair it with your favorite granola for a hearty breakfast. Whether you make cold mason-jar oats in your fridge paired with your favorite fruit, or if you want hot oats over the fire, on the stovetop, or in the microwave, this is a quick fan favorite that will get your morning started on a healthy foot.
Egg Bites
Egg Bites are another on-the-go favorite for RVers. Simply whip together eggs, spices, and a fair amount of cheese if you're into that kind of thing. Then, pour the mixture into a muffin tin, and bake them at 375 F. If you have refrigerator space, you can store these for up to 4 days and reheat them in the microwave. So, make as few or as many egg bites as you'd like. If you don't have an oven, this may be more of a challenge for you, but there are plenty of other breakfast options for two.
Omelet or Scramble
Regardless if you prefer the fluffy texture of a scramble or the convenience of an omelet, you can stuff your eggs with hearty and flavorful favorites to spice up your morning routine.
Pancakes
Pancakes are a classic stove-top breakfast food. You can make these indoors, or take your cast iron skillet outside and cook them over a fire. Pancakes use mostly dry ingredients meaning less items you need to store in your fridge. Plus, you can pack your pancakes with additional protein to fuel your day.
Full-Plate Breakfast
On a slow weekend morning, there is nothing stopping you from having a full-plate breakfast. You can grill toast or bagels, scramble or fry eggs, and cook sausage or bacon on the open flame or in the kitchen.
Lunch  & Dinner in Your RV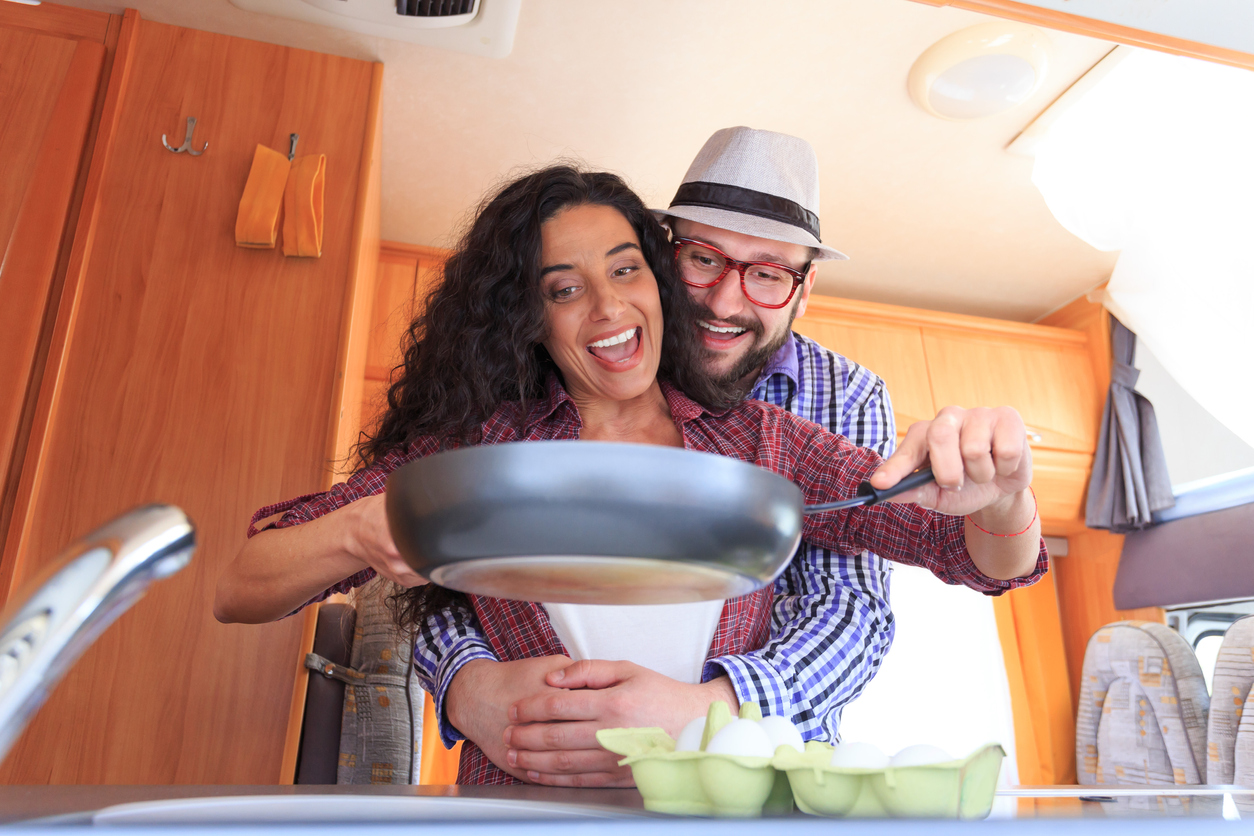 Pasta
Cheese it, sauce it, spice it up — a stove-top pasta is hard to beat. There is a larger variety of noodles and rice types to choose from, not to mention the endless possibilities of sauce, vegetable and protein combinations you can add to put an end to your hunger. If you're trying to avoid the carb-induced food coma, consider swapping noodles for a lighter option such as veggie or lintel noodles. You can also consider using quinoa for more protein.
Grilled Meat
The secret is in the seasoning. If you can, marinate your meat or look up a special seasoning blend. Think fresh fish, chicken, pork, or beef. Pared with grilled vegetables like corn, potatoes, or asparagus, there are too many exciting dining options to count. Cooked over the fire or on the grill, this hearty option will add char-grilled flavor to your lunch or dinner routine. Still not convinced? Grab your skewers and turn your feast into a shish kabob for a fun take on your grilled favorites.
Tacos or Fajitas
This family-meal favorite can easily be pared down for two. Pick your protein, then add in your seasonings and vegetables. On the stovetop or in an iron skillet over an open flame, these sizzling dishes are sure to make your mouth water. Pair it with fresh corn, beans, rice, or chips and dip for a full-blown feast.
Fried Rice or Stir Fry
Rather you choose rice or noodles, you can easily mix in your favorite flavor of Asian sauce and a healthy dose of vegetables to create a meal that's all your own. If you're looking for a protein, consider adding a scrambled or fried egg for a filling meal.
Side note: One big deterrent for many is the fear of cooking rice. Once you get it down, you'll quickly become a pro, but if you still find that you're not getting the rice quite right, or if you're on a time crunch, consider trying the 90-second instant microwavable rice. It's perfectly portioned for two.
America's Top RV Community
If you're searching for more RV recipes and small-kitchen hacks, check out our forums packed with helpful tips from RVers like you. And if you're looking for your next weekend get-away but don't have an RV, we can help you rent or purchase the perfect RV for your lifestyle.