We understand that RVs are investments, and it can sometimes take selling other unused items to make a down payment on one.
So, do RV dealerships accept car trades? It really depends on what kind of dealership you want to do business with. These policies all differ per location, so it's best to talk to a staff member and find out what they offer before moving forward.
There aren't lots of car dealerships out there that accept RVs as trade-ins. There are a few national car dealerships, like CarMax or AutoNation, that do accept RV trade-ins, but it might be in your best interest to look for a local dealer first.
While many RV dealerships do take car trade-ins, there are many more car dealers that won't accept RV trade-ins. Why? They must have the right licensing to do so, and many car dealerships simply do not have a lot of space to hold large rigs.
Alas, a few car dealers realize they can still accept an RV as a trade-in, even though they might not be able to resell it on their own. In this case, they'll contact a dealer and attain what's called a buy bid. This is a signed agreement that secures the purchase of a vehicle at a certain price. The dealer will then take your RV, sell it to the purchaser, and apply those funds to your account. Still, though, some car dealers will avoid that risk altogether. Unknown RV maintenance issues can often lead to voided buy bids.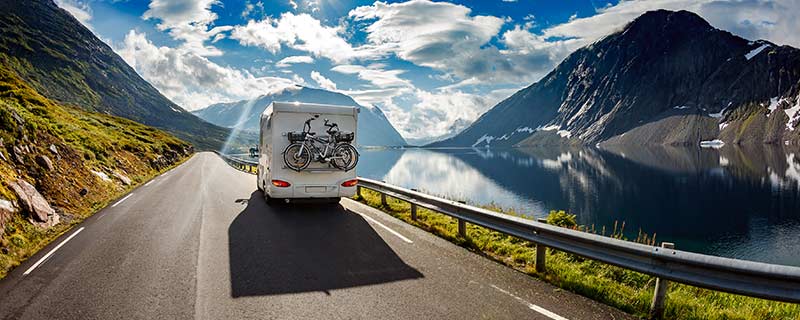 Preparing your RV for trade-in
Before you do trade in your RV, you should take a look at its condition. Do a thorough check, or have a professional do this. We mean everything! Check your windows, roof, ceiling, cabinets, furniture, etc. Then, you'll want to inspect the engine, battery, generator, air conditioning, and the furnace if applicable. Once this is complete, you can decide if it's worth the money to repair any issues or if you want to accept a lower trade-in value. Totally up to you!
To determine how much you might get for your RV, you can find trade-in estimate websites that will help you find out. To get the most accurate answer, you'll need to know as much information about your rig as you can, which means getting it professionally inspected, or doing it yourself if you feel confident.
We hope this information helps you with your endeavors to selling your car or RV. We know it can often be a difficult task, but we're here to support your needs every step of the way. As always, you can come to us for all your RV needs and questions. Happy RVing!