For nature-lovers, the Pacific Northwest is a treasure trove of places to discover. With three national parks, 157 miles of coastline and over 60 mountain ranges, there are an abundance of spots with views that will take your breath away. Even the state's largest city, Seattle, is a sight to see on the isthmus between Lake Washington and the Puget Sound. Whether it's a hike, a park or an overlook, this list is sure to provide you with the best scenic views on your trip to the Evergreen State.
Hurricane Ridge, Olympic National Park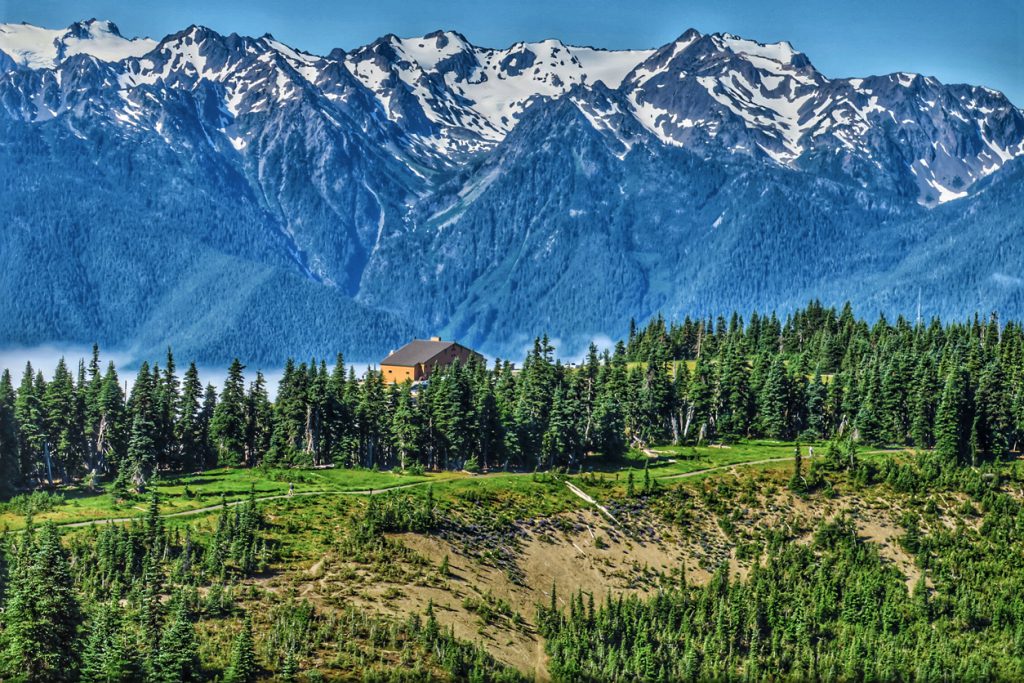 We'll start our list with a Washington classic: Hurricane Ridge in Olympic National Park. It's a 17 mile stretch of road that runs along the Olympic mountain range. Begin your trip with a stop at the Hurricane Ridge Visitor Center, and take some time to enjoy the nearby hikes. The moderate Hurricane Hill hike is 3.1 miles and provides 360-degree views that stretch from Victoria, British Columbia to Mount Olympus.
Hoh Rain Forest, Olympic National Park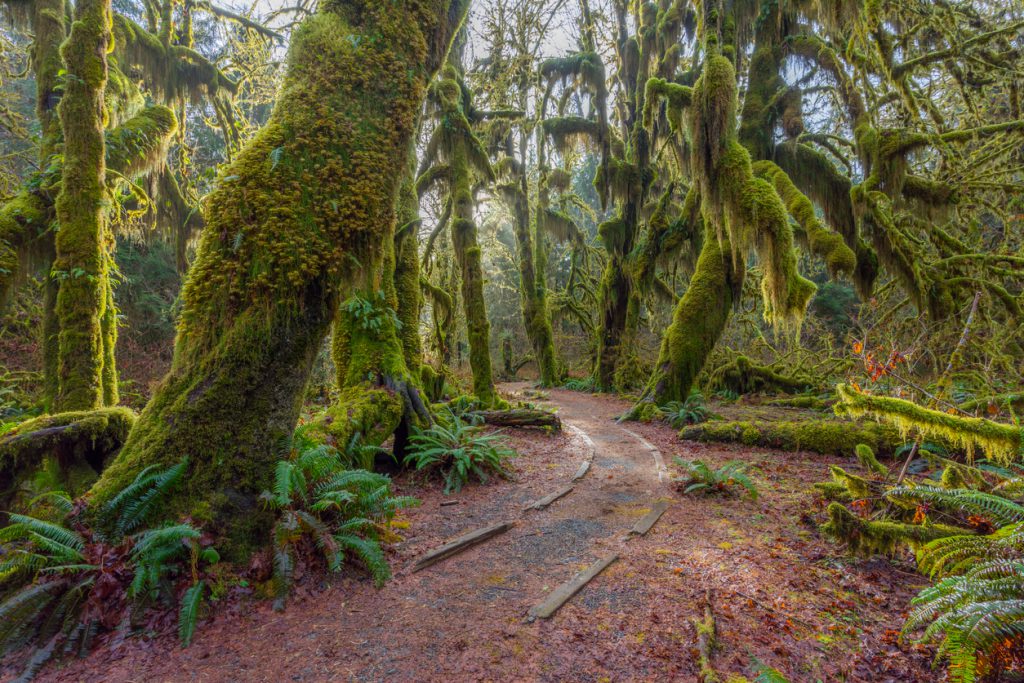 This moss-covered forest in Olympic National Park will have you feeling like you are walking in a fairy tale. The PNW is known for its rainy weather, and the Hoh Rain Forest is a beautiful gem that will make you appreciate the rainfall: its lush vegetation thrives with up to 14 feet of precipitation each year! This stop also has a visitors center where you can pick up hikes like the Hall of Mosses and the Spruce Nature Trail. Usually on vacation you hope for sunshine while exploring, but pack your raincoat for this one. Its rich green moss and ferns flourish on rainy days!
Ruby Beach, Olympic National Park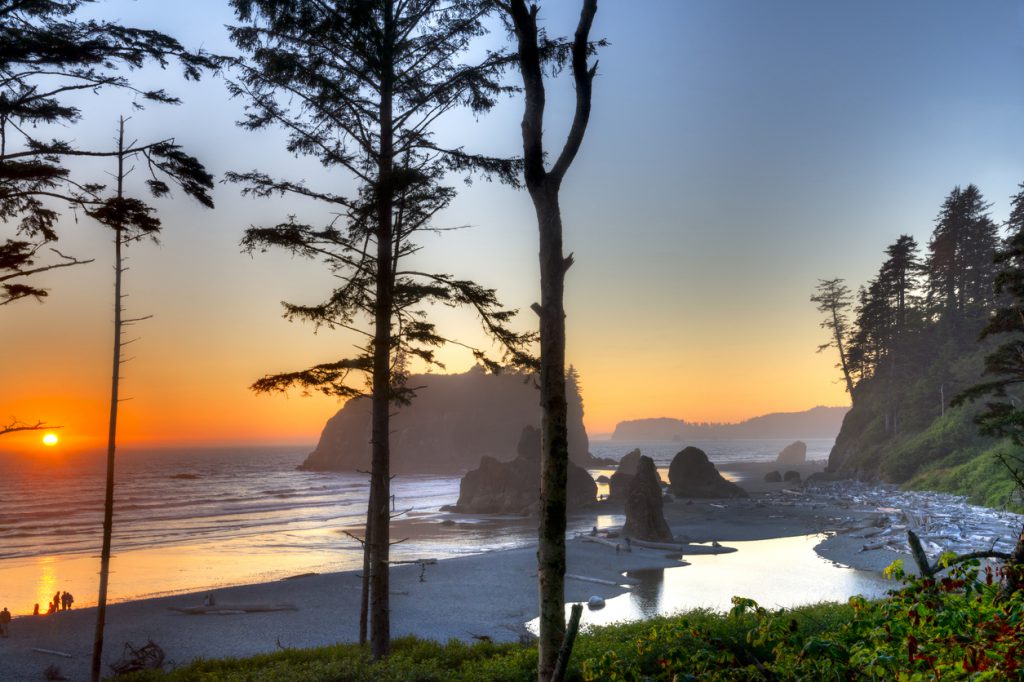 It's no surprise that Ruby Beach gets its name from the unique reddish colored sand that accumulates on the beach. More for hiking than it is for sun bathing, the shores of this coastal portion of Olympic National Park are lined with picturesque sea stacks. Here you'll find rocky terrain, tide pools alive with sea creatures and an abundance of driftwood. From the beach, you can see Destruction Island and its lighthouse a few miles off the coast. It's one of the best places in Washington to both watch a sunset and to watch a storm roll in.
Kerry Park, Seattle

Seattle's waterfront skyline with the famous Space Needle is unmistakable. Sure, you could climb the Space Needle for a beautiful panorama of the city from above, but if you're in Seattle, you'd be remiss to see the city without taking in a gorgeous skyline view. Seattle's Kerry Park is the perfect place to do so. On a clear day, you can even see the snowy frame of Mount Rainier in the distance. On your visit to the city, be sure to try some local coffee and stop by Pike's Place Market for market fresh fish, handmade gifts and specialty foods like pasta, spices and cheese.
Reflection Lakes, Mount Rainier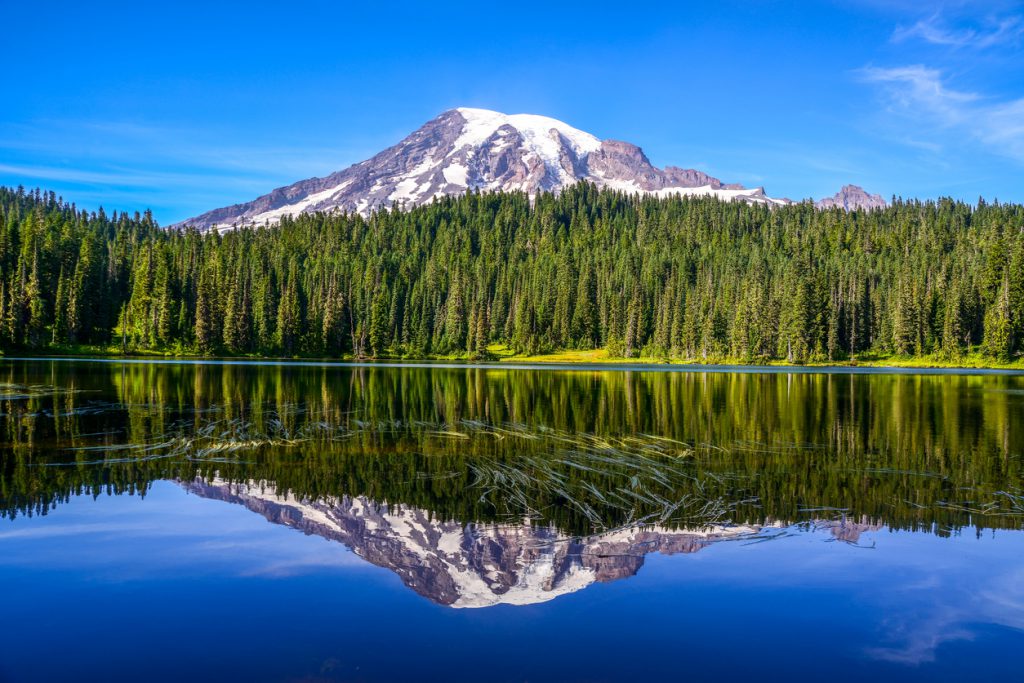 Once you make your way from Seattle to the mountain that decorates its horizon, you'll want to stop at Reflection Lakes. You've likely seen one of the iconic photos of Mount Rainier National Park from here. There's a 2.75 mile loop you can hike around this scenic area, and the views are breathtaking. No matter what season you visit in, the views do not disappoint: you'll see bright wildflowers in summer and deep fall hues in autumn. It's tough to find a better photo of Mt. Rainier than from this viewpoint.
Spray Falls, Mount Rainier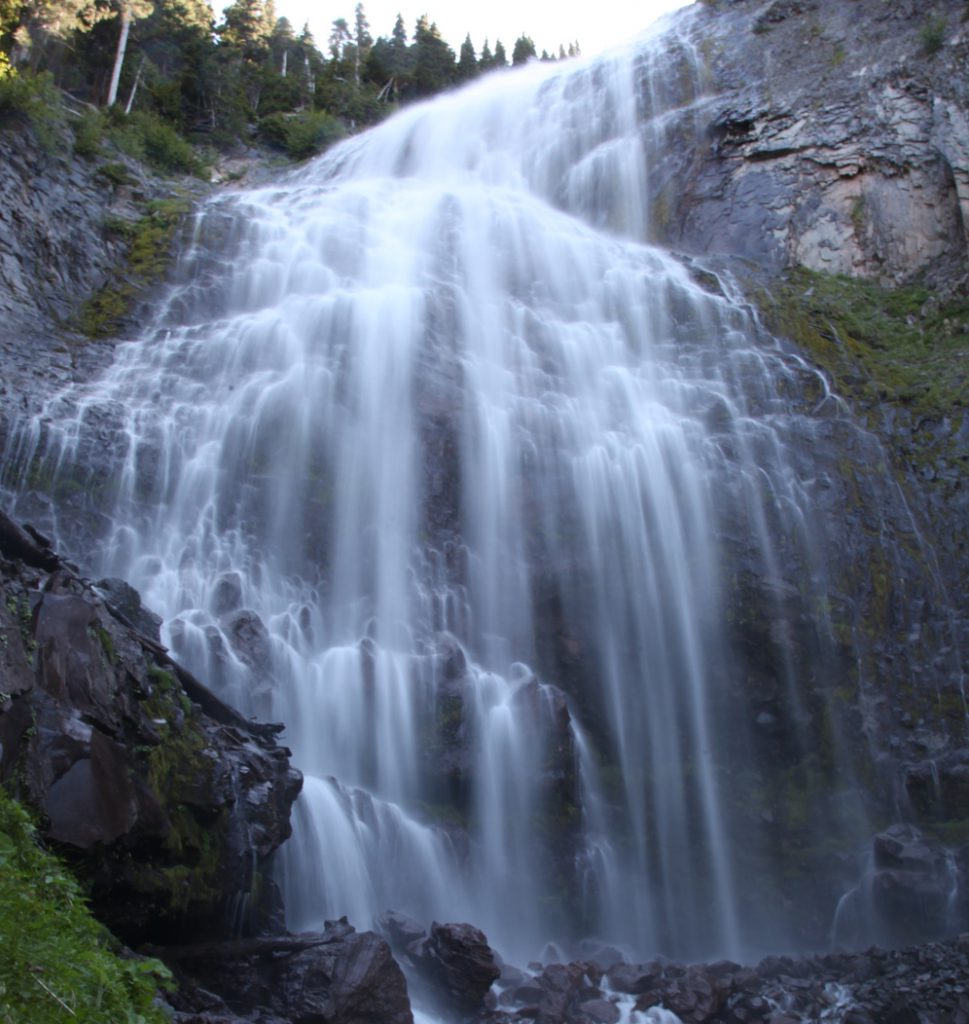 No list of beautiful views is complete without a waterfall, and Spray Falls in Mount Rainier National Park is the perfect one to include. The waterfall can be found along the 7 mile Spray Park Trail from Mowich Lake trailhead, but if you aren't up for a day's hike, you can opt for the shorter trip to the falls. Around 2 miles into the hike, there's an offshoot you can follow to the waterfall. If you're visiting during the snowmelt months, the 350 foot waterfall's cascading waters become even more powerful. After taking in the waterfall, avid hikers can rejoin the trail and continue on the switchbacks to find views of park's namesake mountain.
The Enchantments, Okanogan-Wenatchee National Forest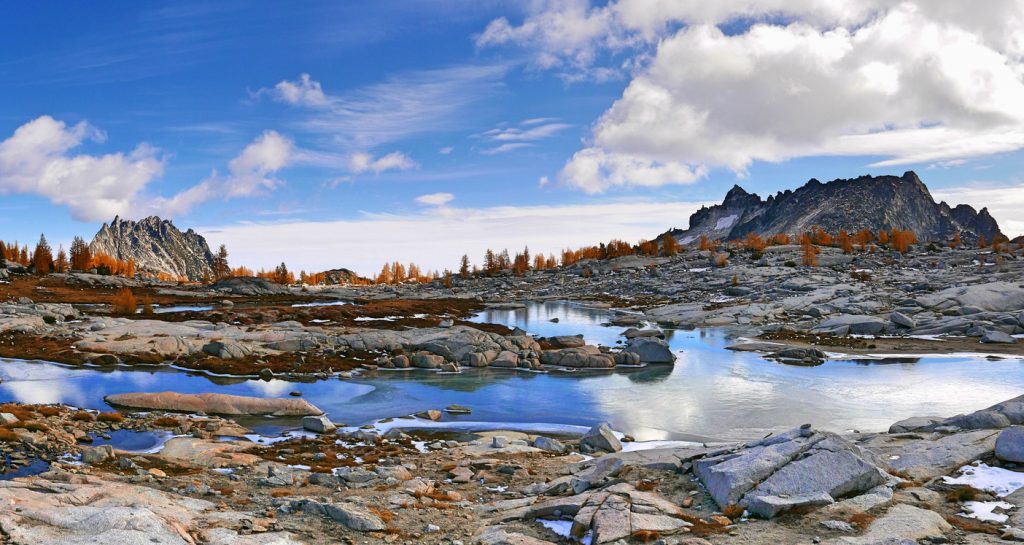 It's hard to believe you're still in the United States on this wonderland of a hike that is deservedly called The Enchantments. The 23.6 mile point-to-point trail wraps through meadows, across granite rock and past glacial lakes for some of the most unique views the state has to offer. You can enter from the Snow Lake side or the Colchuck Lake side – either trail will provide beautiful vistas for the outdoor adventurer.
Picture Lake, North Cascades National Park
Similar to Reflection Lakes at Mt. Rainier, Picture Lake in the North Cascades is one of the most photographed places in the United States. From here, you have a breathtaking view of the national park's snow-covered Mt. Shuksan. This is an easy trail to walk and is even lined with informational signs to help you learn more about the park and its wildlife as you take in the sights.
Lake Diablo, North Cascades National Park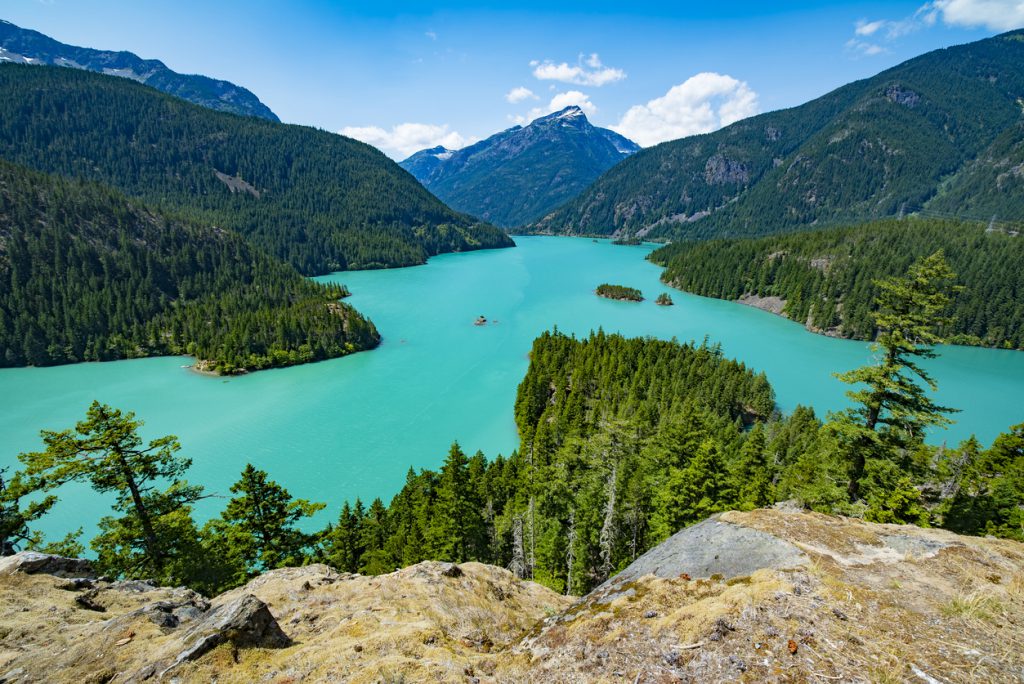 Lake Diablo is a glacial lake with turquoise blue waters situated in the North Cascades. It formed in 1928 when Diablo Dam was built, and its unique color comes from the way the light reflects off the fine bits of rocks that flow into the lake from the glaciers. The perfect spot to view the lake is from the stop off of Highway 20 in Ross Lake National Recreation Area. You can also hike 3.8 miles along the lake shore on Diablo Lake Trail.
Best Scenic Views in Washington State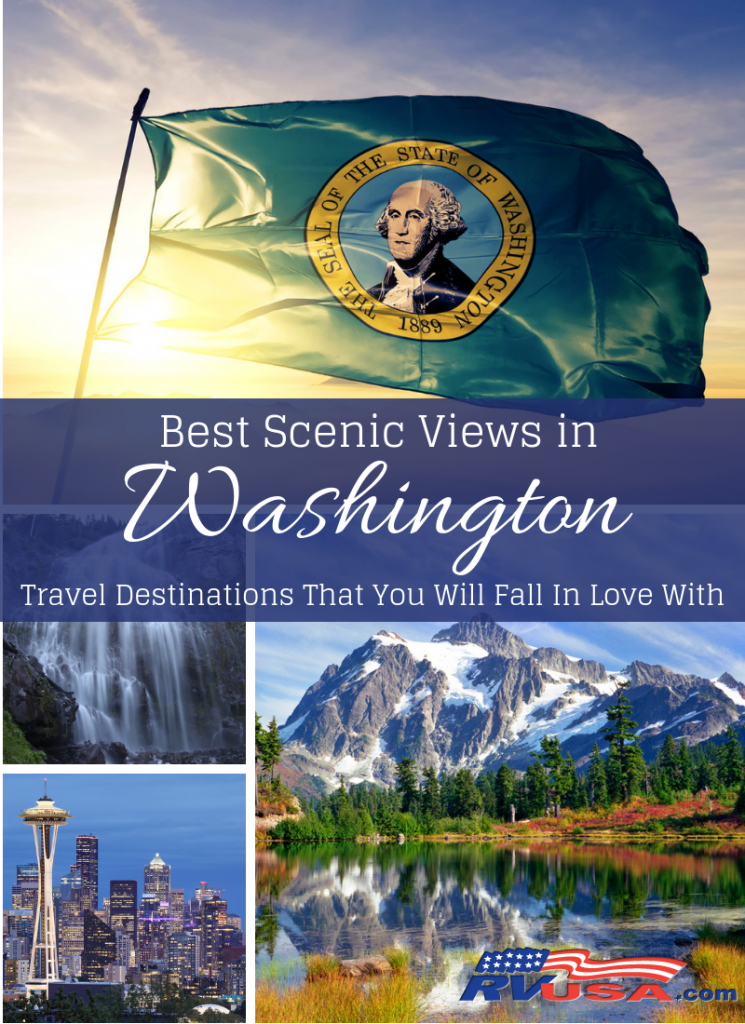 Whether you're looking for a challenging hike to bask in nature, a scenic drive or you prefer the sights and sounds of the city, Washington has something for everyone. Just make sure to pack your camera!
Did this list of the most scenic places in Washington state get you excited to take a sight-seeing trip to Washington? Make sure to check out more of our favorite RV destinations to start planning your next road trip!