It might be known as the Cornhusker State, but there's a whole lot more to Nebraska than cornfields. This midwestern state was once an exciting new frontier as pioneers traversed through it along the famous Oregon Trail – yes, the one from everyone's favorite video game. The Nebraska you'll discover today is filled with that same rich history, amazing nature to discover, and of course, down-to-earth people with a friendly reputation. You'll find creatures both thriving and fossilized, commanding rock formations and gentle rivers, bustling town centers and serene scenes of the great outdoors. The good news for RVers is that Nebraska is known for its long stretches of highway, so it is the perfect place to roam. Here are a few of our favorite places to visit in Nebraska.
Henry Doorly Zoo and Aquarium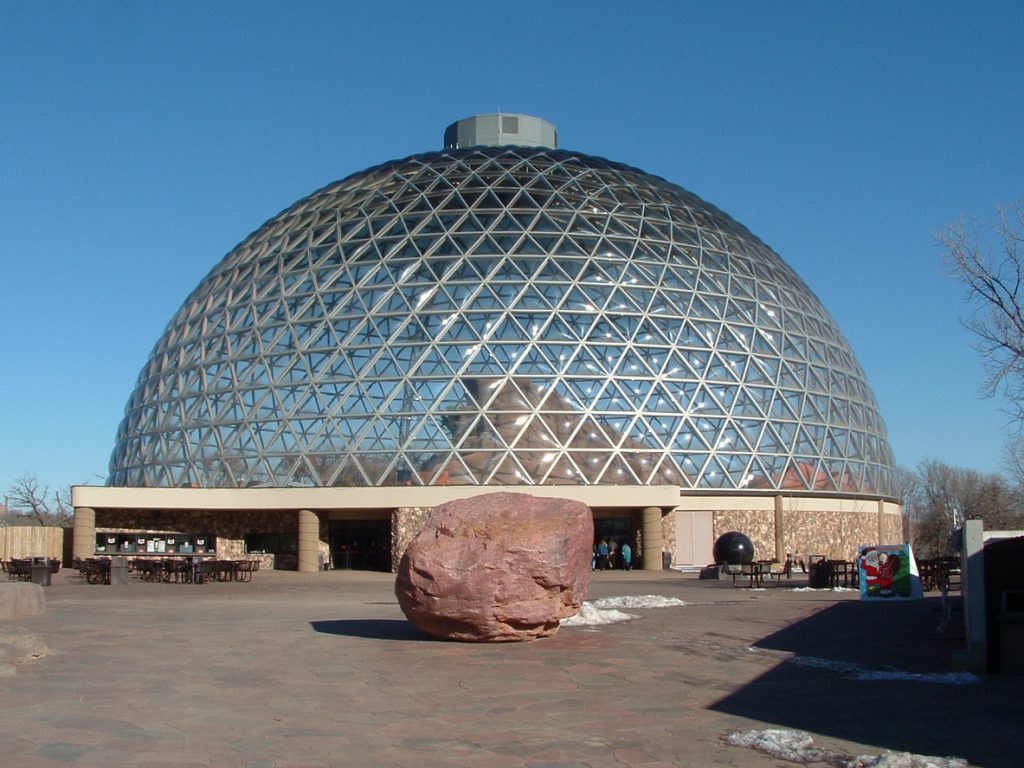 Sure, most states have zoos we could include on our list of places to visit. But Omaha's Henry Doorly Zoo and Aquarium is no run-of-the-mill zoo. There's a reason why it's at the top of our Nebraska list! Its 160 acres make it the largest zoo in the world, and it houses 17,000 animals and nearly 1,000 different species. It is best known for its conservation efforts in breeding endangered species from all over the world.
righThe zoo houses creatures in nearly every habit imaginable, from the African grasslands to the Asian highlands. Its trademark glass dome houses the world's largest indoor desert. The Lied Jungle exhibit is the largest indoor rainforest and was voted the best zoo exhibit in the United States by USA Today readers in 2019. Give yourself plenty of time to explore here because there is so much to see, and you won't want to miss any of it.
Niobrara River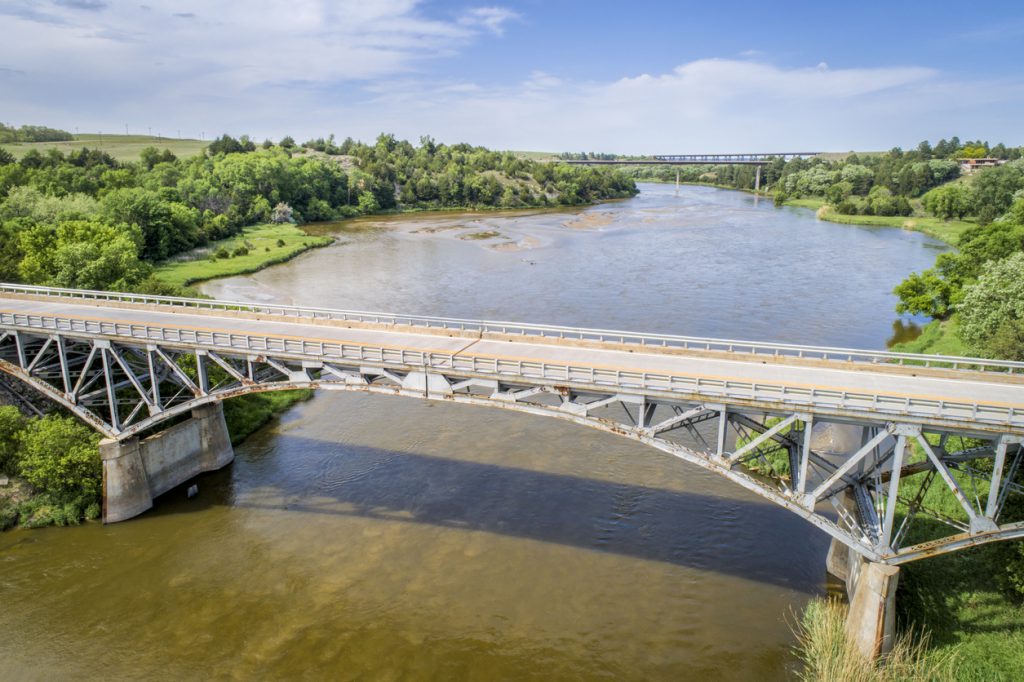 A favorite among Nebraskans, the Niobrara National Scenic River in Valentine is perfect for visitors as well. The spring-fed river is fairly shallow, which makes it a great spot for a leisurely float or paddle through its surrounding parks and wildlife preserves. Don't just stop at renting tubes or kayaks on the water though; the entire Niobrara River Valley has an abundance of nature to discover for the outdoorsy traveler. See the state's tallest waterfall at Smith Falls State Park, or look for prairie chickens, bison and elk at the Fort Niobrara National Wildlife Refuge and the Valentine National Wildlife Refuge.
Attend the annual Nebraska Star Party at the nearby Merritt Reservoir, which is also known for being one of the state's best fishing lakes. If you're into paleontology, check out Ashfall Fossil Beds State Historical Park, where a prehistoric volcanic eruption preserved the fossils of some incredible creatures. If you're headed to the water though, the river does get crowded during peak summertime season, so try visiting in late spring or early summer to avoid the crowds.
Historic Hay Market District in Lincoln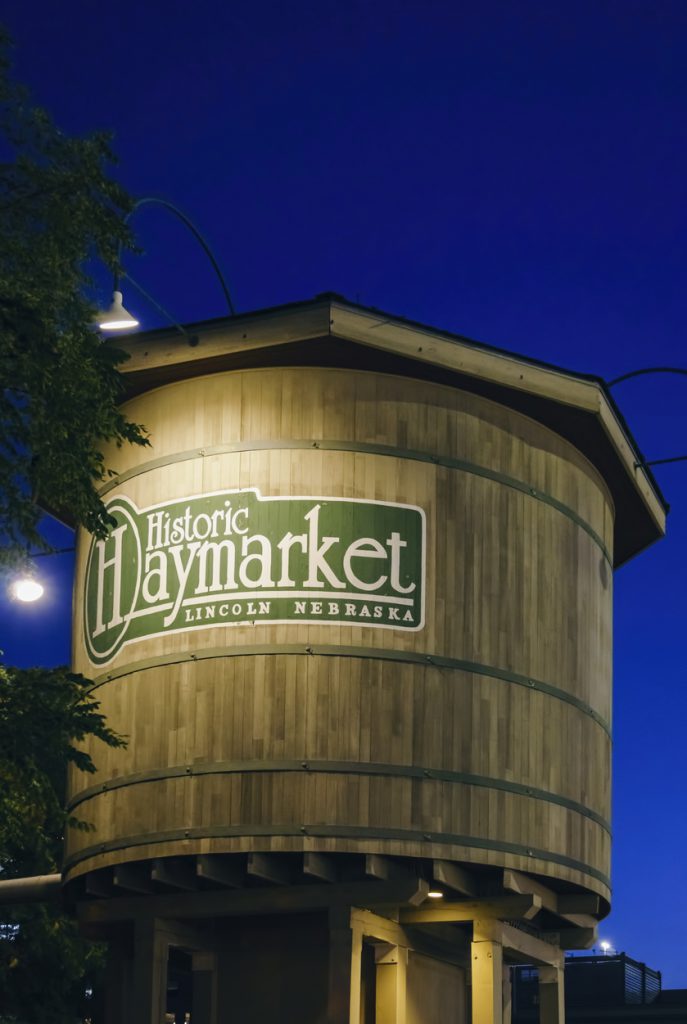 What do you get when you combine history from early settlers with Nebraska's most beloved college town? The Historic Hay Market District in Lincoln. Lincoln is the state capital, but it's also home to Nebraska's favorite team, the Cornhuskers. Nebraska sports are a way of life in the Cornhusker State. This old-fashioned shopping and dining district is home to Pinnacle Bank Arena, where the Nebraska men's and women's basketball teams play.
The area's name comes from the name of the original market square. Where wagons, supplies and yes, hay were sold to settlers in the late 1800s. Now, you can visit art galleries, antique shops and tasty restaurants in this scenic district. You can even try one of Nebraska's favorite foods, a Runza sandwich. While you're in Lincoln, pay a visit to Memorial Stadium, the Cornhuskers' football field. On game day, the stadium packs so many people that it becomes the state's third-largest city.
Scotts Bluff National Monument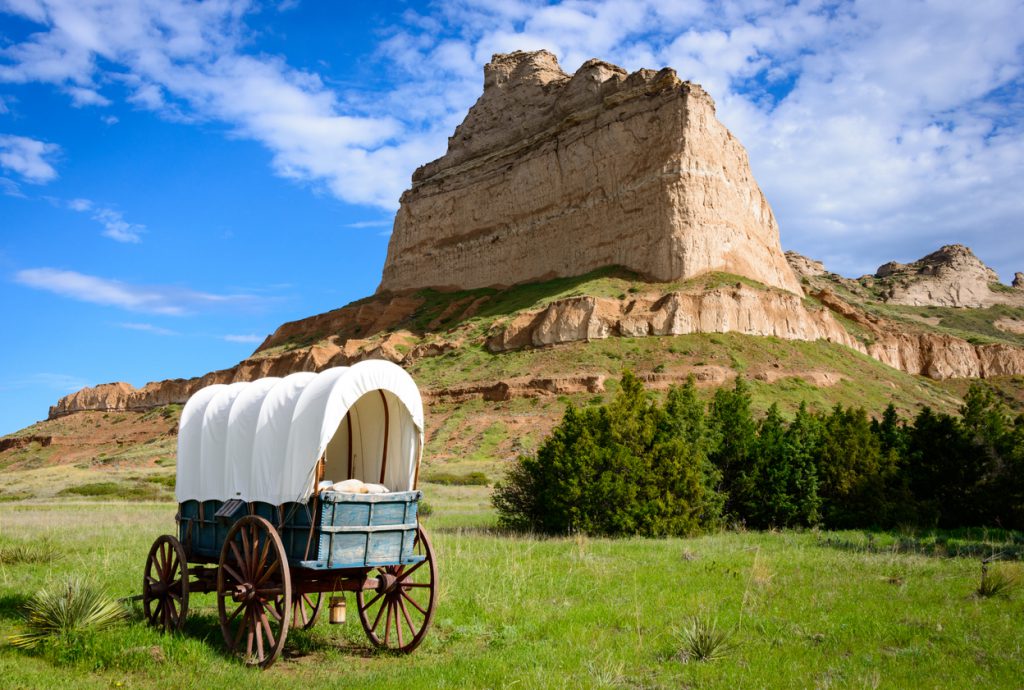 This impressive rock formation was an important landmark during the nation's westward expansion. It is estimated about 250,000 travelers passed by this spot in the mid-1850s as they made their way across the Oregon Trail, California Trail, and Mormon Trail. The towering cliffs were named for Hiram Scott. A fur trader who died near this spot after his fur trapping party abandoned him when he fell ill. It was the second most referred-to landmark in journals of westward-traveling pioneers.
Comprised of two separate formations, the South Bluff and the larger Scotts Bluff. A road was built in the gap between the two called Mitchell Pass. While it was a tough section to travel for early settlers in their covered wagons. Today you can enjoy a scenic drive through the area as you witness what early explorers once saw. Make sure you pay a visit to the Oregon Trail Museum and Visitor Center. There you can learn more about the westward expansion and the geological history of the area.
Chimney Rock National Historic Site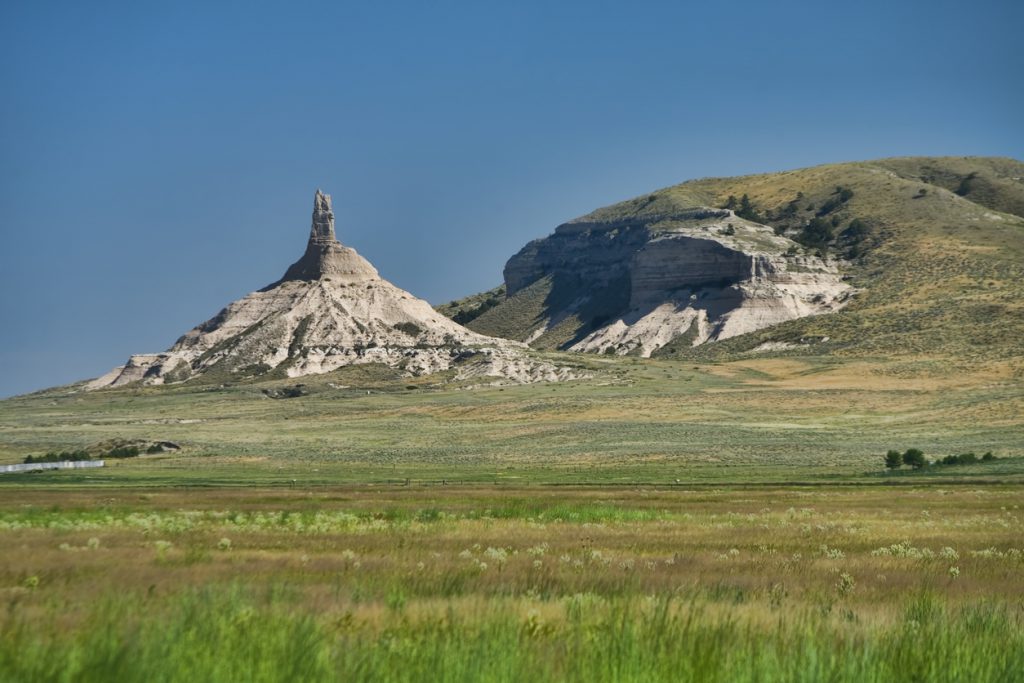 A few miles down the road from Scotts Bluff is another iconic trail site, Chimney Rock. The upwards climbing spire of this rock formation is aptly named. It was used as an important landmark on the Oregon Trail. It is about 470 feet tall at its highest point and is formed out of limestone. In the 1800s there was a Pony Express Station and spring water in the area that made it a popular stop to set up camp. Today, you can visit the Chimney Rock Cemetery and the Christopher J. Abbot Visitor Center. There you can live like the pioneers and get a hands-on opportunity to "pack your wagon" like they once did.
Best Places to Visit in Nebraska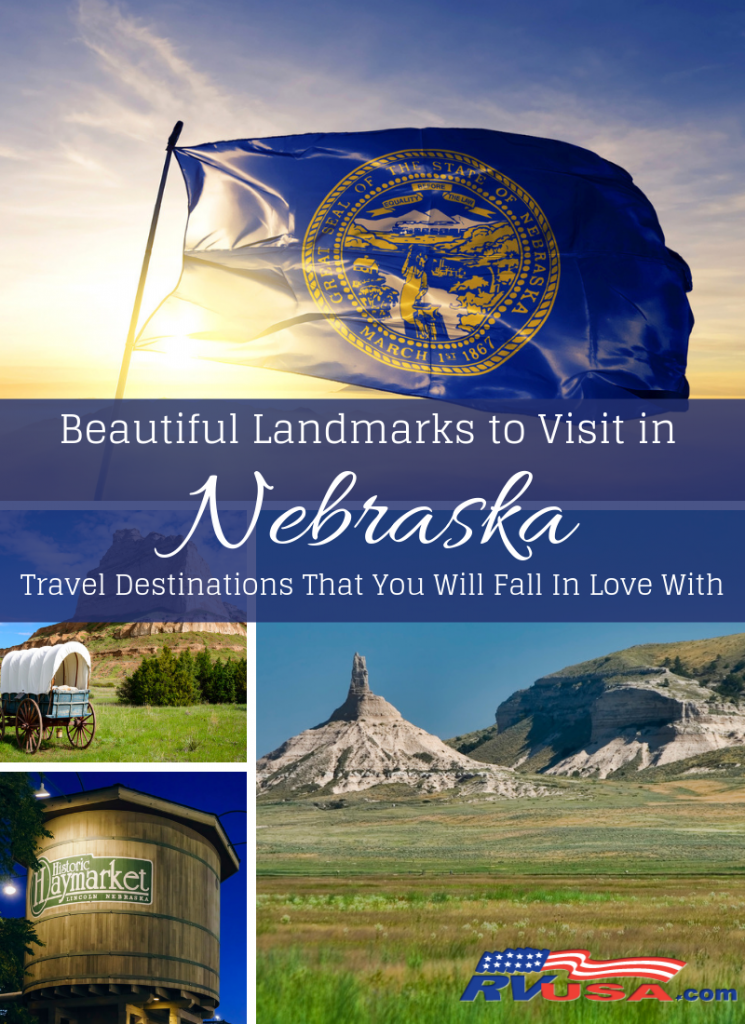 This list should help you explore nature reserves, discover landmarks and enjoy true Nebraska culture. Whether college sports are your passion or you prefer the history of the Oregon Trail. There are plenty of Can't-miss experiences for your trip to Nebraska. Are you planning a trip to see any of these spots? Let us know! And be sure to check out our favorite RV destinations on the blog!