Whether you are planning a trip to see the snow or explore your very own winter wonderland, these national parks will not disappoint! Check out our list of the best parks to visit during this season and what you can do at each destination!
Yosemite National Park in California
While many view Yosemite National Park as a summer destination, the snow during winter turns this area into a playground for the adventurous. Visitors can go skiing and snowboarding at the Yosemite Ski and Snowboard Area. If you are just a beginner, there's no need to work! the Ski Area offers lessons and rentals for those who are looking to have a good time. Go snowtubing, sledding or ice skating at different areas in the park! Take a ranger guided snowshoe tour of easily accessible trails, rent a snowmobile or tour the sights via horse drawn sleigh.
For those who love experiencing all nature has to offer, Yosemite's winters will not let you down. During winter a natural ice phenomenon occurs called the Frazil Ice Phenomenon. The mist from the flowing falls combined with the below freezing temperatures creates a slush-like flow of the river below. The best time to witness the phenomenon is near the end of winter, but keep an eye out on Yosemite National Park's social media to see when it starts.
We suggest checking the weather reports and road closures while planning your trip! Visit their website for a full list of recommended items to keep with you when traveling the park. The beginning of their snow season takes place mid-December so be sure to reserve your camping spot today! The Upper Pines campground is located near Half Dome and allows RVs up to 35ft. 
Mount Rainier National Park in Washington
If you're looking to experience the ultimate White Christmas, there is no shortage of snow at Mount Rainier National Park. Explore the mountain views and challenging hikes at this park that is unlike any other! The normally snow-capped mountains and colorful tree line transform under a beautiful blanket of snow with the frigid temperatures allowing buildings in the area to be lined with icicles.
Once the snow becomes sufficiently packed, the snow play area opens for adventurers of all ages to enjoy sledding, sliding, skiing and snowboarding. Learn about the area local nature by taking a snowshoe exploration with a park ranger or embark on your own exploration on a snowmobile. With over 6.5 miles of road to traverse, this activity can be an all day adventure! Visitors can also experience seasonal wildlife, but be sure to respect the wild nature of the animals you encounter.
The Paradise area allows campers during the winter months for those explorers that trek into the winter here. Visitors are encouraged to be well experienced in driving in the snow and winter safety in camping. Visit their website for further rules on food storage and tips on staying safe during your visit.
Big Bend National Park in Texas
If you are an adventurous and active soul looking for a more mild winter that allows for strenuous hikes and relaxing nights, Big Bend National Park should be next up on you list of places to travel. While it may not drop to the winter temperatures you are used to, if you visit at the right time you may be lucky enough to see a light snow stick creating a contrast with the dark scenery.
We love that the normally draining and heated hikes that visitors constantly embark on during summer become mild and enjoyable. Layer up to embark in the brisk morning and shed your layers as the day gets more warm. Visitors can explore the mountain area, the desert area or the river area. Check out the park's website to view their ideal itineraries for whatever length of trip you are planning.
This park offers RV camping, tent camping and lodging. For primitive camping, visitors are required to obtain a permit. Because of the mild weather, there is no need to worry about driving in the snow, so a favorite activity here is scenic drives through the secluded roads. Guided programs, backcountry exploration and birdwatching are all popular activities during the winter. Our favorite part about this park is the wonderful escape from civilization for a short time that allows you to see the night sky in a new way!
Bryce Canyon National Park in Utah
If you are searching for that picture perfect destination, Bryce Canyon National Park in the winter holds all you have been looking for! The red rock base lined with the green foliage covered in a light layer of snow against the clear sky create a breathtaking mixture of color that is sure to exceed your expectations. With day temperatures rarely dropping below freezing for the majority of the winter season, this winter is mild enough to stay a couple days.
Our favorite activity this park offers is the stargazing that visitor can enjoy under the unbelievably clear sky. Known as one of the only places in United States where light pollution is close to none, the Bryce Canyon night sky gives visitors a once in a lifetime chance to get an unobstructed view of the stars through telescopes and participate in a lecture about astronomy. There is also an option for visitors to go on a full moon hike guided by a ranger. During the day, embark on a free snowshoe tour with a ranger or explore the canyons and historical sites on your own!
The North Campground here stays open year round with limited spots. So we suggest if you are planning on adding this destination into your winter travel plans, make reservations today through their website!
Glacier National Park in Montana
If you are looking for a quiet alternative to the usually crowded Glacier National Park, just take your trip to the park during the winter time! The entire park is covered in a blanket of snow season round and offers the same phenomenal views that are offered in the summertime!
Explore closed roads on snowshoes or rent some snowshoes for the visitor's center and learn how to use them through a 2 hour guided hike. Winter is at Glacier is also known for it's exceptional cross country ski areas. Be sure to bring a pair of binoculars along on your hikes as winter is a great time to see wildlife that is native to the area.
The park contains two campgrounds that remain open during the winter. Visitors can either stay at St Mary Campground or Apgar Campground. But make sure you make your reservations at least three days in advance! If you are an experienced camper, the park offers permits to stay in the backcountry. We advise checking the weather for your planned dates of travel as the weather can vary from a comfortable winter breeze to frigid snow storms.
Rocky Mountain National Park in Colorado
We think Rocky Mountain National Park if the ideal destination for any family wanting a variety of sights, activities and rest. There is bound to be an activity or getaway that everyone traveling with you will enjoy.
Endless activities await you in this spectacular park. If you are a beginner explorer, snap on some snow shoes and take a trek through the snow. Enjoy skiing? Take a cross country ski trip with your fellow travelers. If you are looking for a more laid back activity, sled down the hills at Hidden Valley. If you don't have any equipment to participate in these activities, no need to worry! The neighboring town offers endless stores where visitors have the ability to either rent or buy gear for whatever activity you want to engage in!
Moraine Park Campground is the only area available for camping inside the park during the winter season. The spots are first come, first served so be sure to arrive early! The weather and snow here are unpredictable, so be sure to check the website for current closures and warning that the park has issued to ensure your safety.
Apostle Island National Lakeshore in Wisconsin
If you are dreaming of a getaway that takes you on a journey through a frozen fantasy land, Apostle Islands National Lakeshore will allow you experience that dream as a reality. The dangling ice and the trees that line the shoreline create a picturesque scene that all nature lovers will enjoy. Bring your camera along for the ultimate ice pictures!
The most unique activity offered at this lakeshore comes in the depths of winter. Bundle up in as many layers as possible and head out to this destination around February to see a sight that is worth the hike. Icicles hang from the jagged cliffs as visitors walk along the frozen ice sheet below. Every year when the lake gets a thick enough layer of ice, the park allows visitors to trek onto the ice and explore the caves in a way that is not normally accessible.
Be sure to check on their Facebook for the most accurate and up to date news on when the caves will open this year! Pack warm clothes and snow boots, start early in the day and enjoy a beautiful hike out to the caves for a day of endless exploration.
Great Smoky Mountains National Park in North Carolina and Tennessee
Nothing compares to Great Smoky Mountains National Park in the fall except the same park during the winter. During the fall season, the park is full of visitors, trails and activities and can become overcrowded very easily. Taking a trip to this park in the winter gives you the experience of a mild winter, White Christmas, less crowds and more serenity when exploring.
If you practice enough vigilance and take proper precautions, hiking in the Smokies can be just as fun with everchanging views during the winter time. Check the snowfall on the trails via the website so you can be well prepared for your hike. The park is also scattered with both frozen and flowing waterfalls that are open to explore by trail or by a scenic drive.
If you are staying in the park, we suggest camping at the Cade's Cove campground. Here you can find beautiful scenery and encounter wildlife from a distance. Check the park's website to find out all of the safety information you need to have a fun and safe trip!
No matter what national park you choose to visit this winter, if you choose an adventurous excursion or a cozy cabin getaway, we are sure your trip will be one to remember!
Where are your favorite winter wonderlands? Let us know which parks you have been to, what you thought and where your dream getaway is for the season!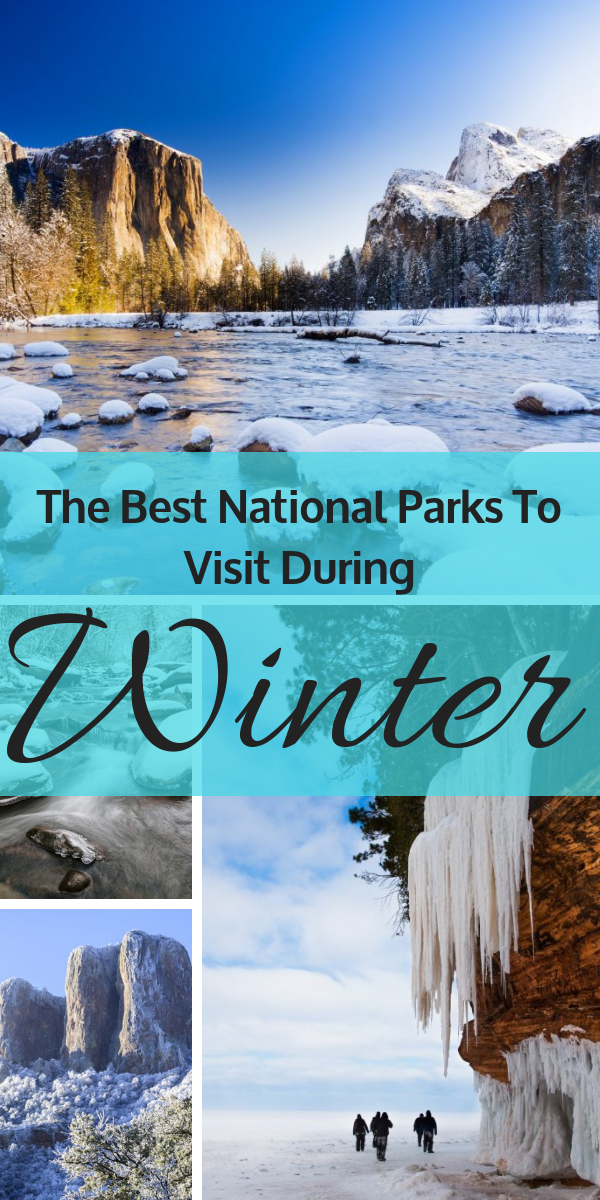 Don't forget to stay up to date with all of our exciting RV and camping content on Facebook, Twitter and Instagram!