Let's face it, some people just aren't the camping type, and there's no shame in that! But why should that stop them from taking an RV trip? With "glamping" growing in popularity, camping no longer has to be all about living off nature! Here is our beginner's guide to glamping for anyone who wants a comfortable camping trip! We've put together lists of destinations, RV's and amenities that can easily transform your camping trip into a glamping trip!
What is Glamping?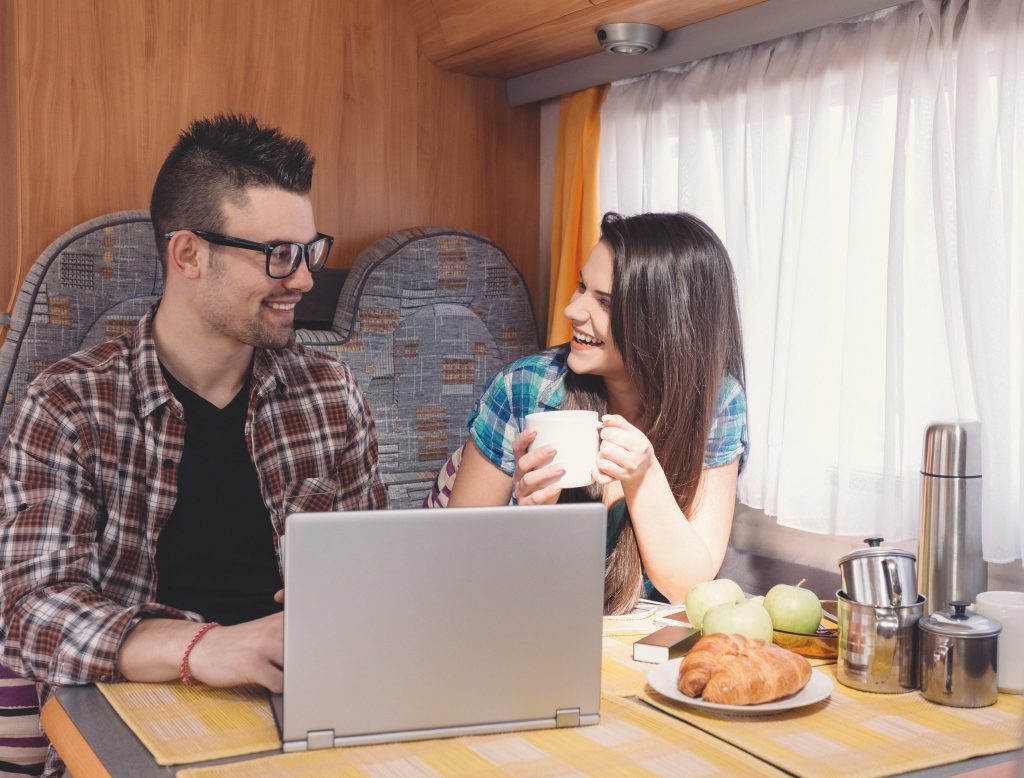 "Glamping" is the popular term now used to describe "glamorous camping." It is the perfect activity for those who love the outdoors with the comfort of the indoors nearby. Glamping trips cut out the difficult and replace it with luxury. With glamping, there is no need to sacrifice your everyday amenities to travel! Pack up your camper (or glamper) and head out on the most luxurious RV trip you've had yet!
Glampers
Of course, the first ingredient to any successful glamping trip is the perfect glam camper ("glamper") to travel in! Whether you want to go old school or travel in a resort on wheels, we know just the glampers that are perfect for your trip!
Vintage
We love the idea of the camper turned glamper! It can be a great way to personalize the inside of your camper for whatever you need and a fun renovation project before the trip! The advantage to this is that you get to make everything your own personal style and maintain the home away from home feel. This 1975 Airstream Remodel is perfect inspiration for anyone looking to transform their vintage camper from drab to fab. The inside of this camper features a luxurious twist to a classic design. It features beds, a sink, a large counter space, a work area and so much more! Follow their remodel or make up your own as you go! Whichever way you choose to redesign your vintage beauty, you can't go wrong!
Modern
Maybe you're the type of glamper that doesn't want to bother with the remodel! We aren't judging! Just find a luxury RV through RVUSA! If you want to travel as luxurious as possible, we suggest the 2018 Foretravel Realm FS6 Luxury Villa Bunk! While it may be pricey, you won't find anything else you need when you take a journey on this beauty. The 4 slide outs make this camper especially roomy and the various sofas provide for extra sleeping place. The quartz counter tops, wood cabinets, laminate and tile floors decorating the interior combine to make this glamper nothing short of luxurious. There is no doubt you will be camping in comfort in this diesel pusher.
Best RV Glamping Items
Now that you have your camper, you have to glam up the inside as well! Here's some things you won't want to forget on a glamping trip in your RV.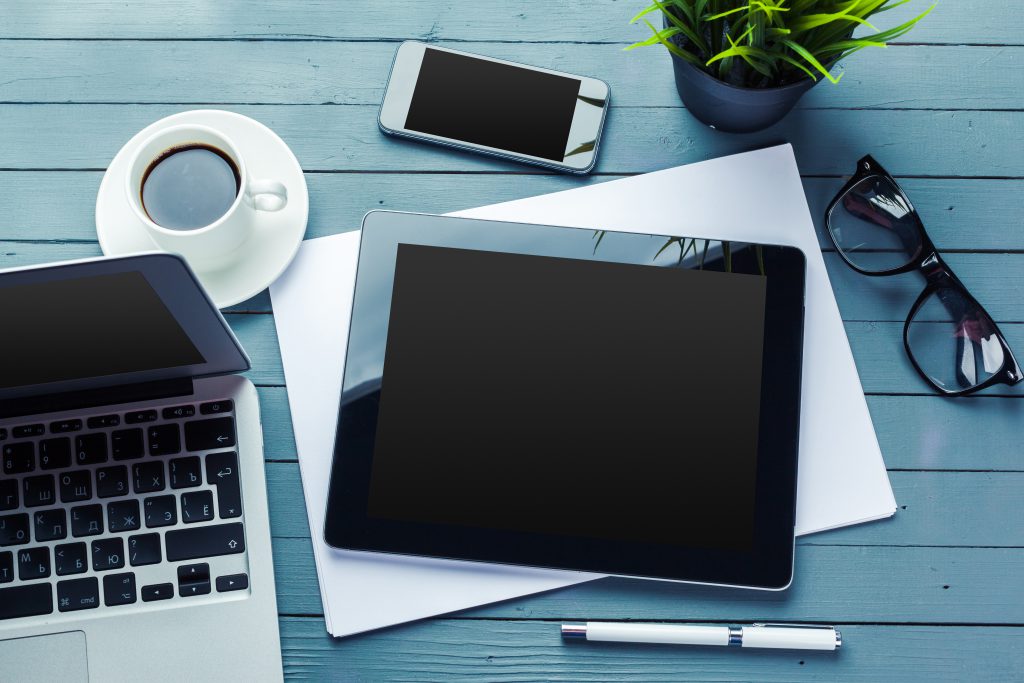 One thing that sets glamping apart from camping is the full ability to use electronics. We suggest bringing a stash of movies along to make you feel right at home. Having movies will allow a sweet escape from the camping and give you a nice activity to relax after your day's outdoor adventure. And if you just started watching a new Netflix series, no need to worry! Deck out your RV with a Roku, Amazon Fire or Apple TV to have access to all your favorite shows and music on the road. Binge watch away! If your camper doesn't have a TV, grab a portable projector and roll out screen or a white sheet so you can enjoy this little luxury too!
If you don't want to spend your entire glamping trip unplugged from the world, there is no need to. With Wi-Fi and cell signal boosters, you can have unlimited access to the internet and cell phone service. No more searching the campground for the hot-spot, it'll be right inside your glamper! Even at a campsite in the middle of nowhere, you'll be able to post all your adventures immediately and enjoy the luxury of access to communication. Sit back, relax, and enjoy the fun, adventurous part of camping during the day and the luxury of home when you return back to your RV!
Is the typical camping food list just not your taste? When you're glamping, you can bring along whatever you want to make your dining experiences glamorous as well. We suggest bringing along a portable meat smoker or grill to have a perfectly cooked meal readily available whenever you want! To make preparing meals easier, you can also bring along a slow cooker! Throw in the ingredients to your favorite crockpot meal in the morning and have dinner already waiting for you when you get back to the RV!
If you're taking your glamping trip in the summer, pack a blender to make all of the frozen drinks your heart can desire! Park your RV at a campground with a full hookup so you can enjoy this sweet luxury. If you are glamping without power, there are also cordless and battery powered blenders you can bring along. Make anything from a milkshake to a slushy for a cool escape from the heat of summer. Freeze the fruit you want to use to save your ice and make your drink tastier!
Sometimes all you need to prepare yourself for your outdoor adventures is a cup of coffee. With endless options, there is sure to be a coffee maker to satisfy every glamper's coffee needs. If you're parked with an electrical hookup and just want a simple cup of joe, bring along your Keurig to brew you that perfect cup of coffee in the morning. If you like more freedom in your coffee options, try bringing a Ninja Coffee Bar along! With this machine, you can brew anything from iced coffee to a café latte. If you don't have an electrical hookup or if you want the ability to make a cup of coffee when you're out adventuring during the day, pack some hot water in a thermos and use this AeroPress to quickly brew a cup of coffee or espresso.
One of the best parts of glamping is being able to enjoy all of the upsides of the outside without discomfort! For a fun, family meal outdoors, we suggest a packing a folding picnic table! In just a couple of seconds, you can have your own private table that is perfect for you! Save yourself the worry over finding an open table at the campground and set this portable one up right outside your RV. Of course, when you're glamping, there is no eating off paper plates and drinking out of disposable cups. Stocking your kitchen with reusable dishware not only gives you a more glamorous dining experience but also makes your trip more eco-friendly.
A camping experience wouldn't be complete without a campfire! But this is glamping, so why settle for a normal campfire? Make your campfire stand out with Mystical Fire add ins! This product can transform your fire from drab to fab! This will add new colors into the flames ranging from blue and purple to the classic red and yellow. These packets can be used indoors in fireplaces or outdoors in fire pits and campfires! Illuminate your campsite with the all of these magical colors on your next glamping trip!
Keep your glamper looking as luxurious as it was when you left home by bringing along some cleaning supplies! The ultimate glamping cleaning supply is without a doubt the vacuum. You can clean up any mess you track in from the outside and ensure that your luxurious living space is always pristine. This is a must-have on a glamping trip especially if you're bringing any pets along! You can find battery powered vacuums as well if you don't have access to an electrical hookup. Supplies to clean your counters will keep your interior looking shiny and new.
Best RV Glamping Destinations
In order for your glamping trip to be enjoyable, it's important you find the perfect destination to travel to! These are just a few of the campsites we recommend that are top-rated and offer 50 amp full hookups.
Take your glamper up north this summer for some Adirondack adventures! Lake George RV Park in Lake George, New York offers nothing short of a luxurious wilderness experience. With over 400 RV sites, you are sure to find a spot you love. On site, you can find miles of trails for both biking and hiking, a 2 acre off-leash dog park, sports courts, pools, and two ponds for paddle boats and fishing. The campground offers a complimentary shuttle service that allows you to explore outside of the park. The surrounding city provides visitors with endless opportunities that include everything from stunning views of the scenery to shopping and dining. Nearby, you can find Fort Ticonderoga and Fort William Henry Museum that both offer historical day excursions. On their website, you can access RV site booking and many more activities you can find in the area.
If you're looking for a resort experience when you take your RV out this summer, we suggest heading over to Red Bluff, California where you can find Durango RV Resort. This RV resort offers world class facilities and an experience that is nothing short of five stars. Located on the shores of the Sacramento River, this resort offers riverside RV sites that are secluded and give an amazing view to wake up to. They have also lined the shores with fire pits and picnic tables for all of their gusts to use. If your glamper is on the larger side, no need to worry! They offer accommodations for big-rigs with pull through spots and a variety of different sites to choose from. The Lodge Room allows guests to relax and sit beside the fire place, while the pool and hot tub allow guests to relax outdoors and soak up the summer sun. Tired from a long day on the road? Schedule a massage in the spa on property to relieve all the tension from sitting in the RV too long! During the day, take a trip to the nearby Shasta National Forest or Lessen National Park. The area around offers all kinds of activities and the park provides just the escape you needed and an unparalleled glamping experience.
Love exploring nature but hate the idea of "roughing it" just to see a new national park? At Zion River Resort, you can have the experience of camping without sacrificing comfort. This resort is located in the middle of Bryce Canyon National Park, Grand Canyon North Rim, and Cedar Breaks National Monument allowing it to be the perfect base camp for any day adventures you wish to embark on. The park offers a camper kitchen, gift shop, dog areas, game room laundromat, playground, and complimentary hot showers that are pristine. If you don't want to cook in your RV, the site has a take-out grill which has a menu featuring a variety of foods. If you are looking for a fun activity for you and your kids, purchase a bag of sand the Lodge and head over to the Mining Sluice to discover some hidden gems! With a variety of daily events taking place on the campground, there will never be a dull moment of your glamping trip!
Every summer destination list includes Florida, so, of course, we couldn't resist adding it to our list! Boyd's Key West Campground is located on the ocean and is the perfect glamping destination for anyone who loves to be on the water. This family owned campground offers a boat ramp, game room, picnic pavilions, pools, and so much more. The location of this resort is ideal for any glamper looking for a tropical getaway or an opportunity to have some fun in the sun. Oceanfront sites are available to reserve all summer, so pack up your glamper and take a trip down south!
Remember, there's no shame in glamping! When you use our tips, you can have an amazing trip, wherever you decide to glamp! We wish you happy glamping!