With National Cheese Pizza Day rapidly approaching on September 5th, we decided to make a list of the BEST pizza recipes we could find (in no particular order). Being one of the most popular foods in the USA, it's no wonder there is a day dedicated to the deliciousness that is cheese pizza. Even though pizza comes with the option for a seemingly limitless amount of toppings, this day is dedicated to the foundation of which greatness is built upon…Cheese. Even if you have not had a "plain" cheese pizza since your grade school days, you have got to appreciate what it has the potential to become. At the very least, you can use these recipes as a base for further customization later, the pizza gods may not like it, but don't worry, we won't tell if you don't.
JanetSmith154 Avenges New York Pizza in KC
Our first pizza is a recipe by JanetSmith154 on Food.com. Janet is a lover of New York style pizza and found herself in a tough spot when she moved to KC and was craving a pie. Apparently, the pizza out there doesn't meet the refined standards of JanetSmith154, so she took things into her own hands, literally. Janet's recipe yields 1 pizza broken into 8 servings. JanetSmith154 lists all of the necessary ingredients (see below) required for her pizza, as well as detailed instructions here:
http://www.food.com/recipe/basic-cheese-pizza-194593
1⁄4 ounce dry yeast
1 cup water, lukewarm
1 teaspoon sugar
3 cups bread flour
1⁄2 teaspoon salt
1 tablespoon olive oil
1⁄2 cup tomato puree
2 tablespoons tomato paste
1 garlic clove, minced
1 tablespoon fresh basil, chopped
4 ounces fresh mozzarella cheese
Sally's Cheesy Addiction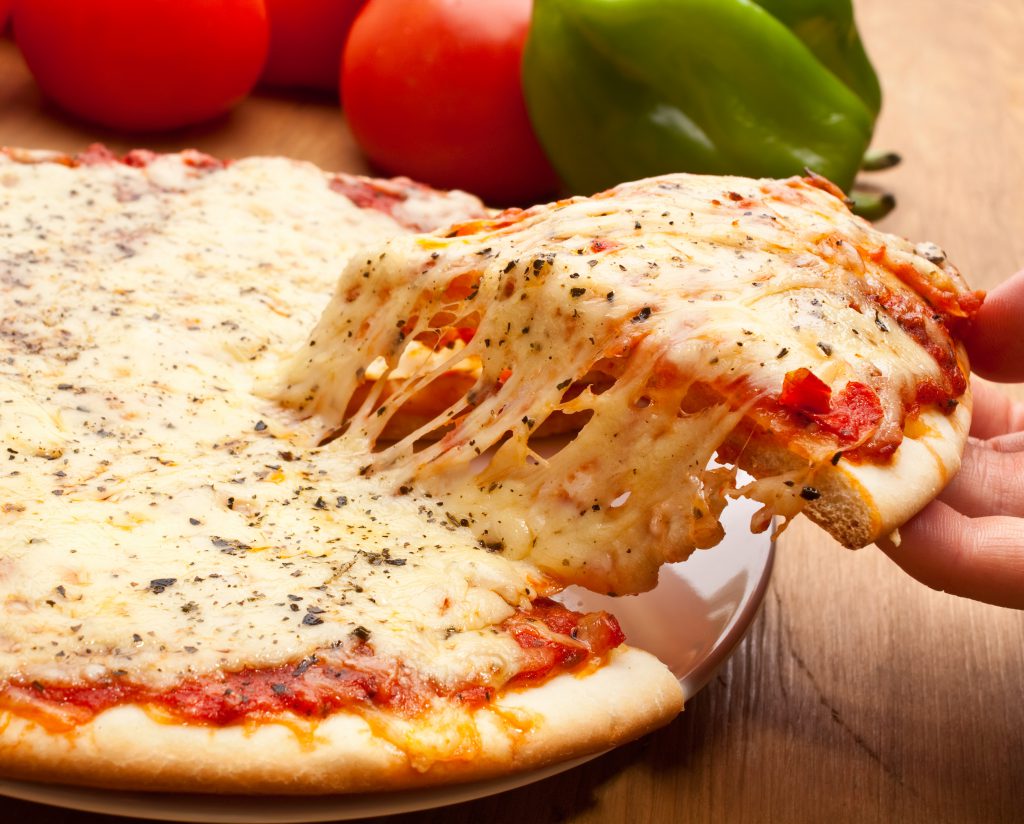 Next up, we have Sally, and apparently, she has an addiction. As visible in the title of her site, Sally is addicted to baking. All throughout her site, Sally shows of her addiction by listing recipes, instructions, descriptions, and photos of her baking adventures. One recipe she has used to feed her addiction is a "Homemade Extra Cheese Pizza" that she describes in great detail. Sally goes over the necessary ingredients (see below) as well as how she arrived there. If you are looking for the how and why on your way to making a great pizza, check out Sally's recipe here:
https://sallysbakingaddiction.com/2013/11/21/homemade-extra-cheese-pizza/
2 and 1/4 teaspoons baking yeast
 (1 standard packet) *
1 and 1/3 cups (320ml) warm water (105-115F degrees)
3 and 1/2 cups (440g) unbleached all-purpose flour, plus more as needed
2 Tablespoons (30ml) olive oil, plus more for brushing crust
3/4 teaspoon salt
1 Tablespoon (13g) granulated sugar
cornmeal, for dusting
Four Cheese Margherita Pizza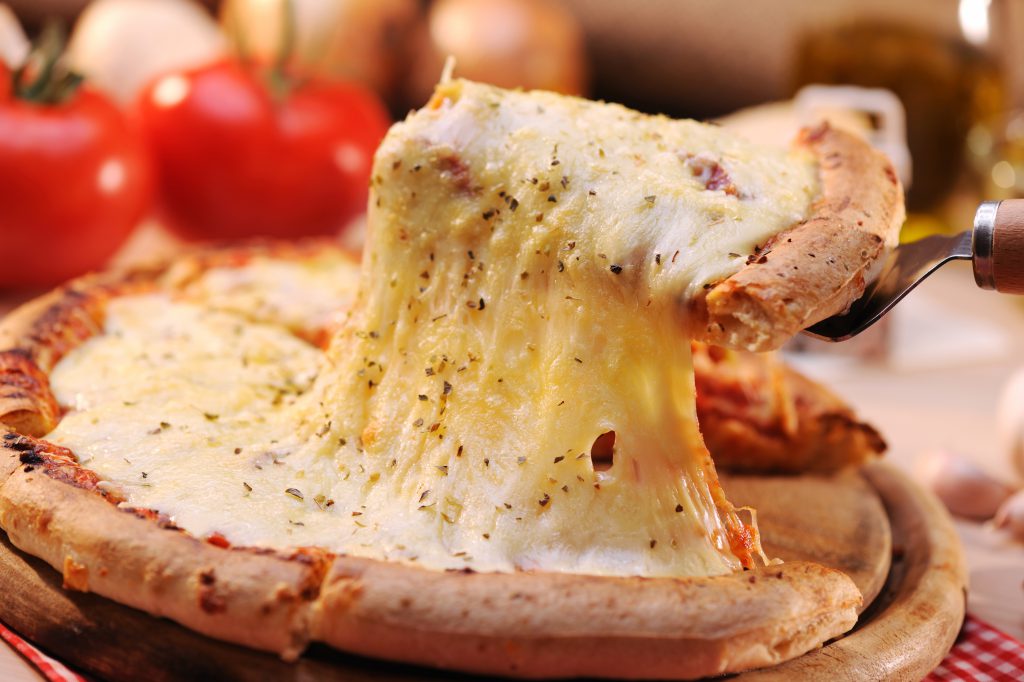 If making the crust from scratch isn't something that tickles your fancy, the "Four Cheese Margherita Pizza" from allrecipes.com is a great option. Since you aren't making the crust, valuable eating time is gained, giving you a faster 'food to mouth' time than the others. This pizza uses a healthy mix of ingredients (see below) to reach its final taste profile, so you may not need to use a "cheat day" to celebrate this holiday.
http://allrecipes.com/recipe/133948/four-cheese-margherita-pizza/
1/4 cup olive oil
1 tablespoon minced garlic
1/2 teaspoon sea salt
8 Roma tomatoes, sliced
2 (12 inch) pre-baked Pizza Crust
8 ounces shredded MOZZARELLA
cheese
4 ounces shredded Fontina cheese
10 fresh basil leaves, washed, dried
1/2 cup freshly grated Parmesan cheese
1/2 cup crumbled feta cheese
1 tablespoon minced garlic
Cast-Iron Pizza
ShowMeTheYummy.com's pizza is a little different than the others so far, this pizza not only gives you a recipe for homemade sauce, but uses a more 'exotic' blend of cheeses as ingredients (see below). In addition to the alternate cheese choices, this pie is meant to be made in a cast iron skillet, meaning it can be easily be cooked over a campfire easier, should you have the ingredients on hand. On their page, showmetheyummy.com describes what is needed in detail, and provides pictures and video to ensure instructions are carried out as accurately as possible. To give it a go at making this deep-dish delight, head to their site:
http://showmetheyummy.com/cheese-pizza-recipe/
1-pound pizza dough
Sauce*
2 tablespoons unsalted butter
1 yellow onion finely chopped, small
6 cloves garlic minced
1 tablespoon tomato paste
1 1/2 teaspoons dried basil leaves
1 teaspoon Italian seasoning
1/2 teaspoon crushed red pepper flakes
1/2 – 1 tablespoon salt
more or less to taste
1/4 teaspoon ground black pepper
1 (28 oz) can crushed tomatoes
2 tablespoons brown sugar
Cheese/Toppings*
1/4 cup ricotta
1/4 small wheel Brie thinly sliced
1/4 cup gruyere grated
1/4 cup shredded asiago
Fresh basil minced
Campfire Pizza
Another cast-iron contender, making campsite cooking easier is from freshoffthegrid.com. This pizza is geared towards those looking to enjoy the finer things, while 'roughing it' in the great outdoors. While they show making a pizza with multiple toppings, this can easily be customized to meet the holiday's guidelines of "cheese only", should you choose to follow the rules. With minimal ingredients and equipment needed (see below) this recipe is worth a try if you are planning on heading out into the wilderness.
https://www.freshoffthegrid.com/campfire-pizza-recipe/
2 1/2 cups all-purpose flour
1 packet rapid rise yeast
2 teaspoons salt
1 cup warm water
5 tablespoons olive oil
Mixing bowl
Fork
10″ or 12″ Cast Iron Skillet
Tongs
Chef's Knife
Cutting Board
Broccoli Tot Pizza
Recently highlighted on the Food Network, this "Broccoli Tot Chicken Pizza" recipe give you a healthy and creative way to celebrate National Cheese Pizza Day. From a segment on using ingredients you already have around the house to make kids' foods more fun, this option is quick, easy, and healthy. Again, their recipe uses chicken instead of just cheese, but like the rest, it can be altered, but we'll leave that up to you. This pie got great responses from those that tried it, and even comments on how much like traditional crust the broccoli tots turned out to taste. If you have a kid(s) that do their best to avoid any type of vegetable, this might be the way to sneak some health food by undetected. This is another recipe that does not require many ingredients (see below) or much time and can be a great snack while you're out exploring.
http://www.foodnetwork.com/recipes/marcela-valladolid/broccoli-tot-chicken-pizza-3838615
Olive oil, for brushing
One 16-ounce bag frozen broccoli tots, defrosted
1/3 cup grated Parmesan
1/2 cup ricotta cheese
1 cup shredded rotisserie chicken
1 cup frozen broccoli florets, defrosted and chopped
1 cup shredded MOZZARELLA
Bachelor Pizza
To finish off our list, we have a creative take on sadness, with the "Bachelor Pizza." While the sadness may not apply to everyone that can be categorized as a bachelor / bachelorette, the great taste and easy prep are probably more universally appreciated. As seen in the ingredients (see below), not much is needed to enjoy these morsels of happiness and high-fives. With a few ingredients that are often viewed as bachelor staples, you can parade around your 1-person tent or 1-bedroom apartment calling yourself a "Master Chef" to anyone or anything that will listen. Despite the title, you can enjoy these handheld treats, even if you have a significant other. Maybe they are named how they are, not because of the current state of the person making them, but rather a prediction of your situation after you choose not to share your treat with your loved ones?
http://mmmcafe.blogspot.com/2013/03/bachelor-pizza.html
1 can jumbo biscuits
¾ cup Alfredo Sauce
pizza sauce
1 cup shredded MOZZARELLA
cheese
1 cooked, shredded chicken breast
2 slices bacon, cooked and minced finely
These are just a few ways to take part in one of the best tasting holidays around.  September 5th is a day to unify and scream out like so many college students of years past, "I WANT PIZZA!". Or you could just make one and enjoy it quietly, either way, enjoy National Cheese Pizza Day.