If you're into "roughing it" when you're RVing and camping, these items aren't for you. But, if you like trying out new gadgets and being extra comfy while you're camping, check it out!

Dehumidifier
A handy dandy invention, a dehumidifier will help you through all your moisture problems, even after all your normal controls have failed. Rid your RV of excessive moisture after a rainy week, keep your RV warmer during winter, prevent mold, mildew and other interior moisture damage, even prevent condensation on your windows in the morning, just by using a dehumidifier.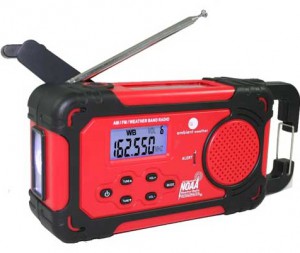 Weather Radio
Knowing when heavy weather is going to hit is crucial to any vacation and especially important when traveling in your RV. Whether you plan to hunker down or get out of the way, a weather radio will at least give you the ability to choose. It's not reliant on batteries, featuring a hand crank, and can even charge your devices or as a flash light.
Mini Solar Device Charger
These devices are pretty cool and an efficient way to keep your devices running longer when you are on the road or without an energy source for the night. Most solar chargers will hold enough energy to charge your smartphone 2-3 times and charged through sunlight, obviously, or connected to a wall outlet, when you're hooked up at a campsite.
Tankless Air compressor
Lightweight and small enough to store anywhere, portable tankless air compressors are incredibly handy, coming in clutch during a roadside emergency or a simple bike tire refill. Most units can pump up to 150 psi running on 12 volt and/or 120 volt.
RV Solar Charging System
Fixing your RV with a Solar Charging System has been gaining popularity over the past few years. Solar kits, which include solar panels and other gear, can be expensive but it's definitely a worthwhile investment especially if you consider yourself a full-timer, boondocker, or dry camper. If you're not ready to make solar power your primary source of electrical power or don't have the money, it's an efficient way to keep your RVs batteries charged, preventing any permanent damage that occurs when a battery dies. Not all solar panels and equipment are created equal so do your research and pick the panels that will best serve your needs!
Drones
Drones are the future and the now, offering full-time RVers an incredible piece of equipment to enhance their next vacation. These cool gadgets allow you to fly around the sky all the while catching amazing views from perspectives you never imagined. Use them to photograph breathtaking views and record precious memories to share with your friends and family! Take note that drones are not permitted in National Parks. We recommend flying them out in the wide open, not in the campground. Many RVers and campers find them annoying, and you don't want to be a pesky neighbor.
Inflatable Hammocks
Inflatable Hammocks are basically air-filled couches and the ultimate lounge chair on your next trip. What makes it the most appealing is overall utility, taking up minimal storage space, easily inflated without the need for an air pump, and providing an individual a comfortable place to sit and even sleep!